Streaming video on-demand (or SVOD for short) has really taken off over the last couple of years. With the introduction of Netflix to Australia in 2015, streaming services have become the new revolutionary media platform. And for good reason – there are no ads, you watch what you want – when you want, and you get access to new shows and movies that you don't have to hang out for to watch on regular ole TV. In these phenomena, Fetch has emerged as a strong contender to supply all your streaming demands in one simple place; its appeal and main premise are a little different to Netflix or Stan or so read on to find out exactly what Fetch offers.
What is Fetch?
Fetch is an SVOD device used to stream from subscription services such as Netflix and Stan, but it's also much more than that. After purchasing the set top box for RRP $399 – or RRP $149 for the Mini player – Fetch gives you the opportunity to purchase a variety of 'cable television' streaming entertainment packs starting at just $6 a month:
Kids: Disney Channel, Nick Jr, Nickelodeon, Disney Junior etc
Knowledge: Nat Geo, Food Network, CNBC, CNN, Travel etc
Vibe: ESPN, MTV, Spike, E, Comedy Central etc
Variety: BBC, SyFy, Universal, 111, TV Hits etc
These packs cost $6 a month each, or you can bundle all four together for a total of $20.
Bundling gets you over 35 channels, streamed over your internet connection
Think of Fetch like a hybrid between Apple TV and Foxtel
Of course, these packs aren't mandatory to purchase. If you don't want to pay for an extra subscription, Fetch TV is compatible with free-to-air (FTA) services such as ABC iView, SBS On Demand and Tenplay. For about a $400 initial price or less, Fetch TV has the capability of being your new home entertainment hub.
What's the difference between the two Fetch TV media players?
There are two different types of players that Fetch offers. They are the Mighty player, and the Mini player. The key difference: One allows you to record TV and the other doesn't.
With the Mighty player you can record live TV. It's not just a streaming device; it also acts as your personal video recorder (PVR).
The Mighty allows you to record up to six channels while watching another, and its intuitiveness means you can easily record all shows in a series.
Fetch claims the one-terabyte hard drive is big enough for 585 hours of recordings, which is fantastic.
The Mega player retails for $399 (plus a $1 activation fee), and is a great 'one stop shop' as far as home entertainment goes.
However, if you're not in the market for a PVR, Fetch TV has you covered with the Mini player. The Mini player can be had for about $150 outright, and is basically the same as the Mega player but without the PVR features. The Mighty player also supports 4K Ultra-HD, whereas the Mini player supports regular old HD. That's about where the differences end, but it may be well worth getting the Mighty player if you desire a PVR. However, you could save $250 by going without it. Both players have these features:
FTA 'catch up' services from ABC iView, Tenplay, SBS On Demand etc
Built-in apps to watch Netflix, Stan (you'll need to have your own subscriptions already)
The option to buy the aforementioned entertainment packs, Optus Sport Pack or Bein Sport pack for about $15-$20 each a month
'Smart' 7-day TV guide
Pause and rewind live TV
As far as entertainment goes, Fetch has you well covered. As mentioned earlier, Fetch gives you the ability to serious ramp up your home entertainment endowment.
Fetch Entertainment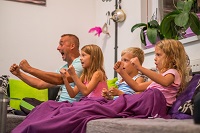 For an extra $20 a month, you have the ability to purchase an entertainment pack, which includes over 35 channels. However, if $20 is a bit too much and you can't see yourself watching all the channels regularly, the packs can be broken down (as above) into four separate ones, each costing $6 a month.
Channel packs are generally broken up into interest groups, so if you're a sports fan you might like to select the 'Vibe' pack. If you have kids, you might like to select the Kids pack, and so on. Though for a one-stop shop for entertainment, the $20 ultimate pack sounds pretty good.
All the usual suspects are there from what you'd expect with traditional pay TV; you'll be able to keep up with the Kardashians and watch Steph Curry shoot the lights out in the NBA with channels like E! and ESPN. Extra packs like Bein Sports and Optus Sport can also be had from about $15 extra a month, so that way you can keep up with the English Premier League and FA Cup action too. With both media players, you'll also get these inclusions:
Over 5000 movies to rent or buy.
30 free preselected movies a month (inclusion seems to vary)
Integrated 'Rotten Tomatoes' reviews
Browse movies based on genre or cast/crew
Fetch TV is also intuitively integrated with your smartphone. For either Android or Apple, Fetch has developed a free app that also acts as a second remote control. With the app you can set recordings remotely. Did you forget to set the recording of the 80th rerun of the Golden Girls in the morning? No matter, just use your phone to hit record when you're out and about.
Of course, the mobile recording feature is only for the Mighty player, but both players also allow you to watch premium channels on-the-go, and watch shows and movies anywhere (this depends on how much mobile data you have!). Fetch TV really is an all-encompassing home entertainment hub, and it's refreshing to see that there's minimal compromise when opting for the cheaper Mini player.
What broadband do I need for Fetch?
The beauty with Fetch TV is that you can buy the media player outright, and use your own ISP. Alternatively, there are three premier providers that offer the Fetch TV Mighty or Mini player in a bundle with a broadband plan:
Optus: 'Yes TV' by Fetch – unlimited data from $80 a month for 24 months
iiNet: 'iiNet TV' by Fetch – Fetch player rental from an extra $5 a month with any plan
Dodo: Fetch Mini player bundle from $44.90 a month, unlimited data
Optus Bundles with Fetch TV
Optus may be one of the first ISPs you associate with Fetch TV, as in the early days Optus was one of the early adopters of bundling Fetch TV with a broadband plan.
Optus Fetch Mighty bundles start at $80 a month, and this fee also includes Optus Sport
The Mighty can be bundled separately for $15 a month, and the Mini for $10 a month, but you do not get the one channel pack included
The $80 plan also comes with NBN 25 as standard
Optus notably has the rights to English Premier League football. If you're a Manc or a West Ham United hooligan, you might find yourself keenly interested in these plans. Ordinarily, Optus Sport (which covers EPL) would cost $15 extra a month after buying the Fetch TV player outright. On plans costing $80 and over, this bundling effect may mean you are better off by $15 a month.
iiNet Bundles with Fetch TV
iiNet is a bit of an interesting ISP offering Fetch TV packages. It's pretty simple:
For an extra $5 a month you'll get a Fetch TV Mini player. You will pay $99 upfront for the Mini as well, though.
Plan and entertainment additions are then as normal.
The only difference with iiNet and going your own way is that with iiNet you are paying $5 for the privilege of buying Fetch through the internet provider. You also save about $50-odd off the retail price of the Mini player.
You can then bundle Fetch with an iiNet plan, starting with the $59.99 ADSL2+ 500GB plan. Overall, iiNet looks to start out cheaper than Optus in their Fetch TV bundles, however, the inclusion of Optus Sport with Optus and it being a more in-depth entertainment package means that there is still a lot of merit to Optus.
Dodo Bundles with Fetch TV
The third perennial provider to offer Fetch TV bundles with broadband is Dodo. With Dodo there are two plans to choose from, with a couple of add-ons:
Fetch Lite plan: $44.90 a month for 24 months, Fetch TV Mini player, unlimited data
Fetch Entertainment Plus plan: $59.90 a month for 24 months, Fetch TV Mini player, unlimited data, plus Entertainment Pack
The Mighty player is available for an extra $10 per month
It should be noted that Dodo still seems to offer the old Fetch 'Entertainment' pack that was $15 a month. This has changed to $20 a month but now includes a fair few more channels. There doesn't appear to be any option to add on the $6 packs just yet, but watch this space.
Dodo is pretty transparent in their bundle offerings. It appears that the Fetch TV bundle is $10 extra per month over Dodo's regular plans; an unlimited ADSL2+ plan costs $34.90 a month, for example. An extra $15 a month – the cost of an Entertainment Pack – gets you the Dodo 'Entertainment Plus' plan. Additionally, you can also opt for the Fetch TV Mega player for an extra $10 a month on top of your existing bundle. Overall Dodo appears to be the cheapest of the three to bundle with a Fetch pack. Below is what you can expect to pay for Dodo's broadband plans, keeping in mind its Fetch TV bundles will add another $10 or so onto the plan per month:
Bundle with your own ISP
Bundling with your own existing ISP could in fact workout to be a little cheaper, albeit requiring a little more footwork yourself. Given that the plans mentioned above are all over 24 months, you can work out how much it'd cost per month to purchase the Mighty and Mini Fetch players.
The Mini player will cost $6.25 a month over 24 months
The Mighty player will cost $16.66 a month over 24 months
Depending on what type of packs you add on, these plans cost breakdowns could work out to be a little cheaper than the plans from the three providers mentioned above. However, iiNet does seem to lead the charge with the cheapest options for the Mighty player at only $10 extra per month over their original broadband plans. Here's a quick cost breakdown to help you determine how much purchasing an outright Fetch TV player could cost per month, to easily compare to the other providers.
| | Mini Player Per Month Over 24 Months | Mighty Player Per Month Over 24 Months |
| --- | --- | --- |
| Player Only | $6.25 | $16.66 |
| With One Pack | $12.25 | $22.66 |
| With Ultimate Pack | $26.25 | $36.66 |
| With Optus Sport | $21.25 | $31.66 |
| With Both Ultimate Pack & Optus Sport | $41.25 | $51.66 |
Source: Fetch
With this breakdown, it's more apparent that buying outright could save you money in the long run.
However, this depends on how much your existing internet plan costs
It may be worthwhile considering a new broadband plan from one of the above providers and bundling Fetch TV as it could work out to be pretty cost effective if you were considering Fetch anyway
Overall, there isn't anything that screams out 'value' with these broadband plans mentioned above, and there doesn't appear to be any huge cost benefits either.
Perhaps the biggest point however, is that the above three ISPs provide unmetered streaming through the Fetch TV player.
This is a serious thought to consider, and while it won't matter much if your current plan is unlimited, it could be a deciding factor if your plan is data-limited. This is one of the main benefits to purchasing through these ISPs.
Bundling also may present a convenient option, and it could bring peace of mind to know that the ISP technicians might be able to help out with any issues you have regarding their rebranded Fetch players – after all, they sold it to you!
Fetch vs Foxtel vs Apple TV: Who's the winner?
SVOD is a huge industry, but there are two key players that tend to compete directly with Fetch TV in regards to streaming and home entertainment as a whole. They are Apple TV and Foxtel. Here's a quick rundown of how they compare together below:
| | Fetch | Foxtel Cable | Apple TV |
| --- | --- | --- | --- |
| FTA TV | Yes | Yes | No |
| Pause/Rewind/Record Live TV | Yes (Mighty player record only) | Yes | No |
| Catch-Up TV Integration | Yes | No | Yes |
| Netflix/Stan/Presto integration | Yes | No | Yes |
| Buy newly-released movies | Yes | No | Yes |
| Rent newly-released movies | Yes | No | Yes |
| Buy popular TV shows | Yes | Yes | Yes |
| Premium Channel Packs | Yes | Yes | No |
| On-the-go apps for watching | Yes | Yes | Yes |
| Price Per Month for Equivalent Package | $26.25 (Mini player) or $36.66 (Mighty player) (Ultimate pack + player costs over 24-months) | $75 for Sports & Drama Combo no lock-in contract (not including iQ2 equipment fee and installation fees) | No entertainment packages available (unit price available from $239 RRP) |
Sources: Foxtel and Fetch
The main differences between Fetch, Foxtel and Apple TV lie in their costs, and what opportunity you have for entertainment packages, as well as how they act as a home entertainment hub.
Pay TV Value
As far as all-out entertainment goes, it's hard to separate Fetch TV and Foxtel.
Both equivalent packs offer a swathe of channels covering entertainment, drama and sport. You can watch NBA games with both Fetch and Foxtel, for example. For NRL and AFL, you'll pretty much have no choice but to go with Foxtel, though!
However, where Fetch pulls ahead is its integrated Netflix, Stan and FTA catch-up TV apps. Foxtel does not have this; instead, you'll have to rely on another avenue to get these, such as Apple TV, which seems to be an expensive workaround for streaming these services.
Value for Money
Another main drawback is the cost of Foxtel. For an equivalent package to Fetch's offering, you're looking at spending $71 a month!
Adding salt to the wound is the fact that Fox Sports lost EPL TV rights to Optus, so fans of English football may feel even less incentivised to purchase a Foxtel package. Foxtel do provide coverage of games through a few clubs' specific TV channels though, including Manchester United and Chelsea among others. However, the increased cost comes with the benefit of having these channels broadcast on TV, rather than streamed using the internet. Again, this is likely a non-factor for people with unlimited data plans, but for those with data caps, it is also a consideration.

Netflix, Stan and On-Demand Entertainment
Where Fetch TV mainly compares with Apple TV is the access to on-demand purchasing of TV shows and movies, as well as integration of streaming services like Netflix. If this is one of your main concerns – not the Entertainment packages mentioned above – then it may well come down to how comprehensive Fetch's library is versus Apple's iTunes. You may find you prefer one over the other; another benefit is that through Apple TV you also have access to the App Store and the opportunity to download games.
Foxtel is also no slouch in the on-demand entertainment side of things. With any Foxtel subscription, customers get access to Foxtel Go, which is a mobile-based streaming service. It allows you to stream all that's good and holy on Foxtel, including TV shows, movies and sports. It's a free download and is included with your Foxtel subscription. However, Foxtel is not exactly friendly to Netflix and Stan integration.
Set-Top Box and PVR Tools
Where Fetch wins out against Apple TV is through its set top box and PVR attributes. Apple TV does not have these functions, and you can't watch live TV through it. However, Apple TV is a fair bit cheaper, though you'll still have to pay for your preferred streaming services.
Foxtel does have a great PVR/set top box set-up in its 'iQ3' device, which is mandatory for all Foxtel subscriptions and carries an upfront cost when you go to purchase Foxtel.
Overall
If you want all-out entertainment and pay TV packages but have a limited data allowance – choose Foxtel
If you want cheaper pay TV packages and data is no concern – choose Fetch
If you want a cost-effective solution for streaming and a large entertainment library – choose Apple TV
If you want English Premier League football – choose Fetch TV with the Optus Sport Package, or buy Fetch TV through an Optus broadband plan
If you want 'a bit of everything' – choose Fetch TV
Fetch TV seems to offer the best of both worlds between Foxtel and Apple TV. It's also a good compromise on price between the two. While you'll be relegated to streaming much of your content – versus straight TV in Foxtel's case – with Fetch, those with unlimited broadband connections will likely not notice any difference – especially if you choose an unmetered ISP mentioned earlier.
Fetch TV also has much more enhanced functionality than Apple TV, albeit at extra cost. So, unless you're specifically in the market for either Foxtel or Apple TV, we suspect that Fetch TV offers a good mix of the two, and is your one-stop shop for all things 'home entertainment'.
Is Fetch worth the money?
Fetch is a surprisingly welcome and refreshing change of pace in the SVOD world. While it seems many people moved away from traditional pay TV outlets in favour of streaming services, many of these people may yearn for easy-access entertainment and sports packages like they previously received from the likes of Foxtel. Simply, you can't get live TV and sports with Netflix and the like, which is a turn off for many people. On the other hand, a lot of people became disenfranchised with traditional pay TV because they found they were perhaps paying too much. This left a void in the market with people looking for streaming, on-demand purchases, and entertainment and sports packages – all rolled into one simple set top box/PVR. This is where Fetch filled that void, and we suspect it'll become increasingly popular in the future for those looking for an easy bundled solution to all their home entertainment needs.