Listen up! The Good Guys sings as best electronics store for 10 years
From old school vinyls to the latest phones, televisions, dishwashers, collectable figures and other goodies, an electronics shop is like a candy store for the entire family. But, where's the best place to go? To keep our finger on the pulse of Aussie shopping satisfaction, we annually survey more than 1,000 consumers about their personal experiences shopping at physical stores in the past 12 months. While it's easy just to visit your closest electronics store, you might find better service – and value – by going the extra mile down the road. At Canstar Blue, we're big advocates of good customer service and all about helping you find the best deal.
Retailers were once again rated on their product range, relative price compared to other stores, customer service, store layout, value for money and overall satisfaction. Those which received the minimum sample size of 30 responses are compared in this year's report.
And 2020 is another record-breaking year for The Good Guys, having now rated best for overall satisfaction in electronics stores for a whole decade. It also earned five-star reviews in all other categories this year!
Canstar Blue Editor-in-Chief, Simon Downes, said: "Our research is a great indicator of which products and services Aussies rate the best, and over time common themes start to emerge. When it comes to electronics stores, the theme has remained consistent for an entire decade – that Aussies who shop at The Good Guys are generally more satisfied with their shopping experience than people who shop at any other store. It's a remarkable achievement.
"When it's so easy to buy online, The Good Guys is proving the value of still heading in-store to get expert advice and to find a great deal. It's not just about buying a new fridge or vacuum, it's about the all-round shopping experience. Congratulations to The Good Guys for a decade of success in our ratings."
Best Electronics Stores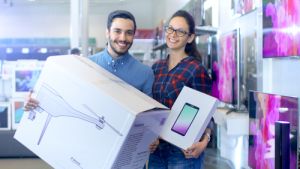 Here are the best electronics retailers in Australia, as rated by consumers in Canstar Blue's 2020 review:
The Good Guys
Harvey Norman
JB Hi-Fi
Officeworks
The Good Guys dominated this year's ratings after it earned five-star reviews across the board, including for relative price, product range, customer service, store layout, value for money and overall satisfaction.
Harvey Norman and JB Hi-Fi followed just behind on a respectable four stars for overall customer satisfaction, while Officeworks rounded out the scores on three stars overall. It's worth noting that this year's winner wasn't the only retailer that impressed. Harvey Norman is keeping customers happy when it comes to service, range of products and store layout, scoring full marks in each category. JB Hi-Fi also rated five stars for its product range.
A helping hand?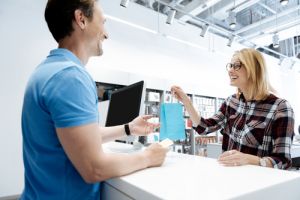 Stocking up on the latest gadgets and hard-to-find collectables is a sure-fire reason to get people through the door. But customer service and staff friendliness still often play as much of a part as the price tag when it comes to making a decision on a purchase, or which store to purchase through.
Generally, most people don't have any complaints about heading instore. It's a great way to check out products in person and get help when you need it ─ a perk that isn't really available when shopping online.
In fact, our survey shows 21% of consumers trust the advice they receive from a sales person, compared to their own research. We also found that three in five (68%) people prefer to be approached by sales staff after they've had a chance to look around, instead of as soon as they walk in (13%). Although almost a fifth (19%) said they didn't like to be approached at all.
But despite many shoppers welcoming the attention, it's clear that there are still a few things that need to be ironed out when it comes to customer service. Here are the most common frustrations our respondents had:
Not enough sales assistants available: 18%
Pushy sales staff: 17%
Lack of knowledge from sales staff: 9%
Stereotyping by sales people: 4%
Check out our graph for some other fun facts!
Where to get the best deal (price matching)?
Did you know that nearly half of Aussie shoppers we surveyed (48%) use the opportunity of being in-store to try and negotiate a lower price on their electronics purchase? Here's how several major chains can help you find a better deal.
The Good Guys


The Good Guys encourage shoppers to ring up if they've found a better deal, potentially allowing you to score the same product for a better price. If you notice the price of your product has dropped at either The Good Guys or an approved competitor by more than $5 within 30 days of the purchase, the retailer's Price Guarantee means you can receive 120% back of the difference as a store credit.
If you do plan on calling, you can even complete the transaction straight away, so you don't even have to step into a physical store! However, your purchase (and potential savings) will be subject to a few conditions.
For those looking for peace of mind when it comes to their latest purchase, The Good Guys also offers a 30-Day Price Guarantee, but only if you add in 'Gold Service Extras' to your purchase. You can find the list of approved competitors, plus the full conditions on The Good Guys website.
Harvey Norman

Harvey Norman has a 'Shop with Confidence' price match guarantee, stating that it will match genuine advertised prices from local stores and leading online retailers, with details and FAQs listed on the 'Price Guarantee' section of its website.
Consumers can request a Price Match up to seven days after the time of purchase, with Harvey Norman simply asking for proof of the competitor's advertised price for the identical product. This does not apply to offers that include cashback, bonuses, bulk purchases, quantity limits or package deals, plus items on clearance or products delivered from an overseas distributor.
JB Hi-Fi


JB Hi-Fi says it will match the price of an identically-stocked competitor product, and states via its website that it is 'open to negotiations' when it comes to larger items.
Price comparisons for those who shop online must include the delivery costs, as well as exclude any additional offers such as cashback, store credit, bundled promotions, clearance products or limited-edition products. Full details are available via the 'Pricing' section of the JB Hi-Fi website.
Officeworks

Known for its wide range of stationery and office goodies, Officeworks also provides a 'Price Beat Guarantee', offering to beat an identically-stocked item by 5%. Shoppers simply have to provide proof of the price and contact their local Officeworks store for the price beat, although a number of conditions have to be met.
The item must be stocked at both Officeworks and the competitor's store, and must not include any deals involving cashback, coupons, commercial quantities or stock liquidations. There are also some limitations for products found online, so be sure to either check out Officeworks' website or contact your local store for full details.
Betta

Betta offers a Price Match Guarantee, stating that if you find a cheaper price and contact Betta, it will match it, subject to a few conditions. The conditions include that products must be from a registered Australian business that has a physical store in Australia, and that Betta doesn't price match on grey imports, liquidation stock sales or when the price falls below cost price.
Betta also offers a 7-Day Purchase Price Guarantee for Club Betta members, meaning that if you find a cheaper price within seven days of purchasing something from Betta, simply show the advertised product, along with your receipt, and Betta will refund the difference. Similarly to the Price Match Guarantee, this is subject to a few conditions, which can be found on the Betta website.
Bing Lee

Under its 'Competitor Pricing Policy' – which can be found on its website – Bing Lee says that it will match the competitor's price, but only when a number of conditions are met. These conditions include that the said competitor is a registered Australian business, has at least two physical stores, and that it physically has the product in stock.
Bing Lee's price matching policy only applies to products available through either its physical or online store, and is not available on products purchased through Buy Now, Pay Later options such as AfterPay.
Which electronics retailer should I visit?
With plenty of major stores to choose from, finding one to spend your time – and money – in can be a tough decision, especially when it seems easier to simply stay home and do your shopping from your couch. But only 6% of survey respondents said they prefer to purchase electronics online rather than in-store – down from 12% last year and 24% from the year prior – meaning electronics stores may have gotten the balance of pricing and customer service just right to entice customers through the door.
With all that in mind, it's important not to assume that the first store you walk into will be giving you the absolute best deal. Sometimes finding the right store and the right deal requires a little patience, and a bit of research on your part. After all, looking into all of your options may not only help you walk away with the best deal, but the best product for your needs, ensuring you don't feel any buyer's remorse as soon as you get home.
About the author of this page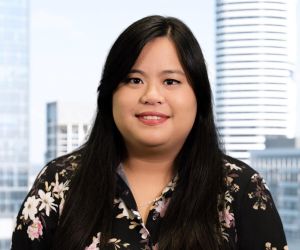 This report was written by Canstar Blue's home & lifestyle journalist, Tahnee-Jae Lopez-Vito. She's an expert on household appliances, grooming products and all things grocery and shopping. In addition to translating our expert research into consumer-friendly ratings reports, Tahnee spends her time helping consumers make better-informed purchase decisions on all manner of consumer goods and services, while highlighting the best deals and anything you need to be aware of.
Photo credits: Gorodenkoff/Shutterstock.com, YAKOBCHUK VIACHESLAV/Shutterstock.com.