With some impressive specs and features bundled into a design that is now uniquely Google, the Pixel 7 is another stellar premium phone launched at a cheaper price than its biggest competitor. Thanks to Google's seamless combination of hardware and software, the Pixel 7 offers a strong performance with one of the best camera systems on the market.
The Pixel 7 series includes the standard flagship Pixel 7 and its upgraded counterpart, the Pixel 7 Pro. As you can expect, the Pixel 7 includes the more basic features and a smaller size than the Pro version, but that doesn't mean it's a basic phone by any means.
Google has still managed to pack in many of the features that make its Pixel phones stand out from the competition, namely in the way of its camera features. Not only does the Pixel 7 sport some quality cameras, but the included features are there to take your photography and videography to the next level, and in a slightly cheaper package than other premium phones. Read on for our hands-on review of the Google Pixel 7.
How we tested the Google Pixel 7
I tested the Google Pixel 7 over the course of a couple of months to see how the phone held up with day-to-day usage including light, moderate and heavier usage. These tests followed how the Pixel 7 handled a range of activities including watching videos, gaming, general social and web browsing, photo taking, video filming and how the battery and charging performance stacked up.
Google Pixel 7 features and specs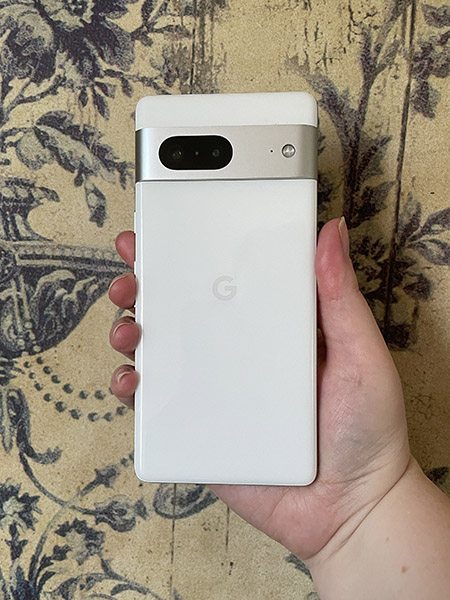 $999 AUD RRP (128GB), $1,129 AUD RRP (256GB)
6.3-inch FHD+ OLED display
Google Tensor G2 processor and Titan M2 security chip
Dual rear camera setup (50MP wide + 12MP ultra-wide)
10.8MP front-facing camera
Android 13 operating system
4,355 mAh battery with 20W wired fast-charging, fast wireless charging, Battery Share and Extreme Battery Saver
IP68 water resistance
8GB RAM
128GB and 256GB internal storage
5G connectivity
Dual SIM (nano and eSIM)
Available in Lemongrass, Obsidian and Snow
Google Pixel 7 pros
Google Pixel 7 cons

Cameras deliver an excellent experience
Stylish design offers a now signature Pixel look
Fast and smooth performance

Runs a bit hot with certain usage
Battery performance seems inconsistent
Camera app struggles to focus in certain conditions
On this page: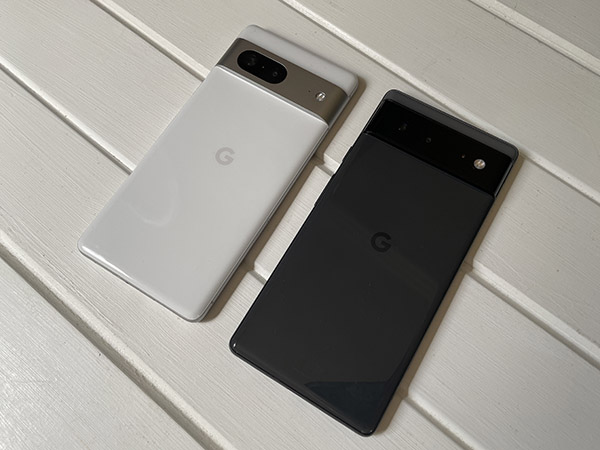 Design & functionality
Similar design to the Pixel 6 but upgraded, sleeker and slightly smaller
Features Edgeless Corning Gorilla Glass on the back with fingerprint-resistant coating
For Google's 2022 phones, the brand has decided that the design of the 2021 Pixel 6 series is its new signature style, with a very similar — although slightly upgraded — design for the Pixel 7 series.
On the back of the phone, there's the Edgeless Corning Gorilla Glass Victus with a nice shiny finish, which seems to be fairly smudge-proof in the Snow (white) colourway I was provided. The aluminium frame is in a silvery finish which works well with the white, although both the back and frame are a different colour if you chose the Lemongrass or Obsidian options.
The cameras are housed in a strip across the back with the aluminium frame. Google has decided to keep the back colour the same (with no additional colour above the camera strip); with the metal camera strip, it looks a bit more sleek than the Pixel 6, but it is missing that retro vibe that the Pixel 6 had.
The white version looks really good and isn't too boring. Google has kept the colour choices very simple with these three options of white, black and pale green. They're still really nice looking phones, but hopefully this isn't Google's first step to a more generic and simple-looking design.
Using the phone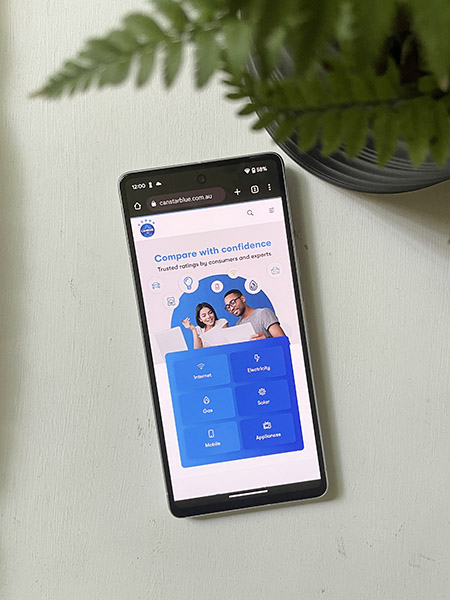 The Pixel 7 features a 6.3-inch display, which is slightly smaller than the Pixel 6 (which was 6.4 inches). Thanks to its smaller size, it is slightly lighter than its predecessor, weighing 197g compared to the Pixel 6 at 207g. I still found the Pixel 7 to be a rather hefty-feeling phone, which could be due in part to the glass on the back, which was not used with the Pixel 6. Google also supplied me with a case for the Pixel 7 which added a fair bit of bulkiness.
I really liked the size of the Pixel 7 — it's slightly larger than the iPhone 14 Pro, but not as large as some other phones on the market. Because of this, I found it to be a really comfortable and easy phone to hold and use, especially one-handed. When using it without the case, it feels a lot lighter and sleeker than the slightly more awkward bulkiness the case adds.
The Pixel 7 includes both facial recognition and under-screen fingerprint scanning. The Pixel 6 was plagued with temperamental fingerprint scanning which verged on infuriating at times, so it's nice to see that the Pixel 7 has largely avoided this. There were a couple of occasions where I found it struggled to recognise my print (and this kept happening when I was trying to take photos at one point), but for the most part its fingerprint unlocking was quick and rather seamless. Facial recognition was also responsive and fairly seamless, so it's a good backup to have on hand if you can't reach the fingerprint scanner.
Overall, the Google Pixel 7 is a great phone to use. It felt very similar to its predecessor, but the slimmer and sleeker design makes it feel a little more high-end than the Pixel 6. It's a gorgeous looking phone, even in its plainest colourway, and is comfortable and easy to use.
Performance
Overall smooth and zippy performance
Runs rather hot with certain usage
The Google Pixel 7 is the more basic of the two devices in the Pixel 7 series, but that doesn't mean Google has skimped on performance, just that it's missing out some of the bells and whistles.
Under the hood you'll get the same hardware as the 7 Pro, with the Google Tensor G2 chip and the Titan M2 security chip, along with IP68 water and dust resistance. You'll get a 4,355mAh battery along with fast charging capability, up to 1,000 nits (HDR), up to 1,400 nits peak brightness and up to 90Hz refresh rate (a downgrade from the 120Hz of the 7 Pro).
I found the Pixel 7 to be a rather zippy phone to use — whether that was scrolling through social media or switching between apps. In fact, I found the speed when navigating between apps and the home screen to be almost dizzyingly fast, which could be to do with the fluid animation used when you close an app. It definitely helps to make the Pixel 7's performance feel really fast and fluid.
While I find the lack of 120Hz refresh rate an odd choice — especially since there are cheaper phones on the market with 120Hz refresh rate — Apple also keeps its faster refresh rate for its Pro phone. 90Hz is still a decent refresh rate and I didn't really think about it too often when using the phone. You get a good enough performance and screen quality overall that the Pixel 7 doesn't feel lacking.
The performance was generally seamless and what you'd expect of a phone at this price, although I did have a few issues with links not opening in some apps and apps crashing. However, it wasn't too often and could have been an issue with the app itself.
I also found that the Pixel 7 runs rather hot, especially when using the camera app. This was something I also experienced with the Pixel 6. While it's not uncommon for phones to run hot through intensive activities, I feel like a few minutes of photo taking and filming shouldn't be enough to run the phone hot, especially as I was able to feel the heat through the supplied phone case.
Testing out the Pixel 7's 5G capabilities, I was able to record average speeds up to 556Mbps on the Optus 5G network. However, when running these tests, the phone did get very hot, which is something you might need to be mindful of when using 5G and other intensive activities such as mobile gaming.
Viewing experience
The Pixel 7 includes a 6.3 inch FHD+ OLED display, which I feel is the perfect size. I'm not personally a fan of really big phones, and the more compact-friendly (without being too tiny) size of the Pixel 7 makes for a good experience all round.
Considering how much the Google Pixel 7 has going for it, you of course have high expectations for a phone like this. But when it came to the viewing experience, I found I was rather disappointed.
The screen quality is generally really clear and makes for a great experience overall, but I found the auto brightness detracted from the viewing experience, whether that was watching shows, movies, or live music videos. I frequently found I needed to boost the brightness in certain conditions, and since I also found that the colours lacked a little vibrancy and pop, the lower brightness amplified the issue a bit for me. When changing from a darker environment to a brighter one, it seemed to take a while to adjust its brightness, but it does look good in bright conditions.
I also found there was a slightly lacklustre performance from the built-in speakers. While you get a nice immersive sound from the two speakers, there is a noticeable lack of bass and depth to the sound. It was noticeable when watching certain live music videos and also with quieter speaking parts of shows/movies.
However, when it was less intense music, the sound was a bit clearer and more immersive, which made me wonder if it's maybe more to do with the balance of sound than anything else. Compared to other phones, the speakers and sound certainly isn't bad, but I did have higher expectations and felt it was a little bit of a let down. The volume is also rather quiet: I found I needed to turn the volume virtually the whole way up, which was especially noticeable during quieter moments with mostly talking and little or no music in movies/shows.
A lot of this is also nit picking — when you have high expectations of a premium device, it's easier to focus in on those little things. Overall though, whether you're gaming, watching videos or scrolling through social media, the Pixel 7 delivers a great experience.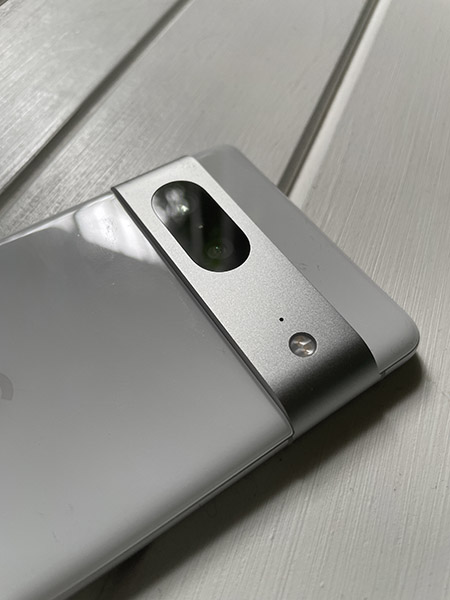 Battery and charging
Google has packed a 4,355mAh battery in, with claims that it has a 'beyond 24-hour battery life' and up to 72 hours battery when using extreme battery saver. It also has wired fast charging up to 20W and Google claims you can charge up to 50% within about 30 minutes when using one of Google's 30W fast chargers. While Google has made these claims about its battery and charging, how does it hold up with actual use?
I found the Pixel 7 battery did a decent job at keeping up with my day-to-day usage. Around eight hours of moderate usage (social and web browsing, gaming, video streaming and regular idle periods) drained 22% of the battery, while a longer day of moderate usage (11 hours) drained around 36% of the battery.
Around an hour of streaming Disney+ drained 7% of the battery, while 10 minutes of HD YouTube streaming drained 1% of battery. Gaming is relatively comparable with around 20 minutes of gaming draining around 2% of the battery.
However, I felt that the battery drained faster than what I've seen with other phones, especially when using less intensive apps, like social media apps, in comparison to gaming or video. This seemed to be exacerbated when the battery was running low and the battery seemed to drain quite quickly. While running benchmarking tests, I found instances of 1% battery drain in just six minutes and a 2% drain in 18 minutes, while 14 minutes of using the camera app (photo taking and video filming) chewed through 5% of the battery.
When you start running low on battery, you do get a notice and the option to turn on battery saver mode. Battery saver mode can come in handy when you're out and not able to charge your phone for a while, but it primarily saves battery when the phone isn't in use. Without battery saver mode, it took just under an hour to drain 9% of the battery with moderate usage, while in three hours with battery save mode on and moderate usage, it drained just 6% of the battery.
Although the overall battery performance held up and testing did show indications of this, I felt that the performance was slightly inconsistent, and that perhaps certain activities exacerbated this. If you're a heavier phone user, it's something you might want to keep an eye on and you might find yourself needing a second charge in the day.
If you are in a pinch for battery, Google has included up to 20W fast charging compatibility, but a fast charger will need to be bought separately if you don't have one. I was able to get from 0% to 100% in 1 hour and 40 mins using a 45W fast charger. Just 17 minutes of charging was enough to get it from 0% to 24%, which is great if you're in a rush and just need a battery boost.
Overall, the Pixel 7 delivers an experience you would want and expect from this phone with a consistent day-to-day performance with little to complain about. However, I would have liked to see Google pack in a higher refresh rate and to maybe perfect some of the little things — like a more intuitive auto brightness, a more consistent battery performance and better speaker quality. However, much of this is nit picking and thanks to the stellar reputation that Google has for its Pixel phones, it's a luxury to be honing in on those small details without any big issues to detract from the overall performance.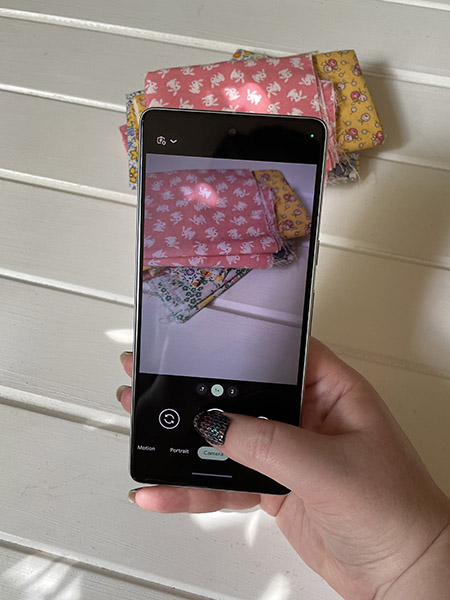 Cameras
Photos are clear, colours true to life and generally stunning results
Camera app struggles to focus in certain conditions
The Pixel 7 includes a dual rear camera setup with 50MP main camera and 12MP ultra-wide camera (unlike the Pixel 7 Pro that also includes a 48MP telephoto camera) and for all your selfies, you'll get a 10.8MP front-facing camera. Google hasn't skimped on the camera features designed to improve your photos and boost your creativity including Magic Eraser, Photo Unblur, Face Unblur, Real Tone, Long Exposure, Action Pan and more, although a macro mode is reserved for the Pixel 7 Pro. You can also use some of the editing features on images that haven't been taken on the Pixel 7.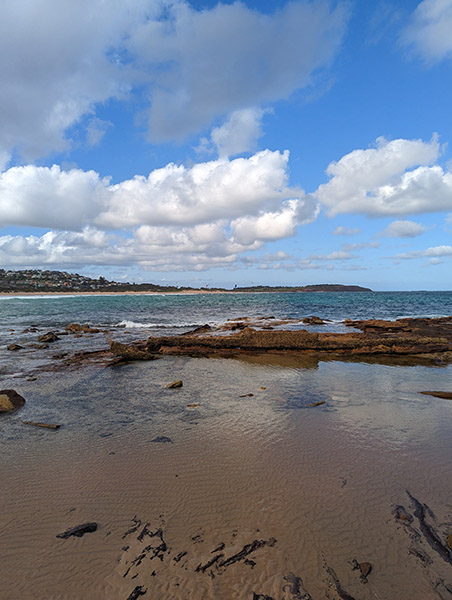 Outdoor photos are spectacular with great clarity, true-to-life colours and a nice vibrancy, whether it's overcast or bright and sunny. You'll also get a really nice natural-looking background blur when you're focused on a subject. Details have a fair amount of clarity when you take a closer look, and when you use the digital zoom, the photo processing takes away much of the noise you see on screen.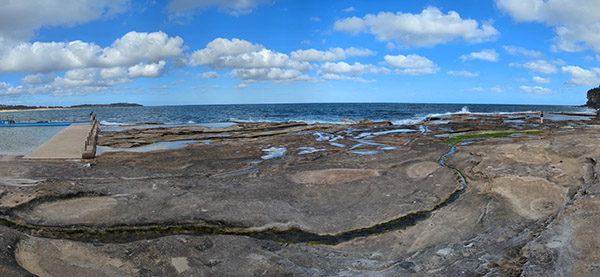 Indoor photos are also fantastic, with colours very true-to-life and surprisingly vibrant, even in lower light conditions. Other devices might mute the colours away from natural light, but I felt like the Pixel 7 didn't struggle to actually boost colours and brightness in indoor and lower light conditions.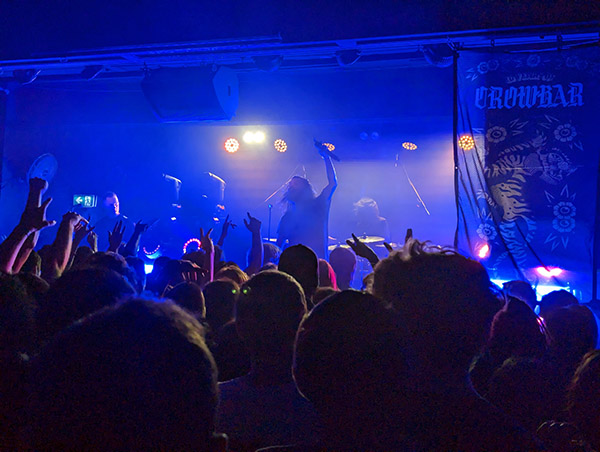 I took the Pixel 7 for a spin at a live music show to see how it handled those tough conditions. While there were moments where it struggled to focus on the subjects on stage from a distance, it pretty much kept up with the show with some dynamic results, although there was more focus on the crowd in the foreground than the band on stage in some shots. While it wasn't quite up to the standard of the iPhone 14 Pro, considering this is Google's more 'basic' Pixel phone, it was still a solid result.
The camera's autofocus was also very impressive and I found it on par with the iPhone 14 Pro's auto focus. When you're moving the phone around to take photos of different subject matters, it seamlessly tracks and adjusts the focus automatically and I found there was little need for me to set a manual focus by tapping on the screen.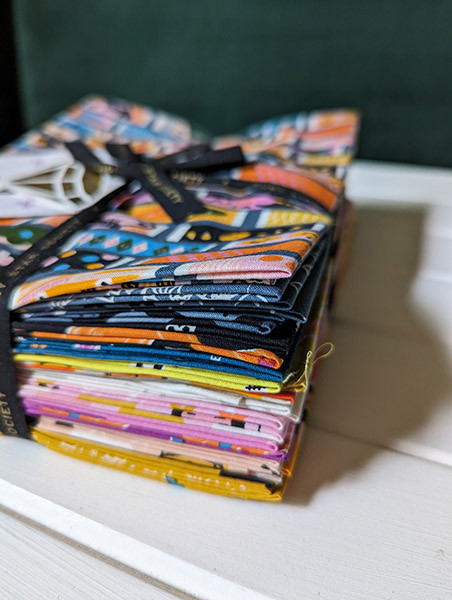 While the general photo taking experience was virtually faultless, I did have some issues with the camera app. Despite its great auto focus, there were times I found it hard to get the camera to focus on any subject in certain instances. It seemed to be mostly when taking photos of landscapes or when the subject is far in the distance. If you take a lot of photos of landscapes or far-off subjects, you might need a little patience while the camera adjusts.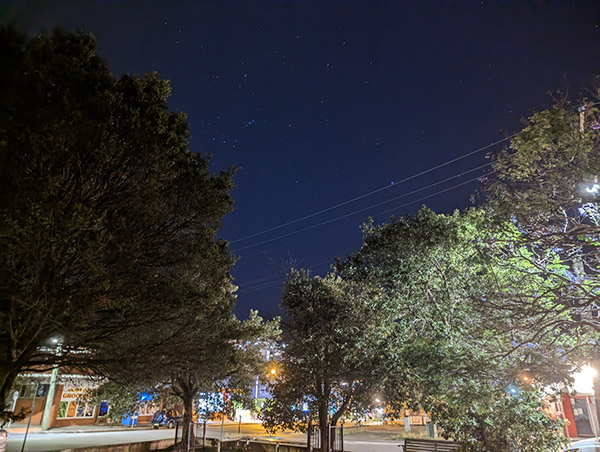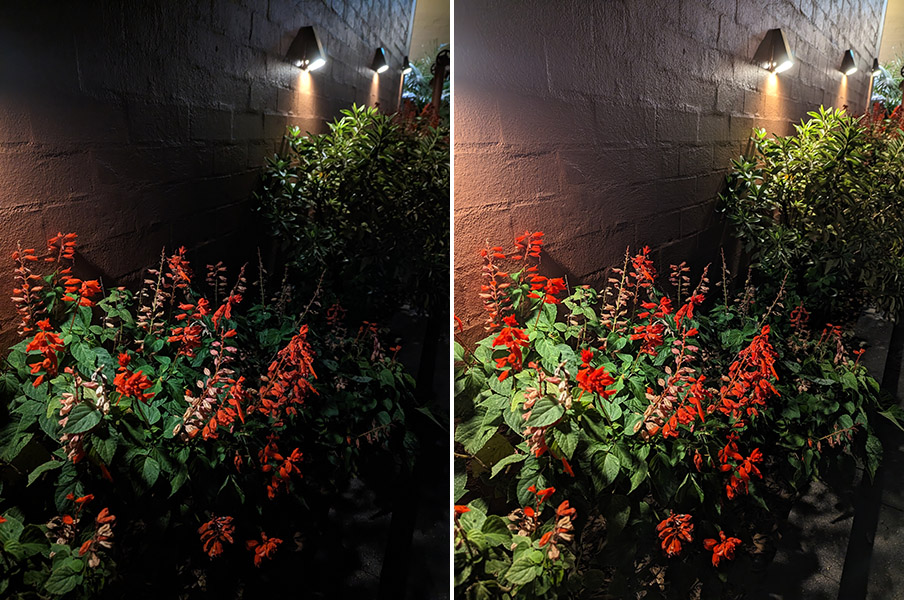 Night Sight — the Pixel's night mode —  is very intuitive, accessible both as a mode you can select manually and an automatic mode that kicks in under low light conditions (although you can turn off the automatic feature much like you can turn off flash). Much like photos taken during the day and in brighter conditions, you can expect to get some fantastic results when taking photos at night, and it's also capable of capturing a lot of detail in the night sky (I was surprised by how many stars were visible in the right conditions!). I found that there were a few issues with focus when using Night Sight, which was frustrating, so you'll need some patience and persistence to get those great shots. You get the best results when there is some light source, but even in much darker conditions, it does a good job at brightening the photo and surprisingly doesn't show too much noise. Overall, the quality was detailed and natural looking, and the Pixel 7 does a fantastic job at producing quality shots in dark and low light settings.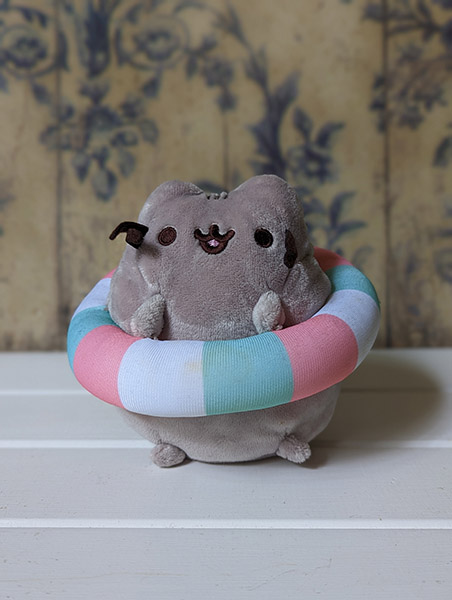 Portrait mode is another absolute stand out for the Pixel 7, and that's especially thanks to its software features, such as Real Tone, that take portraits and selfies to the next level. You'll get a nice blur in the background, and it does a fairly good job at focusing around hair, with very minimal blurring on the outline of the subject. There's also a lot of depth to the subject, which is great for picking up on skin tones for a more natural result.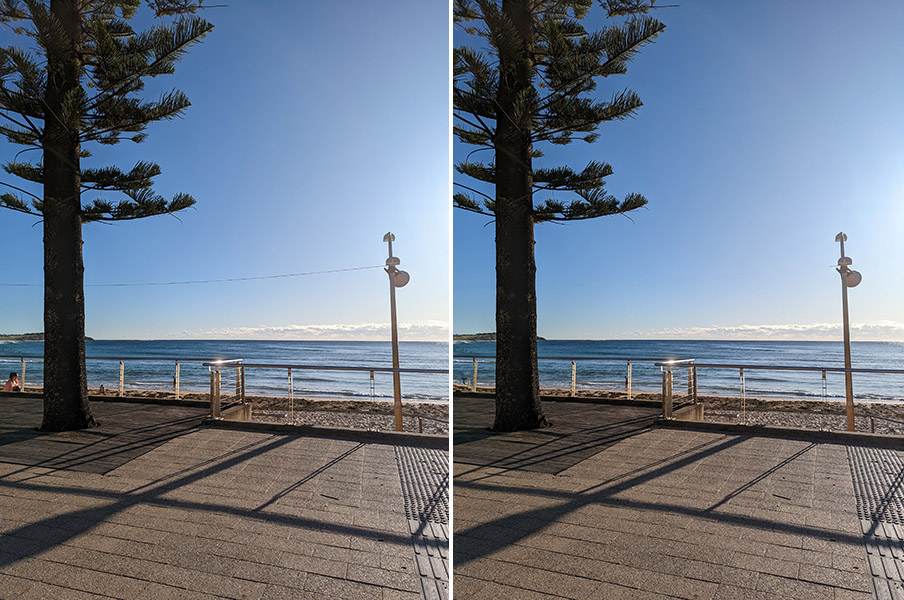 Video is another stand out for the Pixel 7 (what can't it handle, really) and the results were stunning overall. The video quality is clear and colours are vibrant, whether it's outdoors or filming live music indoors. Audio quality is also great for the most part, although in tough conditions — including a very loud gig and a very windy day  — it struggled a little bit with sound balance, but that's really nit picking at this point.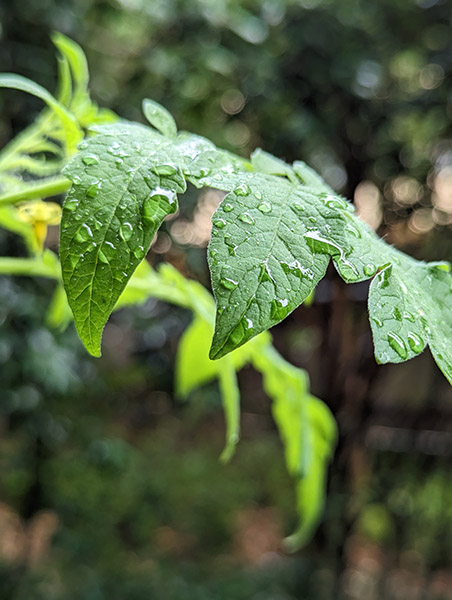 There's also a cinematic video mode, which seems to be taking a leaf out of Apple's book as this feature was introduced with the iPhone 13 series in 2021. It's meant to focus on a subject and create a blur in the background, but I found it could be temperamental with focus and the background blur was a little unnatural looking at times. It's not the most amazing video feature, but some users may enjoy what it can do once you get a handle of how to use it.
What Google has managed to do, much like Apple, is enhance its camera hardware with quality software. Images that might not have looked that great on screen while you take them, have been enhanced by all the features that Google packs in once the image has processed. While it's something Apple has done for quite a while, for anyone who prefers Android, the Pixel 7 will give you all the benefits of software and hardware that works in harmony to produce a great photo and video experience.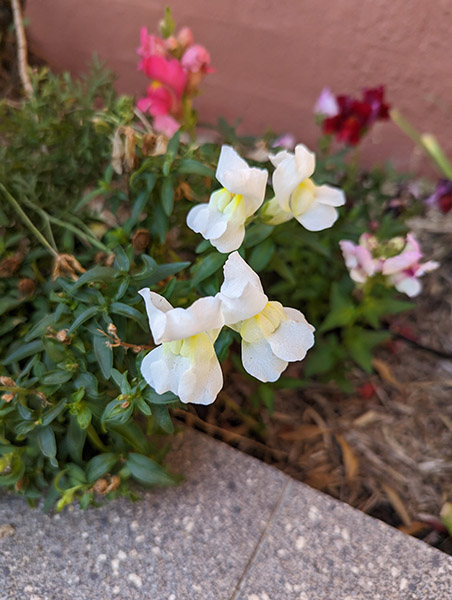 For this reason, it's very hard to fault the Pixel 7's camera experience, whether it's taking photos or filming video. The quality of photos in a range of conditions and using a range of features, are generally stunning, bar a few issues with focus. Considering the price of the Pixel 7 compared to its competitors like the Samsung Galaxy S series, it positions the Pixel 7 as a very attractive option for anyone looking for a high-quality photo and video experience.
Note: Images taken on the Google Pixel 7 have been digitally compressed for web.
Phone plans for the Google Pixel 7
While you can buy the Pixel 7 outright from a range of retailers, you can also pick up your Pixel 7 on a phone plan from Telstra, Optus and Vodafone.
The following table shows a selection of published 24-month plans for the 128GB Google Pixel 7 on Canstar Blue's database, listed in order of cost, from the lowest to highest and then by data allowance, largest to smallest. Use our mobile phone comparison tool to see plans from a range of providers. This is a selection of products with links to referral partners.
Should I buy the Google Pixel 7?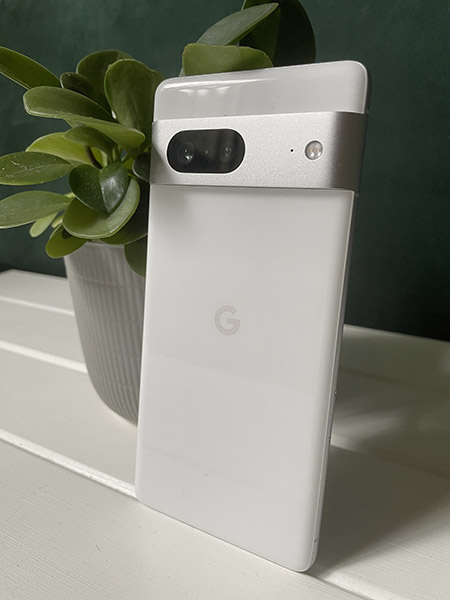 Google might have had a more cult following with its earlier devices, but it's certainly making its mark in the smartphone market with each new release. The Pixel 7 showcases once again that Google has really mastered the integration between software and hardware — something that Apple's iPhone has been a leader on for years.
Not only does the Pixel 7 showcase some of Google's best tech working in harmony with its software, but it still does it at a slightly cheaper price point than comparable devices from competitors. For a flagship phone to start at $999 AUD with this kind of performance, the Pixel 7 is a phone that is hard to beat. You might be able to pick up competing devices at a similar price, but that's usually with discounts and after many months on the market, as the release prices are usually around $200 or more than the Pixel 7 at launch.
It is by no means a perfect phone. There are some little misses here and there, and I find the maximum of 90Hz refresh rate to be a little basic for a premium phone when cheaper devices will include a higher refresh rate at a significantly lower prices. The battery also suffered from an inconsistent performance at times, and the phone tends to run rather hot when using the camera app.
But this is still picking at tiny things that make little difference to the overall performance. Considering the strong performance I experienced with its predecessor (the Pixel 6), to have a similarly stunning overall performance from the Pixel 7 shows that Google is well and truly on the right track when it comes to its phone releases and is a big competitor in the premium Android space.
| Consider the Google Pixel 7 if | Don't consider the Google Pixel 7 if |
| --- | --- |
| You're after a premium Android phone without the hefty $1,000+ price tag of other devices. | You want a bit more bang for buck such as higher refresh rate, bigger size and additional camera of the Pixel 7 Pro. |
Product used for review/testing was a free sample provided by Google.