Despite the fact that Victorians call parmis 'parmas', and togs 'bathers', they sure know how to get one thing right – and that's solar. Incentives to install a solar system in the Greens capital aren't hard to find with the state government regularly providing offers to make it cheaper for Melbournians and surrounds. Read on to find out what solar panel, solar hot water and solar storage system savings you could receive in Victoria.
Solar Rebates in Victoria
Eligible Victorians can apply for one or a combination of solar savings schemes to reduce the upfront cost of installing a solar system. This list is relevant as of May 2020:
Victorian Solar Homes program
Victorian Solar Interest-Free Loan
Small-Scale Renewable Energy Scheme
Victorian Solar Homes Program
Since 2018, Victorians have been able to apply for a subsidy known as the Victorian Solar Homes program. As of May 2020, this rebate has been quoted at up to $1,888 for panels and $4,838 for solar battery systems. The Victorian government estimates that, over 10 years, the Solar Homes program will enable the installation of panels, batteries and hot water systems to 770,000 households in the state. The plan? To help cut Victoria's carbon emissions and contribute to the state's 50 per cent renewable energy by 2030 target.
Here is a list of rebates currently on offer from the Victorian government:
| | | |
| --- | --- | --- |
| Rebate | Description | Amount |
| Solar panels | Homeowners can apply for a rebate to subsidise the cost of installing solar panels. In order to be eligible, households must have a combined income of less than $180,000 per year, own a property of under $3 million in value, and not have an existing solar system. | Up to $1,888 |
| Solar panels for renters | In order to apply for this rebate, renters must obtain the permission of landlords and both parties must sign a Solar Homes Landlord-Tenant Agreement. The property must be worth less than $3 million, with the combined household income being less than $180,000 per year. In order to be successful, tenants must make sure the home has not previously participated in a Solar Homes scheme. | Up to $1,888 |
| Solar battery | With only 1,000 rebates a year, Victorians in eligible suburbs can have the purchase of a solar battery subsidised. Successful applicants will have panels 5kW in capacity or greater, select a Solar Homes approved battery, own their home and have a combined taxable income of less than $180,000 per annum. | Up to $4,838 |
| Solar hot water | Homeowners with or without solar panels could be entitled to a solar hot water rebate. Like the other rebates, a household's combined income must fall under $180,000, and the home be valued under $3 million. The solar system must be on the approved products list. This cannot be combined with a solar or battery rebate from this scheme. | Up to $1,000 |
Source: solar.vic.gov [May 2020]
The Victorian government will only release a certain number of rebates at any one time, meaning these offers won't always be available. These rebates are released either yearly or in smaller increments, with the Solar Homes website posting updates on how many are up for grabs. You can go online to apply for these rebates.
Victorian Solar Interest-Free Loan
To help further reduce the cost of solar panels, Victorian households can apply for a loan from Solar Victoria. This loan is interest-free, but must be paid within four years. Whilst not available in conjunction with solar hot water systems and batteries, this loan can be combined with a solar panel rebate, of an equal amount to the rebate, which is $1,888. This means that – in total – an applicant will receive up to $3,776 towards their system.
This loan is only available if you're the owner-occupier of a property, and match the successful application criteria of a solar panel rebate. That is, that your combined taxable income is of less than $180,000 a year, your property is valued at less than $3 million, and that you don't already have a solar PV system.
Small-Scale Renewable Energy Scheme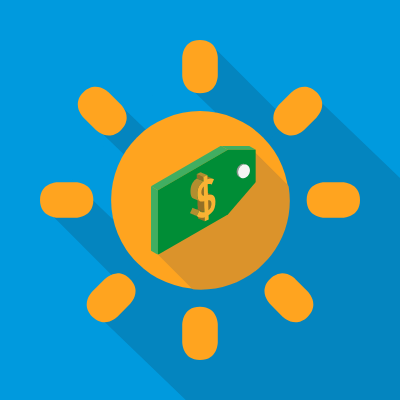 Whilst not exclusive to Victorians, the government's Clean Energy Regulator runs a scheme in support of small renewable energy systems like solar panels, solar water heaters and even small-scale wind and hydro systems.
How it works is that you're granted Small-Scale Technology Certificates (STCs) for installing solar, which you then have the opportunity to resell. The number of certificates you get depends on the expected output of your renewable energy system over 15 years, as well as factors such as your location.
This should all be made clearer to you by your solar installer and you'll have the option of where to sell your STCs, although it's common for solar customers to exchange the certificates upfront for a sometimes generous discount on their solar.
Alternatively, the Clean Energy Council purchases STCs in what's called a Clearing House for $40 each, excluding GST.

Image credits: Adam Calaitzis/shutterstock.com, canva.com