Loyalty programs and incentives are nothing new in today's landscape, with plenty of brands and industries offering additional extras and discounts to help keep customers interested. And with the prominence of the program across multiple industries, it's no surprise to see Microsoft offer its own loyalty program – Microsoft Rewards. While we all know what Microsoft itself is about, what exactly does Microsoft Rewards offer, and is it worth signing up to? Find out all you need to know in this Canstar Blue guide.
What are Microsoft Rewards?

Microsoft Rewards is a loyalty system based on points earnt by interacting with Microsoft-owned products and services, such as gaming through Xbox, browsing the internet via Bing, or other Microsoft-related activities. Once you earn enough points, you can then redeem them towards a reward of your choice, including vouchers at retailers, discounts on Microsoft products or by donating to charity.
How do you sign up for Microsoft Rewards?
To sign up for Microsoft Rewards, all you'll need is a Microsoft account and then you're ready to roll. If you don't already have a Microsoft account, you'll be prompted to create an account beforehand, while if you have an existing account, you'll simply have to enter you details online and you'll be ready to start earning those points. Microsoft Rewards can also be linked to a Microsoft Family account, ideal for when you have multiple subscriptions under the one roof.
How do you earn Microsoft Rewards?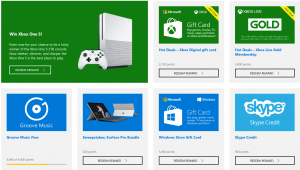 There are several ways of earning Microsoft Rewards points, with searching, shopping and gaming via Microsoft being the three main methods of racking up points, with Microsoft also running small competitions and challenges to help boost your points total. Each activity will have a different value – with searching with the Bing browser netting you up to three points per search – while gaming and shopping will reward you with points depending on how much you spend on your next purchase, or how long you play. Points will automatically be accredited to your account during the time of your purchase, provided you are logged into your Microsoft account.
What can you use Microsoft Rewards for?
You can redeem your Microsoft Rewards points for Microsoft products, Xbox memberships, entry to exclusive Microsoft prize raffles, charitable donations or gift cards from brands such as Coles, David Jones, Skype and more. Microsoft Rewards can be redeemed via the Rewards home screen, which also includes a dashboard to help you keep track of how many points you're currently sitting on, as well as any exclusive deals, promotions or prizes that you are eligible for.
Microsoft Reward points have no cash value, and can only be used via Microsoft Rewards.
How do I achieve Level 2 of Microsoft Rewards?
To become a Level 2 member of Microsoft Rewards you'll need to earn at least 500 Microsoft Rewards points per month to qualify, with Level 2 benefits including additional points and rewards, plus exclusive access to Microsoft offers.
Is it worth signing up to Microsoft Rewards?
Microsoft Rewards is a great opportunity to earn rewards without going out of your way, particularly if you already spend a bit of time on Xbox, or you prefer using Bing as your internet browser of choice. Considering that it's also free to sign up to, there's not much standing in the way of you earning yourself some points and locking in some discounts. But of course, if your loyalty lies elsewhere and you don't use Microsoft products much, Microsoft Rewards won't be an essential program to sign up to.

Photo credit: GaudiLab/shutterstock.com, Microsoft.com