Buying a television can be a painful process, only made more so by expensive prices. You might be surprised to see the price of some TVs these days – with all their technology packed in, they can cost up to and over $10,000! It seems the minimum spend these days is about $1,000, but there is help on the way.
Many retailers and brands are offering cheap TVs to satisfy the needs of those who just want 'bang for buck'. Be it for a sporting event, a 'quick fix', or a second TV for the bedroom, cheap TVs can be a great idea that won't exactly break the bank. However, what's the catch with cheap TVs, and just why are they cheap? Find out where to buy a cheap TV and what you are really getting with Canstar Blue.
Where can I get a cheap TV?
There are a couple of retailers that specifically offer cheap TVs – namely Kogan and JB Hi-Fi. In fact, Kogan offers its own brand of TVs that are at quite compelling prices, while JB offers a specific subcategory on its website labelled 'Cheap TVs', with all being Soniq-branded. Here's an overview of their respective cheap TVs and prices.
Retailer
Screen Size
Price From (RRP)
Kogan
16" TV/DVD Combo
$135
24"
$169-$189
28" TV/DVD Combo
$229
32" Various
$199-$279
32" Smart LED
$329
40"
$289
42"
$349
43" Agora 4K Smart
$489
49" 4K Varieties
$499-$549
55" 4K Varieties
$579-$699
65" 4K Varieties
$899-$1199
JB Hi-Fi (Soniq)
24" TV/DVD Combo
$199
32" Varieties
$229-$249
43"
$399
50" Smart
$599
55" Varieties
$699-$1296
58" Smart 4K
$996
65" Ultra HD
$1298
Source: Respective retailer websites December 2016
Keep in mind that Kogan is online-only, delivering imported stock, while JB Hi-Fi has many stores across Australia delivered Australian-delivered stock. Let's see what the two retail giants have to offer.
Cheap TVs under 30 inches
Both Kogan and JB Hi-Fi offer a few cheap LED/LCD TVs with screens smaller than 30 inches, all at a relatively tasty price. Kogan comes to the game with the flat-out cheapest TV – a 16 inch TV/DVD combo (pictured).
It'll cost about $140, delivery notwithstanding.
You still get a HD Digital TV tuner, USB and HDMI input.
Plus you even get a built-in personal video recorder to record, rewind and pause live TV.
For the tiny price, you get a pretty tiny screen, but that's about where the compromise ends. This would make an ideal companion for a caravan, study area or for those long summer days out on the ocean in your new yacht that made you tighten the budget.
JB Hi-Fi and Soniq come to the game with one offering – a 24 inch TV/DVD combo.
It features USB recording and HD digital TV with a personal video recorder.
It also has a HDMI port.
For about $200, it's comparable in price to Kogan's 24 inch TV. Both retailers have some strong contenders but Kogan seems to beat out Soniq on price. However, there is still much merit purchasing from JB Hi-Fi as you can still walk into a physical store, talk to a real person and walk out with a new TV under your arm on the same day.
Cheap TVs under 50 inches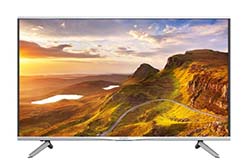 This is where the two retailers start to offer some more tech-filled TVs. Kogan, for example, offers a 43 inch Agora 4K Smart TV (pictured) for less than $500.
This is a great price for a smart TV, let alone one with 4K capability.
4K resolution is – as you may have guessed – four times the resolution as regular ole HD. And the smart function allows you to search, stream and browse the internet on your TV.
You'll easily be able to stream things like Netflix within a couple of clicks on the remote.
This is all run through the familiar Android operating system. This also opens you up to the wide variety of apps on the Google Play store.
It also features media playback via the HDMI and USB ports.
In contrast, Soniq/JB Hi-Fi does not offer any smart TVs under 50 inches in size. However, you will get a 43 inch full-HD TV for less than $400. Evidently, smart TVs do more than just play endless reality TV on all your favourite channels – they are capable as a home entertainment hub. If you're after a cheap smart TV with 4K, Kogan comes into the picture with great clarity.
Cheap TVs 50 inches and larger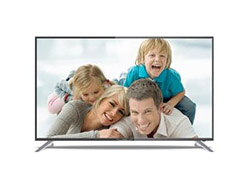 If your cheap TV itch demands a wider screen, both Kogan and Soniq have come to play with some exciting options. If you're after a lounge room-worthy TV, this one could be it. As for Soniq through JB Hi Fi, it comes to play with a few offerings, with the 55 inch size (pictured) also being most notable. Again you'll get all the good stuff you come to expect with 4K capability and 'smart' features.
It also boasts 4GB RAM for fast browsing.
For about $800 it's a little dearer than Kogan's offering but you won't have to wait for it to be delivered, or pay for shipping for that matter.
Soniq's 65 inch variety comes in at just over $1000 but it is also smart, and boasts 4K-quality viewing.
At this point, a lot of Kogan's offerings are smart TVs with 4K HD. Take for example the 55 inch variety, which Kogan claims has a panel from LG. Like other smart TVs it comes with Android as the operating system that allows you to browse the internet. What a time to be alive!
To do this you will get a smart air remote with an integrated keyboard.
For about $700 you won't have to re-mortgage the house.
You can also get a 65 inch model for less than $1000!
Things to consider
No matter your size, it's proven that bigger isn't always better. Overall you'll have to keep an eye out for things like:
Screen resolution – HD, 4K, 'Ultra HD'
Ports and input capability
'Smart' features and built-in browsing
Built-in entertainment accessories like DVD players and HD tuners/PVRs
It's not just price you'll have to look at, but rather price in conjunction with these nifty features. This will help determine overall value of your cheap TV and to determine which cheap TV is right for you.
Should I get a cheap TV?
There is obviously a lot of merit in buying a cheap TV. Quite often for palatable prices you'll get 4K-quality as well as smart TV functions and pretty wide screens. So, with all that said why aren't all TVs 'cheap'? And what compromise is there with getting a cheap TV? Quite often it's the 'intangible' features that you compromise on, like usability, intuitiveness, screen quality and speeds of TV load times.
With Android operating systems, there are frequent updates and not updating the software can result in a slow smart TV experience
Many cheaper TVs save on costs with in-house screen production. Keep an eye out for brands that claim to use 'Sony/LG/Samsung glass'; these could be the pick of the bunch.
Basic construction and screen quality. Many top-rated brands these days claim their screens reduce glare and produce blacker blacks – cheap TVs may compromise on this but your mileage may vary
Many top rated brands are backed by generous warranties and are 'made to last'. As always, check the warranty and buying online from 'grey market' importers like Kogan may make it difficult to return a TV if it's faulty or suddenly dies
With that being said, saving a buck if it's just a second TV you're after makes sense. Often a bedroom TV – or one for the caravan, study or den – doesn't need to meet the rigours of one placed in the lounge room that's used every day. In this case, purchasing a cheap TV is a good opportunity to satisfy your home entertainment needs, but be warned that you may need to meet a few compromises!