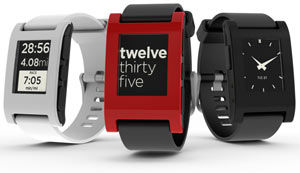 Smart watches have certainly grabbed the attention of any tech-savvy consumer in the last few months – especially with the announcement of the Apple Watch.
It would seem then that the fight for wrists and minds has begun in earnest.  We examined the leading smart watch models available (or soon to be) in Australia, comparing them on price, battery life, screen quality, fitness capabilities, integration with your phone and special features. Products were current at time of publication.
Price (RRP)
| | |
| --- | --- |
| Model | Price ($) |
| Pebble Smartwatch | 99 (USD) |
| Samsung Gear 2 | 329 |
| Sony Smartwatch 2 | 369 |
| Apple Watch | 349 (USD) |
| LG G Watch | 250 |
| Moto 360 | 250 |
Smart watches, like smartphones, vary in price based on brand and features. The Kickstarter-backed Pebble smartwatch is one of the cheapest available for $179, and can connect to both Android and iOS devices.  However, that price does come with a few limitations, most notably its screen, which is black and white and lacks touch-screen functionality.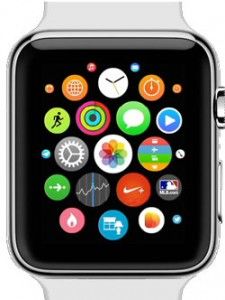 On the more premium end, the Sony SmartWatch 2 and the Samsung Gear 2 both sell for $329 and $369 respectively. The Sony device is compatible with most major Android phones, while the Samsung watch is only compatible with Samsung phones. The increase in price brings with it a few new features; most importantly, full colour, touch-enabled screens.
In other Android options, the LG G Watch is more budget friendly, costing $250, while the soon to be released Motorola Moto 360 is likely to launch for somewhere between the Sony and Samsung offerings.
Of course, the elephant in the room is the recently announced Apple Watch, expected to arrive on our shores early next year.  Pricing for Australia is yet to be announced, but given past Apple trends, it's shaping up to be the most expensive watch on the market.  The stated Apple Watch price of $349 USD converts to $379 AUD, but it is not unreasonable to expect a further $80-$100 mark-up thanks to a well-known 'Australia Tax'.
Battery Life
| | |
| --- | --- |
| Model | Battery life (days) |
| Pebble Smartwatch | 7 |
| Samsung Gear 2 | 2.5 |
| Sony Smartwatch 2 | 4 |
| Apple Watch | N/A |
| LG G Watch | 1 |
| Moto 360 | 1 |
One of the downsides of the wireless functionality of a smart watch is the limited battery life.  Far from the months or years you'd get out of a single battery for a traditional watch, smart watches have a typical battery life of a few days.  The Pebble is the best of the current crop, lasting up to a week, while the LG and Motorola offerings both struggle to last longer than a day. While it is yet to be tested in the wild, the Apple Watch is also likely to last only a single day – although we cannot say for sure. The Gear 2 averages two and a half days, while SmartWatch 2 stretches to four days.
A general rule is that the more complex the watch, the shorter a single charge lasts; after all, power for that fancy screen and fast response time has to come from somewhere. It's worth noting that battery technology continues to improve every year, so watch this space for smartwatches to last much longer in the future.
Screen
| | |
| --- | --- |
| Model | Screen (pixels) |
| Pebble Smartwatch | 1.26 inch, 114×168 |
| Samsung Gear 2 | 1.63 inch, 320×320 |
| Sony Smartwatch 2 | 1.6 inch, 220×176 |
| Apple Watch | 1.3/1.5 inch, 240×320 |
| LG G Watch | 1.65 inch, 280×280 |
| Moto 360 | 1.56 inch, 320×290 (circular) |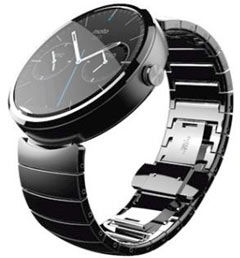 Probably the most readily apparent feature, smart watch screens can vary wildly.  The budget Pebble has a low resolution 1.26 inch 114 x 168 pixel black and white screen, with no touch functionality, similar to an e-book screen.  On the other end of the spectrum is the Apple Watch which  is expected to have a 240 x 320 resolution (the exact dimensions have yet to be announced), in full colour and with touch functionality.  Apple claims its device is comparable to its 'retina' line of displays, and is available in either 1.5 inch or 1.3 inch sizes.
Sony's watch has a 1.6 inch 220 x 176 pixel screen, while Samsung's is 1.63 inch at 320 x 320.  LG's G Watch boasts a 1.65 inch, 280 x 280 screen, while the Moto 360 is a circular 1.56 inch at 320 x 290.  All four Android watches offer full colour displays with touch control.  At these sizes, the screens of all four Android and the Apple watch are roughly comparable, with perhaps a slight edge for the Apple device.
Fitness
| | |
| --- | --- |
| Model | Fitness integration |
| Pebble Smartwatch | None |
| Samsung Gear 2 | Heart rate monitor, pedometer, fitness apps |
| Sony Smartwatch 2 | Heart rate monitor, pedometer, fitness apps |
| Apple Watch | Heart rate monitor, pedometer, fitness apps |
| LG G Watch | None |
| Moto 360 | Heart rate monitor, pedometer, fitness apps |
Four of the watches we've examined here come with fitness capabilities, but two of them aren't even available in Australia yet.  The Samsung Gear 2, Motorola Moto 360 and the Apple watch all come with a heart rate monitor and pedometer in built, as well as a suite of fitness apps to help track your exercise regime.  If fitness tracking is a feature that's important to you, expect to cough up a bit more at the store.
Phone Integration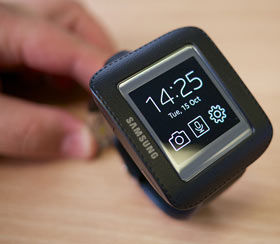 The true purpose of a smart watch, other than telling time, is to sync with your phone and update you on texts and emails.  All the watches examined here provide this basic level of functionality, letting you know when an email arrives with a buzz and a flash of text.  For the Sony, Samsung and Pebble watches, this is where the functionality ends; you can't respond to the alerts, and only the Samsung Gear 2 lets you archive or delete messages.
However, more recent models offer improved functionality.  The Moto 360, G Watch and support Google Wear, a platform the grants increased control, including performing Google searches or responding to messages with your voice.  Apple promises similar functionality when their offering launches, as well as some preloaded short responses, along with Siri, the voice controlled digital assistant.
Extra Features
All six watches examined here are not limited to preloaded apps, but have access to storefronts of third-party apps you can download.  However, for the most part this is limited to slightly different watch faces or calculators, though Apple is promising to shake the field up with a variety of apps and games that can use its Near Field Communication or NFC capabilities to interact wirelessly with other devices, like thermostats and hotel doors.
Two unique features among the watches here, is the Gear 2's camera, allowing you to take photos from the wrist, and am IR blaster which can control your TV.  Apple, on the other hand, is offering you the ability to send sketches you draw or taps you make as vibrations to a friend who also has an Apple Watch, or even your heartbeat.  It sounds gimmicky, but it might prove a fun, low-key way to communicate.
This is however, only the opening shots in the smart watch war.  In the next few years we can expect to see a plethora of devices trying to work their way onto our wrists, offering new and improved functionality, better battery life and more stylish designs. It promises to be an interesting fight.