When you live in a beautiful country with beautiful weather (most of the time), there's never a bad time to find the right camera to capture all your beautiful moments. An underwater camera is a must if your holiday plans tend to include lots of sunscreen, sand and water. To help you find one that ticks all your boxes, we bring you a guide on the brands available in Australia as well as the specs and prices you can expect. Read on for all the details.
10 Waterproof Camera Brands in Australia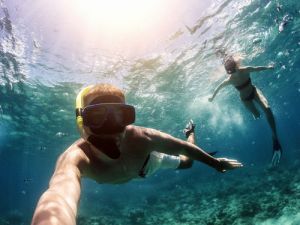 There are a number of brands available and we've compiled a list of the most prominent in the market. While this list isn't exhaustive, it might give you the starting point you're looking for.
Fujifilm
GoPro
Kogan
Leica
Nikon
Olympus
Panasonic
Polaroid
Sony
Vivitar
Let's now dive into each brand to see what's on offer.
Fujifilm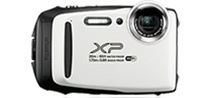 Fujifilm is a Japanese photography and imaging company. Its FinePix range is designed for the active lifestyle and includes:
Fujifilm FinePix XP120 – $268
Fujifilm FinePix XP130 – $298
Both models are waterproof up to 20m. Its latest model – XP130 – is a 16.4-megapixel camera with a BSI-CMOS sensor. It shoots at 10 frames per second (fps) with high-speed continuous shooting. A handy feature includes Bluetooth connectivity to share your images from the camera to a smartphone or tablet device.
The detailed specs include 5x optical zoom, 28mm wide-angle setting and a 3-inch 920K-dot LCD monitor, making this camera suitable for a variety of outdoor scenes. In addition to being waterproof, it is also freezeproof to -10°C, shockproof to withstand drops from 1.75m, and dustproof to keep out sand and other foreign particles, according to Fujifilm.

GoPro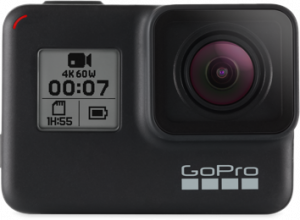 GoPro is well-known for its action cameras that are small and compact to fit in the smallest of pockets. Its latest range features:
Hero7 White – $299.95
Hero7 Silver – $449.95
Hero7 Black – $599.95
Fusion – $899.95
All GoPro cameras, including older models, are waterproof, but to different depths. It's latest model – Hero7 Black – is designed with a 12-megapixel camera and 4k60 video. This camera is waterproof up to 10m and features a voice recognition system that allows you to turn the camera on, take a photo, or start recording by voice. It also lets you live stream to Facebook, giving you the ability to share your favourite moments without delay.
Other design aspects include a touch screen, GPS, HyperSmooth video technology and HDR. It's also compatible with GoPro's Karma drones, so if you don't just want to shoot underwater but also aerial photography, then this might be the one for you. GoPro's most expensive camera is the Fusion, which is waterproof to depths of 5m and can also capture 360° video/photos. So, depending on what you're after, you can choose accordingly.

Kogan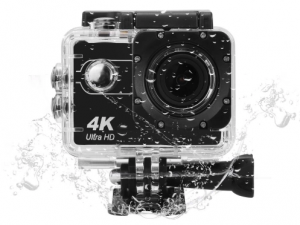 One of the largest online department stores in Australia, Kogan also offers one of its action cameras with waterproof casing:
Kogan 4K Action camera – $49
Kogan's 4K Action camera is waterproof up to 30m with its included waterproof case. It has a compact design and multiple shooting modes. It also features 4K 30fps recording for slow motion video, 2-inch compact screen with playback function, and a 140° wide lens. Other functions include video looping, time lapse and photo burst. There are a number of mounting brackets for a variety of surfaces, plus a bicycle and helmet mount, fixed base stand and adhesive strips.
This Kogan model becomes available on November 26, but it can be pre-ordered. Kogan also sells other brands including Essentials, TODO and Vivitar which you might like to consider.

Leica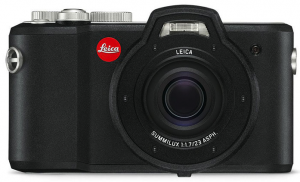 Leica is a German company that manufacturers cameras and lenses. Its waterproof camera sits under the name:
This is for the underwater photography enthusiasts as it's one of the pricier models – retailing at around $4,950 – and is packed with a number of cool features. This 16-megapixel camera with an APS-C CMOS Sensor features an underwater snapshot button and a fast-prime lens with an underwater protection filter. It's stated to be waterproof up to 15 metres in depth and up to 60-minute dives. It comes with a Leica Summilux 23 mm f/1.7 ASPH lens and shoots at 30fps, with a full HD video function also available. It's boasted for a tough construction with a sealed body and TPE armouring for grip, according to Leica.
There's also a specially toughened protective cover for the LCD screen, top and bottom plates made from aluminium and a failsafe double locking system for the battery compartment and memory card slot. While this camera might not be for everyone, it's one to consider if you're after a premium option.

Nikon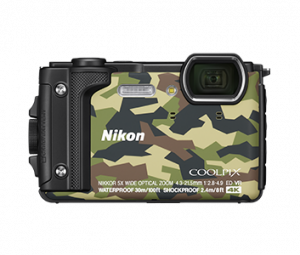 Japanese manufacturer Nikon features two ranges that are waterproof – Coolpix and KeyMission:
KeyMission 80
KeyMission 170
KeyMission 360
Coolpix W100
Coolpix W300
Nikon's price range for its waterproof models sits between $200 and $600. Its KeyMission range is a compact line of digital cameras featuring a 360° angle and a wide 170° view camera. The 360 model is waterproof up to 30m, while the 170 and 80 cameras are only waterproof up to depths of 10m and 1m respectively. All cameras within this line are boasted for a wearable and compact design, making it an ideal travel camera.
Coolpix W300 is its latest addition with a waterproof depth of up to 30m. It's also shockproof, cold-resistant and dustproof, according to Nikon and is available in a range of bright colours. It features a 16.05-megapixel back-illuminated CMOS sensor and 4K UHD video capabilities. In addition, it's equipped with SnapBridge, which is a feature that automatically downloads your images to your smart device via a Bluetooth Low Energy (BLE) connection. Coolpix W300 is also stated to feature a built-in altimeter and depth gauge for atmospheric and water pressure readings, plus it allows you to retrace your steps with the built-in GPS and capture data to pinpoint the location of each shot.

See it in action here:
Olympus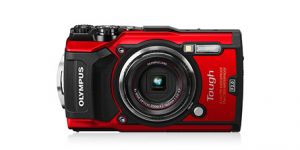 Another Japanese manufacturer, Olympus, has a number of cameras on offer in its waterproof T (Tough) Series. At the time of writing, the range features three models in a number of vibrant colours:
This range can be had from around $400 to $600, depending on the model. Olympus Tough TG-5 is its latest addition that has a waterproof construction up to depths of 15m. It's equipped with a variety of shooting modes such as an Underwater Mode optimised for underwater photography, according to Olympus. It shoots in 4K with 120-fps recording capacity and full HD resolution, ideal for slow-motion videos.
In addition, the Tough Olympus digital camera features a Field Sensor System that records data, such as latitude/longitude, temperature, and altitude/depth while you shoot and imports it to your smartphone via an app.

Here's a video that showcases its features:
Panasonic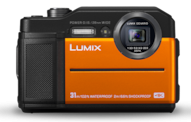 Panasonic is a Japanese multinational electronics corporation with a focus on innovation. It offers two waterproof options offered in various colours to suit your style:
Lumix DC-FT30 – $249
Lumix DC-FT7 – $599
According to Panasonic, its DC-FT7 model is waterproof up to 31m, as well as freezeproof to -10°C, dustproof, shockproof to 2 metres and pressure resistant to 100kgf. It's boasted for a 10.4-megapixel sensor, 4k capabilities and a 28mm wide angle with a 4.6x zoom Lumix lens. Expect video recording up to 100 frames per second with an optical image stabiliser, ideal for slow motion shots.
It features Wi-Fi connectivity for easy sharing and geolocation, plus a built-in compass and altimeter for trekking and mountaineering. The DC-FT30 is a slightly simpler model with waterproof performance up to 8m, shockproof up to 1.5m, freezeproof down to -10°C, plus dustproof. It features a number of camera modes such as time lapse and panorama.

Polaroid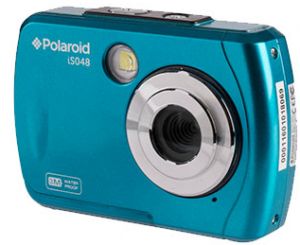 While Polaroid might be more well-known for its instant cameras, it also features one action sport camera:
Polaroid Venture Cam – $49
This model is available from Big W and is boasted for a 12-megapixel (4000 x 3000) photo resolution, an 8x camera zoom and full HD 1080P at 30fps video recording. It's designed with a 2-inch colour TFT screen (5.0MP CMOS) and a micro SD card up to 32GB. Accessories included are waterproof camera housing, windscreen suction cup holder, helmet mount and strap, plus a bike handle holder. It also comes with a remote controller and wrist strap.

Sony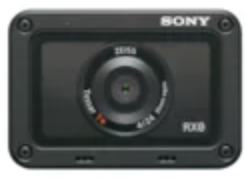 To add another Japanese brand to the list, Sony offers one waterproof digital camera:
This camera is boasted for a strong, miniature body with Exmor RS CMOS sensor and BIONZ X image processor. It's waterproof up to 10m without underwater housing, shockproof from heights up to 2m and crushproof up to 200kgf, according to Sony. It has a 15.3-megapixel camera and allows you to shoot at frame rates up to 960fps/1000fps for slow motion video, plus 16fps for still photos. Other features include wireless multi-control function that allows you to control the RX0 via your phone or tablet.

Vivitar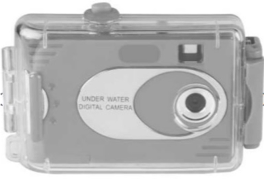 Vivitar offers a couple of budget friendly options, including:
Vivitar Waterproof Digital Camera (Silver) – $34
Vivitar Waterproof Digital Camera (Blue) – $79
Its range sits between $34 and $79 via Kogan and Big W websites. Its $34 waterproof camera (pictured) has simple features without any high definition specs. Expect waterproof capability of up to three metres, waterproof casing, and a neck strap. It's $79 model is also waterproof up to three metres and features a 16-megapixel camera, 2.4-inch LCD screen and auto flash. In addition, it's equipped with 4x digital zoom and records 720p HD videos.

How much do waterproof cameras cost?
Prices for underwater cameras can start from around $35 for a simple model and can go up to around $5,000 for the more advanced range. Depending on what you're looking for, you might like to choose accordingly.
| Price | Model |
| --- | --- |
| $34 | Vivitar Waterproof Digital Camera (Silver) |
| $49 | Polaroid Venture Cam |
| $49 | Kogan 4k Action Camera |
| $79 | Vivitar Waterproof Digital Camera (Blue) |
| $249 | Panasonic Lumix DC-FT30 |
| $268 | Fujifilm FinePix XP120 |
| $298 | Fujifilm FinePix XP130 |
| $299.95 | GoPro Hero7 White |
| $449.95 | GoPro Hero7 Silver |
| $649 | Olympus Tough TG-5 |
| $599 | Panasonic Lumix DC-FT7 |
| $599.95 | GoPro Hero 7 Black |
| $899.95 | GoPro Fusion |
| $999 | Sony RX0 |
Prices compared from respective retailer websites, November 2018
If you're after taking a few snaps of the kids in the pool, then perhaps a cheap waterproof camera for under $200 might suffice. However, for underwater photography enthusiasts then something in the high-end price range might be worth considering. You generally get what you pay for with waterproof cameras, so choose wisely.
Disposable Waterproof Cameras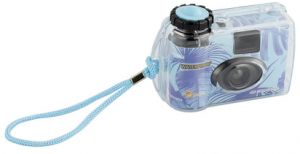 For an inexpensive, one-time option, you might like to consider disposable waterproof cameras. Both Kmart and Big W will have you covered in this department. Kmart's waterproof camera retails for $12 and is waterproof up to three metres, according to the manufacturer. It comes with 36 exposure film and durable casing.
Big W offers Kodak's Sport waterproof disposable camera for $26. It's stated to be waterproof for up to 15 metres, with 27 exposure film. So, if you're willing to print photos in-store instead of having digital files, this might be the way to go.
What to consider when buying an underwater camera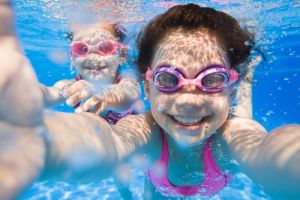 There are a number of things to consider when purchasing an underwater camera. Some of the key elements include:
Waterproof depth: the cameras mentioned in this guide differ in waterproof depth capacity. If you're unlikely to be scuba diving with your camera, then perhaps a depth of up to 3m should be enough for you to take some snaps in the pool.
Design: apart from being waterproof, some brands boast additional durability in their designs, with cameras also being shockproof, freezeproof and dustproof.
Mounting accessories: if you're planning to use your camera when doing water sports such as wakeboarding, having mounting brackets is essential to attach the camera onto your helmet for example. While some models already come with additional accessories, others sell attachments separately.
Wi-Fi connectivity: instead of waiting until you get home to transfer your awesome images onto a computer, Wi-Fi connectivity allows you to send them from the camera straight to your phone or tablet.
Image and video quality: typically, the image and video quality are reflected by the price. You're likely to pay more if you're after high resolution photos and videos with increased frame rates.
Battery life: removeable batteries allow you to easily swap them out for a replacement during the day if needed. However, some models have their battery inbuilt, so you'll need to plug in the whole device to recharge.
Price: if budget is your main concern, it's likely to be the first point of call when you're looking through the options. While you can opt to spend top dollar for an underwater camera, if you're not going to use if often, then perhaps a cheaper model might suffice.
As with most digital cameras, waterproof cameras have come a long way with a wide range on offer. Apart from capturing an underwater moment, you can now also adjust settings, exposure and send photos straight to your phone. We hope this guide has helped with your search for an underwater camera.
Original Author: Veronika Hleborodova