Walkie-talkies were considered one of the most effective forms of communication decades ago, although for many, they seem a bit outdated nowadays. Despite this, the two-way handheld radio is still used in multiple industries, businesses and leisure pursuits, offering an alternative to expensive mobiles as well as navigating potentially coverage blackspots, meaning they're not as obsolete as they're made out to be.
When it comes to picking up a set of walkie-talkies though, you'll still find plenty of options available, meaning it may not be as straightforward as you were originally hoping. To help narrow down the decision-making process, and what you should be considering, read on to find out all you need to know about walkie-talkies in this Canstar Blue guide.
What is a walkie-talkie?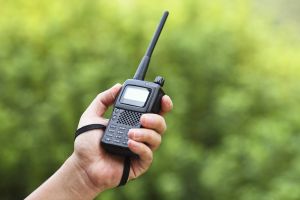 A walkie-talkie is a handheld, portable two-way radio transceiver that allows you to communicate with someone over a certain distance using wavelength frequencies. Originally developed during World War II, walkie-talkies today are a rectangle-shaped handset that includes a flexible antenna, frequency control knobs, battery power supply, microphone and loudspeaker. A small display will also show the frequency, signal strength and other readings to ensure that the unit is working properly.
How does a walkie-talkie work?
A walkie-talkie works via a frequency band, which transmits sounds – such as your voice – over radio waves to another walkie-talkie. There are multiple frequency bands available, which are otherwise known as 'channels', allowing you to set the frequency or channel to help you communicate with your intended recipient. And to communicate, you'll have to hold the 'push-to-talk' button, which switches over from the unit's loudspeaker to the microphone, with releasing the button putting the walkie-talkie back into 'listening' mode.
What's the difference between a walkie-talkie and two-way radio?
A walkie-talkie and a two-way radio are terms that can be used interchangeably, as a two-way radio is simply a radio that can both receive and transmit radio signals – which is exactly what a walkie-talkie can do. The only real difference is that a walkie-talkie is arguably more portable, but for the most part, if someone is referring to a two-way radio, they'll more than likely be describing a walkie-talkie and vice versa.
What's the difference between UHF and VHF?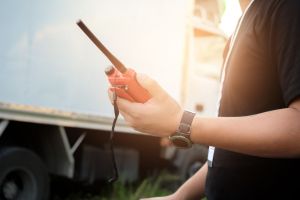 Ultra High Frequency (UHF) and Very High Frequency (VHF) are common terms when it comes to exploring the world of radios and walkie-talkies, but what exactly are they, and is there a major difference between the two?
As the name suggests, UHF operates on a higher frequency compared to VHF, and is better suited for communicating in denser, more built-up areas, as the higher frequency can penetrate through buildings and concrete more easily. VHF on the other hand is best suited when communicating over longer distances or outdoors due to its longer wavelength, making it more suitable for use when you decide to go out bush.
Walkie-Talkie brands available in Australia
There are a number of walkie-talkie brands available to purchase in Australia, with a summary of the major brands below. Walkie-talkies can be purchased either through the brand's website, or through electronics retailers.
Uniden walkie-talkies

Offering a variety of tech – including security systems, cordless phones and baby monitors – Japanese brand Uniden has a large range of walkie-talkies to offer those in the market for either UHF and VHF models. Models range from the UH35, which features a range of up to 3km and an operating time of 20hours, to the UH850S, which features a 17km range and waterproof design to help you stay in contact in tough terrain. Uniden also offers packs for those looking to pick up a few walkie-talkies, with additional charging cables and extras included to help you get the most out of your purchase.

Motorola walkie-talkies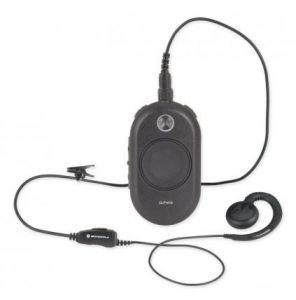 More well-known for its range of mobile phones, Motorola have also invested in other forms of communication, including a range of two-way radios. Those looking for something a bit simpler may be interested in the SL2600 portable two-way radio, which includes Bluetooth connectivity and Wi-Fi capabilities to help with communicating in built-up areas, or to help you communicate hands-free. Other models in the Motorola range include the Motorola Clip 107 two-way radio, which allows you to keep your hands-free while staying in the loop thanks to a wired earpiece and belt-clip holster.

GME walkie-talkies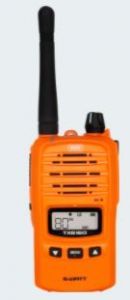 An Australian brand, GME offers radios, antennas, radios and all types of accessories for all sorts of Aussie lifestyles, including farming, boating and 4WDing. For general use, the TX6160XO handheld UHF radio may suit those who enjoy their time in the bush, including up to 30hours of battery life, an in-built LED torch and belt clip to help keep your hands free. Other options also include the GX800W VHF Marine Radio, which features a protection rating of IP67, LCD display, floatable design for when you accidently drop it in the drink as well as international channel pre-programmed in.

Oricom walkie-talkies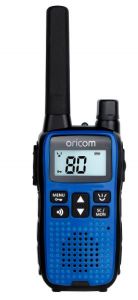 Offering a wide variety of fixed and portable two-way radios, Aussie brand Oricom's range of portable models includes the PMR780, which features 80 channels, a 3km range as well as a power-saving mode for when you need to stretch the battery life. Other Oricom models include the UHF5500-1, which includes a metal chassis construction, 240v and 12v charging adaptors, backlit LCD display, removable flexible antenna as well as a 2.5mm jack for use with the headset or speaker mic to help keep your hands free.

What to consider when buying a walkie-talkie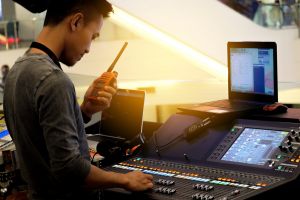 While they may all appear to do the same thing, there's enough point of difference between walkie-talkie brands and models to warrant a bit of thought as to what you really need out of your walkie-talkie purchase. To help narrow down your search, here are some of the main areas to consider before purchasing:
Frequency: With walkie-talkies generally falling into the UHF or VHF camps, it's important to consider which one will best fit your needs, as each frequency has its strengths and weaknesses. If you plan on being in the outback, VHF may be a better fit, while UHF may be better suited for those operating in a city environment. You'll also have to familiarise yourself with the operating channels, as some channels in Australia are reserved for emergency and law enforcement agencies.
Power Supply: Walkie-talkies are generally powered by either removable batteries or rechargeable batteries, but either way you'll have to consider how much use you get out of your unit before you have to change or charge the battery. After all, you don't want to be in the middle of nowhere and then have your walkie-talkie give out.
Budget: As with any purchase, how much money you have to spend may impact on which brand, type and model of walkie-talkie you walk away with. However, it's always important to remember that just because it has a large price tag doesn't always equate to good quality, and that you may get better value for money out of the cheaper, base models, depending on what you plan on using it for.
Are walkie-talkies legal in Australia?
Walkie-talkies are legal to use in Australia, although there are some bans on certain models and brands, with regulations and laws in place with regards to the use of certain frequencies. The Australian Communication and Media Authority (ACMA) states that certain channels – specifically channel 5 and channel 35 – are used strictly for emergencies only, while others are used by law enforcement, with fines applying for unauthorised use.
However, there are channels known as Citizen Bands, which are more for public use, and are traditionally used by those travelling in remote areas such as truck drivers or motoring clubs to help keep in touch in the case of an emergency or accident. If you're worried about the legality of walkie-talkie use in Australia, it's best to buy from a reputable Australian retailer, and to ask any questions at the time of purchase, or to check the ACMA website for additional details.
Is it worth buying a walkie-talkie?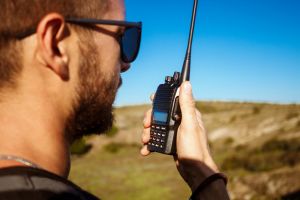 Communication technology has come a long way over the past few decades, with getting in touch with someone – even if they're in another country – easy to do nowadays. But while many of us aren't without our phones for long, Australia is also (unfortunately) home to multiple blackspots, making communication difficult at times – unless you have a walkie-talkie. As a result, if you're potentially working in a remote region, or underground where it's difficult to get mobile signal, a walkie-talking may be well worth researching further, as they are generally cheaper than the latest mobile phone too!
Ultimately though, whether you decide to pick up a walkie-talkie – and which type of walkie-talkie you choose – will depend on individual factors, such as where you plan on using it, as well as price and even the design on the handheld unit. But if you're looking for a way to keep yourself in the conversation, a walkie-talkie could be just the ticket.

Photo Credit: Phawat/shutterstock.com, rickyd/shutterstock.com, SVRSLYImage/shutterstock.com, CookieStudio/shutterstock.com