You and a mate you've known since high school have decided to start a share house together. You've found a random stranger on Facebook to take the worst room, and are now spending half of your work day looking at second-hand couches on Marketplace. You grab the keys from the real estate and suss out your new digs a few days before moving in, only to realise there's actually no electricity. What next?
Whether you're moving into a new house, or are simply looking to pay less for electricity in your current situation, there's a few things to know about power in a share house.
How to set up electricity in a share house
It's less daunting than you'd think to set up electricity in a share house. Here are four easy steps to get you on your way:
Find a good electricity plan: This may seem hard, but it's actually the easiest part. To power providers, it really doesn't matter whether you own, rent or squat (we can't confirm that last part to be true). Our comparison tool can lay out some options for you. Then, you can pick and choose a plan that suits your household needs.

Appoint a bill manager: Have a chat with your housemates and figure out who is the most responsible. If anyone uses Google calendar in their day-to-day life, there's your guy. Jokes aside, managing a power bill isn't really too tough, the person just needs to make sure the bill is paid by the due date each month or quarter.

Work out how to split bills: Talking about money in person can feel a little bit formal, so many share houses have these conversations over a messaging app. Nowadays, there are money management apps such as Splitwise to help you keep track of who has or hasn't paid their share.

Agree on how to pay the bill: With so many people living paycheck to paycheck, you may need to give your housemates a bit of notice before hitting them with a large due amount. One good way might be to either pay the bill yourself and give your roommates a timeframe to pay you back. Alternatively, you can ask them to transfer you the money a few days before it's due, just for extra assurance.

How to split the energy bill in a share house
It doesn't matter whether you're living with friends or strangers, money matters are a sensitive topic, and collecting cash to pay an electricity bill is no exception. Here are some tried and true ways to split up the costs so that your housemate Alex won't 'forget'.
Splitwise
Splitwise is a true saviour, even to the most annoyingly responsible households, for keeping tabs on who owes who, what. Before you can request money, you will need to make sure your housemates have downloaded the app.
Once you've added the amount of the power bill in the app, Splitwise will immediately notify your housemates. So, if your bill comes to a total of $200, the other three members will get an alert saying they each owe you $50. However, if you owe Josh $20 after he paid for Uber Eats the other day, the app will work out that Josh now only owes you $30 to make it even. Although you may still need to give your housemates a nudge to settle everything before your bill is due.
Group chats
This one's a no-brainer. If you don't already have a housemate group chat made up, it's time to hop into the 21st century and make one. Most messaging platforms these days allow you to see when others have seen a message, so you'll know for sure that your housemate Tasmin has seen what she needs to see.
Fridge
Maybe your roommates are bad with their phones, and that's okay, because there are harder things to avoid than a mobile. If you receive a paper energy bill, pop it on the fridge as a daily reminder of its due date, or simply write up a note to let your house pals know when to transfer you, and how much.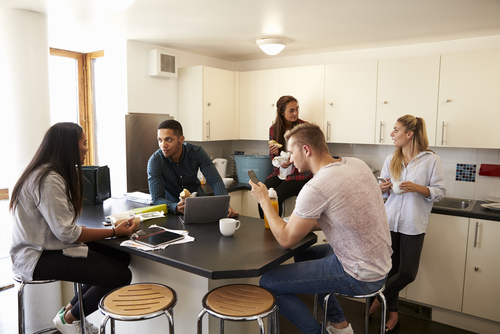 4 Things to look for in an energy plan for your share house
There's good news, and bad news. The good is that it doesn't matter whether or not you live in a share house, your energy account will be treated the same way as your neighbour's who own the property next door. The bad news is that the world of energy retail is virgin territory to most 20-30 somethings, so it can be difficult to avoid bad, yet attention-grabbing, deals.
Here are some things you should look for, and some to be cautious of:
Low rates
Discounts
Incentives
Ethical companies
Low rates
You pay for your energy in two parts – a supply charge and a usage charge. A supply charge will normally sit at around $1 a day, which is what the power companies charge just to keep you connected. The other, larger, part of your bill is the rates. You'll get a cent figure (e.g. 22c) that you'll pay per kWh of energy you use (kWh is the unit of measurement for electricity). Let's say your house uses around 15kWh on Tuesday, you'll pay $3.30 + the $1 supply charge for power that day. It then makes the most sense to search out a plan with the cheapest rates possible, paying extra close attention to your usage rate.
Discounts
Some energy plans have 'em and some don't, and that's discounts. Look out for these because sometimes energy discounts are slapped onto higher rates, and a plan that seems like a good deal could work out more expensive than a low rate, no discount offer. Most discounts these days are conditional, meaning you'll have to meet a set of criteria for them to apply, such as paying on time or by direct debit.
Incentives
Energy retailers are notorious for rewarding those that sign up online rather than on the phone, which is basically a phone-conversation-hating millennial's dream. Over the years there's been everything from a Google Home Mini to Taronga Zoo tickets up for grabs, but the most value sits in sign-up credits. Suss out whether your provider will give you a discount on your first bill upon signing up.
Ethical companies
Like your superannuation fund and bank, energy companies are ranked on a scale of green to not-so-green. With so many young Australians making sustainable choices in their day to day lives, we've listed out some plans by providers Greenpeace Australia has ranked highly in their Green Electricity Guide.
Energy plans specifically for renters
As mentioned, there aren't many renter-friendly energy plans because your power is connected in the exact same way as everyone else down your street. That said, there are certain electricity plan features which may appeal to share house dwellers looking to save a buck or two.
No connection/disconnection fees: If it's a new house that needs power set up, your energy company might ask you to pay a connection fee. Look for a plan which specifies no connection and disconnection fees to avoid this charge.
No lock-in contract or exit fees: With housemates coming and going, and the energy bill responsibility tossed around, you'll want to make sure your energy plan isn't on a strict contract with exit fees.
Lumo Energy and Momentum Energy were once big players in the renter-specific energy plan space, however, both retailers have since retired these products for new customers.
Share house electricity bill FAQs
Relax, this is a safe space, there are no dumb questions. No one expects someone who lives in a share house to know everything about energy, so we've compiled a list of genuine questions asked by 20-somethings in Brisbane and Sydney to get this show on the road.
Is electricity included in rent?
Most likely, no. In some special cases it may be, if you're renting from your generous Aunty or are the savviest person alive and have managed to snake the deal of a lifetime. The rest of us normal folk will be expected to manage electricity independent from our landlords/real estate.
Can your energy company split the bill for you?
Another big no. Your bill will come in one big, intimidating figure every month or quarter, or whatever, at which point you'll need to group hustle to pay for it.
Do I have to tell the landlord/real estate if I switch providers?
Unless your landlord or real estate manages your power bill, or you're on an embedded network, you're on your own and the answer is no.
The house has solar panels. Do we still pay electricity?
Solar panels are certainly a big fat bonus, and will likely drive down the cost of your bill, but unless the house you're renting is off the grid (highly, highly unlikely), you'll still pay for the electricity you use. Something to be aware of though: Check your tenancy contract for any notes about solar rebates. It's not unheard of that landlords will try to pocket the money made from the panels on their property, rather than you benefiting.
Is there any way to get out of paying electricity bills?
If you're financially struggling, you need to let your power company know so they can put you on a hardship policy plan. This varies between providers, but normally gives you some leniency in paying what you owe. You'll have to make a reasonable effort to pay though, otherwise you run the risk of having the lights turned off.
What happens if you don't pay your electricity bill on time?
The good news is you won't be disconnected for a while. You'll likely be charged late fees, which you can pay alongside settling your overdue bill, or on your next. But if you continue to miss payments, that's when your energy company starts to get annoyed and you'll get all the threatening letters in the mail.

Canva.com, Monkey Business Images/shutterstock.com , ImYanis/shutterstock.com