Fact Checked
Rideshare apps have become one of the more popular modes of transport, with companies such as Uber and DiDi two of the largest rideshare names currently in Australia. Although ridesharing services hit the mainstream only in the past decade, they're probably one of your first ports of call, whether you're getting a ride home from date night or making the early morning trek to the airport. But which rideshare apps are available and how much do they cost? Read on to find out more about ridesharing apps in Australia with this Canstar Blue guide.  
What is ridesharing?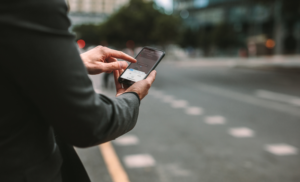 Ridesharing is similar to using taxi services, except that you ride in a private vehicle owned by the driver for a predetermined fee rather than riding in a liveried vehicle with the cost determined by a meter. You book your ride via an application, usually on your smartphone, that allows you to see the driver's details, including a star rating, reviews and the details of the car you'll be riding in. 
Ridesharing has become an increasingly popular service due to its accessibility via phone and that it usually involves cheaper fares when compared to some taxi services. Instances in which a rideshare service may exceed the cost of a taxi service are during surge periods. These periods may include public holidays, later booking times, i.e. after midnight, booking within the proximity of an event or other similar circumstances.  
A big difference between rideshare apps and taxi services is that when taking a taxi, you typically approach a rank on the street or are assigned a driver by contacting the taxi booking office, but when using rideshare, multiple drivers see your potential booking and one must accept it at the fare quoted by the app before your booking is confirmed.
How do I book a rideshare?
Booking a rideshare is as simple as three steps. Firstly, you download your rideshare app of choice and open it up, put in the address of your desired destination, then click 'book'. The interface on one rideshare app will look different to another but across the board they are all generally user-friendly. 
Something to keep in mind when booking a ride is what kind of car you wish to ride in. For some apps if you have more than four people you will need to book a larger car. If you want to ride in a bit of luxury, there are options to book a more up-market vehicle at a higher cost. You can also schedule a ride for a future time or date. You can book to be picked up after an appointment, for example, to avoid waiting around for a driver to accept your ride.   
DiDi rideshare
Chinese ridesharing company DiDi markets itself as the "low-fare rideshare app", making it worth checking out if you're looking for the most cost-effective ridesharing option. DiDi currently operates in 28 cities across Australia, including Adelaide and Canberra and in others in Queensland, Victoria, New South Wales and parts of Western Australia. DiDi offers DiDi Max for four or more travellers who need a larger vehicle, DiDi Delivery for on-demand delivery of items and Express for up to two passengers booking together who need to get to their destination sooner.  

DiDi price breakdown
Prices for DiDi vary from city to city but like many other rideshare apps, it has a base fare, distance fare, time fare, what's called a 'service & levy fee' and a minimum fare. Here is the average fare across four different cities for each category:
Base fare:

$2.75

Distance fare (/km):

$1.49

Time fare (/min):

$0.39

Service & levy fee:

$0.90

Minimum fare: $6.70
Uber rideshare
Uber is arguably the giant of ridesharing, first entering Australia's transport scene in 2015 and now available in 38 cities across Australia, while continuing to expand in rural and regional areas. Uber also offers  UberEATS, a restaurant meal delivery service, in Australia. There are a number of ride types available through Uber, including UberX for up to four passengers, UberXL for five or more passengers or those looking for extra space, UberSELECT which is a luxury ride for four passengers and UberPOOL for carpooling individuals who are happy to share their ride with strangers. 
Uber price breakdown
Uber has a similar fare breakdown to DiDi, with a couple more categories of fares that drill down prices further. All the fare categories include a base fare, booking fee, minimum fare, per km, per minute, estimated tolls and estimated surcharges. Uber includes fares for 'surges' where it charges extra for peak times when the availability of drivers is lower due to strong demand in high-activity areas such as  a city CBD or in the proximity to a large public event. The average price for each category is:
Base fare:

$2.75

Booking fee:

$0.85

Minimum fare:

$9 (varies depending on the state or territory)

Per km rate:

$1.50

Per minute rate:

$0.45

Estimated tolls:

will depend on the tolls in that city, state or territory

Estimated surcharges: will depend on the demand or public holiday rates in that city, state or territory
Is DiDi cheaper than Uber?
DiDi is arguably cheaper than Uber when looking at the fare breakdown, however, prices do vary depending on distance, location and any promotional discounts available. Uber has a rewards program called Uber One that costs $9.99 a month, which it says helps riders save around $27 every month. 
DiDi doesn't have a specific rewards program for riders but it does have promotions that run at different times of the year. Its 'Get Free Rides' promotion, for example, offers a $5 ride voucher if you invite a friend to sign up to the DiDi app, with your friend also receiving a $5 ride voucher.  
Other rideshare apps
DiDi and Uber are the most commonly used rideshare apps in Australia but there are a few other rideshare apps you could consider: Ola, Shebah, and GoCatch. Ola and Shebah are the more popular of that group, and offer cheaper fares in some cases but may not have the advanced features and options that DiDi and Uber offer. 
Shebah is marketed as an exclusively female rideshare service, with all female drivers to make sure that female riders feel safe when being driven home. Although the idea may be positive, Shebah vehicles may be less easily available in comparison to those of other rideshare apps, making it more difficult to find a ride at short notice.  
Rideshare FAQs
As with any app that books services, you'll likely want to know the exact ins and outs of what you're booking and paying for.  
What are wait time fees?
Uber and other rideshare services charge a waiting fee to compensate the driver for the time they spend waiting for you to arrive at your agreed meeting point — but the clock doesn't start ticking until a certain amount of time has passed. That's why it may be better to book a lift when you're ready to go and already located near the pick-up spot. 
Do I get charged for cancelling my ride?
Cancellation fees are designed to compensate the driver for their time, effort and petrol getting to you if you then decide you don't want to accept the ride. You can expect Uber to charge about $10 for cancellations and DiDi to charge between $7-$12.
Which ridesharing services offer carpooling?
Carpooling for rideshare services is a great way to help the environment and save money if you don't mind riding with a stranger or two. Uber offers UberPOOL carpooling, which costs 30% less than an average, upfront Uber cost. DiDi doesn't currently offer a carpooling service as part of its ridesharing services.   
How do I download a ridesharing app?
The best way to download a rideshare app is via the App store for Apple and Google Play for Android users. Whether you choose to download the Uber App or the DiDi app, or both, there are plenty of benefits offered by each app that can help get you from point A to B. If you're still uncertain about which rideshare service would be better suited to your needs, compare both brands below.