It's widely regarded as 'Australia's Adventure Drive' – linking tropical Cairns to historical Broome through a 4,000+ kilometre route across Far North Queensland, the Top End and over and through Western Australia. Spend weeks exploring iconic national parks, World Heritage areas, local wildlife, (a lot of) ancient gorges and Aboriginal history. If you're thinking about hitting up the Savannah Way, make sure you stop at these must-dos along the way.
Best places to visit along the Savannah Way
If you're venturing along the Top End, make sure you check out these sights:

Undara Lava Tubes
After beginning your trip in Cairns and picking up a hire car, make your way to the Undara Lava Tubes. Located in the Undara Volcanic National Park in Far North Queensland, the 'tubes' are a spectacular natural wonder that formed from volcanic activity approximately 190,000 years ago. The caves, which can be explored via a guided tour with an expert, attract visitors from across the world – particularly the Bayliss Cave, which is 1,300 metres long, 11 metres high and 20 metres wide.
Location: The Undara Lava Tubes are a 278km (approximately 3 hour 45 minute) drive from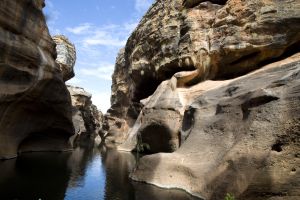 Cobbold Gorge
We've reached the first gorge of the trip. Queensland's youngest gorge, Cobbold Gorge is known for its narrow (just two metres) stream, surrounded by 19 metres of cliff walls from the waterline to the top of escarpment. It's a sight, but in order to protect the fragile environment, access to the gorge is by guided tour only. You can set up camp nearby in a hut, cabin, lodge, caravan or just on a campsite, giving you plenty of options to rest your weary head.
Location: Cobbold Gorge is a 240km (approximately 3 hour) drive from Undara Volcanic National Park.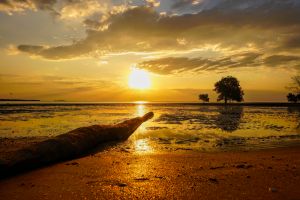 Karumba
If you're craving the beach and a seaside town, definitely make a stop at Karumba. An hour's drive from Normantown, it's an unforgettable sunset at Karumba Point – complete with fish and chips in hand. Be careful though, the water may be inviting, but it's croc territory!
Location: Karumba is a 458km (approximately 5 hour 30 minute) drive from Cobbold Gorge.
Adels Grove
As we head towards the Top End, a must-do stop is Adels Grove. Located just 10km from Lawn Hill Gorge, Boodjamulla National Park, Adels Grove looks out of place in the desert with its blue river and green vegetation, but we swear it's real. Often described as an 'oasis', Adels Grove is perfect for cooling off, canoeing and bushwalks, and is also located a mere 50km from the World Heritage listed Riversleigh Fossil Fields, meaning there's plenty to see and do nearby as well.
Location: Adels Grove is a 505km (approximately 5 hour 50 minute) drive from Karumba.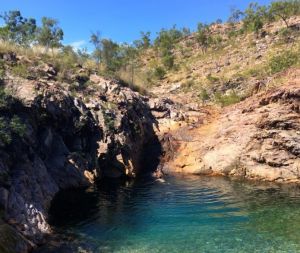 Lorella Springs
Speaking of oasis, if you can tear yourself away from Adels Grove, your next stop has to be Lorella Springs. Named appropriately so for its abundance of water springs and sources, Lorella Springs is home to multiple water holes – the Magical Hot Spring, Tristan Pool, Wildfire Gorge, Emerald Pool, Fossil Fern, Tawallah Pool and more! Set up camp here because you'll be overwhelmed by the options.
Location: Lorella Springs is a 664km (approximately 8 hour) drive from Adels Grove.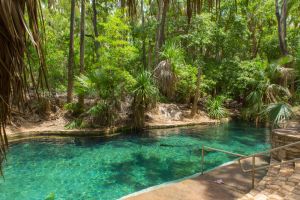 Mataranka Hot Springs
Nestled away in the Aussie rainforest is one of the outback's best kept secrets – the Mataranka Hot Springs. A perfect 34 degrees all year-round, the Springs are safe and ready for swimming (although check signposts for crocs in other swimming holes in the area). The springs have also not been landscaped (besides some access stairs), which makes it the more impressive!
Location: The Mataranka Hot Springs is a 448km (approximately 6 hour) drive from Lorella Springs.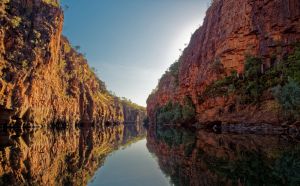 Nitmiluk (Katherine Gorge) National Park
Previously known as Katherine Gorge, Nitmiluk consists of 13 impressive canyons that can be explored on foot, as well as by boat and helicopter. There's a lot to see, so we would suggest setting up camp and settling in for a couple of nights. However, if you're pressed for time, we'd recommend splashing out for a guided helicopter ride, where you can make your way over the entire park and all the gorges from a breathtaking view above. Kakadu National Park is also only an hour away and a massive stand out for many.
Location: The Nitmiluk National Park is a 171km (approximately 1 hour 45 minute) drive from Mataranka.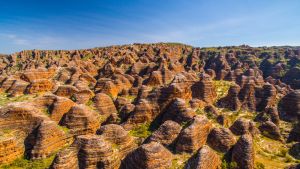 Bungle Bungle, Purnululu National Park
The Bungle Bungle Range is a World Heritage listed area, and rightly so. 20 million years of weathering has produced a large gathering of beehive shaped structures and sandstone towers that will take your breath away from both above and below. Hugely popular amongst tourists, the Bungle Bungle Range were known only to local Aboriginal owners until a documentary in 1983 shone light on the extravagant landscape. Cathedral Gorge is another stand out in Purnululu.
Location: The Bungle Bungle Range is an 899km (approximately 10 hour 20 minute) drive from Nitmiluk National Park.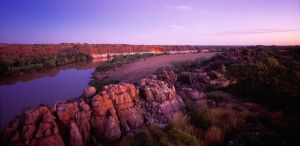 Geikie (Danggu) Gorge National Park
Located just 20km from the Kimberley town of Fitzroy Crossing (perfect to base at), Geikie Gorge is easily the most accessible national park in the area. The best way to see the Gorge is on a boat tour, where you can sit back and relax as a ranger takes you through the 30-metre-deep Gorge. Keep your eyes out for crocodiles, birds, fruit bats and more wildlife!
Location: The Geikie Gorge is a 494km (approximately 6 hour 10 minute) drive from the Bungle Bungles.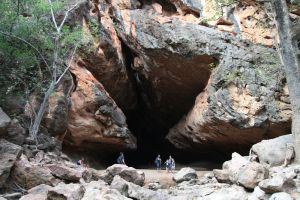 Tunnel Creek National Park
This small and slightly unusual national park is worth the effort. The main attraction of Tunnel Creek is (as you may have guessed) the 750 metre tunnel that has been worn down by a creek – the oldest cave system in Western Australia. It was made famous as a hideout used in the late 1800s by Aboriginal leader Jandamarra. Take your head torch, wear closed in shoes, prepared to get wet and walk all the way through to the other side of the Napier Range.
Location: Tunnel Creek National Park is a 133km (approximately 1 hour 45 minute) drive from Geikie Gorge.

How long is the Savannah Way?
The Savannah Way is approximately 3,200km long in its most direct approach, with the actual length of the journey depending on which highways and roads that you take. If you make stops to see the above locations, you'll add a few more kilometres to your odometer, with the map above showing the length of the trip could take you over the 4,100km mark.
Is the Savannah Way worth travelling?
If you're a fan of swimming holes (and hot springs), canoeing, exploring, bushwalks, climbing or all of the above – the Savannah Way has a little something for everyone. The drive may be long, but the views are pretty great. Just make sure you allocate enough time to comfortably make your way over from Cairns to Broome so you don't miss a thing.
Photo credits: fotosaga/shutterstock.com, Bangkokflame/shutterstock.com, John Carnemolla/shutterstock.com, electra/shutterstock.com, Lella B/shutterstock.com, LorellaSprings.com, Damian Pankowiec/shutterstock.com, Ian Crocker/shutterstock.com, Alex Couto/shutterstock.com, Janelle Lugge/shutterstock.com, pierdest/shutterstock.com
Original Author: Maddy Morwood