The land of rugged red cliffs, pure white sands and crystal-clear oceans, Western Australia truly is the country's hidden gem. Whether you're enjoying the state's magnificent coastline, sampling the goods of a region that's famous for its culinary delights, or testing your limits with an inland adventure through virtually unexplored terrains, Western Australia has plenty on offer for the trip of a lifetime. We take a look at 10 must-see spots that are sure to make you fall head-over-heels for the western state.
Best places to visit in Western Australia
If you're looking to go West, here are some of the best places to check out in Western Australia: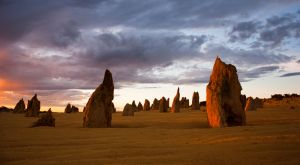 The Pinnacles, Nambung National Park
Nestled in the Nambung National Park, The Pinnacles are one of Western Australia's most visited tourist attractions and a landmark of the Coral Coast region, and for good reason. The Pinnacles themselves are stunning vertical pillars of limestone which have been exposed to the harsh coastal winds, giving them their unique appearance. The Pinnacles, some which stand five metres, are a great spot for a picnic as there are barbecue facilities available, however there is no camping allowed at Nambung National Park.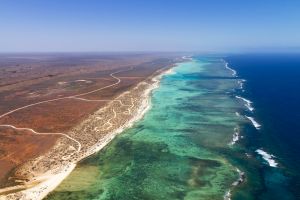 Ningaloo Reef, Ningaloo
As the world's largest fringing reef – a coral reef that lies close to the shore – Ningaloo reef stretches 260 kilometres along the West Australian coastline and is an underwater paradise. The World Heritage-listed site is teeming with spectacular marine wildlife and an abundance of tropical fish and coral, perfect for snorkeling. Keep an eye out for the whale shark – these epic creatures are notoriously shy!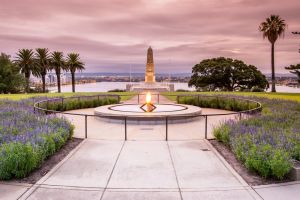 Kings Park and Botanic Garden, Perth
Kings Park and Botanic Garden is situated in the heart of Perth and is one of the largest and most breathtaking inner-city parks in the world. Offering a stunning combination of Aboriginal and contemporary history, culture and design, Kings Park is reputed around the globe for its leading horticulture and scientific research, as well as its cutting-edge community and public education services. The Western Australian Botanic Garden within the park is home to over 3,000 species of flora unique to the state and is a haven for native animals.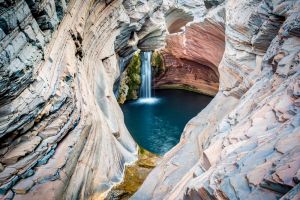 Karijini National Park, Karijini
Karijini National Park – formerly known as the Hamersley Range – is set in the heart of Western Australia's iconic Pilbara, a notoriously vast region in the state's north. Karijini, however, is a treasure trove of ancient natural beauty, from gaping gorges and craggy rock faces to waterfalls and natural pools that are just begging you to have a dip. The national park has a number of camping facilities for you to stretch out under the stars, or there is an eco-retreat if you're looking for luxury.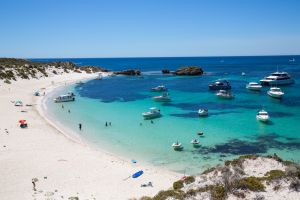 Rottnest Island
Conveniently located just off the coastline from Perth, Rottnest Island is the blissful island paradise of your dreams. Water activities are the epitome of island life at Rottnest, anything from snorkeling and diving to fishing, surfing, boating, kayaking, sailing and just swimming is available. Another major island attraction is its furry namesake – the island literally translates to 'rat nest' after the native Quokka were mistaken for rats by a Dutch explorer in 1696.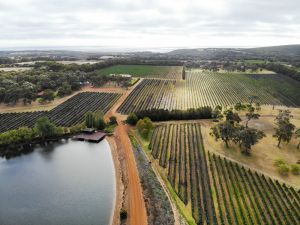 Margaret River Region
The Margaret River Region – which stretches down across the south western corner of Western Australia – is famous for its award-winning wineries, local galleries and stellar surfing hotspots. Whether you put some of the region's notoriously first-class food and wine to the test with a tour through the vineyards or experience some of nature's thrills on offer with a surf or hike, the Margaret River has an adventure for everyone.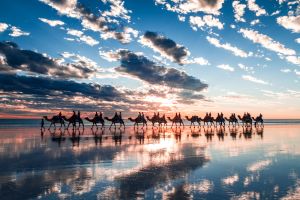 Cable Beach, Broome
Of all Australia's world-class beaches, Cable Beach – which runs 22 kilometres up the Western Australian coast – might be the most visually impressive. The ochre red sand dunes which line the Western Coast fall away to reveal blinding white sands before meeting the crystal blues waters of the Indian Ocean. The stunning scenes are improved upon by the famous sunsets over the water each evening. Make the most of Cable Beach by taking it all in from atop a camel with one of the regions iconic camel trains across the beach.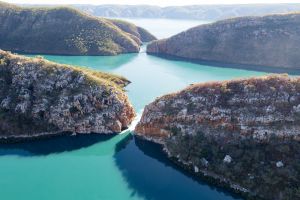 Horizontal Falls, Kimbolton
The Horizontal Falls at Talbot Bay are one of the world's most intriguing natural phenomena, created by the fast-moving tidal current forcing its way through a narrow gap in the McLarty Range. The resulting white water rapids can be explored via an exhilarating boat ride or from the air with a scenic flight if you prefer not to get wet.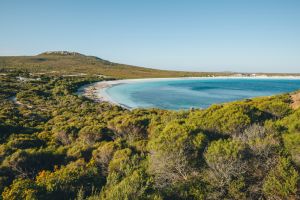 Cape Le Grand National Park, Esperance
Cape Le Grand National Park is one of the state's many natural treasure troves – an idyllic coastal park filled with natural swimming pools, pristine beaches and sunbaking kangaroos. Other ways to spend your time at Cape Le Grand include bushwalking through the granite boulders and rocky outcrops, rock-climbing at Frenchman's Peak and Mount Le Grand and trying your hand at fishing.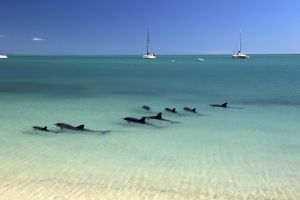 Monkey Mia, Shark Bay
While there is plenty to see and do at Monkey Mia, this popular tourist spot is best known for its incredible marine life, most notably the dolphins. The wild dolphin experience allows you to stand in the shallows and be approached by wild Indo-Pacific bottlenose dolphins which are offered fish by the rangers. The experience attracts more than 100,000 visitors a year and it is illegal to approach dolphins outside of the experience, so plan ahead if you would like to be involved!
Is it worth travelling through Western Australia?
If you're looking for a change of scenery from Australia's densely populated east coast, a trip west should be on the cards. The opportunity to soak up unmatched views of the sun setting over the ocean are well worth the trip alone, with plenty to fill the days before the sunsets roll around. Sure, the flight across our great brown land is long and can be costly, but if you plan well in advance you should be able to bag yourself a good deal on both hotels and a hire car. Though, there's not much we can do about the flight time. Sorry!
Photo credits: Isabelle FABRE/shutterstock.com, Anna Morgan/shutterstock.com, Darkydoors/shutterstock.com, opailin/shutterstock.com, iacomino FRiMAGES/shutterstock.com, Victor Maschek/shutterstock.com, AurelienDamien/shutterstock.com, paulmichaelNZ/shutterstock.com, robert mcgillivray/shutterstock.com, John Crux/shutterstock.com, Emily Hamley/shutterstock.com
Original Author: Eliza Parry Okeden