If you're dreaming of a holiday where sun-bleached sands meet lush rainforests, with a dash of cave-walking and gemstones for good measure, then it might be time to take a trip up to North Queensland. Whether you fancy a scenic jaunt along the Coral Coast, or a deeper look at the region's fascinating natural and cultural history, we've compiled a list of the best places to visit when you're exploring up north.
Best places to visit in North QLD
If you're planning a trip to north Queensland, here are some of our top locations you should see: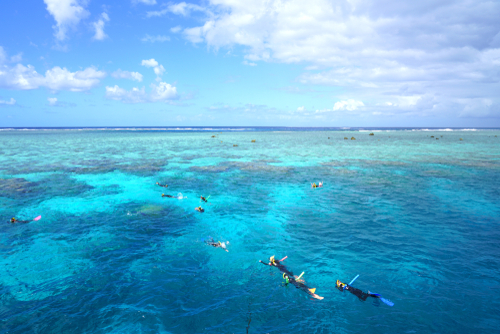 Great Barrier Reef, Port Douglas
The Great Barrier Reef, one of the seven natural wonders of the world (and deservedly so), is a hallmark of North Queensland, and what better way to see it than from the tropical haven of Port Douglas. Whether you prefer the luxury of beach resorts, or the local backpackers are more your style, Port Douglas is bursting with coastal charm. In saying this, there is a plethora of seaside towns to explore along the Coral Coast with their own reef tours and activities, meaning the world (or coast) is your oyster!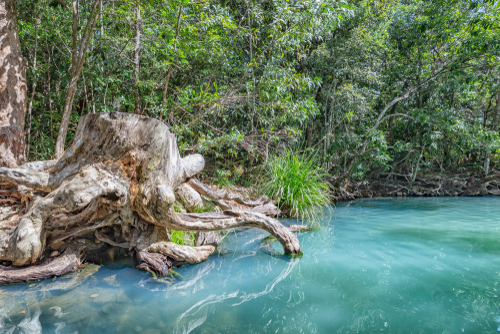 Cardwell Spa Pool, Cardwell
The Cardwell Forest Drive, which features a number of scenic loops through the Girringun National Park, boasts swimming holes, waterfalls and picturesque picnic spots. The pièce de résistance, however, is the naturally fed Cardwell Spa Pool. The seasonal spa pool is known for its unnatural shades of blue, ranging from bright azure to milky-blue, and is believed to be the result of high levels of magnesium and calcium from the sedimentary rocks. Another bonus is that all of the swimming holes along the drive are crocodile, shark and stinger-free!
Boodjamulla (Lawn Hill) National Park, Lawn Hill
Boodjamulla National Park has something for everyone: soaring sandstone cliffs, walking tracks and canoeing through the gorges will entice adventure lovers, while a diverse display of fauna and fossils and prehistoric relics which date as far back as 25 million years will tempt the rest. The national park has camping and accommodation facilities, and is an ideal stop if you're travelling along the Savannah Highway.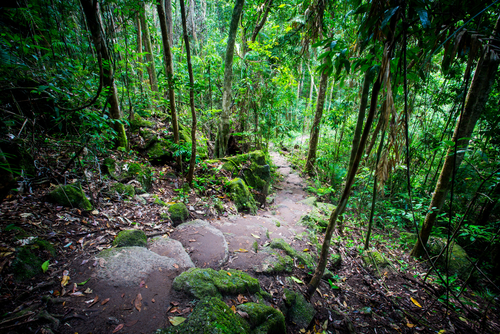 Mossman Gorge Centre, Mossman
The Mossman Gorge Centre is an indigenous ecotourism centre which provides a connection to the culture and beliefs of the local Kuku Yalanji people and a gateway to the World Heritage-listed Daintree Rainforest. The wonders of Mossman Gorge can be explored on one of the self-guided walks through the Daintree National Park or with a guided Dreamtime Walk tour to learn the ancient secrets of the land.
Magnetic Island, Townsville
Just a quick 20-minute ferry ride from Townsville, Magnetic Island is a must-see if you want to immerse yourself in the tropics. Whether you're snorkeling with reef sharks, checking out the wreckage of the S.S. Adelaide or discovering the island's many hidden waterfalls, Magnetic Island is often considered the gem of Northern Queensland.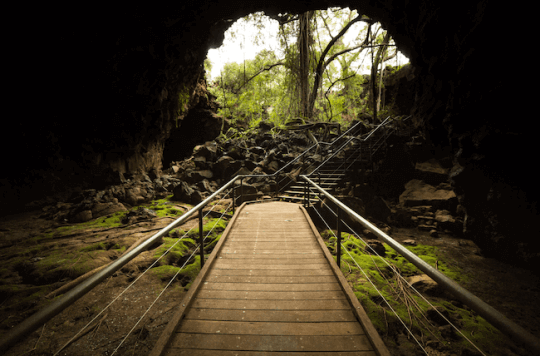 Undara Volcano Lava Tubes, Mount Surprise
The lava tubes, formed by the eruption of the Undara Volcano approximately 190,000 years ago, are the product of molten lava flowing for 160km, making it the world's longest lava flow from a single volcano. The resulting caves which have formed along the tube are breathtaking – some are over 21 meters wide and up to 10 meters high – and can be explored as part of a guided tour.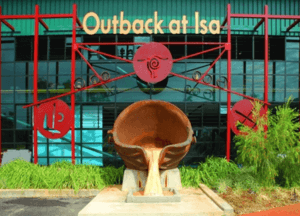 Outback at Isa, Mt Isa
Whether you're interested in the town's rich mining history, the cultural diversity of the area, or perhaps the discoveries of the nearby fossil fields, the Outback at Isa precinct is your one-stop-shop for all things Mt Isa. Outback at Isa is the area's premier tourism facility, and home to a number of attractions, including the underground Hard Times Mine tour, the Outback Park and Riversleigh Fossil Centre.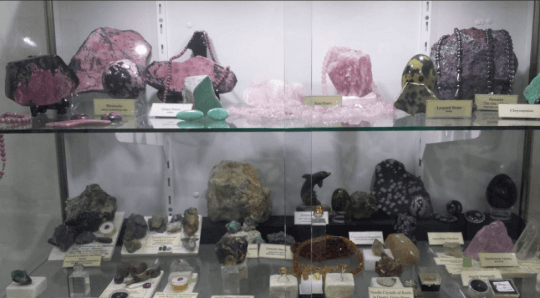 Ted Elliott Mineral Collection, Georgetown
The Ted Elliott Mineral Collection proudly displays more than 4,500 specimens – including fossils, jewelry, local and international minerals, local history and mining memorabilia – across nine themed rooms. The impressive privately-owned assortment, which particularly favours locally sourced agate and crystals, is the most comprehensive collection of its kind in Australia.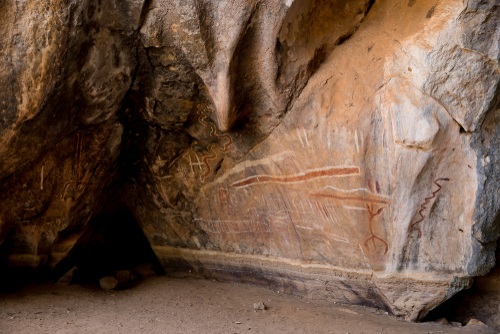 Limestone Caves, Chillagoe
The town of Chillagoe is no longer the booming mining metropolis that it once was, however don't let that deter you from a quick visit. The surrounding limestone caves – between 600 and 1,000 of them – have been described as being home to some of the most diverse geology in our big, wide world. If that's not enough, the caves also hold a wide array of aboriginal artworks and fossilized animals, including now extinct giant kangaroos and wombats.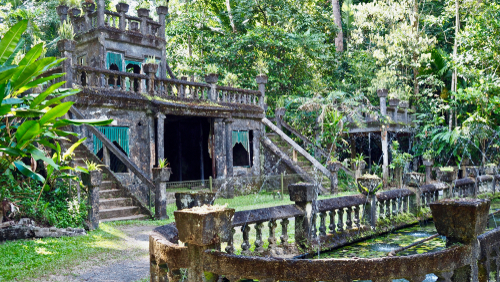 Paronella Park, Mena Creek
Beginning in 1929 after returning to Australia for his honeymoon, Spaniard José Paronella built a castle on five acres of land next to Mena Creek Falls, including tennis courts, bridges and a tunnel. The spectacular structure was finished with an enveloping pleasure garden, consisting of more than 7,500 tropical plants. Now his lush paradise is open to the public, has won numerous tourism awards, and is both State and National Heritage-listed. He also managed to harness the power of the waterfall to create a natural source of electricity, making Paronella Park Queensland's first privately owned hydroelectric plant.
Is it worth travelling North Queensland?
Whether you'd prefer to stick to the lush tropics and pristine reefs of the coral coast, or are looking to venture west towards the Gulf, North Queensland has plenty of attractions, natural wonders and historical sites to keep you busy. In saying this, North Queensland is a very seasonal destination and the tropics are especially prone to cyclones and extreme weather events during the summer months, so you may have to plan ahead to make the most of your travels.
Photo credits: Natalie Maro/shutterstock.com, EQRoy/shutterstock.com, Brent Randall Photography/shutterstock.com, Lella B/shutterstock.com, FiledIMAGE/shutterstock.com, CoolR/shutterstock.com, tropicalnorthqueensland.org.au, outbackatisa.com.au, Nathan Kelly/shutterstock.com, Elmo Lee/shutterstock.com
Original Author: Eliza Parry Okeden