A guide to Mitsubishi cars in Australia
Mitsubishi has a long automotive history, producing some of the world's most iconic cars like the Outlander and Pajero – not to mention the famously tough Triton. But can you name any others? There are eight models of commercial Mitsubishi vehicles offered in Australia, and Canstar Blue is going to take you on a road trip through them.
Mitsubishi Mirage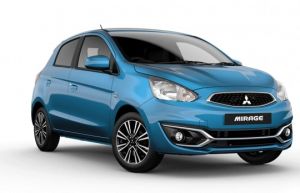 The Mitsubishi Mirage is a small hatch vehicle, great for zipping around the city. There are two models in this line – the Mitsubishi Mirage ES and LS. The ES model is the most basic version and includes some of the following key features:
2L 3 cyl MIVEC engine
5-speed manual or optional CVT
Bluetooth with steering wheel phone and audio controls
Central door locking with keyless entry
6 SRS airbags
Hill Start Assist
The Mitsubishi Mirage LS is mechanically identical to the ES, but it expands upon it with:
Cruise control
15″ alloy wheels
Front fog lamps
Privacy glass
Rear roof spoiler
Climate control air conditioning
Mitsubishi Mirage price:
The Mitsubishi Mirage is a very affordable vehicle, making it a great option for young drivers. The price for a new Mitsubishi Mirage starts around $14,000 for the ES model. Upgrading to the LS will cost about $3k more.
Mitsubishi Lancer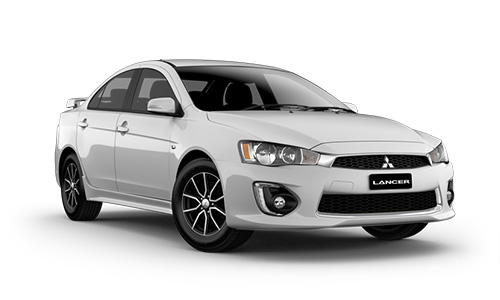 The Mitsubishi Lancer is a fairly standard sedan. While certain Lancer models include some exciting features, the Mitsubishi Lancer keeps it pretty basic with everything someone in the sedan market might expect.  That said, the Mitsubishi Lancer 2.0-litre four-cylinder petrol engine boasts an impressive 110kW output, making it a little sportier than other sedans of a similar class.
There are three models of Mitsubishi Lancer. The most basic is the Lancer ES Sport, which comes with:
0L 4cyl DOHC 16 valve MIVEC
Climate control air conditioning
Reverse camera
LED Daytime Running Lamps
16
Digital Audio Broadcast (DAB) radio
The rest of the Mitsubishi Lancer range is made up of the Lancer LS and Lancer GSR (Sedan & Sportsback). Each model includes the above listed features, as well as the following:
Lancer LS

Lancer GSR

Reverse parking sensors
Automatic rain and dusk sensors
Smart Key
Leather seat facings
Power driver seat & heated front seats
Privacy glass

2.4L 4cyl DOHC 16 valve MIVEC
Sports suspension and stabiliser bars
Comes as sedan or sportsback
Alloy sports pedals
Leather bound steering wheel & gearshift
Paddle Shift (CVT only)
Mitsubishi Lancer price:
The Mitsubishi Lancer is a popular vehicle, largely thanks to its affordability. The Mitsubishi Lancer ES Sport costs around $20,000. The LS and GSR models are slightly more expensive – about $24,000 and $25,000 respectively.
Mitsubishi ASX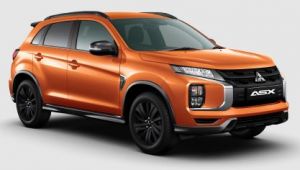 Mitsubishi markets this as 'the street smart SUV' with all the practicalities of a small car and SUV rolled in to one. The Mitsubishi ASX range is made up of the ASX LS and ASX XLS which come in both 2WD and AWD. AWD models include a convenient button that lets you switch between 2WD for better economy and 4WD for improved traction.
The ASX range doesn't skimp on its features either. It comes standard with everything a driver needs to zip around town and more. The Mitsubishi Motors website lists the key features of the ASX LS as including:
0L petrol engine or 2.2 turbo diesel engine
5-speed manual, 6 speed auto or optional CVT transmission
Reverse camera and sensors
Bluetooth phone connectivity
18 inch alloy wheels
2WD or AWD
Cruise control
The ASX XLS adds a few additional features, including:
Continuously Variable Transmission (CVT)
Panoramic glass roof
Leather seat facings & heated front seats
Smart Key & One Touch Start
MMCS with 3D navigation
Automatic dusk and rain sensors
Mitsubishi ASX price:
If you're in the market for a 2WD Mitsubishi ASX LS, expect to pay around $24,000 to $26,000. The AWD version of this model costs about $10-11,000 more. The ASX XLS costs in the vicinity of $35,000 for the 2WD, while the AWD will cost around $40,000.
Mitsubishi Outlander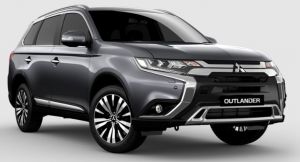 While Mitsubishi produces plenty of family-friendly cars, the Mitsubishi Outlander was specifically designed for families. It comes with either 5 seats or 7 seats and has a roomy interior and boot space, meaning the whole team can ride comfortably.
Being a family car, the Mitsubishi Outlander is packed with safety features. It has a reinforced body and comes standard with a reversing camera and sensors. Select models also include lane departure sensors, blind spot detection and multidirectional sensors.
There are two categories of vehicle in the Outlander line – the Mitsubishi Outlander LS, and the Exceed. The Outlander Exceed only comes as an AWD, while LS customers have a choice of 2WD or AWD. LS customers may also opt for the 'Safety pack' versions, which include extra safety features.
Outlander LS

Outlander Exceed

5 seat or 7 seat
2WD or AWD
2.0L Smart-MIVEC petrol or DID engine
Smartphone Link Display Audio
Digital Radio
Reversing camera and sensors
Dual zone climate control air conditioning

Safety pack features:

Adaptive Cruise Control
Forward Collision Mitigation
Lane Departure Warning
Automatic High Beam
Automatic Dusk and Rain Sensors
Adaptive Cruise Control
Forward Collision Mitigation
Lane Departure Warning
Automatic High Beam
Automatic Dusk and Rain Sensors

Everything that comes standard with the Outlander LS, plus:

360 degree Multi Around Monitor
Blind Spot Warning
Lane Change Assist
Rear Cross Traffic Alert
Electric sunroof and tailgate
Smart key with One Touch Star
Mitsubishi Outlander price:
The price for a basic 2WD Mitsubishi Outlander LS starts at about $27,000. An AWD Outlander LS costs about $4,000 to $8,000 extra. Those who opt for the safety pack features will have to spend around $6,000 on top of these costs. The Exceed is considerably pricier than the LS, pricing between $43,000 and $43,000.
Mitsubishi Pajero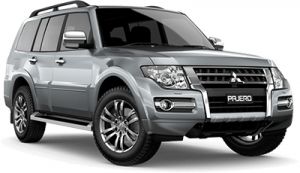 The Mitsubishi Pajero proves that family cars don't have to be boring. This powerful 7-seater is said to excel off-road, with its 3.2L diesel engine and three adjustable high-range modes (all and rear wheel drive, plus AWD with centre diff-lock), as well as one low-range mode with a rear differential lock button for added traction.
The three models of Mitsubishi Pajero are the GLX, GLS and Exceed.  Once again, the GLX is the standard model and comes with:
2L intercooled DOHC turbo diesel
5 Speed Sports Mode Auto Transmission
Super Select II 4WD
Rear differential lock
Smartphone Link Display Audio
7 seats
In addition to these features, the GLS and Exceed include the following:
Pajero GLS

Pajero Exceed

Reverse sensors
Automatic rain and dusk sensors
Heated front seats
Power front seats
High Intensity Discharge headlamps with auto levelling
Headlamps washers

Electric sunroof with slide & tilt
Automatic high beam
12 speaker Rockford acoustic Design premium audio
Leather seat facings
Alloy sports pedals
Premium alarm with ultrasonic, inclination and glass break sensors
Mitsubishi Pajero price:
A brand new Mitsubishi Pajero will set you back about $50,000 for the standard GLX model. The GLS usually costs around $55,000, while the Exceed comes in at just over $60,000.
Mitsubishi Pajero Sport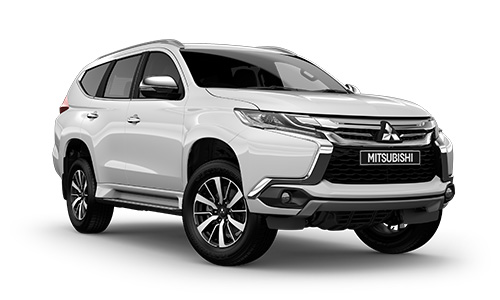 The Pajero Sport is fundamentally different to the standard Pajero range. While it's still a family SUV, the Pajero Sport is modelled on Mitsubishi's Triton, giving it even more power to handle off-road tracks. Mitsubishi's Pajero Sport comes as standard with a 2.4L Turbo Diesel Engine and 8-speed automatic transmission, as well as with the same range of drive types as the standard Pajero, meaning it can drive up pretty much anything.
Similar to the Pajero, the Pajero Sport has three models – GLX, GLS and Exceed. The base GLX model includes:
4L MIVEC Diesel
8 speed automatic transmission
Super Select II 4WD
Off road mode
Smartphone Link Display Audio
Rear air vents with cooler
The GLS and Exceed models add a few extra smart features, as well as a rear-diff lock to boost its off-road capabilities.
Pajero Sport GLS
Pajero Sport Exceed

Leather seat facings
Rear differential lock
Automatic rain sensing wipers
Automatic dusk sensing headlamps
Dual zone climate control air conditioning
Electrochromatic rear view mirror

Multi Around Monitor
Blind Spot Warning System
Forward Collision Mitigation
Ultrasonic misacceleration Mitigation System
Heated front seats
8 speakers
Mitsubishi Pajero Sport price:
The Nissan Pajero Sport is similar in price to the standard Pajero, with prices on the GLX starting around $48,000. The GLX costs around $51,000, while the exceed costs a bit more according to the Mitsubishi Motors website – around $56,000 to $58,000.
Mitsubishi Triton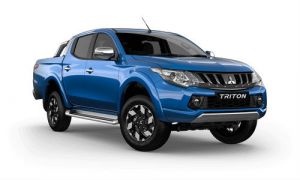 The Mitsubishi Triton is a well-rounded workhorse, combining a powerful engine and an upmarket interior design without compromising on the standard gear. It has 17" alloy wheels, smartphone link display, LED Daytime Running Lamps and 'Easy Select 4WD' on select models. This is a dial that lets the driver seamlessly switch between 2WD and 4WD on the go.
The Mitsubishi Triton has a comparably small towing capacity of 3.1 tonnes, but Mitsubishi claims this helps make the Triton a safer vehicle. In addition, the Triton comes standard with trailer stability assist, active traction control, seven airbags and a reversing camera.
There are three models of Mitsubishi Triton – the GLX, GLS and Exceed. Like with most utes, customers can choose the fuel and transmission type, as well as the cab size and tray style.
Triton GLX
Triton GLS
Triton Exceed

2.4L MPI Petrol
5 speed manual transmission
Bluetooth phone connectivity & audio streaming with voice control
Active Stability and Traction Control
Heavy duty suspension
16″ x 7″ alloy wheels
Rear step bumper
Reverse camera
Side steps

Everything that comes standard with the Outlander GLX, plus:

 Super Select II 4WD
Centre differential
Sports bar
17″ x 7.5″ alloy wheels
Smartphone Link Display Audio with 7″ touch screen
Climate control dual zone air conditioning

Everything that comes standard with the Outlander GLX, plus:

5 speed automatic with Sports Mode
Paddle Shift
Rear differential lock
Smart Key and One touch start system
Leather seat facings and heated front seats
Automatic rain and dusk sensor
Mitsubishi Triton price:
Like with any ute, the price you pay will depend not only on the model, but on your choice of engine and transmission type, cab size and fuel type. Broadly speaking, however, the GLX is the cheapest model in the Triton range, with prices starting around $23,000. The Mitsubishi Triton Exceed is the top of this line and customers should be prepared to spend $45,000 to $50,000 for one of these.
Mitsubishi after sales service
All Mitsubishi vehicles on this list are covered by a five-year, 100,000km warranty. Its vehicles also come with a four year capped-price servicing program, with maintenance every 15,000km or 12 months, whichever comes first. The capped price is $350 in the first year, and $580 for each year following.
About the author of this page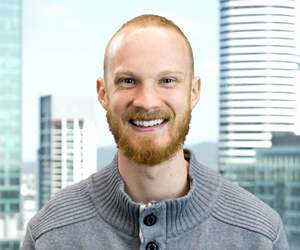 This report was written by Canstar Blue's Site Editor, Dean Heckscher. He's our resident expert on all things automotive, health & fitness, streaming and more. Dean is also one of Canstar Blue's customer research report producers, helping to turn complicated subjects into easily-digestible information for our readers. He's passionate about helping consumers make better-informed purchase decisions on all manner of consumer goods and services.