If you're looking for a disposable nappy that takes care of business, compare brands with our customer satisfaction ratings.
Compare disposable nappy brands with our ratings.
Green baby products important to one in two, but less so for families in general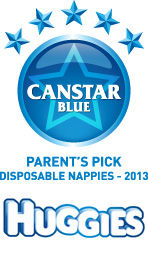 Our recent 'Parent's Pick' research looked at customer satisfaction ratings with a variety of key baby care products. We also looked at some of the purchasing decisions parents are making, including the importance of buying eco-friendly products for both their babies and families.
A substantial 46% of parents who responded to the survey rated the importance of purchasing eco-friendly products for their baby or toddler as 'very important'. However, when asked how crucial the purchase was for their family or themselves, 42% deemed it as only 'somewhat important'.
The eco-friendly requirement for baby nappies is evolving. One in five parents we surveyed have tried bamboo nappies, and a similar number use mostly cloth nappies – and interestingly, both eco-sensibilities and cost consciousness have been noted as reasons for this move to cloth nappies. Overall, a third of surveyed parents choose eco-friendly products for their baby over other items – regardless of cost.
Disposable nappies continue to be a popular choice for parents, with nearly 90% of respondents to this survey having used disposable nappies in the last three months. To that end, we compared various disposable nappy brands in this year's Parent's Pick Awards.
Huggies earn customer satisfaction award for disposable nappies
Achieving our Most Satisfied Customers Award – Disposable Nappies for 2013 was Huggies. The well-known brand achieved top ratings in look and style, leak prevention, fit, baby comfort and overall satisfaction. ALDI Mamia received five stars for value for money.
BabyLove, Coles brands, Snugglers and Woolworths brands were also rated.

Read more …