Don't milk it: Philips Avent leads the way in baby bottle ratings
Feeding time can be a tough time, regardless of your age! While the toughest decision for those of us who can look after ourselves comes from whether or not to order in while we sit back and relax on the couch, those with children will know that feeding time brings a number of more serious challenges to overcome, especially if you're bottle feeding.
While the focus may be on what goes inside the bottle, finding a bottle to use for daily feedings can itself be a big decision, especially when there's no shortage of products on offer, or it's your first time venturing into the market. To help make the decision a bit easier, Canstar Blue has released its ratings for baby bottles, based on the feedback of more than 500 new mums and dads who recently purchased a baby bottle, with their thoughts and preferences forming the basis of our results. In 2019, Philips Avent has taken out the top spot, rating five stars across all categories.
Best-Rated Baby Bottles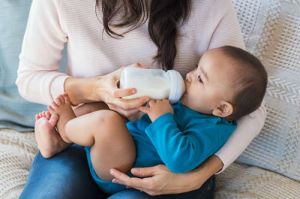 Canstar Blue's 2019 baby bottle review saw five major brands compared and rated in the following order for overall satisfaction:
1st Philips Avent
2nd Closer to Nature
3rd Tommee Tippee
4th Pigeon
5th Medela
Closer to Nature, Tommee Tippee and Pigeon were rated four stars for overall satisfaction, with Medela rounding out the results with three stars. While Philips Avent may be at the top, the competition wasn't far behind, with both Closer to Nature and Pigeon both scoring multiple five-star ratings.
Read on as we explore what each of the brands in this year's comparison have to offer.
Top Baby Bottle Brands
Philips Avent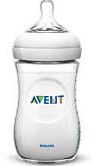 The result of a merger in 2006, Philips Avent offers a range of products for both bubs and mums. For those after a baby bottle or a few extra replacement nipples, Philips Avent has a number of types available, with its range divided into age brackets, as well as by teat type if you have a fussy eater.
Philips Avent's bottle range is split between the Natural and Classic+ range, with bottle capacities ranging from 125mL and 330mL. The Natural range is the more expensive option of the two, and includes a unique Petals design with a natural latch to make feeding time easier and more comfortable for everyone involved. Philips Avent also offers a number of teat flow rates and types, ideal for those who often struggle when it comes to dinner time. Bottles are made from either glass or BPA-free plastic, with anti-colic products also available.
Available at chemists and baby product retailers, you can find a store close to you through the Store Locator available on the Philips Avent website. Competitively priced, most Philip Avent baby bottles can be found between $10 and $20 depending on the type, with packs of two or four bottles also available for purchase.
Philips Avent scored five stars across all categories, including value for money, ease of use for baby, ease of cleaning, quality of seal and overall satisfaction.
Closer to Nature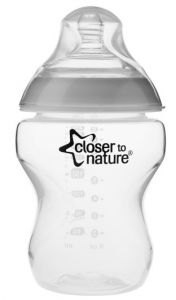 A brand from Tommee Tippee, Closer to Nature is another well-known name within the baby bottle market, offering a number of bottle and teat options for parents to choose from. The Closer to Nature range includes an easy-latch teat that features an anti-colic valve to reduce excessive air flow, each bottle is compatible with the entire Closer to Nature teat range, including the Advanced Comfort and Ultra range.
Bottles are BPA-free, and are available in capacities ranging from 150mL to 340mL, with a number of colours also available. You can purchase bottles individually or up to packs of six, with Closer to Nature bottles available at baby retail stores, chemists as well as retail stores such as Big W.
Scoring five stars for ease of use and quality of seal, Closer to Nature was also rated four stars for ease of cleaning, value for money and overall satisfaction.
Tommee Tippee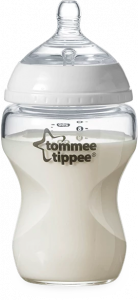 Founded over 50 years ago, Tommee Tippee currently operates under the Mayborn Group, and is one of the bigger players within the baby market. Offering products for feeding time, changing time, and those moments in between, you'll often find Tommee Tippee products at retail stores, baby product retailers, as well as online via its website.
Offering a number of bottle varieties and capacities, including the Express and Go Pouch, Standard Neck Bottle, Novelty Hood Bottle, as well as glass and BPA-free plastic bottles, you'll have plenty to choose from for your bub. Tommee Tippee also has a number of teats, including the Advanced Anti-colic teat, Vari-Flow teat, as well as a standard silicone neck teat, along with an online guide to help you find the best for your needs. You can also find a range of other products to help with bottle feeding, including sterilising and preparation kits, along with brushes to help with the clean-up.
Tommee Tippee was rated four stars across all categories, including value for money and overall satisfaction.
Pigeon

Japanese brand Pigeon offers a wide variety of baby products, including skincare, soothers, breast pumps and yes, baby bottles. For baby bottles, Pigeon offers glass, polyphenylsulfone (PPSU) and polypropylene (PP) varieties, all of which are available in capacities ranging from 120mL to 330mL. Reasonably priced within the market, a Pigeon baby bottle can be picked up between $10 and $20 depending on the size, with Pigeon products available at chemists, baby products retailers as well as online through the Pigeon website.
In addition to baby bottles, Pigeon offers nipples, which come with Air Ventilation System (AVS), which adjusts air pressure inside the bottle to help control the milk flow. Pigeon's nipples are also made to be collapse-resistant, with a textured surface to allow for easy latching. Pigeon additionally offers a liquid cleaner to help keep your baby bottle clean and safe for the next use.
Joint top for both ease of use and ease of cleaning, Pigeon was rated four stars for quality of seal, value for money and overall satisfaction.
Medela
Founded in Switzerland in the 1960s, Medela primarily operates within the medical technology market, although has expanded to other areas such as baby products, including maternity wear, breast pumps and baby bottles. Available at baby product retailers and chemists, Medela is at the pricier-end of the market, with some bottles costing over $30, although most sit around the $20 mark.
Medela bottles are available for single purchase or as a pack of three or six, with capacities available in either 150mL or 250mL. Medela also provides a variety of teats, including slow flow, wide teats and the Calma teat, which is used for an easy transition between breastfeeding to bottle feeding.
In addition to traditional bottles, Medela offers the SoftCup, ideal for babies with sucking difficulties, along with the SpecialNeeds Feeder for those born with a cleft lip or palate. Medela also features the FingerFeeder and Supplemental Nursing System (SNS) to help with fussy eaters or those that need additional nutrients.
Rounding out the results, Medela was rated three stars across all categories, including ease of cleaning, value for money and overall satisfaction.
BPA-free bottles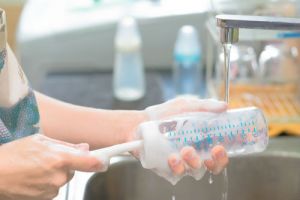 In recent years, BPA-free has become the standard when it comes to baby products, but what exactly is BPA, and why should you avoid it? Well, BPA stands for Bisphenol-A, an estrogen-imitating chemical used in the manufacturing of plastic products from the 1950s. Since then, BPA has been linked to a number of negative health issues, some of which can affect infants and babies.
In Australia, the federal government announced a voluntary phase out by major Australian retailers of polycarbonate plastic baby bottles containing BPA in 2010.
Nowadays, most baby brands have moved away from BPA chemicals, with BPA-free plastics now a major selling point, although if you're worried about what your bottle is made of, it may be best to research into how each brand manufacturers their specific products, as well as checking the label. With 22% of survey respondents worried about using plastic bottles because of the harmful chemicals (such as BPA) they can contain, digging a bit deeper into how each brand goes about making their products may give you additional peace of mind when it comes to finding a brand to take home.
You may also be interested in:
Which baby bottle should I buy?
When it comes to purchasing products for the apple of your eye, many will find the market a tough one to navigate, with each brand claiming to be the best for your bundle of joy. Add in the stress of feeding, the sleepless nights and everyday pressures of being a parent, finding a new baby bottle can seem like an impossible task.
While not exactly a purchase that will break the bank, if your baby doesn't take to your bottle of choice, it may end up costing you more than you planned. As a result, it may be a bit of trial and error when it comes to which brand and model of baby bottle you purchase, although it's always best to look into all of your options, as you may find one that makes feeding an absolute breeze.
About the author of this page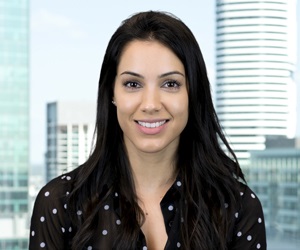 This report was written by Canstar Blue's Home & Lifestyle Content Lead, Megan Birot. She's an expert on household appliances, health & beauty products, as well as all things grocery and shopping. When she's not writing up our research-based ratings reports, Megan spends her time helping consumers make better purchase decisions, whether it's at the supermarket, other retailers, or online, highlighting the best deals and flagging anything you need to be aware of.
Photo Credit: Rido/shutterstock.com, MISS TREECHADA YOKSAN/shutterstock.com