Fact Checked
Air conditioners are a saving grace in summer in Australia. While most of us are used to an air conditioner just being there in our home, for some getting one installed can feel daunting. Installing any large appliance can be a tedious process that can leave your pockets feeling a little empty if you're not sure where to look or how to start. Read on to find out more about air conditioner installation costs in this Canstar Blue guide.  
Air conditioner installation costs explained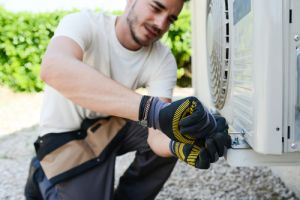 The full air conditioner installation cost includes labour and materials, with the following factors impacting the overall cost:
Type of air conditioner

Size of air conditioner

Number of units required to be installed

Piping and interconnecting cables necessary for the job

Cable ducting necessary for the installation

Upgrading the meter board if required
Once you've chosen your air conditioner, the rate you pay for labour may also differ depending on where you live and how easy it is to access your property.
Cost to install a split system air conditioner
The cost to install a split system air conditioner can cost from $600 to $800 depending on the size of the unit and the Kilowatt output. That's not including the cost of the unit itself and any additional materials the installer may need to install it in your home. It's always best to call and get an on site assessment before installation to get a better price estimate. 
*Price based on The Good Guys services, 2023
Cost to install a ducted air conditioner
Ducted air conditioning is different again from split system installation. The cost of installation for a ducted air conditioning system has a number of factors that can affect the cost such as the size of the home, how many bedrooms and how many storeys. As a basic estimate, ducted air conditioning costs from $9,000 to around $20,000 to install. For larger homes with more bedrooms and multiple storeys you can expect the cost to reach the higher end, whereas for smaller homes it can be cheaper.  
*Prices based on Global Cool Air, General Guide Only.
Considerations affecting installation costs
There are a few factors that will affect how much your installation will cost:
The size of your house

The number of units being installed

Existing electrical issues

How complex it will be to install new units
As each house, unit, and property will likely be different, the final cost you pay for the installation process, as well as a new air conditioning system, may vary, so it's important to get a number of quotes from installers to ensure you're getting the best deal.
---
Read more: What size air conditioner do I need?
---
Who can install an air conditioner for me?
Some retailers offer installation services along with their products, at an additional cost. Other people qualified to install an air conditioner include:
Licensed tradies

Dedicated ducted air conditioning installers

Licensed plumbers who can install, maintain and repair piping

Licensed electricians who can install the master control panels and any necessary wiring
However, they must be qualified and licensed to ensure trade compliance, given the importance of correct installation. Air conditioning installers will handle refrigerants, so the Australian Refrigeration Council (ARC) requires all installers and technicians to hold either a full Refrigeration & Air Conditioning licence or a restricted licence that allows them to only install split system air conditioners.
How much does an air conditioner cost?
Air conditioners cost from $600 to upwards of $5,000 depending on the type and model. Below is a general guide for costs:
| Type | Price |
| --- | --- |
| Split system air conditioners | $600 – $2,800 |
| Reverse system air conditioners | $800 – $3,000 |
| Wall/window systems | $400 – $1,200 |
| Portable air conditioners | $400 – $1,200 |
| Ducted air conditioning | $5,000+ (unit & installation costs) |
General Guide Only
---
Looking for more guides on air conditioners?
---
The bottom line on air conditioner costs
Before buying an air conditioner, ask your retailer about the costs involved with the installation. It would be wise to shop around and get quotes from a number of providers to compare, and ensure you get all the costs to know exactly how much the installer will charge you at the end of the day. It's best to do your research so that you don't end up with any nasty surprises after the job is done, as well as give you time to set enough money aside to properly budget for your next air con project.
And if you're not sure about which brand you should be looking at, check out our ratings on air conditioners below to help you keep your cool.