Fact Checked
Sweating over which type of
air conditioner
you should buy? Well, it may be worth browsing through the large range of split system air cons. This type of model continues to be popular among Australian consumers for several reasons, namely for its efficiency, quiet operation, and year-round cooling and heating.
To help you keep a cool head, we take a look at what exactly a split system air conditioner is and whether it's the best option for your home.
What is a split system air conditioner?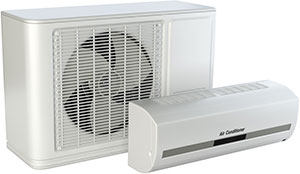 A split system air conditioner is a type of refrigerant air conditioning unit, meaning it channels a liquid refrigerant through the system in order to cool the air (and vice versa when used to heat a space). It comes in two separate parts – an indoor unit and an outdoor compressor unit.
The indoor unit is what you see inside the home. It's the part that distributes the cool (or warm) air throughout the room. It features a heat exchange coil, filters, remote signal receiver, and fan. Meanwhile, the outdoor unit is attached externally and is responsible for directing the refrigerant to and from the indoor unit.  Split system air conditioners are available as either a cooling-only or reverse cycle unit, and can be mounted to the wall or used as a floor-standing model.
What is the difference between a split system air conditioner and a reverse cycle air conditioner?
Reverse cycle air conditioners and some split system air conditioners can both heat and cool a room, which can potentially help you save on both upfront and long-term running costs (that is, when compared to buying separate cool-only and heat-only appliances). A reverse cycle air conditioner refers to a type of air conditioning system, such as window air cons or split system air cons, that can 'reverse' the motions the model usually goes through to cool a space, to alternatively warm a room once switched to heating mode.
What are inverter split system air conditioners?
An inverter is an energy-saving feature that controls the speed of the motor inside the air conditioner. This essentially allows the appliance to change temperature, without having to turn the motor on and off beforehand. Inverter air conditioners instead adjust the motor speed, ultimately minimising the amount of energy needed to produce warmer or cooler air. Not all split system air conditioners have an inverter, similar to how not all air conditioning units have a reverse cycle function.
Compared to air conditioners without an inverter, inverter air conditioners are typically said to be more efficient and better at maintaining a steady temperature. Although many split system air conditioners now come with inverter technology.
Why buy a split system air conditioner?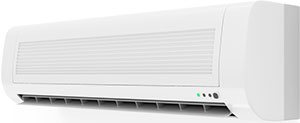 Split systems may be one of the more popular types of air conditioners, but that doesn't mean they're right for everybody. A split system air conditioner might be worth considering if:
You need to cool at least one medium or large-sized room (where a portable air conditioner would be lacking)
You live in a home that allows for a split system to be installed
Your budget is able to cover both the upfront cost of purchase and the installation costs (which can often be rather significant)
You need to cool multiple rooms, but not necessarily the whole house (which a ducted system would be well-suited for)
How many rooms are you cooling?
One of the benefits of split system air conditioning is flexibility because you can cool multiple rooms at the same time. However, the obvious downside of this is that the system will become more expensive with every additional room you want to cool. The other thing to note is that a split system allows you to use different capacity units for specific rooms. So, you could install a relatively low-capacity unit (i.e. 2kW) in a small bedroom and a more powerful air conditioner for large shared spaces such as living rooms. The ability to pick and mix units based on the needs of individual rooms is another benefit of split system air conditioners.
In order to calculate the output you'll require for different rooms, use an online calculator such as this one from FairAir.
How do you choose a split system air conditioner?
The upfront price of an air conditioner isn't the only factor to consider when finding the best split system model for your home. Here are a few features to think about.
Filters and dehumidifiers
If you live with someone who suffers from asthma or allergies, then purchasing an air conditioner that's approved by the Sensitive Choice program could be the way to go. Regardless, most air conditioners boast effective filtration systems, including HEPA filters designed to eliminate bacteria and extract dust.
Air conditioner timers
Want your unit to turn off after you've gone to sleep? Easy! Need your house crisp and cool upon your return from work? Ask and it shall be done. Most split system models nowadays feature timers that you can set manually or with smart connectivity, so you can switch them on and off remotely – perfect for the days when you forget to turn the air con off before leaving the house.
Check energy ratings
While you can of course use our website to compare air conditioner brands, models, and features, it's also in your best interest to track down your preferred unit on the government's Energy Ratings website to see what energy star rating your model achieved for both cooling and heating. This website also has a calculator to determine the running costs of your chosen air conditioner over time. Remember, the initial outlay may set you back a few, but it's the cost of running your air conditioner over time that can cost you big bucks! And as we mentioned, an inefficient unit can end up chewing through a whole lot of energy, so it's worth finding one with a decent energy efficiency rating.
Do you require heating too?
If the answer is yes, that's where reverse cycle air conditioners come in – they heat and cool. If you live in a cooler climate, or just find yourself getting shivery in winter, keep this in mind. A reverse cycle unit will generally be more expensive to buy, but it may be a price worth paying if you like keeping toasty in winter.
The pros and cons of split system air conditioners
If you've read this review and declared: "Awesome, I'm going to go out and buy a split system air conditioner now," then that's great, but first consider some of the drawbacks when it comes to split system air conditioning.
The positives are obvious. If you're in dire need of efficient cooling, a split system is a viable, fuss-free way to do so. You likely do not need to renovate your home or knock down anything to install a split system, unlike window/wall air conditioners. They are also usually more powerful than portable air conditioners. Furthermore, they're fairly quiet to operate because the condenser is separate from the unit inside. Some models additionally come with a dehumidifying function, adding another useful feature to the list.
On the other hand, there are a couple of major drawbacks when it comes to split systems. Compared to the window air conditioner types, split systems can be more expensive to purchase. Additionally, many split system units are not merely 'plug and play'; rather they require installation by a licensed technician. This can add to waiting times and drive up the overall costs of your unit. Another drawback is the fact they are not suitable for all homes or rooms. If you live in an open-plan house or multi-storey apartment, you may find it difficult to find an optimal position for the split system; this also leads to the fact that split systems work best in rooms, rather than open spaces. Split system air conditioners are a great investment, but not without their drawbacks. So, let's review the main pros and cons here:
| Pros | Cons |
| --- | --- |
| Efficient cooling and heating | Not ideal for open plan homes or multi-storey apartments |
| Quiet operation | Outside condenser can still be noisy |
| Minimal changes to home when installing | No DIY installation, technician wait times and costs add to overall price |
| Often cheaper than ducting air con units | Often more expensive than window units |
| Cheaper to run than ducted systems | A strained or inefficient split system can still be expensive to run |
Cheap split system air conditioners
There are many things to consider when buying a split system air conditioner, or really any type of air con. Initial upfront and installation costs are likely the first concern on your agenda, and unit location, as well as running costs, are likely to shortly follow. It's also important when considering the purchase to consider other types of air conditioning as well. Could they do the job, too? If the concept of buying a split system seems daunting, we've listed a few models below to help you on your search.

Rinnai 2.5kW Reverse Cycle Split System
This Rinnai J Series reverse split system air conditioner (HSNRJ25B) boasts a high 6.5-star energy efficiency for cooling but only a three-star rating for heating, plus the usual features you would expect from a basic unit. Some of these include 3D air distribution with improved long-distance air supply up to 15m, Wi-Fi capability with both Apple or Android apps, and more.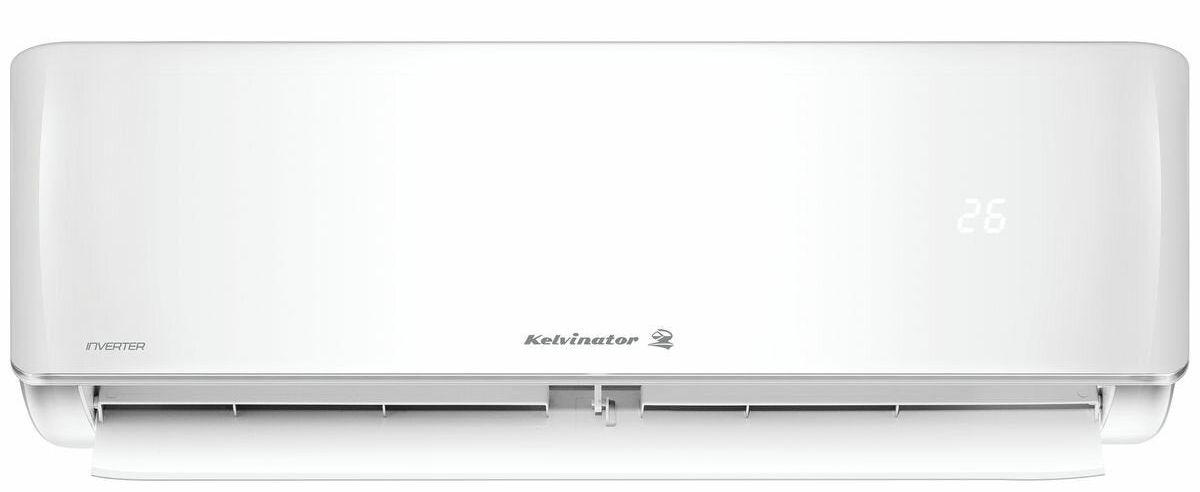 Kelvinator 2.5kW Split System Reverse Cycle Air Conditioner
Many brands now include HEPA filters and other types of filtration to improve the quality of the air that flows from the air conditioning unit. This Kelvinator split system air conditioner (KSD25HWJ), for example, contains dust, HEPA, and ion filters to purify the air and remove airborne particles like dust. It also features a 'Follow Me' command that directs airflow in your direction, voice assistance with Amazon Alexa or Google Assistant, and syncs to the Kelvinator Home Comfort app, which lets you control settings straight from your smartphone. This model also has a five-star cooling and heating energy rating to keep your energy bills in check.

Haier 2.6kW Flexis Reverse Cycle Split System Inverter Air Conditioner
If you're shopping for a budget-friendly appliance, there's a good chance you've seen the Haier name float around. Its 2.6kW Flexis split system air conditioner (AS26FBBHRA1U26JACFR) is one of the most affordable options from the brand and offers a six-star energy efficiency rating for cooling and 5.5 stars for heating. Some of the features include Haier's Intelligent Air technology, stated to distribute airflow evenly throughout the room, an eco sensor to detect the level of human activity in each room, built-in Wi-Fi, and Sleep Mode to ensure your air con doesn't disrupt your sleep.
Canstar Blue's Air Conditioner Reviews & Ratings
*Prices are taken from respective retailers, correct as of November 2022.