Fact Checked
No one enjoys unloading dishes that are only semi-dried. A simple way to solve this issue is to slightly open the door at the end of each cycle. Fortunately, there are certain dishwasher brands that can do this automatically. This might seem like an unnecessary luxury, but if you find yourself putting the dishwasher on before going to bed or heading out, it can be a godsend. But which brands offer this feature? Find out all you need to know about auto-open dishwashers with this Canstar Blue guide.
How does the auto-open feature work?
The automatic door-opening feature does exactly what you'd expect it to – it automatically opens the dishwasher door once the washing cycle is complete, allowing for fresh air to circulate inside, and letting moisture escape, allowing your dishes to dry quicker. If you're looking for this feature, it also goes by various names, including 'AutoOpen', 'AutoRelease Dry', 'Automatic Door-Opening' and 'AutoAir'.
What brands offer the auto-open feature?
There are a number of dishwasher brands that include the auto-open feature. Some of the most prominent are:
LG
Electrolux
Bosch
Miele
LG Auto-Open Dishwashers
LG 15 Place QuadWash Dishwasher (XD3A15NS)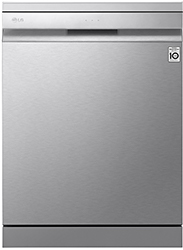 The QuadWash Dishwasher is designed with LG's own 'Auto Open Door' (AOD) feature and will set you back around $1,500. The door automatically cracks open at the end of a cycle to enhance drying performance. Other features of this model include:
QuadWash: a bottom spray mechanism with rotating blades that deliver jets of water through the machine at multiple angles.
Dual Zone Wash: varied spray intensities delivered to the upper and lower racks that cater to different kinds of dishes.
TrueSteam: a high temperature steam cycle that sanitises and reduces water spots.
EasyRack Plus: an upper rack that can be adjusted to alternating heights, accommodating differently sized items.
LG 15 Place QuadWash Dishwasher – Built Under (XD3A25PS)
The built under model of LG's 15 Place QuadWash Dishwasher features an 'Auto Open Door' system and costs nearly $1,600. On the conclusion of a cycle, the door will automatically open, allowing fresh air to circulate through the machine. Some additional features of this washer include:
TurboCycle: rapidly washes your dishes in 59 minutes.
ThinQ: links your appliance to an app that can download new wash cycles, diagnose machine issues and receive alerts.
MicroLED Display: a discreet system that provides key information and dims when not in use.
Direct Drive Motor: an inverter motor that is designed with less moving parts to deliver a quiet washing experience
Electrolux Auto-Open Dishwashers
Electrolux Built-Under ComfortLift Dishwasher (ESF8735ROX)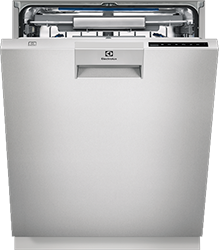 This 60cm built-under dishwasher from Electrolux is likely to cost you around $2,000. It features AirDry technology that cracks the door 10cm open towards the end of the cycle. The door will stay open until you're ready to unload. Other features of this unit include:
ComfortLift: raises the lower basket, making it easier to load and unload.
TimeSaver: allows you to cut the length of a selected cycle time by increasing water temperature and pressure.
FlexiWash: uses different settings for upper and lower baskets on mixed loads.
FlexiSpray Arm: moves in multiple directions to help reach crowded areas of the machine.
Electrolux 60cm Fully Integrated Dishwasher (ESL79200RO)
This dishwasher from Electrolux is likely to cost you around $1,600. Air Dry technology is a key function of this model, allowing fresh air to circulate at the end of each cycle. Other handy features of this machine include:
SprayZone: an area where the machine will intensively clean your cookware.
MyTime: allows you to specifically tailor the length of each cycle.
SatelliteClean: shoots jets of water into every corner of the machine to ensure a thorough clean.
Beam-on-Floor: projects a light beam onto your floor, signalling when the machine is ready to be unloaded.
Bosch Auto-Open Dishwashers
Bosch Series 8 Free-Standing Dishwasher 60cm (SMS8EDI01A)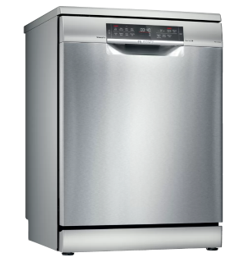 Bosch's series 8 dishwasher is priced slightly upwards of $2,000 and offers a handy auto-door feature that promises to be efficient. The automatic door will improve your drying results by opening near the end of each cycle. Other key features include:
DosageAssist: maximises the effectiveness of detergent tablets.
AutoBrilliance: an automatic detergent and rinse aid sensor.
Extra Clean Zone: items placed directly over this zone will garner a better cleaning result.
AquaSensor: uses light beams to determine the exact amount of water required to deliver an effective clean.
Bosch 500 Series Dishwasher (SHPM65Z52N)
The Bosch 500 model is priced at just over $1,000. It has an AutoAir feature aims to produce noticeably drier dishes by automatically releasing the door at the end of a cycle. Other machine highlights include:
PrecisionWash: uses sensors to monitor the wash water and adjust the cycle for more efficient cleaning.
RackMatic: upper rack can be adjusted to nine different positions, suiting cookware of all different sizes.
InfoLight: a floor projection that signals the status of the cycle, whether it be running or completed.
AquaStop: preventative technology that automatically closes the water inlet and activates the drain pump when a leak is detected.
Miele Auto-Open Dishwashers
Miele Freestanding Dishwasher (G 7114 SC)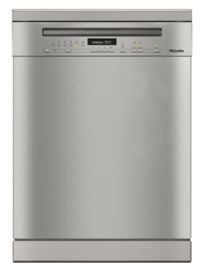 Miele is another brand that offers AutoOpen drying technology. You'll be likely to pay around $2,500 for this 60cm freestanding dishwasher. The machine's door opens automatically at the end of the program, leaving a small gap for your dishes to dry more efficiently.
Other features of this model include:
3D Multiflex Tray: a width, height and depth variable tray that can be adjusted to different loads.
SensorDry: a drying program that will adapt depending on your room temperature.
GlassCare: ensures gentle support for delicate glasses.
Quick Power Wash: a program to clean dirty crockery in just 58 minutes.
Miele Active Plus Freestanding Dishwasher (G 5210 BK)
This Miele dishwasher gets the job done, with an AutoOpen feature that ensures your dishes are completely dry and ready to put away. The machine will cost you around $1,800 and has some additional functions and features that include:
FlexLine Baskets: easily adjusted baskets that can accommodate different styles of crockery and cookware.
ExpressWash: will reduce the length of your selected program by up to 50%.
EcoPower: a water supply system that works to reduce energy consumption.
ComfortClose: a door that is designed to move fluidly and stay open in any position.
Should I buy an auto-open dishwasher?
An auto-open door will allow steam from the dishwasher to escape, reducing condensation and increasing efficiency. It's a simple and effortless solution to a major dishwashing problem that helps ensure your dishes are completely dry at the end of each cycle. While auto-open dishwashers do come in a range of prices, they can cost slightly more than traditional dishwashers, with the extra feature potentially costing you a few hundred dollars extra. However, the more expensive auto-open washers often come with a range of additional handy features that make cleaning up just that little bit easier. So, you'll have to consider how much this convenience is worth to you. If you don't want to worry about opening your dishwasher manually, then you may like to consider the brands above. So, let the dishwasher get the door for you, and ready yourself to empty some perfectly dry dishes.
Picture credits: Leszek Glasner/shutterstock.com
Original Author: Veronika Hleborodova