No one enjoys unloading dishes that are only semi-dried, but there's a system that can help change that. A simple way to help dry dishes is to open the door slightly at the end of the cycle, and there are brands that can do this automatically. That's right, the door opens itself when the dishwasher finishes washing. This might seem like an unnecessary luxury, as you could do it yourself, but if you put the dishwasher on before going to bed, or go out, for example, it can be a godsend.
What does this feature do?
The automatic door-opening feature goes by various names, such as 'AutoOpen', 'AutoRelease Dry' and 'Automatic Door-Opening', but the basic idea is the same. It automatically opens the dishwasher door at the end of a cycle to improve drying performance. By opening the door, it helps moisture escape, and in turn, dries dishes without the need of a vent, fan or heating elements.
What brands offer this feature?
There are a number of dishwasher brands that include a feature that automatically open the doors after the cleaning cycle has finished. The most prominent are:
Electrolux Built-Under ComfortLift Dishwasher (ESF8735ROX)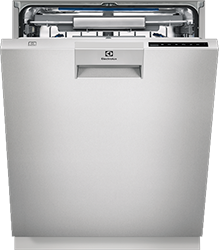 This 60cm built-under dishwasher from Electrolux features AirDry technology, stated to automatically open the door 10cm towards the end of the cycle. This helps create a natural way to get maximum drying performance while reducing energy costs, according to Electrolux. The door stays open until you're ready to unload. Other features of this unit include:
ComfortLift: raises the lower basket to make it easier to load and unload
TimeSaver: allows you to cut the length of a selected cycle time by increasing pressure and water temperature
FlexiWash: uses different settings for upper and lower baskets for mixed loads
FlexiSpray arm: stated to move in multiple directions to help reach crowded areas
The dishwasher also has 14 place settings and is boasted for a quiet operation of 44 decibels, which can be compared to soft conversations such as in a library, allowing you to use the dishwasher overnight at off-peak electricity times. Other models within the Electrolux range also feature AirDry Technology.
LG 15 Place QuadWash Dishwasher (XD3A15NS)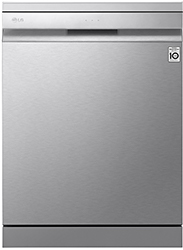 The LG QuadWash Dishwasher is designed with LG's own 'Auto Open Door' (AOD) feature. The door automatically opens at the end of a program in order to enhance drying performance, according to LG. To activate or deactivate the feature, press and hold the Energy Saver Button and the High Temp button simultaneously for three seconds. Other features of this model include:
QuadWash: features a bottom spray arm mechanism with four rotating blades stated to deliver jets of water at multiple angles
Dual Zone Wash: varied settings can be set for the upper and lower rack to suit the items being washed in each rack
SmartThinQ: allows you to download new wash cycles, cleaning reminders, diagnose problems and receive notifications on your smartphone
EasyRack Plus: the height of the upper rack can be changed to three different levels to accommodate a variety of sized items
The unit comes with 15 place settings and operates at just 41 decibels, which is quieter than most dishwashers. There are other LG models within the range that also feature LG's AOD system.
Miele Freestanding Dishwasher (G 6620 SC)

Miele is another brand that offers AutoOpen drying technology to help improve drying. This 60cm freestanding dishwasher (G 6620 SC) opens the door automatically at the end of the program and leaves a small gap. This is claimed to allow fresh air to reach the crockery and washed items like plastic dishes to dry completely. In addition, Miele states your worktop is protected from moisture by special air ducts. This model is also boasted for:
Patented 3D Cutlery Tray+: width, height and depth are variable and can be adjusted to different loads
FlexAssist: coloured markings point out the flexible elements and are equipped with small symbols, allowing to change your basket configuration with the flick of a wrist
FlexCare Glass Holder: claimed to ensure gentle support for delicate glasses
QuickPowerWash: a program claimed to clean moderately soiled crockery in 58 minutes
All Miele Generation 6000 dishwashers feature the AutoOpen technology. There's also a built-in unit of this model available if your kitchen is not fitted for a freestanding option.
Smeg 60cm Fully Integrated Dishwasher Professional (DWAFIP364)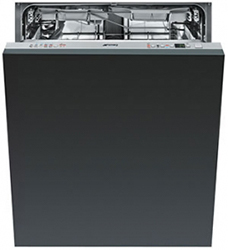 Smeg's 60cm Fully Integrated Dishwasher features an automatic door-opening system. You can select it as an option to open the door slightly at the end of the wash program. According to Smeg, it allows the steam to escape and the load inside to dry more efficiently, with limited use of heating. Smeg's greener technology is stated to not compromise on performance. It also comes equipped with:
Orbital Wash System: features two spray arms that operate simultaneously in opposite directions to distribute water evenly
Delay Start Time: allows you to delay the start time of a cycle, so you can take advantage of off-peak energy tariffs
Acquastop: a water safety device that operates when the dishwasher is not in operation, restricting mains pressure at the tap
Aquatest: an electronic infrared sensor stated to measure the clarity of water during an Auto program and help ensure the minimum consumption of water and energy during the cycle
This unit has 15 place settings and creates 45 decibels of noise when in operation. There are other models that also come equipped with this automatic door-opening feature.
The bottom line on auto open-door dishwashers
According to manufacturers, the open door allows steam from the dishwasher to escape, reducing condensation. The residual heat of the machine then allows the wash to dry naturally without the use of additional energy. It's a simple and effortless solution to a major dishwashing problem. It helps ensure your dishes are dry when you're ready to put them away. If you don't want to worry about opening your dishwasher door yourself, then you might like to consider the brands above. So, let the dishwasher get the door for you, and enjoy ready to empty, dry dishes.
Picture credits: Leszek Glasner/shutterstock.com