Backpack vacuum cleaners provide maximum versatility for commercial cleaning, but can be just as useful in the home. The 'wearable' vacuums are designed to make it easy to clean with no barrel to drag around and some are also cordless. We provide a review of features to look out for and brands available in Australia.
Why buy a backpack vacuum cleaner?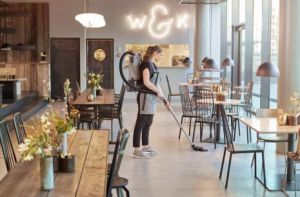 The backpack vacuum cleaner is used extensively throughout the commercial cleaning industry, ideal for cafes, shops, restaurants, cinemas, transportation, conference rooms and auditoriums. However, its design – with the freedom of movement – means it is also becoming a popular choice at home.
One of the benefits boasted with backpack vacuums is that it allows users to maintain a more natural posture – with the weight balanced on your back. It also uses side to side movement, reducing arm and leg extension with the back and forth movement that a standard vacuum cleaner requires. Furthermore, with standard barrel vacuums, it's easy to trip over the power cord – or the barrel itself. However, with this appliance you can wear it on your back, giving you more freedom of motion, as well as having the chord dangle behind you, out of the way. With this increased moveability, backpack vacuums allow users to clean efficiently without lugging a barrel around.
The simple construction also features fewer parts than a regular barrel vac and thus, may decrease the chance of break downs. Not all backpack vacuums are created equal – some are corded and others not. However, although a cordless vacuum might be convenient, it has limited run time, typically around 45 minutes to an hour.
How much does a backpack vacuum cost?
You can find backpack vacuum cleaners from around $400. However, there are also some outliers. Advanced models can be priced at over $1,000, while bargain back-vacs can cost just less than $150. Depending on your intended use – whether it's for the home or commercial cleaning – you can decide how much you want to invest in one of these cleaning machines.
Features to consider:
Weight: it's important to not put strain on the back or body when using one of these appliances. Some backpack cleaners are more difficult to use and heavy to carry, so lookout for lightweight models around the 4kg mark.
Filtration/Dynamic filters: some models come with HEPA filters to absorb allergens and dust particles.
Design: the backpack vacuum should sit comfortably enough to be hardly noticeable, so look out for an adjustable harness to suit different users. The design should allow easy transportation, especially if you expect to be using it for stairs or over long distances.
Noise: with the backpack sitting right behind, it's important to consider how much noise you can tolerate before you purchase a specific model. Most backpack vacuums produce around 60dB of noise.
Who sells backpack vacuums?
ALDI Backpack Vacuum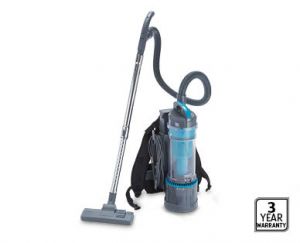 Feel like a Ghostbuster while doing the boring chores around the home – ALDI's backpack vacuum cleaner with a 1600W motor removes the hassle of dragging a barrel vacuum cleaner around. It has an ergonomic harness and waist strap for a firm grip, as well as a 10m power cord for a large cleaning range. Its on/off switch is located on the side to easily reach while wearing it.
A unique feature of the ALDI backpack vac is its bagless design. The bagless canister allows for easy tipping straight into the bin. It's also equipped with HEPA filters and includes a crevice tool, dusting brush and pet hair removal brush. It was last priced at $149, coming with a three year warranty.

You may also be interested in:
Nilfisk Backpack Vacuums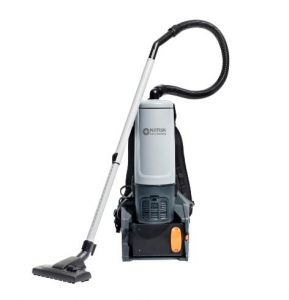 Nilfisk is a global provider of professional cleaning products and has a couple of models in the range, both corded and cordless. The GD5/10 Back Vacuum provides a long-range for cleaning, with a 15m detachable cable that features a safety release. It's stated to be designed with everyday use in mind, built from recycled components. It weighs 4.2kg and produces around 60dB of noise, with 1300W of power. Accessories included are a combination floor head and flexible hose. You can add an additional HEPA filter but for an additional cost. The total retail price stands at around $450 with the HEPA filter.
The Nilfisk GD5 Battery model runs for up to 60 minutes on a fully charged 36V Lithium battery. It will require around 40 minutes of charge time with the use of two batteries. The benefit of this design is that there's no cord to trip over. Additionally, it features boost functions to enhance the suction power. Similarly to the previous model, it's claimed to have a low sound pressure level of 60dB and has an option to add a HEPA filter for optimised air quality. It provides 650W motor and has a 5L dust bag capacity, thus requiring additional dust bags. While the vacuum itself weights 5.3kg, the total weight with batteries is 8kg. It includes a round brush nozzle, hard floor multi surface nozzle and a crevice nozzle.

Pacvac Backpack Vacuums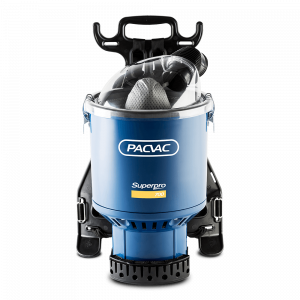 Pacvac began its operations in Western Australia and now distributes worldwide. It boasts ergonomic and lightweight designs, low noise and premium quality motors, as well as a two-year warranty. The Superpro 700 Backpack Vacuum features a HEPA Rated Hypercone filter to help remove any airborne particles. It has a 5L dust bin capacity with an 18m power cord and 1.2m hose. Its approximate weight is 5.2kg (excluding Power cord assembly and hose) and is stated to produce 67dB of noise at 1.5m. The accessories included are a crevice tool, dusting brush and upholstery tool as well as the all-purpose floor tool. You can find this corded model for around $400.
Another Pacvac vacuum is the Battery 700 Backpack vacuum with a cordless design. It sits at just under $1,500 and weighs 6.3kg (with battery pack ex. hose). It has a two hour charge time and provides a run time of up to one hour with 63dB of noise at 1.5m. This battery model produces 400W of power but the corded model is boasted for 1000W of power. While the cordless design makes it easy to use, you may sacrifice on the length of time you can vacuum for and the suction power.

Pullman Backpack Vacuum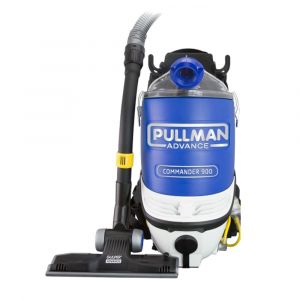 Another brand of backpack vacuums that you can find in Australia is Pullman, specifically designed for commercial cleaning. The Pullman Advance Commander PV900 Backpack Vacuum Cleaner features a European-made Domel motor, a HEPA filter for clean air output and a comfort system design with three height settings to suit different users. It's designed with an 18m detachable power cord, 4.5L dust bag capacity and dual speed modes – Eco and Turbo. It's boasted for its patented anti-vibration absorbers to prevent motor vibrations reaching the user. It includes a crevice tool, gulper floor tool and weighs 5.5kg.
The Pullman PV14BE Backpack Vacuum is an Australian-made unit. It's boasted for an ergonomically designed harness, as well as a Domel bypass motor. It features a 15m detachable cable, 5L dust bin capacity and can be used with or without a vacuum bag. However, a vacuum bag is recommended to preserve the life of the motor. It comes with a fixed vacuum rod and flexible hose. This model sits above the $400 mark while the PV900 mentioned above is around $350.

Is a backpack vacuum cleaner right for me?
While backpack vacuums are especially handy for commercial cleaning, you may also consider one for your home. For day-to-day use, you may like to look for a back-vac that's lightweight, has even weight distribution and noise levels kept to a minimum. Additionally, it's just as important for the machine to provide sufficient power for effective cleaning and a large dust bag to avoid frequent changing. There are bagless options available to save yourself on dust bag costs such as with the ALDI Backpack vacuum.
Typically, consumers spend around $300 on a standard vacuum, and backpack vacuums sit in a similar price bracket, making it a choice to consider. For ratings of vacuum cleaner brands, you may like follow the link below, which will lead you to our annual reviews and ratings of a number of vacuum brands that Aussie consumers use.