Fact Checked
Backpack vacuum cleaners provide maximum versatility for commercial cleaning, and can be just as useful in the home. This style of vacuum is designed to make it easy to clean, having no barrel to drag around, with some options even being cordless. Learn all you need to know about backpack vacuum cleaners with this Canstar Blue guide.

What is a backpack vacuum cleaner?
Backpack vacuum cleaners are simply vacuums that can be mounted on your back. They allow users to maintain a more natural posture with a side-to-side movement, reducing arm and leg extension. With this increased moveability, backpack vacuums allow users to clean efficiently without lugging a barrel around. They are used across the commercial cleaning industry, being ideal tools for cafes, shops, restaurants, and other public places. The unique freedom of movement design makes them a great option for cleaning your own home too.
Who sells backpack vacuum cleaners?
A range of brands offer backpack vacuum cleaners in Australia. This includes Nilfisk, Pacvac, Pullman, and Vax.
Nilfisk backpack vacuum cleaners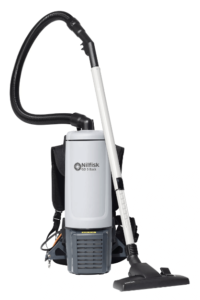 Nilfisk is a global provider of professional cleaning products. It stocks a range of both commercial and industrial vacuum cleaner models. This includes either corded or cordless options, and a range of backpack vacuums.
The Nilfisk GD5 Vacuum Cleaner is light and has an even weight distribution. It features a 15m detachable cable with a safety release, an optional HEPA filter, an ergonomic design, and low sound operation. Accessories can include a crevice tool, flexible hose, or extension tube. This model will cost you around $400.
Pacvac backpack vacuum cleaners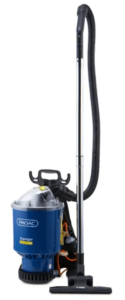 Pacvac began its operations in Western Australia and now distributes worldwide, aiming to offer efficient, ergonomic and durable cleaning solutions. Pacvac vacuums boast ease of use, lightweight designs, low noise levels, and premium quality motors.
The Pacvac Superpro Backpack Vacuum Cleaner provides its users with both freedom of movement and high suction power. This model features a height-adjustable ecoharness, an 18m long cord, a four-stage hypercone filter, and a total capacity of 5L. This model will cost you around $400.
Pullman backpack vacuum cleaners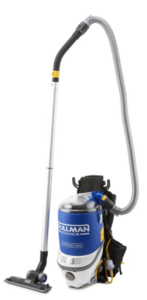 Pullman vacuum cleaners are typically designed for commercial use, but can function just as effectively in the home. Its vacuums are known to be durable and tough, built to withstand longer usage and heavy-duty debris. Pullman also offers a range of backpack vacuum models for you to choose from.
The Pullman Advance Commander PV900 Backpack Vacuum Cleaner hosts a back harness with multiple height settings for comfort. This model also features a HEPA filter for clean air output, dual speed modes, anti-vibration absorbers, an 18m detachable power cord, and a 4.5L capacity dust bag. This model will cost you around $350.
Vax backpack vacuum cleaners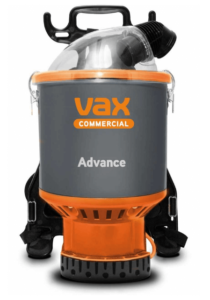 Vax, a brand initially formed in the UK, specialises in floorcare and cleaning technology. It offers a range of carpet cleaners, vacuum cleaners, steam cleaners, and other floor care products designed for both commercial and regular use. Vax offers a backpack vacuum cleaner model that is both durable and cost effective.
The Vax Bagged Backpack Vacuum Cleaner is great option for commercial or in-home cleaning. This model hosts a handy crevice tool, a large 5L capacity bag, a 4.8kg lightweight design, and a 18m long high visibility cable. This model will cost you around $350.
How much does a backpack vacuum cleaner cost?
The price of a backpack vacuum depends heavily on design, size, brand, and other additional features. Cheaper models will cost you around $200, while more expensive options may cost more than $1,200.
Backpack vacuum cleaner features to consider:
Weight: some backpack vacuum cleaners are more difficult to use and heavy to carry, so lookout for lightweight models around the 4kg mark.
Filtration & dynamic filters: some models come with HEPA filters to absorb allergens and dust particles.
Design: the backpack vacuum should sit comfortably on your back, so look out for an adjustable harness.
Noise: with the backpack sitting right behind you, it's important to purchase a model with low noise output.
Purchasing a backpack vacuum cleaner
While backpack vacuums are especially handy for commercial cleaning, you may also consider one for your own home. For day-to-day use, you may like to look for a backpack vacuum that's light, has even weight distribution and minimal noise levels. Additionally, it's just as important for the machine to provide sufficient power for effective cleaning and a large dust bag to avoid frequent changing. If you're not completely sold on a backpack vacuum, you may like to consider some alternative models. To help decide which appliance is the best match for you, check out Canstar Blue's best-rated vacuum cleaners.
Vacuum Cleaner Reviews & Ratings
Original Author: Veronika Hleborodova