Black & Decker Steam Mops Review
Kids get messy – so floors get messy. If you're trying to find a way to solve this sticky situation, a steam mop is a good option to consider. Black & Decker stands at the forefront of DIY projects at home with a variety of heavy duty tools, and on the lighter side, it also offers a premium range of steam mops. Since 1910, it has been providing innovative solutions for families, so let's take a look at how Black & Decker's steam mops stack up.
Black & Decker Steam Mops
Key features to look out for with steam mops include a carpet glider as it gives the option of cleaning various floor types and a stand-up feature, which also allows you to leave the steam mop in an upright position without tipping over. Not all Black & Decker steam mops are equipped with these functions, so you may like to consider what is most important to you when deciding on a model. A long power cord is usually a must when you want to steam through a whole room without needing to change plug sockets. Black & Decker's longest steam mop cord is 6m and is featured in the 15-in-1 steam mop model. Read on for all product specs of each steam mop in the range.
Black & Decker 1300W Steam Mop FSM1605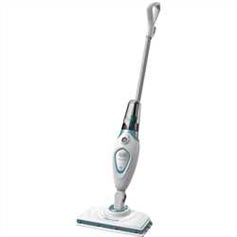 This model provides 1300W of heating power and is claimed to heat up in 20 seconds. It is designed with a removable water tank and a 180° pivot head for swivel movement, giving you the ability to glide under and around furniture as well as tight spaces. Black & Decker claims this steam mop is also equipped with a powerful steam flow for a deep clean of your floors. But an attachment that is not available with this model is a carpet glider, but it is safe for all other sealed hard floors. You'll have to pay a little extra for the carpet glider.
You may also be int6erested in:
Black & Decker 1600W Steam Mop FSM1616
A little slower with its heat-up time, taking approximately 30 seconds, this Black & Decker steam mop has a removable water tank with an in-built water filtering system to help reduce lime scale build up on the steam mop. It uses a swivel head design to access tight corners. It is claimed to be safe for sealed floor surfaces with its 'Auto Select' Technology, which works by releasing the right amount of steam according to the floor type you are cleaning.
It provides 1600W of heating power and weights 2.7 kg. It has 350ml water tank capacity, a 5m cord length and comes with two micro-fibre pads. Black & Decker claims its runtime is about 7-14 minutes. Several features not included with this model are a water level indicator and a carpet glider.
Black & Decker Steam Mop Deluxe FSM1630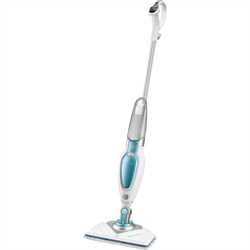 What makes this Black & Decker model a 'deluxe' steam mop? Firstly, it is claimed to have a 15 second heat up time and provide 13-19 minutes of running time. Secondly, it features a self-standing function, which the other two models (above) don't have in-built. This may provide you with the convenience of the steam mop standing up on its own instead of needing to balance it against a wall.
Along with the new features, it has a similar digital 'Auto Select' Technology to the previous model, which allows the steam mop to automatically adjust the steam pressure depending on the floor type you're cleaning. It also features an extra steam on demand button that is designed with a one-touch control instead of needing to hold down a button each time you need extra steam.
The Black & Decker Deluxe steam mop uses a 350ml removable water tank with anti-calc properties to help reduce the build-up of lime scale. It provides 1600W of heating power and weights 2.9kg. It has a 6m cord length and is designed with a swivel 'Lift & Reach' delta floor head for tight corners. It comes with two microfiber pads, one Delta pad, which is claimed to last over 100 wash cycles and one carpet glider for steaming carpets. Some extra features include a cable release function, water level indication, tank illumination and a wall attachment hole. It can be used for all sealed hard floors.

Black & Decker 15IN1 Steam Mop with SteaMitt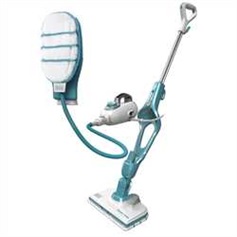 For an ultimate clean that can steam both floors and above floor surfaces, the Black & Decker 15-in-1 steam mop packs in a number of functions. It has a detachable hand-held multi-purpose portable steam cleaner with a 'Steam Burst' floor head, which is claimed to give you the ability to tackle tough mess. It provides the following 15 functions:
Hard floors steam mop
Fresh marks and stains cleaner
Carpet glider
Grill & BBQ cleaner
Shower steamer
Wipes and sanitises surfaces
Bathroom surfaces and toilet cleaner
Kitchen surfaces steamer
Hobs cleaner
Upholstery steamer
Stainless steel cleaner
Mirrors cleaner
Tiles and grout steamer
Taps and sanitary ware cleaner
Garment steamer
Similarly to the above Black & Decker steam mops, it has 'Auto Select' Technology, which gives you an automatic adjustment for the amount of steam based on the floor surface. It is claimed to heat up in 15 seconds and provide 10-20 minutes of running time. It has one of the largest water tanks in the Black & Decker range, providing 500ml capacity. It also has an extensive 6m cord. Despite these extra benefits, this does add up to a heavier weight of the steam mop, coming up to 3.5kg.
Although the 15-in-1 steam mop does not include a self-standing function, it comes equipped with the following attachments – small brush, carpet glider, adjustable nozzle, window squeegee, shot of steam brush with three bristle sets (thin, large and copper brush), and flexible accessories hose. It comes with two microfiber pads and is claimed to be suitable for all hard sealed surfaces.

Are Black & Decker steam mops worth the money?
Steam mops are certainly not cheap but they do bring a variety of benefits to the home when you have limited time to be cleaning floors after every spill. An extra advantage of steam mops is that they aim to kill bacteria without nay chemicals. They are also generally more light weight as there is no additional bucket to lug around.
While you may find the Black & Decker 1300W steam mop to come under a $100, for the 15-in-1 steam mop you can expect to pay closer to $240. Although the 1300W steam mop lacks in certain features, it does come with a competitive price and covers the basics. If you're after a steam mop that packs more punch, Black & Decker does also have several multi-functional steam mops that include a carpet glider, which you may like to give a try.
Vacuum Cleaner Reviews & Ratings
About the author of this page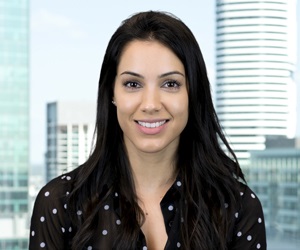 This report was written by Canstar Blue's Home & Lifestyle Content Lead, Megan Birot. She's an expert on household appliances, health & beauty products, as well as all things grocery and shopping. When she's not writing up our research-based ratings reports, Megan spends her time helping consumers make better purchase decisions, whether it's at the supermarket, other retailers, or online, highlighting the best deals and flagging anything you need to be aware of.
What do customers think about Black & Decker Steam Mops?
In 2017, Australian customers gave Black & Decker 3 out of 5 stars for Overall Customer Satisfaction for Steam Mops.
Black & Decker Steam Mops
Canstar Blue
Award:
Overall Satisfaction