Bissell Steam Mops Review
Mopping floors is not the most beloved household chore, especially when it gets dirty again after five minutes. For high foot traffic areas, especially those infested with dirty shoes, pets and kids, a steam mop is here to the rescue. Bissell has a large range of steam mops aiming to redefine the concept of cleaning and provide innovative solutions within its product line. Let's explore the Bissell steam mop range and find out what it has to offer.
Bissell Steam Mops
What makes steam mops stand out is the way they replace the mop and bucket process with a chemical free clean, using just water. Bissell's steam mops come with Microfiber pads that are washable and thus, re-usable. Most Bissell steam mops are Titanium in colour while some coming in a white design.
Bissell Steam Mop Select 23V8F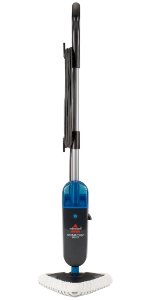 To start us off, the Bissell Steam Mop Select model is a triangle steam mop that is claimed to have easy manoeuvrability under and around furniture. It includes two Microfiber mop pads for everyday cleaning and one scrubby pad for tough cleaning. It's equipped with an easy fill water tank that doesn't require a funnel or cup. A feature that is not included in this model is the carpet glide function.
Bissell Steam & Sweep Mop 57F4F
The next model jumps up in price by over $100. What makes the price difference? The Steam & Sweep Mop has a steam on demand trigger to release a shot of steam, which aims to help loosen grime while you clean. It also uses a rotating sweeper brush with soft bristles and is equipped with an Easy Empty Dust Bin. It is designed for use on sealed hard floors, vinyl, linoleum and tile. It's equipped with a 5.5m cord and comes in a Titanium colour.
Bissell Healthy Home Steam Mop Max 1957F

In a similar price category, the Healthy Home Steam Mop Max is claimed to have a large swivel head, a carpet glide function and includes a carpet refresher kit. Similarly to the above model, it's equipped with a steam on demand trigger and 5.5m cord. It has a Titanium colour design and is claimed to be safe for all sealed hard floor surfaces, including ceramic, stone, marble, vinyl, laminate, linoleum and all sealed hardwood floors.
Bissell PowerFresh Steam Mop 1440F
The PowerFresh Steam Mop provides a customisable cleaning option with its SmartSet digital, variable steam control. You have the choice of – low, medium or high – settings for whatever type of cleaning you need to do. It features a swivel head and a flip-down Easy Scrubber to help with cleaning sticky or dried-on mess as well as grout.
As an optional room freshness feature, it includes a Spring Breeze fragrance disc for a fresh scent. If you wish to enhance your cleaning experience with a broadly appealing fragrance, you may like to give this steam mop a try. It designed to be used on all hard sealed surfaces but you may like to check with your provide if it's compatible with the flooring you have in your home.
Bissell PowerFresh Deluxe Steam Mop 1979F

The newest addition to Bissell's steam mop family is the PowerFresh Deluxe Steam Mop. It is a hard surface steam cleaner that uses an on-board SpotBoost brush to help scrub away mess. The SpotBoost brush works in a similar way to the Easy Scrubber function found in the previous models. Bissell claims that you simply step on the back pedal to detach the foot in order to expose it to the surface you are cleaning.
It also features a Spring Breeze scent disc, similar to the above model, to help leave your room smelling fresh (but the discs need to be purchased separately). With its steam on demand trigger, it claims to not require any pumping just pull the trigger when you need steam. It also uses a low profile swivel head to help clean the hard-to-reach areas.
Bissell Lift-Off Steam Mop 23B6F
For a '2 in 1' option, you might like to try the Bissell Lift-Off Steam Mop, which combines a steam mop and a portable handheld steam cleaner. It can be used to clean sealed hard floors as well as above-floor surfaces such as countertops and sinks as well as grout and tile. Its portable steam cleaner is claimed to provide the same amount of cleaning as the regular steam mop. With its multiple attachments to help sanitise a variety of areas from your kitchen to your bathroom, you may like to keep this steam mop in mind. It, however, is not equipped with a carpet glide function.
The Lift-Off Steam Mop from Bissell features variable steam control to select your steam pressure according to the floor you are cleaning – from delicate surfaces to tough mess. This model does not require cups or funnels to re-fil the water tank. It moves under and around furniture for the hard to reach places with a swivel head and an 8.5m cord.
Bissell Power Fresh Life-Off Steam Mop 1544F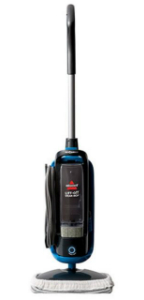 Similar to the above model, the Power Fresh Lift-Off Steam Mop has a dual functionality of steaming both on and above sealed hard floors. It is claimed to be versatile for a wide range of surfaces, providing 180° swivel rotation. It has a Lift-Off POD as well as specialised tools to help clean floors, sinks, counters, windows, hardware, appliances and grout. It also features a flip-down EasyScrubber on the back of the foot to help remove tough mess.
The Power Fresh Lift-Off Steam Mop includes two washable microfiber pads as well as a scent disc that helps eliminate odours such as from pets. It features Easy Tough digital controls to adjust and manage steam output with three settings – high, medium and low – which are all controlled through the touch control panel. Bissell claims this steam mop takes only 30 seconds to heat up and provides at least 21 minutes of cleaning without needing to be refilled.
Bissell Vac & Steam 1132F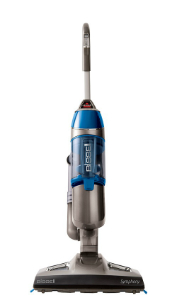 The final model in Bissell's steam mop range is the Vac & Steam mop. It is designed to steam and vacuum on all hard sealed floors. Bissell claims its cyclonic vacuum separates debris and then steam cleans the rest. It is equipped with Easy Touch Digital Controls that allow you to switch between functions so you can choose to either vacuum and steam at the same time or use each function separately.
The Bissell Vac & Steam Mop uses dry tank technology to help keep your tank dry while you steam. For easy storage, Bissell has designed this model with a five-way adjustable handle and Quick-Release Mop Pad Tray. It also includes a Spring Breeze fragrance disc for a fresh scent cleaning experience.
Are Bissell steam mops worth the money?
If you're looking for a reliable and effective steam mop for your home, Bissell will most likely be on your list of potential brands, provided you're happy paying a premium price. Bissell's leading steam mops will likely cost you in excess of $250, even if you're lucky enough to bag one on special. In fact it's most high end models could even cost you as much as $350. The question is: What are you getting for the money? When it comes to steam mops, you're actually getting quite a lot, including fragrance scented discs and dual functionality. The Bissell Vac & Steam model seems especially appealing.
On the other hand, not all Bissell steam mops provide a carpet glider function, which is useful if you have both carpets and hard floor surfaces in your home. It is also important to note the type of flooring you do have as not all steam mops are compatible. Nevertheless, if you are looking for extra help to get your floors shiny again, especially in a more efficient way compared to a traditional mop, you may like to give Bissell a try.
Vacuum Cleaner Reviews & Ratings
About the author of this page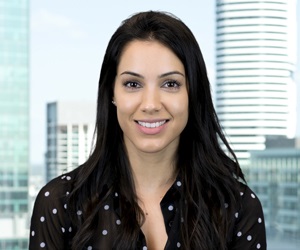 This report was written by Canstar Blue's Home & Lifestyle Content Lead, Megan Birot. She's an expert on household appliances, health & beauty products, as well as all things grocery and shopping. When she's not writing up our research-based ratings reports, Megan spends her time helping consumers make better purchase decisions, whether it's at the supermarket, other retailers, or online, highlighting the best deals and flagging anything you need to be aware of.
What do customers think about Bissell Steam Mops?
In 2019, Australian customers gave Bissell 5 out of 5 stars for overall customer satisfaction for steam mops.