Kogan Steam Mops Review
We all like having a clean floor, but the cleaning part, not so much. In particular, when you have pets or messy kids, you may find the floor back to its initial dirty state within an hour. However, there are ways to keep floors shiny – even in high foot traffic areas – one of which is using a steam mop. Steam mops in general make the cleaning process more efficient by providing a chemical free solution without the need of a bucket. One of the newest brands to earn the attention of Aussies is Kogan – the online retailer has two main steam mops on offer, providing varying levels of functionality and features. How do they stack up? Find out in this Canstar Blue review.
Kogan steam mops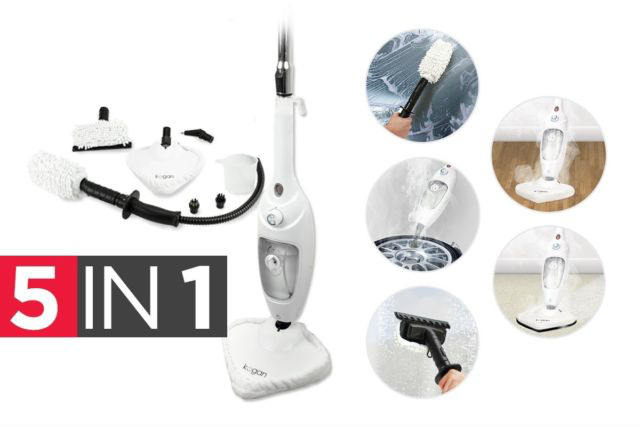 Kogan 5-in-1 Steam Mop
Kogan's 5-in-1 steam mop aims to reduce the amount of cleaning products you need in your home by combining a variety of functions together, which include:
Floor steam mop
Carpet glider
Hand-Held Steamer
Garment steamer
Window/mirror/glass cleaner
Kogan's floor mop function, with a number of steam settings, is claimed to help loosen hard to remove dirt. Its carpet glider attachment is aimed at removing stains as well as deodorising carpet. Kogan's hand held steamer is designed to steam off grime in kitchens and bathrooms, claimed to be an efficient size for fitting in between corners and drains.
For garment needs, the garment steamer attachment might also be of benefit if you need to quickly steam away some wrinkles on your clothes to look sharp for a dinner with the in-laws. The final function is to remove dust build up and provide a streak-free clean on windows, mirrors and glass.
Some other features with Kogan's 5-in-1 steam mop include a spout nozzle, nylon brush head, wire brush head, duster attachment and an extension hose. It is also equipped with a 4.75m cord, 1300W motor power and can reach a max temperature of 100°C. Kogan claims it to have a heating time of 20 seconds and steam time of approximately 10 – 17 minutes. It includes one garment and glass microfiber pad and two dusting and floor microfiber pads.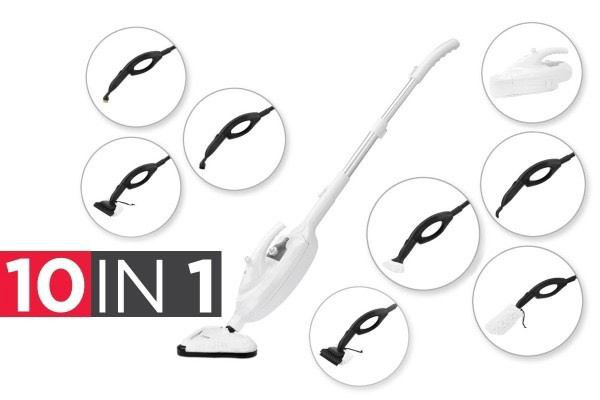 Kogan 10-in-1 Steam Mop
If you think Kogan couldn't add any more functionality to its cleaning mops, think again, this model provides the following 10 functions:
Hard floors steam mop
Carpet glider
Removable countertop steamer
Garment & upholstery steamer
Windows/mirrors cleaner
Tiles & grout steamer
Taps & sanitary ware cleaner
Steam dusting attachment
Oven cleaner
Stoves & BBQs cleaner
Kogan claims this steam mop heats up to 108°C in 15 seconds. It has a 5m cord length and provides 1500W of heating power. It can be used on hardwood floors, carpets and fabrics. It is designed with a steam jet blast function to help break down grease and grime on ovens, BBQs, hobs and grout. Several other features thrown in include an adjustable temperature control – that allows you to change the temperature according to the type of surface you are cleaning – and a cold-fill tank, which doesn't require the unit to cool down before you can refill it. Handheld steam mop is equipped with a 450mL water tank as well as a measuring jug and funnel for refilling.
It also includes two microfiber cloths, a straight nozzle for precision cleaning, extension hose and crevice tool for hard to reach areas and a steam duster. Another attachment for cleaning ovens and BBQs is a wire round brush and a plastic round brush for taps and sanitary ware. But the list doesn't end there! Kogan's 10-in-1 steam mop is also equipped with a brush blade for stairs and a surface cleaner for cleaning and sanitising. So for all things cleaning, this mop may tick all the boxes for you.
Kogan 13-in-1 Steam Mop
Just to add a few extra functionalities into the mix, the Kogan 13-in-1 steam mop provides you with a hard floor steamer as well as a mist spray for your plants. Here is the full line=up of accessories.
Hard floors steam mop
Carpets glider
Hobs and BBQs cleaner
Garment & upholstery steamer
Windows and mirrors cleaner
Tiles and grout steamer
Taps and sanitary ware cleaner
Steam dusting attachment
Oven cleaner
Steams mist for plants
Car steamer
Hose attachment
Belt attachment
It seems like a versatile steam mop and Kogan says it is also family and pet friendly to use. Similarly to other steam mops, it provides a non-chemical solution for cleaning. It's claimed to have a 15 second heat up time with a maximum heating temperature of 108°C. It weighs approximately 3.2kg. If you're looking for some extra help with washing your car or cleaning around the home, you may like to give this steam mop a try.
Are Kogan steam mops worth the money?
Kogan's steam mops reflect what we have come to expect from Kogan – you get quite a lot for the price. This is true when it comes to Kogan's televisions and even its mobile phone plans. Along with packing a punch with the variety of features, the Kogan steam mops aim to not blow your budget, sitting nicely in a mid-range price market. So while you look through all the Kogan TVs, you might also like to throw in one of these multi-purpose steam mops into your online shopping basket.
To leave behind the traditional mop and replace it with a steam mop is certainly something to consider, especially as it avoids the use of any harsh chemicals. Perhaps the only downside to Kogan's steam mops is finding enough storage space for all the different accessories. Nevertheless, you can't argue with the flexibility and functionality on offer. If you're looking for a relatively cheap steam mop with lots of extra bells and whistles, Kogan should be on your list.
Vacuum Cleaner Reviews & Ratings
About the author of this page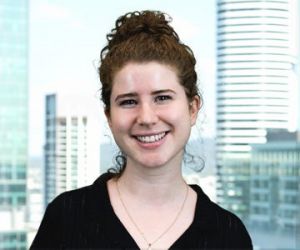 This report was written by Canstar Blue's Content Producer Luciana Lawe Davies. She writes about streaming, appliances and consumer products and services. Luciana enjoys bringing readers the best in what's on TV and at the shops, including the best deals and latest reviews.
What do customers think about Kogan Steam Mops?
In 2019, Australian customers gave Kogan 4 out of 5 stars for overall customer satisfaction for steam mops.