Breville Microwave Ovens Review
The Breville brand is responsible for the creation of a large number of innovative appliance products, such as the adjustable height sandwich press, the world's first juice extractor capable of juicing whole fruit, and the active-arm citrus press, to name just a few.
This knack for innovation has extended to its microwave range as well. Breville has a decent number of microwaves to choose from, some of which have a collection of convenient and unique features that make them stand out from competitors, such as the Quick Touch function.
What microwaves does Breville offer?
Breville has 13 microwave ovens available, which range in price from $149 to $450. We will examine some of these microwaves from each price point, looking at the features and specs they have to determine if they are worth purchasing.
Cheap Breville microwave ovens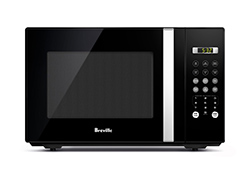 A 30L microwave with 900W of power, this model offers affordability combined with durability. It has a sleek black design, so it will look good in any kitchen, and it is extremely easy to use. There doesn't seem to be much in the way of features, but it does have an instant start function and a touch pad operation. It also has 10 power levels (quite a high amount) and six auto-cook menus, so the features that it does have focus heavily on convenience.
The Big Easy costs slightly more at $170, but has a bit more bang for its buck, as it has a large 34 Litre capacity combined with 1100W of power output. It also focuses on speed, durability and practicality like its predecessor, but can simply cook more at faster speeds, so it is winning in that regard. In terms of extra features it is very similar, as it too has instant start and the touch pad design. It has five power levels instead of 10, but comes with nine auto menus for convenient cooking.
The compact & simple – $200
The third and last microwave in the cheap range we'll look at is the Compact and Simple, a 25 Litre appliance with 900W of power. This model is extremely similar to the others, as it has the same features with five power levels and nine auto menus. So it's hard to justify the extra $30 when the $170 model can do everything it can, but can also hold more and cook faster.
You may also be interested in:
Mid-range microwave ovens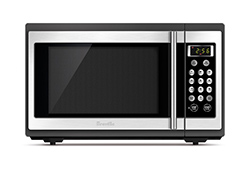 The Quick & Easy Stainless – $250
Despite being in a more expensive price bracket, the Quick and Easy stainless steel microwave from Breville seems extremely similar to its cheaper counterparts. It has five power levels, nine auto-cook menus, 1100 watts of power and a 34 Litre capacity – the same specs as the big and easy, which is $80 cheaper. It also has the simple touch and instant start features, which again is the same as the others. However, it does also boast the weight and time defrost function, which automatically defrosts your food depending on what you put in there. This function makes the process of defrosting faster, easier and reduces the chances of getting it wrong.
Quick Touch Compact – $280
Things start to get a little fancier with this model and beyond. This is the first of the Quick Touch series from Breville. The Quick Touch feature is unique to Breville microwaves – it enables the microwave to understand how much power and time is required to reheat, cook and each food type perfectly. For a more in-depth explanation, check out the video below.
In addition to having the Quick Touch feature, this mid-sized, 900W microwave also has various others that seem to make it a good value purchase. It has the weight/time defrost function and instant start, which starts cooking immediately at 100% for 30 seconds. Favourite settings allow you to program in your own menus for quick access to your most common meals, and there are pre-programmed shortcuts for tasks such as making popcorn and softening butter.
It also has the 'bit more' setting, which lets you adjust the cooking time while the microwave is still in operation. Finally, this model has five auto-cook menus, eight smart reheat menus, five smart defrost menus and two auto-melt menus. There are also 10 variable power levels.

Expensive microwave ovens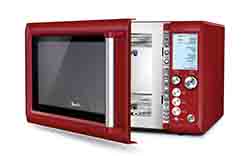 The following microwaves all have the Quick Touch feature, so they are all more expensive as a result. You'll find that they also have a healthy range of other features that could be a perfect fit for your needs.
The Quick Touch Cranberry – $380
Coming in at $380 is the Cranberry coloured Quick Touch microwave, a 34 Litre, 1100W appliance that is made to be intuitive and easy to use. This model has 10 variable power levels and huge number of auto-cook menus, including:
13 smart auto-cook programs
13 smart auto-reheat menus
5 smart defrost menus
2 auto-melt/soften menus
On the other hand, notable features of this microwave model are as follows:
Smart defrost
Instant start
Sensor IQ reheat and cook, where you simply select your food type and press start
Favourites settings
Pre-programmed shortcuts
'A bit more' setting
Independent kitchen timer
Adjustable beep volume when finished
As you can see, this microwave has way more features than the ones previously discussed, and this is a trend that will continue with the following two.
At $400 there is the Stainless steel Quick Roast microwave oven from Breville, a 30L, 1100W machine with grill and convection capabilities. It gets even better, with a maximum power output of 2300W using the convection element, which is perfect for baking and roasting. The eight auto-cook menus and reheat options includes vegetables, fish, meat, chicken, potato, pizza, soup and oats. The extra features include the built-in 'chicken program' which automatically combines microwave, grill and convection functions for juicy roasted chickens in half the time.
The Quick Touch Crisp – $450
The final Breville microwave reviewed is the Quick Touch Crisp model, an intuitive inverter microwave designed to deliver particularly crispy food. It is a mid-size appliance with a near 30 Litre capacity that has a decent power output of 900W. It has over 30 auto-menus in total, which can be separated into the following:
18 smart auto-cook & grill auto menus
7 smart reheat auto menus
4 smart defrost auto menus
2 auto-melt/soften menus
In addition to the Quick touch feature, this microwave oven also comes with the following:
Weight/time defrost
Smart cook and pre-programmed shortcuts
30+ second instant start
Built-in crisper pan function that ensures food is crisped quickly and evenly
Favourites settings
10 power levels from 10% to 100%
'A bit more' setting
Adjustable beep volume
Independent kitchen timer
Are Breville microwave ovens worth the money?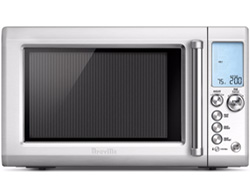 There is certainly value to be found in Breville's microwave oven range, with a host of options that can cater to different budget constraints. If you are after a cheaper microwave in the sub $200 range, then Breville has some good choices available. Microwaves in this price range tend not to have a large number of features, as these are usually limited to models that are a bit pricier. Nevertheless they will do the basic jobs well.
They do have the instant start function, but that's about it. What you do need to look for in microwaves of this price range are auto-cook programs and power levels, and Breville's budget options excel here, as they have between five and 10 for each, giving you a high degree of flexibility and convenience. So Breville's cheap microwaves seem a good bet, particularly the Big Easy, which will cost you about $170.
It's harder to see value in the mid-price range. The Quick and Easy model has the same specs as the cheaper Breville microwaves, so it might be a better idea to just get one from the sub-$200 options. The $280 Quick Touch Compact microwave fares a little better in terms of features and power, but you may as well pay a little bit more for one of the more expensive options, which can do a whole lot more.
Breville's high-end microwaves, on the other hand, are class-leading and certainly worth a look. All of these microwaves have an extensive range of extra features, such as Sensor IQ, Quick Touch, favourites and a crisper-pan, to name just a few. They are quite pricey, but it seems a case of you get what you pay for.
About the author of this page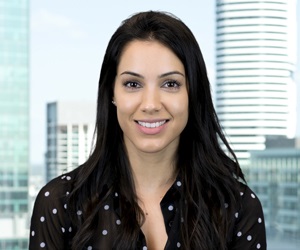 This report was written by Canstar Blue's Home & Lifestyle Content Lead, Megan Birot. She's an expert on household appliances, health & beauty products, as well as all things grocery and shopping. When she's not writing up our research-based ratings reports, Megan spends her time helping consumers make better purchase decisions, whether it's at the supermarket, other retailers, or online, highlighting the best deals and flagging anything you need to be aware of.
What do customers think about Breville Microwaves?
In 2019, Australian customers gave Breville 4 out of 5 stars for overall customer satisfaction for microwaves.