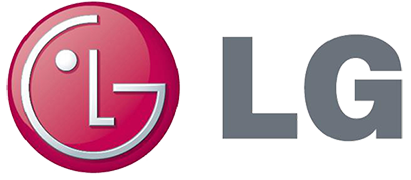 LG Microwave Ovens Review
LG is an electronics brand known for producing a huge range of products, from smartphones to washing machines, refrigerators and dishwashers. As well as big ticket items like these, it's also a leading brand of many small kitchen appliances, including microwave ovens, which this article will focus on, covering the price, power and features of a select few of LG's microwaves in order to help you determine if they are worth the money.
What microwave ovens does LG have?
LG has a grand total of 15 different microwaves available, which is a very healthy range indeed.
NeoChef, 23L Smart Inverter Microwave Oven MS2336DB: $169 RRP*

NeoChef, 25L Smart Inverter Microwave Oven MS2596OB: $229 RRP*

NeoChef, 25L Smart Inverter Microwave Oven MS2596OW: $229 RRP*

NeoChef, 25L Smart Inverter Microwave Oven MS2596OS: $269 RRP*

NeoChef, 42L Smart Inverter Microwave Oven MS4236DB: $279 RRP*

NeoChef, 42L Smart Inverter Microwave Oven MS4296OBC: $319 RRP*

NeoChef, 42L Smart Inverter Microwave Oven MS4296OBS: $319 RRP*

NeoChef, 42L Smart Inverter Microwave Oven MS4296OWS: $319 RRP*

NeoChef, 42L Smart Inverter Microwave Oven MS4266OSS: $339 RRP*

NeoChef, 42L Smart Inverter Microwave Oven MS4266OBS: $349 RRP*

NeoChef, 42L Smart Inverter Microwave Oven MS4296OSS: $349 RRP*

NeoChef, 42L Smart Inverter Microwave Oven MS4296OBSS: $379 RRP*

NeoChef, 42L Smart Inverter Microwave Oven MS4296OMBS: $389 RRP*

NeoChef, 39L Smart Inverter Convection Oven MJ3966ABS: $709 RRP*

NeoChef, 39L Smart Inverter Convection Oven MJ3966ASS: $829 RRP*
Rather than going through all of them, we'll instead have a look at just a few of the key ones at each end of the price spectrum. So, without further ado, here's an overview of five LG microwaves from different price ranges:
LG NeoChef 23L Smart Inverter Microwave Oven MS2336DB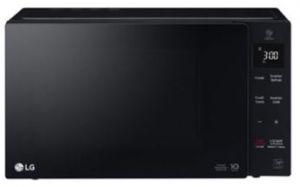 The cheapest LG microwave is this 23L Smart Inverter model. It has a sleek and minimalist design that gives off a modern, stylish appearance, and it has an above-average power output of 1000W. For $169, this microwave comes with a number of extra features, including:
Stable turntable with six support points to prevent items from spilling and tipping

Even heating said to deliver a more satisfying finish by evenly distributing heat

Even defrosting said to enable more precise temperature control to avoid overcooked and unthawed areas

Versatile cooking through various different cooking modes
It has a bright internal lighting said to be three times brighter and more energy efficient than other LG microwaves, plus its Anti-Bacterial Interior Coating is claimed to eliminate 99% of harmful bacteria.
LG NeoChef 25L Smart Inverter Microwave Oven MS2596OW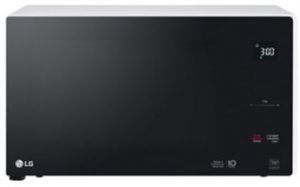 This 25L microwave oven features all the same functionality as the above model, but includes a slightly larger capacity, and five additional power levels. It also has a huge catalogue of auto-cook menus, with 28 different options giving you a large degree of flexibility. Other key features include:
Anti-Bacterial Coating 

Quick Start Button

Child Safety Lock

10 power levels (100W – 1000W)
The auto menus allow you to warm, defrost and cook your meals, meaning you can reheat those leftovers on high, as well as pop some popcorn for those movie nights on the couch. 
LG NeoChef 42L Smart Inverter Microwave Oven MS4266OBS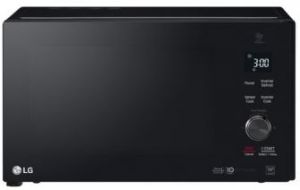 Within the mid-range, you'll find LG's 42L microwave oven (MS4266OBS). This is a fast-cooking microwave with an impressive 1200W of power, which is higher than most traditional microwaves. The additional power leads to less cooking time, so if you're absolutely starving then this might be one to consider. Other key features of this model are:
EasyTouch controls and tempered glass door

Interior Anti-Bacterial Coating

Stable Turntable

Even Heating and defrosting
Combining the 42L capacity with its 1200W output means you can cook large quantities of food quickly, ideal for when you have plenty of hungry mouths to feed.
LG NeoChef 39L Smart Inverter Convection Oven MJ3966ABS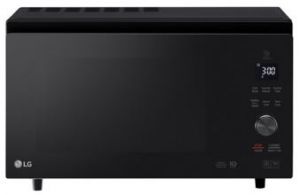 The second most expensive microwave in the LG line-up is the NeoChef smart inverter model, which has a huge 39L capacity. It has a main power output of 1100W, with 950W for the grill mode. This sleek, minimalist design microwave may fit into a range of kitchens, and it backs its price up with the following features:
EasyTouch controls and a tempered glass door

Healthy Fry

Anti-bacterial coating

Stable turntable

Even defrosting and heating

Bright internal lighting

Quick start button

10 power levels and auto-sensor cooking

30+ cooking modes
The Healthy Fry feature is stated to reduce residual fat in fried food by up to 72%, helpful for those looking to clean up their diet. 
LG NeoChef 39L Smart Inverter Convection Oven MJ3966ASS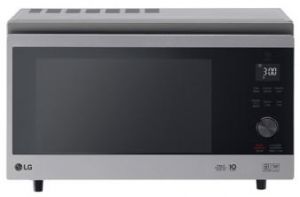 The final LG microwave we'll examine is the most expensive – the 39L convection microwave. Given that it has convection capabilities (fans that evenly distribute hot air to cook food perfectly, according to the brand), this fan has a massive power output of 2150W in convection mode, as well as 1350W in grill mode and 900W normally. At $829, this microwave might not be for everyone, but its price may be warranted given that it is a 3-in-1 appliance, with convection, grill and microwave modes available. Additional features also include:
Auto sensor cooking (automatically measures vapour and adjusts the cooking time and power accordingly)

Crispy reheat (maintains the crispiness of the food when it gets reheated)

Stainless steel finish

Five power levels

20+ cooking modes
Similarly to the model above, it also features a minimalistic design, plus the Healthy Fry system. 
Now that we've gone over some of LG's key microwave oven models, we need to address the key question: are they worth your time and money?
---
Read more: How much does it cost to run a microwave?
---
Are LG microwave ovens worth the money?
LG's cheapest microwaves go for about $170-$230, which is quite common for microwaves in Australia. Microwaves at this price range tend to be fairly basic, although LG looks to buck this trend. With advanced features like even heat/defrosting, easy clean coating and 10+ different cooking modes, these microwaves have far more flexibility and power than you'd expect a microwave of these prices to have. So LG's cheapest microwaves certainly seem to offer good value.
It is also very easy to see value in its mid-range options, which go for around $230-$350. Immediately obvious is the fact that they all have 1000W+ of power, but what really sets them apart is the fact they have 28+ cooking modes, meaning you can easily pre-select cooking conditions for just about any food you're craving. For roughly $300 LG's mid-tier option presents a strong argument, and the presence of features like anti-bacterial coating and easy touch controls hard to pass up.
There are just two models on the higher end of the price scale, which can cost as much as $830. This is right up there with some of the most expensive appliances around, so are the prices justified? The most expensive option actually has less power and fewer cooking functions than some cheaper microwaves, although does offer healthy fry and crispy reheat functions to potentially offset the loss of power. However, the $700 LG microwave looks far more enticing, as it has these functions in addition to being a 3-in-1 appliance with a huge capacity and 32+ cooking modes. You'd be hard pressed to find a microwave that can do more than this for less, so that particular model is definitely looking like good value if you're a whiz in the kitchen.
*Prices taken from Appliances Online and respective retailers, correct as of October 2019
About the author of this page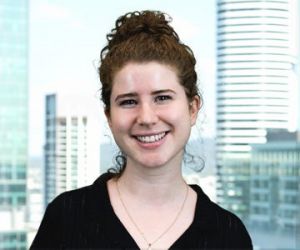 This report was written by Canstar Blue's Content Producer Luciana Lawe Davies. She writes about streaming, appliances and consumer products and services. Luciana enjoys bringing readers the best in what's on TV and at the shops, including the best deals and latest reviews.
What do customers think about LG Microwaves?
In 2019, Australian customers gave LG 5 out of 5 stars for overall customer satisfaction for microwaves.