Samsung Microwave Ovens Review
One of the world's most high-profile electronics companies, Samsung makes and sells a huge range of different products, from smartphones to televisions, to refrigerators and washing machines. It also happens to produce a wide range of microwave ovens, which will be the subject of this review.
This article will examine each of the 14 microwave ovens that Samsung sells in Australia, using the price of each model and the technological features each one possesses to determine if they are worth your hard earned money. So, what features do Samsung microwave ovens have?
What features do Samsung microwave ovens have?
Practical, sleek and stylish, a Samsung microwave oven will save you time and effort in the kitchen, apparently. They can accomplish this through some or all of the following features:
Sensor technology: detects the level of humidity in the food being cooked and adjusts the time accordingly
Ceramic enamel cavity: interior cavity makes it easier to clean
Triple distribution system: a Samsung exclusive technology that cooks food more evenly through two additional microwave antennas
A wider turntable: ensures you can fit large plates of food big enough for substantial groups of people
Step-by-step cooking function: assists you in cooking the perfect dish by simply selecting the appropriate function
Keep warm: keeps food either hot or mild
Healthy cooking: any number of pre-set cooking modes
Soften/melt: lets you melt food items such as chocolate at the touch of a button
Power defrost: allows you to defrost frozen foods quickly
2-stage cooking: allows you to set up different stages of cooking at different conditions
One minute plus: quickly heats food in one minute increments on the highest power level
Scratch resistance and limited odour transfer
What microwave ovens does Samsung offer?
As we mentioned before, there are 14 microwave ovens available on Samsung's website. These appliances can be divided into categories based on their capacities:
40 Litres
34 Litres
32 Litres
20-30 Litres
Samsung 40L microwave ovens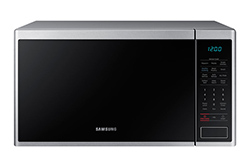 There are three different models in this category:
MS40J5133BT Neo Stainless Silver microwave
ME6144ST Stainless Steel microwave
ME6144W white microwave
The prices of these microwaves range from about $170 up to $300, which is round about the average for what most Australians pay for their microwaves. Given that 40 Litres is exceptionally large in terms of what an oven can fit inside, you are getting a huge amount of cooking ad heating room for a low price. Each of them also has a power output of 1000W, so they are not weak by any means.
In terms extra microwave features, these models have the following in common:
Ceramic enamel interior
Power defrost
Sensor technology
There are also some differences between the three. The Neo stainless silver microwave (pictured) costs $299, but actually boasts the fewest features, despite being the most expensive. It has the keep warm and healthy cooking options, which apparently serve to improve the standard of finished products, in addition to the soften/melt feature.
The cheaper microwaves in this category have some more advanced and convenient features, mainly the triple distribution system (TDS) and 2-stage cooking, meaning you can cook and reheat two different meals at different conditions without having to buy two. They also have the one minute + button.
Are these microwave ovens worth it?
The 40L Samsung microwave ovens are absolutely worth it, particularly the two cheapest options. These microwaves come with the innovative TDS technology, which allows you to evenly cook food all over. Variations of this technology are common across microwave and oven brands, but appliances that have them tend to be more expensive.
These cheap ovens have a massive capacity, and you can even cook two dishes at once, which already saves you the cost of another microwave oven. So for less than $300, you can prepare large quantities of food quickly and easily, all at once. So definitely consider a 40L Samsung microwave.

You may also be interested in:
Samsung 34L microwave ovens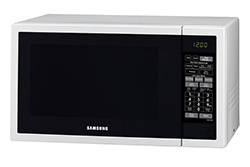 Like the 40L microwaves, Samsung also has three available with a 34L capacity.
ME6124W white microwave
ME6124ST stainless steel microwave
MS34F606MAT multi-sensor
Official prices are hard to come by for these models, but Appliances Online states that they go for around $250. This is also around the mean price for Aussie microwave purchases, so right away you know you're not paying too much. Looking at the features of each, they are extremely similar to the 40 Litre microwave ovens, and almost all of the features they have are exactly the same.
Are these microwave ovens worth it?
There is really no added benefit to purchasing one of these 34 Litre microwaves, as the 40 Litre versions can do everything they can but with a larger capacity. Given that the 40 Litre models costs a maximum of $50 more, it's hard to see a reason why you would buy one of these 34 Litre microwaves, unless you need one specifically.

Samsung 32L microwave ovens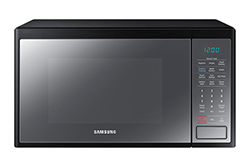 The 32 Litre microwave ovens are Samsung's most numerous, as it has five of them in total, costing about $200-$215 on average.
MS32J5133BT Neo stainless steel silver microwave
MS32J5133BM Black microwave
MS32H5125AK Black microwave
ME1113TW White microwave
ME1113TST Ceramic chrome microwave
Features that are common in category of microwaves are keep warm, healthy cooking, power defrost and a ceramic enamel interior. The first three 32L models also all come with the soften/melt feature, letting you softly melt food items like chocolate and butter. The last two do not have this feature, but they do have both scratch resistance and limited odour transfer, taking care of the interior of the appliance for you and reducing unwanted smells. So really, they are still quite similar to all of the other microwaves listed this far, but are definitely more unique than the 34L options, and can serve a wider variety of needs.
Are these microwave ovens worth it?
With 7-10 different power levels and a variety of features (such as odour transfer, soften/melt and up to 14 pre-programmed recipes), Samsung's range of 30 Litre microwave ovens seem to represent good value for money, as they are extremely flexible appliances that are relatively cheap in comparison to other premium providers like Sharp and LG.

Samsung 20-30L microwave ovens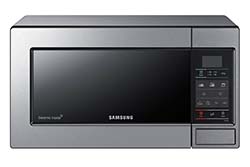 The remaining three of Samsung's 14 microwave models fit within the range of 20-30 Litres. These three microwaves cost around $150-$210.
The ME73M 20L microwave
The ME83D-1W 23L white microwave
The ME6104ST 28L stainless steel microwave
First up is the 20L model (pictured). This stainless steel design has a relatively modest power output of 800W, but you don't buy this for the power. What you do buy it for (besides the cheap price) is the number of extra features it has. Rapid defrost, three auto-cooking menus, six power levels, a scratch resistance, an enamel interior and the patented triple distribution system represent an excellent degree of flexibility for such an inexpensive appliance. The same unfortunately can't be said for the 23L model which comes with fewer features and certainly less of a 'wow' factor.
Finally, we have the 28L Samsung microwave. This stainless steel, 1000W sensor microwave has a much larger capacity than the previous two models, and is more or less at the average capacity you'd expect from a microwave oven. As well as having six power levels and four auto-cook menus, the 28L model also has the rapid defrost, 2-stage cooking and TDS features, meaning that it actually makes cooking a whole lot easier and more convenient, which is what you should be after.
Are these microwave ovens worth it?
As far as cheap microwaves go, then both the 20L and 28L capacity models are surely up there with the best value options on the market (as long as you don't mind sacrificing a bit of interior room). At just $200 (approximately), they have a superb range of features and cooking options, ones that many more expensive microwaves simply don't have. The 23L model doesn't seem to really represent good value for money, as for the same price you can get microwaves that can do more.
About the author of this page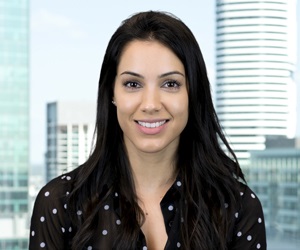 This report was written by Canstar Blue's Home & Lifestyle Content Lead, Megan Birot. She's an expert on household appliances, health & beauty products, as well as all things grocery and shopping. When she's not writing up our research-based ratings reports, Megan spends her time helping consumers make better purchase decisions, whether it's at the supermarket, other retailers, or online, highlighting the best deals and flagging anything you need to be aware of.
What do customers think about Samsung Microwaves?
In 2019, Australian customers gave Samsung 4 out of 5 stars for overall customer satisfaction for microwaves.