Karcher Steam Mops Review
Karcher says it understands the importance of a clean and tidy home, which is why it has developed its products to "help make cleaning easy and enjoyable".
The German company currently works across 60 countries, aiming to produce innovative products for consumers. It first started with providing heating devices for aircraft engines and now sells everyday products – including steam cleaners – to use around the home.
In this article, Canstar Blue reviews Karcher's premium range of steam mops, their features and prices, to help you make an informed decision about your next purchase.
Karcher Steam Mops
A major advantage of Karcher steam cleaners is their large tank capacity. All Karcher steam cleaners are multifunctional, designed for floor cleaning as well as steaming taps, wash basin, wall tiles, windows and mirrors, extractor hoods and fittings. The flexible nozzle joint also allows the steam mop to have full floor contact regardless of the user's height.
Karcher's range features floor nozzles on the body of the steam cleaner to leave it in a stationary position, which Karcher calls the 'parking' stance. Several models also include de-scaler sticks, which are claimed to automatically de-calcify water to increase the life of the steam cleaner. These designs range from 3kg to 6kg and despite the heavier steam model, it does come on wheels for easy manoeuvrability.
Karcher SC 2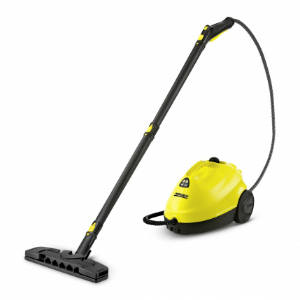 Designed with a flexible nozzle joint, this 1500W steam cleaner is at the starting point for Karcher steam mops in regards to its features and price. It comes with a 1L water tank, which is a large tank capacity for a steam mop and it weighs in at 2.9kg without accessories, maintaining a lightweight design. It has a heat-up time of 6.5 min, which is fairly slow compared to other Karcher models, but with a large tank capacity it may help reduce the amount of refills you will require while cleaning.
The Karcher SC2 model has an integrated funnel for refilling the water tank and floor nozzles to put the steam cleaner into a parking position during cleaning breaks. An efficient feature of this model is its steam flow control found on the handle, which allows you to adjust the steam volume according to the specific surface you are cleaning. It is also equipped with in-built storage for the array of multifunctional attachments that it comes with, which include:
Floor nozzle with a cotton cover
Hand nozzle
Regular round brush set
Round brush set with brass brittles
Steam turbo brush
Window nozzle
Textile care nozzle
Rubber squeegee for windows
It comes with de-scaler sticks to help reduce lime scale build up overtime, two 0.5m extension tubes and a 2m steam hose gun for steaming mirrors and windows. Some key safety features include a childproof safety lock on the steam gun for protection and a safety valve.

You may also be interested in:
Karcher SC 3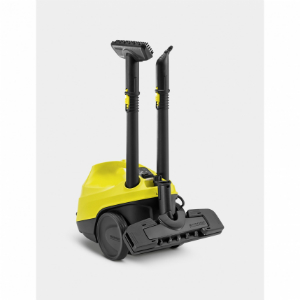 For a faster heat-up time compared to SC2, this model heats up in 30 seconds. It is accompanied with a number of nozzles and attachments for almost any surface in your home including tiles, hobs, extractor hoods and tiny cracks. The list of these accessories can be seen above in the SC2 review. Similarly, it is designed with a flexible nozzle joint to be suitable for any height. It includes a storage compartment for the attachments and can be put into a parking position during breaks when cleaning.
Along with all the attachments, it further includes a number of cleaning cloths such as a cotton cover for the manual nozzle and floor nozzle. You can also control the steam output from the handle and adjust it to the particular surface you are cleaning.
A distinguishing feature of this model is an integrated descaling cartridge that is aimed to remove lime from the water automatically. The tank can also be refilled at any time for non-stop steam output. It is slightly heavier than the previous model coming in at 3.1kg. But with the convenience of it being on wheels, it is still a reasonable weight.
The Karcher SC3 features a safety valve, an integrated funnel and a child lock on the steam gun to provide protection from improper use by children. It has a two level steam control to adjust steam intensity and 2m steam hose gun. With 1900W of heating power and a 1L refillable water tank, it is a steam cleaner to keep in mind.
Karcher SC 4 Iron Kit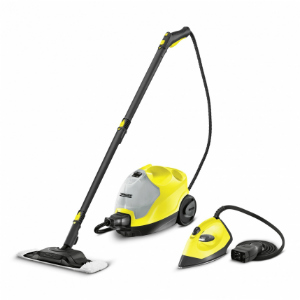 The Karcher SC4 model has some similar features to the above models including a detachable water tank, descaling cartridge and versatile attachments. The accessories comprise of a manual nozzle, detail nozzle, round brush, steam iron, integrated funnel and a floor cleaning kit. Along with this, Karcher also provides microfiber floor cloths and a cotton cover for the manual nozzle.
It is designed with a flexible joint and a large "comfort plus" floor nozzle to help clean large areas of your home. There is a child lock safety feature on the steam gun for added safety and a steam flow regulator on the handle. It has a 2m hose with a steam gun, giving you the option of steam cleaning mirrors and windows.
It has an increased heating power of 2000W and takes 4 minutes to heat-up. It has a slighter smaller water tank capacity of 0.8L but it includes an additional steam iron with 0.5L water tank capacity. It weights 4kg without accessories and uses a two tank water system.
The Karcher SC4 has advanced from the previous two models with several key features including Kaercher's cloth changing technology, which allows you to release the dirty cloths without any contact. It is also equipped with an integrated storage compartment for the cable and other attachments. It has an optional plug for pressurised steam ironing with a non-stick soleplate. This addition is claimed to provide you with high steam pressure for even thick fabrics, so if you are looking for a steam mop that steam cleans floors as well as clothing, you may like to consider this model.

Karcher SC 5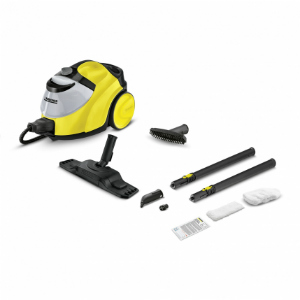 The latest addition to the Karcher steam cleaner range is the SC5 model. At 6kg and 2200W, it provides a number of functionalities in one product. The main attachments include a manual nozzle, detail nozzle, round brush as well as a microfiber floor cloth and terry cloth cover for the hand tool.  The additional floor nozzle is aimed at cleaning hard-to-reach places. It has a 3 minute heat-up time with a 1.5L water tank capacity and 0.5L tank capacity for the pressurised steam iron. With its 6kg weight, it does sit on the heavier side of the Karcher range.
A distinctive feature of the SC5 model is the "VapoHydro" functionality, which provides a large amount of pressure to help remove stains while being claimed to remain gentle on surfaces. The way it works is it adds hot water to the steam in order to wash away any dirt.
Similar to the above model, the SC5 steam cleaner is designed with a flexible joint floor nozzle and the contactless cloth changing design. It uses a removable water tank that can be refilled continuously, giving you constant steam while you clean. It also has integrated cable storage compartment for cables and other attachments. It uses a two-tank system, variable steam volume control and an integrated funnel. The floor cleaning kit includes two 0.5m extension tubes and de-scaling sticks. The steam hose gun length is 2.5m, which includes a child-lock safety feature.
Are Karcher steam mops worth the money?
Karcher steam cleaners are in a premium price category but do come with a number of distinctive functionalities. These include a large water tank capacity suitable for a variety of consumers from home and leisure to industry and trade. It also has several safety features for peace of mind. For the superior price, Karcher's SC3 model provides you with a 30 second heat-up time while the SC5 model delivers extra steaming power with its 'VapoHydro' feature.
In general, steam cleaners help provide a non-chemical cleaning solution and are an option to consider if you want to get rid of the extra cleaning products around the home. Getting clean floors doesn't have to be a tedious task, but it will depend on how much you are willing to pay for dirt and grime free floors.
Vacuum Cleaner Reviews & Ratings
About the author of this page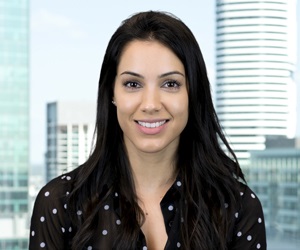 This report was written by Canstar Blue's Home & Lifestyle Content Lead, Megan Birot. She's an expert on household appliances, health & beauty products, as well as all things grocery and shopping. When she's not writing up our research-based ratings reports, Megan spends her time helping consumers make better purchase decisions, whether it's at the supermarket, other retailers, or online, highlighting the best deals and flagging anything you need to be aware of.
What do customers think about Karcher Steam Mops?
In 2017, Australian customers gave Karcher 4 out of 5 stars for Overall Customer Satisfaction for Steam Mops.