Kelvinator Refrigerators Review
Let's face it, refrigeration isn't really something that gets a lot of Aussies excited, but it's a necessary part of life in this brown land of ours. Being that fridges aren't particularly exciting appliances to go out and purchase, many of us buy one without much thought as to what's actually ticking under the hood. This can then result in purchasing a fridge that you later become unhappy with, or purchasing one that has a lot of 'baggage' – like that ex of yours. Think high power bills and annoyingly inflexible shelving among other things. A lot of us simply want to get the best value for money possible.
One such brand to offer great value for money is Kelvinator. Having been around for over 100 years, by now many of us are familiar with the brand from Detroit specialising in whitegoods. It usually rates well in our customer satisfaction reviews for refrigerators and is in fact a previous winner of our fridges award. It also traditionally rates very well for air conditioners. So just what makes Aussies get an excited chill when buying a Kelvinator fridge? Find out more about the brand below.
What fridges does Kelvinator offer?
Kelvinator's have a decent range of fridges, generally trending towards the mid-large capacities. All Kelvinator fridges come with 'Spillsafe' glass shelves that can hold up to a litre of spilled liquid to prevent it from dripping onto the lower shelves. They also come with adjustable storage, humidity controlled crispers and separate controls for the fridge and freezer. Electricity costs for our comparison were calculated at 33c/kWh, but your usage charges may vary. Let's dive in further to see what the brand offers.
Small Fridges
Boasting 460L of capacity, the Kelvinator top-mount fridge (KTM4602WARH) is not exactly the smallest out there, but it packs a punch nonetheless. With a relatively massive 341L dedicated to the fridge, and 119 for the freezer, it's suited to a midsized family. It's rated at 3.5 stars for energy-efficiency, and uses 385kWh, which could cost around $127 a year to run. It retails for around $1,100 which is decent value for something this size. Here's a more detailed overview:

Midsized Fridges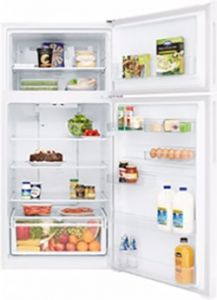 Kelvinator is proving you tend to get a lot of capacity for the price, and in the midsized range this is no exception. Take for example the 540L top-mount fridge (KTM5402WARH) pictured. It retails for about $1,300, meaning you get a lot of space for the money. Its freezer is located on top for easy access to necessary foods like ice cream, and on the bottom the fridge department features flexible shelving and a large crisper. It also boasts a 395L fridge capacity, with 141 dedicated to the freezer compartment. It's rated at 3.5-stars for energy-efficiency, and it consumes 418kWh, costing about $138 a year to run.
On the flipside, Kelvinator also offers a bottom-mount fridge (KBM5302AA) of a similar capacity – 530L. It's much the same as the model mentioned above, but this time the freezer is on the bottom for easier access to the fridge compartment. It has a silver finish, placing it well in the modern home, a flexible shelving system, and separate temperature controls for the fridge and freezer. It retails for about $1,500, and consumes slightly more than the top-mount model above – 421kWh. This fridge is estimated to cost about $139 a year to run in electricity.

Large Fridges
Kelvinator keeps your food cool at the larger end of the scale, too. This side-by-side fridge (KSE6200PA) boasts a 620L capacity, and the side-by-side design means that frozen and fresh goods are super easy to access. With this large capacity it's suitable for a hungry family, and its large freezer space of 248L makes storing bulk meats and frozen foods easy. Hence, this means its fridge space is 373L.
Its large size means it's a bit power-hungry, rated 2.5 stars for energy-efficiency, and it consumes 610kWh. This means it'll cost about $200 to run per year. However, its relatively modest price tag of about $1600 somewhat mitigates its higher electricity costs, which is something of a theme among Kelvinator fridges; higher capacities for good value.
Is a Kelvinator fridge worth the money?
Kelvinator has been present in Australia since 1921 and has sold more than five million refrigerators here since then. As evident, many Aussies feel right at home with a Kelvinator sitting in their kitchen. Kelvinator tends to offer good-value, larger-capacity fridges. While there are no tech-packed fridges mentioned in this article, what Kelvinator does offer is simple, effective refrigeration. What you save at the appliance shop, however, you may pay for in electricity costs. The Kelvinators listed here are not necessarily the most power hungry, but they aren't particularly efficient either. Kelvinator, in summary:
Big fridges for modest prices
Effective refrigeration somewhat compromising energy-efficiency
Popular in Aussie homes, meaning you can't really put a foot wrong
We suspect that if you're part of a larger household, a Kelvinator fridge will likely be a popular choice. However, keep an eye out for your electricity usage rates because the costs of running a cheaper fridge can add up over time.
About the author of this page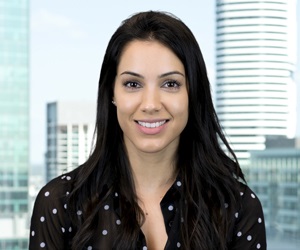 This report was written by Canstar Blue's Home & Lifestyle Content Lead, Megan Birot. She's an expert on household appliances, health & beauty products, as well as all things grocery and shopping. When she's not writing up our research-based ratings reports, Megan spends her time helping consumers make better purchase decisions, whether it's at the supermarket, other retailers, or online, highlighting the best deals and flagging anything you need to be aware of.
What do customers think about Kelvinator Refrigerators?
In 2019, Australian customers gave Kelvinator 4 out of 5 stars for overall customer satisfaction for refrigerators.
Kelvinator Refrigerators
Canstar Blue
Award:
Overall Satisfaction