Fisher & Paykel Refrigerators Review
In Australia, it's pretty much necessary for everyone household to have a refrigerator. Like taxes, they're an inevitable part of life, and many of us don't pay a second thought as to the type of fridge we own, or what brands are leading the charge. Fisher & Paykel is one such brand that is punching above its weight. Born out of humble roots in New Zealand over 80 years ago, Fisher & Paykel has grown to compete with the big boys like Hisense, LG and Samsung among others. It traditionally rates very well in our customer satisfaction reviews for clothes dryers, washing machines and refrigerators. So, what's behind all the accolades and prestige? Keep on reading to find out with Canstar Blue.
What fridges does Fisher & Paykel offer?
Fisher & Paykel offer a wide array of fridges, from small, 113 litre bar fridges to 614 litre French door designs. The company's design philosophy focuses on innovation and forward-thinking. As such, you generally won't find much for under $1,000. Considering Aussies spend on average over $1,200 for a fridge, there's a great range of Fisher & Paykel fridges to be had for around this price point. Let's break them down by size, and see what they offer.
Using Appliances Online, Fisher & Paykel evidently has a large range of fridges, from small fridges for 1-2 people, to the gargantuan French door types with huge capacities for hungry families. Calculating their energy costs using the figure of 33c/kWh, we'll also find out how well the company stacks up in terms of energy-efficiency. Your electricity rate may be different of course.
Small Fridges
There are a handful of fridges under 300L in capacity, including a 123L integrated fridge drawer pictured. The most standout model though is the 266L upright fridge (C270LW). It's one of Fisher & Paykel's cheapest fridges, retailing for $1,249, and is best suited for a small household of 1-2 people. It features:
Cyclic defrost to prevent annoying ice building up
Width-adjustable door shelves
A sizeable crisper
Interchangeable doors for flexibility
For someone in the market for a small fridge, this is a great no-frills option. It's rated at 340kWh, which could cost up to around $120 a year in electricity to run.
Midsized Fridges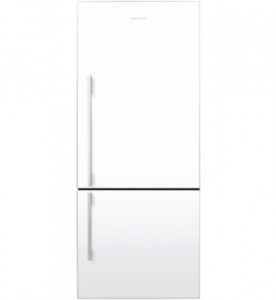 Jumping up into the 300-500L range you'll find that Fisher & Paykel often dominate the ranks with their innovative fridges. One of the standout models is the bottom-mount 442L unit
(E442BRWFDS) pictured, which retails for about $2,000. It's a feature-packed unit with:
'ActiveSmart' foodcare system
'SmartTouch' control panel
Humidity control system for easy care of fresh produce
Flexible storage
A 'fast freeze' function
And a bottle chill function for cool beverages every time
With its capacity, it is best suited to a small-midsized household, and its smart features reflect its higher-end price. Rated at three-stars for energy-efficiency, it consumes 428kWh, which could cost around $140 to power a year. When you consider its size, it doesn't work out to be too bad.
Large Fridges
Fisher & Paykel also have a large range of family-sized fridges above 500L in capacity. These are the ones that pack in the most features, have innovative design, and hence fetch the highest prices. Take for example the French door fridge boasting 614L capacity:
Its French door style means that its usability is second to none, and that its capacity is huge, suitable for a larger family. It boasts all of the features you'd come to expect from Fisher & Paykel, and has an ice maker, plus highly-flexible shelving systems and three crispers. It also has a freezer drawer, meaning that buying meats in bulk and freezing them is made easy. It's also surprisingly energy-efficient, with 3.5 stars, and consuming 453kWh; this fridge could cost around $150 to power a year.
With such a large, innovative fridge also comes a higher price tag. It retails for around $3600 and you likely won't find it for much less than $3000 on sale. If a large fridge is on your list, then this one could be the pick of the bunch.
Is a Fisher & Paykel fridge worth the money?
Fisher & Paykel have come a long way from their humble roots in New Zealand, but have remained true to their heritage with some of their manufacturing plants still in the land of the long white cloud. Their focus on innovation and usability has pushed the envelope and has put the brand on the map, pacing itself against some gigantic brands.
Its key feature leading the way is the 'ActiveSmart' system. This involves a microprocessor, interior temperature sensors, independently-controlled fans and many air ducts. The microprocessor gets information from the sensors and adjusts the fan speed and compressor to regulate the cooling power being used, delivering a consistent and stable temperature. This responsiveness means it uses the minimum amount of energy needed to keep your food fresh, based on how often you open your fridge.
All of this innovativeness is therefore reflected in the price. Overall, you can expect to pay at least $1,000 even for the smallest capacity fridges with low, or no frills. Tech-packed and large French door fridges can then easily cost over $3,000. Nevertheless, Fisher & Paykel fridges are popular in Aussie households, so evidently people see their fridges as 'worth it' – if you're willing to pay a little more for design, functionality and features then we suspect you'll be content with Fisher & Paykel.
What do customers think about Fisher & Paykel Refrigerators?
In 2017, Australian customers gave Fisher & Paykel 4 out of 5 stars for Overall Customer Satisfaction for Refrigerators.
Fisher & Paykel Refrigerators
Canstar Blue
Award:
Overall Satisfaction