Hisense Refrigerators Review
It can be easy to overlook the humble fridge humming away in the corner of your kitchen. Often it's the unsung hero in your home, keeping your food fresh, while not even demanding a hug. Seeing as fridges are such an integral part of the home nowadays, there are a range of manufacturers out there. Together they are making fridges that are both increasingly energy-efficient and cost effective. One such company to do so is Hisense.
Electronics giant Hisense does well in our customer satisfaction rankings for new fridges. This lends great credence to their large range of fridges; however what fridges does Hisense actually produce? Read on to get a sense of what Hisense make in the fridge department.
What fridges does Hisense offer?
Hisense offers a large range of fridges, ranging from the petite 200L varieties that are cost-effective, as well as the large French door fridges that cost around $2,000 but pack a lot of features in. There are four types of fridges that Hisense tends to offer:
Single-door fridges; usually the cheapest and best for small households
Top mount fridges; the most popular type and generally one of the most cost effective
Bottom mount fridges; generally fairly energy-efficient and cost effective
Side-by-side fridges; are generally the most convenient and large in capacity
French door fridges; usually the priciest, yet most feature-packed types
Bar fridges; convenient and compact, but have a limited temperature range
These fridges will not only be assessed on their features but also on their energy-efficiency. Using the electricity price of 33c/kWh, the fridges will also be broken down by how much they'll cost to run. Keep in mind that your electricity provider may charge for electricity at different rates.
Single-Door Fridges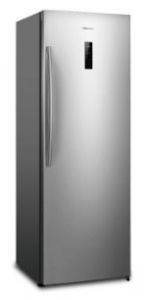 Single-door fridges are simple and can save space in your kitchen, although this means you'll in turn have less fridge space, which isn't necessarily a pain point if you have a small household. This 355L single-door model (HR6AFF355SD) for example, could be the perfect fit for homes and apartments that need a space-saving appliance. It's available as a stand-alone fridge or as a pigeon pair with the single-door freezer (HR6VFF280SD). Some notable features include:
Electronic touch control
Holiday power save function
Door alarm
Stainless steel finish
This model retails for 1,299, but there's also a similar model in white (HR6AFF355D), available for $200 less. Aside from that, it comes with a three-star energy efficiency rating and consumes about 385kWh per year and could add about $130 to your annual energy bill.
Top Mount Fridges

Top mount fridges are loved Australia-wide for their simple nature and cost effectiveness. Take for example this 350L unit (HR6TFF350) pictured, with its modest size and very modest price of about just $799. It packs in 256L for the fridge compartment and 94L for the freezer. It features:
Easy access crisper drawers
Adjustable spill-proof glass shelves
Electronic temperature controls
Multi-Air flow system
Just because it's cheap doesn't mean it's an energy drainer. It's rated three stars for energy-efficiency, and it consumes 380kWh per year. This subsequently could result in annual electricity costs of about $125. For a cheap, no-frills fridge that isn't too bad in the energy consumption stakes, you can't really go wrong with this model.
Bottom Mount Fridges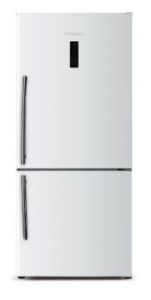 Bottom mount fridges are a great alternative to a top mount unit, but the compartments are obviously flipped. Take for example the 435L unit from Hisense (HR6BMFF435D). With 435L on board, it's suitable for a midsized household. Its freezer compartment is 137L, while the fridge is 298L. Its key features are:
Multi-function touch control panel for easy control over temperatures
Super freezing and super-fast cooling capabilities
Adjustable shelves and drawers for flexibility
Wine caddy
For about $1,099, it's a great step up in terms of capacity over the top mount fridge featured above, but for a marginal increase in price. It is rated 2.5 stars for energy-efficiency and it'll consume 488kWh per year. This could cost about $161 in electricity for the year.
Side-by-Side Fridges
Hisense also comes to the game to offer utmost convenience with its side-by-side fridges. Most notable is the 624L variety (HR6SBSFF624SW) pictured. It's a feature-packed fridge, containing:
In-door water dispenser
Super cool and super freeze functions
239L:385L freezer to fridge split for bulk freezing convenience
Side-by-side design provides easy access to the freezer
With its large capacity, it's suitable for the whole family and its wide variety of flexible shelving means you can adjust it to suit your lifestyle. With a fridge this size, it is also not too bad in the energy ratings. It's rated three stars, and consumes 535kWh per year. This fridge could cost around $199 a year in electricity. The unit price is around $1,499, making it a cost-effective large fridge. For the ultimate family-friendly fridge, you can't really go wrong here.
French Door Fridges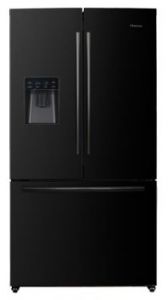 So far you've probably sensed that Hisense has its range of fridges priced a little lower than the competition, and you'd be correct. Its French door fridges are no exception. While other companies charge upwards of $3,000 for a French door unit, Hisense generally charges less than $2,000, and for no apparent compromise. Take for example the 630L unit (HR6FDFF630B), priced at around $1,999. It really packs a punch, featuring:
436L fridge capacity, 194L freezer capacity
Adjustable spill-proof glass shelves
Three-tier freezer drawers
In-door water dispenser
Holiday power save function
This unit has a three-star energy efficiency rating and consumes 535kWh per year, which is not too shabby for a fridge this size. It'll cost about $199 in electricity for the year, which really isn't too bad for a cheaper French door fridge suitable for a large family. This unit also features a black steel finish to complement any modern kitchen.
Bar Fridges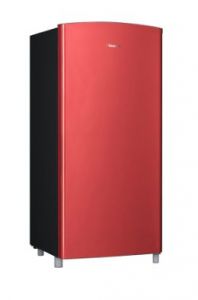 Last, but not least, Hisense's bar bridges are nothing to sneeze at. Meet the happy medium, this 150L Hisense Art Series (HR6BF157R) model which offers big capacity for areas with a small foot print, perfect for a man cave, dorm or office. It's available in assorted colours including Bull Red, Graphite Black, and Burnt Orange and comes with the following features:
Semi-auto defrost
Adjustable plastic shelves
Fruit and vegetable crisper
Temperature control
This model has a three-star efficiency energy rating and measures 1130 x 519 mm.
Is a Hisense fridge worth the money?
It's the question on everyone's lips– and if our research is anything to go by then yes– a Hisense fridge is worth the money. The brand Hisense seems like an outstanding performer, but every beauty has his/her flaws. One of the flaws with Hisense refrigerators is that they are not particularly energy efficient. You won't find any 'super green' fridges in its line-up, and instead they focus on 'bang for buck' features and refrigeration. Hisense is the sensible option, if you're looking for:
Cheaper upfront costs at the expense of higher electricity bills (in some cases)
Great features and functionally at a very reasonable price
Sleek designs to suit any kitchen aesthetics
For fridges from the small, one-person household kind, to the mammoth French door kinds for the whole family, you can't go wrong with Hisense. And with four stars overall in our customer satisfaction ratings, it seems a lot of Aussies agree with this statement too.
About the author of this page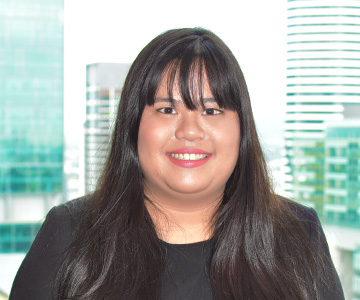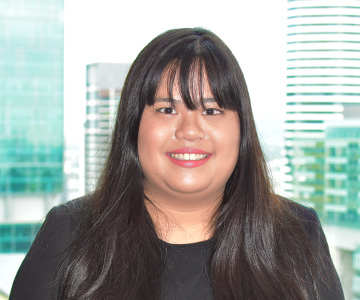 This report was written by Canstar Blue's home & lifestyle journalist, Tahnee-Jae Lopez-Vito. She's an expert on household appliances, grooming products and all things grocery and shopping. In addition to translating our expert research into consumer-friendly ratings reports, Tahnee spends her time helping consumers make better-informed purchase decisions on all manner of consumer goods and services, while highlighting the best deals and anything you need to be aware of.
What do customers think about Hisense Refrigerators?
In 2019, Australian customers gave Hisense 4 out of 5 stars for overall customer satisfaction for refrigerators.
Hisense Refrigerators
Canstar Blue
Award:
Overall Satisfaction