Hisense Refrigerators Review
It can be easy to overlook the humble fridge humming away in the corner of your kitchen. Often it's the unsung hero in your home, keeping your food fresh, while not even demanding a hug.
One brand name to look out for is Hisense. The electronics giant is one of several major brands manufacturing a large list of fridges designed to be both energy-efficient and cost-effective. Here's a rundown of the different types of fridges available.
What fridges does Hisense offer?
Hisense offers a large range of fridges, ranging from the 100L space-saving units as well as the large French door fridges. The different types of refrigerators to expect include:
Single-door fridges: usually the cheapest and best for small households
Top mount fridges: the most popular type and generally one of the most cost-effective
Bottom mount fridges: generally fairly energy-efficient and cost-effective
Side-by-side fridges: are generally the most convenient and large in capacity
French door fridges: usually the priciest, yet most feature-packed types
Bar fridges: convenient and compact, but have a limited temperature range
These fridges will not only be assessed on their features but also on their energy-efficiency. Using the electricity price of 33c/kWh, the fridges will also be broken down by how much they'll cost to run. Keep in mind that your electricity provider may charge for electricity at different rates.
Single-Door Fridges

Single-door fridges are simple and can save space in your kitchen, although this means you'll in turn have less fridge space, which isn't necessarily a pain point if you have a small household. Alternatively, single-door fridges and freezers can be used to provide additional storage.
Hisense's 355L HR6AFF355SD (pictured), for example, is available as a stand-alone fridge or as a pigeon pair with the HR6VFF280SD single-door freezer. Some notable features include:
Energy efficiency rating: 3 stars (consumes 238kWh/yr)
Electronic touch control
Holiday power save function
Door alarm
Stainless steel finish
This Hisense single-door fridge retails for 1,299*, but there's also a similar model in white (HR6AFF355D), available for $200 less. Aside from that, it comes with a three-star energy efficiency rating and consumes about 238kWh per year, and could add about $78.54 to your annual energy bill.
Prices usually start from $699 for a 243L single-door fridge and reach up to $1,299 for a model.
Top Mount Fridges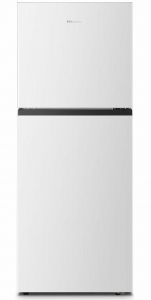 Top mount fridges are loved Australia-wide for their simple nature and cost-effectiveness. The H45TFF272 is one of the options available, retailing for $699*. It packs 204L worth of fridge storage and a 68L freezer capacity. Some features include:
Energy efficiency rating: 2.5 stars (consumes 379kWh/yr)
Frost-free
Twice ice maker
Adjustable spill-proof glass shelves
Fridge electronic temperature control
Prices for Hisense top mount fridges usually start from $399 for a 92L model and go up to $1,299 for a 534L unit. If you're looking cheap fridge, this 272L model is on the brand's more affordable side. But it isn't the most efficient, providing a 2-star energy efficiency rating that will likely take you back $125.07 in annual electricity costs.
Bottom Mount Fridges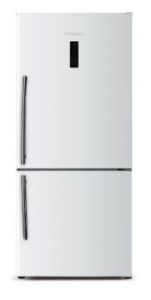 Bottom mount fridges are a great alternative to a top mount unit, particularly if you have trouble reaching up high when grabbing frozen veggies and other commonly used items. The HR6BMFF435D is one of the models available, retailing for $1,099*. With 435L on board, it's suitable for a midsized household. It has a 298L fridge capacity and a 137L freezer compartment.
Features include:
Energy efficiency rating: 2.5 stars (consumes 488kWh/yr)
Multi-function touch control panel for easy control over temperatures
Super freezing and super-fast cooling capabilities
Adjustable shelves and drawers for flexibility
Wine caddy
Prices for Hisense bottom mount fridges usually start from $899 for a 320L model and goes up to $1,999 for the latest 518L model. This particular 435L unit will come with an annual electricity bill of $161.04.
If efficiency is on the top of your priority list, the Hisense 519L HR6MFF519B has a 6-star energy rating.
Side-by-Side Fridges
For a family-sized fridge, Hisense has several side-by-side refrigerators currently available. One of these includes the HR6SBSFF624SW (pictures), which offers a 624L total storage for $1,599*.  Features include:
Energy efficiency rating: 3 stars (consumes 535kWh/yr)
In-door water dispenser
Super cool and super freeze functions
239L:385L freezer to fridge split for bulk freezing convenience
Side-by-side design provides easy access to the freezer
Hisense side-by-side fridges typically cost between $1,099 and $1,699 This 624L fridge is a middle ground, at least in terms of upfront price, and will set you back approximately $176.55 to run each year.
French Door Fridges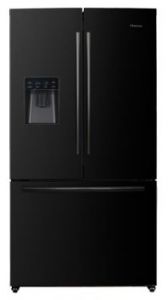 Hisense's French door range is priced pretty competitively, offering much more affordable options than some other big-name brands. The HR6FDFF630B  (pictured) is among the manufacturer's cheaper French door models, retailing for $1,999*. It's also one of the few French Door fridges in the market that's under the $2,000 mark.
For storage, it has a 436L fridge capacity and a 194L freezer capacity. Features include:
Energy efficiency rating: 3 stars (consumes 527kWh/yr)
Adjustable spill-proof glass shelves
Three-tier freezer drawers
In-door water dispenser
Holiday power save function
Its three-star energy efficiency rating means you'll need to fork around $173.91 per year for running costs. For other Hisense French door fridges, you can expect retail prices ranging between $1,699 and $3,299.
Bar Fridges
Last, but not least, Hisense's bar bridges are nothing to sneeze at. The HR6BF170B offers the most generous storage at 170L and usually has a $499* price tag.  Expect 151L fridge capacity and 19L freezer capacity.
Despite its smaller size, it still has many of the same features you would expect from larger units. Some include:
Energy efficiency rating: 2.5 stars
Fruit and vegetable crisper
Temperature control
Ice maker compartment
Available in red or black
Hisense bar fridges usually cost between $299 and $499. This particular model will have an annual electricity bill of approximately $97.35.
Is a Hisense fridge worth the money?
It's the question on everyone's lips – and if our customer satisfaction ratings is anything to go by then yes– a Hisense fridge is worth the money. Hisense may be worth considering if you're looking for:
Cheaper upfront costs at the expense of higher electricity bills (in some cases)
Great features and functionally at a very reasonable price
Sleek designs to suit any kitchen aesthetics
But while Hisense seems like an outstanding performer, every beauty has its flaws. In this brand's case, Hisense refrigerators are not particularly energy-efficient. You won't find any 'super green' fridges in its line-up, except for the Hisense 519L HR6MFF519B which has a unique 6-star energy rating.
About the author of this page
This report was written by Canstar Blue's home & lifestyle journalist, Tahnee-Jae Lopez-Vito. She's an expert on household appliances, grooming products and all things grocery and shopping. In addition to translating our expert research into consumer-friendly ratings reports, Tahnee spends her time helping consumers make better-informed purchase decisions on all manner of consumer goods and services, while highlighting the best deals and anything you need to be aware of.
What do customers think about Hisense Refrigerators?
In 2019, Australian customers gave Hisense 4 out of 5 stars for overall customer satisfaction for refrigerators.
*Prices are taken from Hisense, correct as of December 2020.
Hisense Refrigerators
Canstar Blue
Award:
Overall Satisfaction