Nescafe Dolce Gusto Coffee Machines Review
Nescafe Dolce Gusto is Nestlé's answer to the growing competition in the coffee pod/capsule market. The brand has several countertop espresso coffee machines available in Australia, covering a range of price points so as to offer something for every household. All Dolce Gusto machines boast up to 15 bar pump pressure for professional-standard coffee, as well as the option to choose between hot or cold beverages.
Nescafé's range of Dolce Gusto coffee machines has been around since 2006, with the introduction of the Melody series. From basic beginnings, the brand has since expanded its range to include the numerous premium machines you can buy today.
If you prefer homemade coffee to what you can buy from a store, the Nescafe Dolce Gusto range is certainly worth a look. Certain pop stars seem to think so…
Nescafe Dolce Gusto product range
Nescafe currently offers seven different coffee machines in its Dolce Gusto range, all of which have been created in partnership with DeLonghi. They range in complexity from simple coffee makers to elegant machines with multiple automatic functions, meaning there's a machine to suit all tastes and budgets.
Eclipse Automatic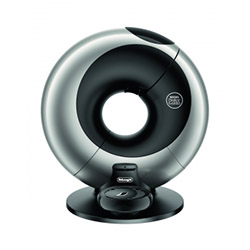 The Eclipse coffee machine is the flagship of the Dolce Gusto range. A compact machine with a unique design, the Eclipse comes with touch button controls to serve both hot and cold beverages with ease.
RRP $349
Stelia Automatic
The Stelia is a sleep countertop machine with a design inspired by a drop of liquid coffee. With intuitive touch controls and with customisable cup sizes, the Stelia provides an intuitive coffee experience.
RRP $199
Circolo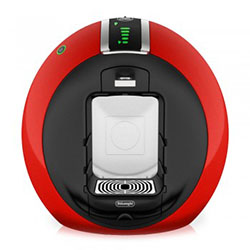 The Circolo brings a more compact, spherical design than the Stelia, with a bright colour note that's perfect for livening up your kitchen. Like its more expensive brethren, the Circolo includes intuitive scrolling touch controls and the ability to make hot or cold coffees at the push of a button.
RRP $199
Mini Me
A compact machine perfect for a small kitchen, the Mini Me still boasts the 15 bar pump pressure and manual cup size controls, allowing it to deliver a range of high quality coffee beverages.
RRP $119
Genio Automatic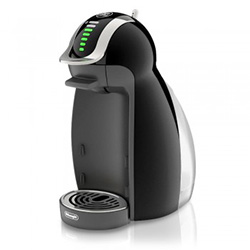 The Genio provides the same compact form factor as the Mini Me, but includes premium touches such as a metal drainage grille, chrome accents and capacitive touch controls.
RRP $179
Jovia
The smallest addition to the Dolce Gusto range, the Jovia brings a compact egg-shaped design that fits perfectly into your kitchen. Providing the same high pump pressure and hot or cold beverage options as other Nescafe machines, the Jovia represents good value for coffee enthusiasts.
RRP $109
Piccolini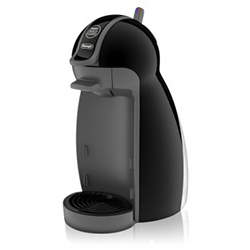 The entry-level coffee machine in the Nescafe Dolce Gusto range, the aptly-named Piccolini is a small and functional coffee machine that provides professional 15 bar pressure to deliver a variety of hot or cold coffees.
RRP $99
You may also be interested in:
In summary
Nescafé Dolce Gusto is one of the more premium brands in the espresso coffee machine market. The brand consistently ranks highly for overall satisfaction in Canstar Blue's annual ratings, as well as in the criteria of reliability, ease of use and design, amongst others. You may pay a little more than with some other brands, so you'll need to decide if it's worth it. If you love your coffee, there's a good chance you'll love a Nescafe Dolce Gusto, but don't dive in without checking out other products, too.
What do customers think about Nescafe Dolce Gusto Coffee Machines?
In 2017, Australian customers gave Nescafe Dolce Gusto 5 out of 5 stars for Overall Customer Satisfaction for Coffee Machines.
For the second year in a row, NESCAFÉ Dolce Gusto has topped our customer ratings for espresso coffee machines, achieving five-star reviews on factors including reliability, taste, value for money and overall customer satisfaction, based on the experiences of Aussies who have purchased a new machine in the last three years.
Nescafe Dolce Gusto Coffee Machines
Canstar Blue
Award:
Overall Satisfaction