Are Kmart microwaves any good? Review

Fact Checked
Sometimes, there's simply no need to pay more than you need to for something basic like a microwave. Would a cheaper model heat up your leftover food just as easily as a more expensive appliance? You can bet your bottom dollar. It's no wonder that 40% of consumers who've recently purchased a microwave cited price as their number one consideration, according to a Canstar Blue survey. If cheap and cheerful ticks your boxes, it's worth checking out Kmart's range of budget-friendly microwaves.
Kmart microwaves review
Based on online reviews and peer endorsement alone, Kmart's microwaves are overall great for the price you pay. They get the job done but come with no additional features or trimmings. Feedback from verified buyers is homogeneous, with one online user summing it up well: "Very good value for money. Works well. Very quick delivery (for online orders)". This is consistent with Canstar Blue's latest consumer review in which Aussies rated Kmart microwaves five stars for value for money and four stars for overall satisfaction. Not too shabby.
---
Read more: Are Anko Kmart appliances any good?
---
Kmart microwaves range
Kmart 20L Microwave: $52 RRP*
Kmart 28L Microwave: $89 RRP*
Kmart 25L Microwave: $99 RRP*
Kmart 28L Microwave: $109 RRP*
Kmart 34L Microwave: $119 RRP*
All Kmart microwave ovens come with a 12-month warranty, and assembly instructional videos are available online for select models. We review some picks in more detail below.
---
Looking for more Kmart product reviews?
---
Kmart 20L microwave (white) review – $52*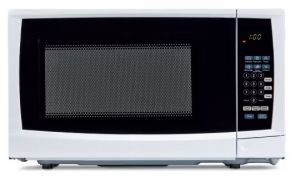 This 20L capacity microwave is probably the cheapest microwave in Australia. At $52, it costs about as much as one stop at the petrol station − it's a money win! Given that the lowest microwave price listed on Appliances Online is $199, it's fair to say that this Kmart microwave is a far better investment price-wise. In terms of features, it offers all the basic functionalities you'd expect to see in a microwave, including:
10 power levels
six-preset cooking menus (potato, pizza, popcorn, beverages, frozen vegetables, and reheat)
child safety lock
push-open door for easy access.
Is the Kmart 20L microwave worth it?
If you're strapped for cash and don't really care about fancy features and advanced cooking modes, it would be hard to say no to this model. It can perform all of the basic functions you'd require from a microwave (i.e. cook and reheat), and you don't have to save up for long (if at all) to buy one. It's a yes (for those on a budget)!
Kmart 28L microwave (black) review – $89*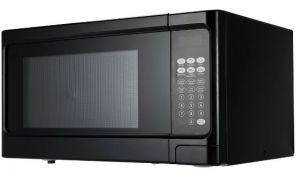 This 28L microwave oven from Kmart is perfect for budget shoppers with an edge. It features a retro black exterior, perfect for a man cave or kitchens with dark or wood accents. This model also comes with added functionality, including a +30-second start function and cook/defrost function by weight and time. Other features include:
10 power levels
six auto-cook menus (potato, pizza, popcorn, beverages, frozen vegetables, and reheat)
900W power output
child safety lock.
Is the Kmart 28L microwave worth it?
Kmart's 28L microwave is a decent mid-range option for under $100 and comes with additional features that don't go unnoticed, like a +30-second start and defrost function by weight and time. However, you could be getting a model with far more than 900W of power for an extra $20, from a brand like Panasonic, so it's something to keep in mind.
Kmart 34L microwave (glass door) review – $119*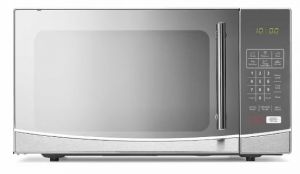 This glass-front Kmart microwave is a little fancier and has a capacity ideal for larger households. In terms of price, we're still lowballing below what you'd expect to pay for most modern microwaves of that calibre, so it still represents a bargain buy. When it comes to extra features, this one fares a little better than the previous models above, but only just. It still has basic functions like six pre-set programs (for potato, pizza, popcorn, beverages, frozen vegetables, and reheat), 10 power levels, and a child safety lock. Additional features include:
timer/clock
cook/defrost by weight
LED display
mirror panel and glass door.
Is the Kmart 34L microwave worth it?
The Kmart 34L microwave is sleek, modern, and quiet, with all the functions you need to get the job done, but for a model costing more than a green note, we'd expect a little more in terms of features and functionality, including options for cooking bread, pasta and meats. Online reviews for this model are fairly positive though, so it's a matter of whether you want to see your dollaroos stretch further.
---
More microwave guides:
---
Written by Megan Birot: Home & Lifestyle Editor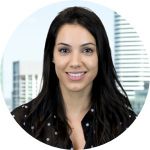 Megan is Canstar Blue's Home & Lifestyle Editor, leading the team that focuses on consumer products and services, ranging from supermarkets and groceries to home and personal appliances and retail stores. She interprets Canstar Blue's bespoke research on the thousands of brands that we compare, rate and review, to help shoppers make better purchasing decisions.
Meet the Editorial Team
*Prices taken from respective retailers, correct as of September 2022.
What do customers think about Kmart microwaves?
In 2021, Australian customers gave Kmart 4 out of 5 stars for overall customer satisfaction for microwaves.