Kmart Microwave Ovens Review
Sometimes there's simply no need to pay more than you need to for something. Do you really need that fancy loaf of bread? Would the cheap airline get you from A to B just as easily? The same logic applies to household appliances. Are the most expensive models really worth the extra cash? When it comes to microwave ovens, they are all capable of heating your food through, so why not go with a cheap one? If that's how you feel, you should check out the range from Kmart.
What microwave ovens does Kmart have?
As a discount retail chain, Kmart isn't world renowned for its kitchen appliances, but that doesn't mean they aren't up to the task at hand. There are four different Homemaker models to pick from, and this review will look at each of them in detail to determine if they are worth adding to your kitchen or not.
White 20L microwave oven – $49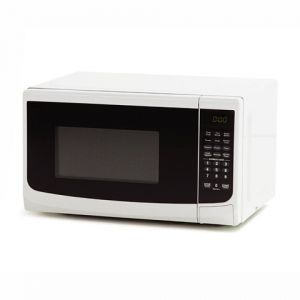 This 20L capacity white Kmart microwave oven is probably the cheapest microwave in Australia. At $49, it costs about as much as one stop at the petrol station, so it really isn't a significant investment at all. Given that the lowest microwave price listed on Appliances Online is $117, it's fair to say that this microwave fares far better than the rest when it comes to price.
But price is only half of it. We also need to have a look at the extra cooking features this microwave has, as more expensive ovens tend to have much more advanced features that make life easier for their owners. For such a cheap oven, this model has a decent amount of extra features:
A push-open door for easy access
Up to 99 minutes of cooking time
Six auto-cooking menus as well as a defrost setting
Child safety lock
11 power-levels
Is this microwave worth the $49?
Well, if you're strapped for cash and don't really care about fancy features and advanced cooking modes, then it would be hard to go past this model. It can perform all of the basics you'd require from a microwave, and you don't have so save up for long (if at all) to buy one. But it would also be worth looking at slightly more expensive ovens that have more capabilities.
A lot of microwaves in Australia go for around $100-200. These are still extremely cheap, but come with a few features (e.g. convection capabilities) that make your life a little bit easier. So this microwave is definitely worth the money if you're looking for a basic model, but it might be worthwhile looking at what else is out there in the budget range.
White 28L microwave oven – $75
Still under $100, this 28 Litre microwave oven from Kmart is also perfect for budget-shoppers. This little machine has a stylish appearance that will look great in any kitchen, but is extremely similar to the model before it in terms of extra features. It has the following:
900W of output
10 power levels
6 auto-cook menus
Defrost by weight and time
Is this microwave worth the $75?
Our answer to this is going to be extremely similar to the previous one, as it is so cheap yet really lacks any features beyond what you'd expect any half-decent microwave to do. So consider your options and look to other budget options before settling on this, as an extra $50-100 could save you a lot down the line.
Steel front 25L microwave oven – $89
The Kmart microwaves start to get a little bit fancier from here. This steel-front stainless steel microwave has a white interior cavity with a black exterior, so it will look impressive in most modern kitchens. In terms of price, we are still low-balling below what you'd expect to pay for most modern microwaves in Australia, so it still represents a bargain-buy.
When it comes to extra features, this one fairs a little better than the previous two, but only just. It still has only the most basic features and functions, such as:
Electronic touch pad controls
10 power levels
Defrost by weight/time
6 auto-cooking modes
900W output power
99 minute timer
Child safety lock
Is this microwave worth the $89?
At less than $100, you can probably afford to look for some options that are slightly more expensive, as the general rule is that more expensive ovens have more features to justify their price. Check the range from Appliances Online to have a look at other budget microwaves on the market. If you've done this and decided not to get a different one, then this microwave is absolutely a worthwhile purchase.
25L convection oven – $119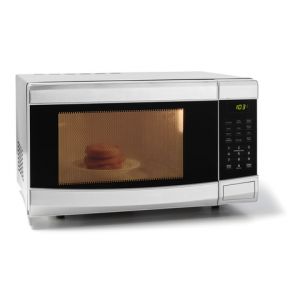 The last of Kmart's four microwaves is this 25L convection microwave oven, which goes for around $120. Convection ovens or microwaves are appliances with fans on the inside which evenly distribute the heat, ensuring that food is cooked perfectly and crisply. This microwave is the most expensive on the list, and is the only one here that costs around the same as the cheapest on the market.
For features it is also the same as the previous microwave, except that is has 11 power levels instead of 10. The biggest difference is that it has a whopping 2300W convection output power, making it significantly stronger than the other Kmart ovens.
Is this microwave worth the $119?
You've probably picked up on this by now, but Kmart microwave ovens are by far the cheapest on the market, and they are also among the most basic. With the exception of the last model – which even then still barely has anything beyond basic – Kmart's microwaves lack any kind of distinctive features and programs that other more expensive makes have. But that could be exactly what you're looking for.
Microwave Oven Reviews & Ratings
What do customers think about Kmart Microwaves?
In 2017, Australian customers gave Kmart 3 out of 5 stars for Overall Customer Satisfaction for Microwaves.