Review of Rinnai Portable Heaters
Founded in Japan in the 1920s, Rinnai has become one of the world's leading manufacturers of heating appliances, now selling models in 17 countries around the globe, including Australia. In this review, Canstar Blue looks at Rinnai's range of portable heaters, including their features and prices, to help you make a more informed purchase decision.
Rinnai produces both entry-level and high-end appliances that are said to be designed with innovation and efficiency in mind – something you might have come to expect from a Japanese brand. But how do its portable heaters really stack up? Read on to find out.
Rinnai portable heaters
Rinnai makes two types of portable heaters – with natural gas or LPG (bottled gas) the fuel type. It also has unflued and flued heaters which come with a flue kit for installation. The main difference between the two is that unflued heaters require no installation and can be stored away, while flued space heaters required a flue in the installation and are designed to be fitted into an existing fireplace.
Rinnai natural gas portable heaters
These portable heaters are designed to connect to a mains natural gas connection in the home. There are similar models also available for LPG connections. Let's take a look at a few standout models.
Rinnai 650SN Cosyglow Unflued Radiant Heater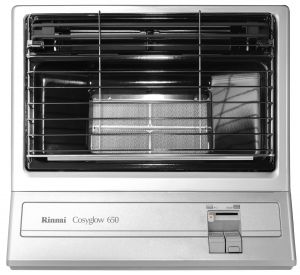 Rinnai claims its 'Cosyglow' series provides simple yet reliable portable heaters. This model uses a battery ignition system so you don't need to connect to a power outlet or bring out any extension cords to operate it. The 650SN Cosyglow comes with a compact design, with moulded handles at the sides to reduce the space used by the heater and to help move it from room to room with ease.
According to Rinnai, it can warm rooms of between 23 and 42 square metres in size depending on your local climate. It has simple manual controls with two switches to turn on & off, and a slider for half or full heat options. It requires pushing in a button underneath the 'on' switch before holding down the switch itself for ignition. Some other safety features include a tilt switch and an oxygen depletion safety device. This enables the heater to shut off when it's knocked over, or if there is not enough oxygen in the room. For the setup, all you need is a natural gas connection in your home and a professional to take care of your gas plumbing.
Dimensions (DxHxW): 250mm x 405mm x 440mm
Gas Input Range: 5.50-11.00MJ/h
Colour: Platinum Silver
Warranty: 3 years
Rinnai AV25SN3 Avenger Heater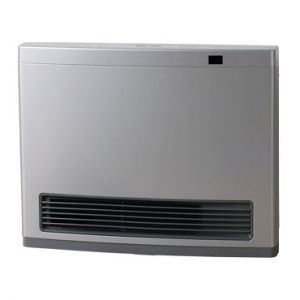 The Rinnai Avenger model is said to be designed with low emissions technology and ideal for large open areas. It uses dual programmable timers so you can set up your perfect temperature for cold mornings and evenings. There is also a remote control that allows you to change the temperature or switch on or off, all from the comfort of your couch.
Dimensions (DxHxW): 245mm x 485mm x 610mm
Colour: Platinum Silver
Warranty: 5 years
Rinnai LPG (bottled gas) portable heaters
If you don't have a mains gas connection in your own, LPG portable heaters are a viable option. While models are largely similar to the aforementioned type, be sure to check prices as LPG models often prove more costly upfront, as well as in ongoing expenses.
Rinnai 650SL Cosyglow Unflued LPG Radiant Heater
Rinnai also produces its Cosyglow portable heaters with the LPG fuel type. The Rinnai 650SL Cosyglow Unflued model comes with the same features and sizes as the natural gas model. See the video above for a detailed review. Similarly, you can also purchase the Rinnai 'Avenger' model with the LPG fuel type if your have an LPG connection. It has the same features and size.
Rinnai EnergySaver Flued Heater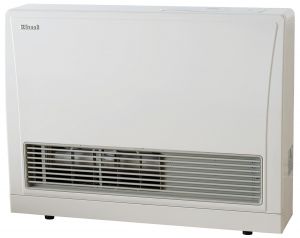 An option for installing a heater into your home, Rinnai also produces several flued options as mentioned earlier. The K559FTL EnergySaver Flued LPG Heater + Flu Kit is said to provide a discreet installation with a slim design. It has a built-in fan that aims to distribute hot air evenly throughout the room and a 'cool touch' for safety. The digital control allows you to schedule your heating and gives you a pre-heating setting in order to reach your chosen temperature at the time you have programmed. Maintenance wise, the control panel will indicate when the filter needs attention, but it is recommended to clean it every week regardless. According to Rinnai, the heater can warm rooms of between 47 and 85 square metres, depending on your local climate.

Are Rinnai portable heaters a good bet?
A difficult part of choosing a portable heater is that they are not regulated by the government's energy ratings scheme, so you won't find many energy ratings labels on portable heaters. Gas heaters can be pricy to purchase, most costing around the $800 mark. Nevertheless, with gas as the energy source, it should cost much less in the long run in terms of your power bills.
Rinnai portable heaters are generally quite powerful, with a minimum power output of 1000W. If you're considering a gas heater to get you through the chilly Australian winter days, Rinnai may have a portable heater for you. It may be a wise idea to consider online ratings – such as ours – before heading into store as it can help give you an insight on how Rinnai portable heaters compare to other brands in the eyes of consumers.
Portable Heaters Reviews & Ratings
About the author of this page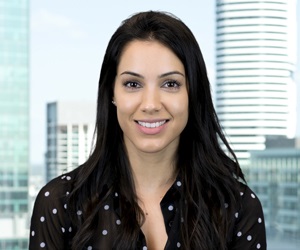 This report was written by Canstar Blue's Home & Lifestyle Content Lead, Megan Birot. She's an expert on household appliances, health & beauty products, as well as all things grocery and shopping. When she's not writing up our research-based ratings reports, Megan spends her time helping consumers make better purchase decisions, whether it's at the supermarket, other retailers, or online, highlighting the best deals and flagging anything you need to be aware of.
What do customers think about Rinnai Portable Heaters?
In 2019, Australian customers gave Rinnai 5 out of 5 stars for overall customer satisfaction for portable heaters.
Rinnai Portable Heaters
Canstar Blue
Award:
Overall Satisfaction