If you're looking for a simple plug-in and go heating solution this winter, then an electric heater could be the ideal choice for you. There are plenty of types and models to choose from available at different price points to suit just about any budget, so you're spoiled for choice. For a comprehensive buying guide on electric heaters, continue reading.
Types of electric heaters
There are a number of types of heaters to choose from. Whether you're looking to heat a smaller space, or larger living spaces, you can find a type of heater that suits your needs. Electric heater types include:
Which type of heater is cheapest to run?
Different types of electric heaters will attract different usage costs. Heaters that use fans or take longer to heat up may use more electricity in the long run, whereas other types of heaters may disperse heat in a less energy efficient way. To get a better idea of how much your electric heater costs to run, compare winter heating costs. 
---
Winter Heating Costs Explained
---
Oil-filled column heaters
Oil column heaters are an oil filled electric heater that disperses heat for extended periods of time. The oil inside the fins is heated without the outside of the unit getting too hot to touch. This type of heater can be used to heat medium sized rooms and will still produce heat for a period of time after the appliance is switched off. They are a relatively cheap heating appliance retailing between $15 and $400. 
Oil-column heater pros and cons
Pros:
Suitable for people with allergies: they don't trigger airborne allergies or circulate dust within the space due to no fan being used. 

Energy efficiency: turn most of the energy into heat leaving only a small amount of unconverted energy. Can also use energy efficient functions to conserve electricity. 

Stay warmer for longer: even after being switched off, oil column heaters remain warm for a period of time, potentially saving electricity while keeping you warm. 
Cons:
Higher risk of burns: although the external unit doesn't become boiling hot, it still warms up enough to pose a risk for burning. 

Expensive to use: this appliance takes longer heating up meaning you may use more electricity in the long run. 

Bulky: they are a larger appliance compared to other heaters and can take up a fair bit of space.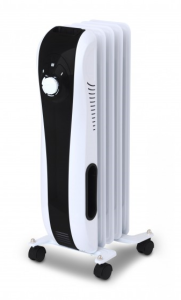 Cheap oil column heater
Goldair 1000W 5-Fin Oil Column Heater
Goldair is known for its heating appliances including electric blankets and heaters. The Goldair 5-fin oil column heater retails for $69 making it a cheaper heating option and features three heat settings, adjustable thermostat and an integrated carry handle so you can easily move it from room to room.  
Electric panel heaters
Electric panel heaters can be a great option to heat larger rooms and are worth considering if you want a more subtle appliance. Due to their space saving and slim design, a panel heater can be used in homes with limited floor space. Retailing between $40 and $700 there are plenty of brands and models to choose from when looking for a perfect fit. 
Panel heater pros and cons
Pros:
Slim and lightweight: they are a more compact design of heater that can be freestanding or wall mounted. 

Consistent heat: they heat and disperse air creating a consistent heat throughout the room. 

Long-lasting warmth: panel heaters are suggested to be a good fit for homes that keep the heater running for extended periods of time. 
Cons:
Expensive to run: if a heater uses a fan to disperse heat, they can attract higher running costs in the long run. 

Expensive up-front costs: panel heaters tend to be more expensive to buy up-front, however with a broad range of price points you can find more budget friendly models. 

Cheap panel heater
De'Longhi Electric Panel Heater 
The De'Longhi 2400W Panel Heater is a relatively cheap option retailing for around $170 as opposed to other models reaching nearly $600. It is said to provide fast and uniform warmth for small to medium sized rooms and has adjustable knobs that make setting the desired temperature easy.  
Radiant heaters
If you're wanting a heater that can help you get warm quickly, then you should consider buying a radiant heater. Electric radiant heaters have an exposed heating element that helps to heat anything directly in front of the appliance. They come in portable designs but can also be bought in wall-mountable designs. Radiant heaters retail between $30 and $1,000 or more depending on size and model, but there's plenty to choose from on the market.  
Radiant heater pros and cons
Pros: 
Instant warmth: radiant heaters have a short heat up time so you can sit down in front of them and heat up fast. 

Affordable: they are a relatively cheap option for heating with some models retailing for as little as $30. 
Cons: 
Chance of burning: because they have an exposed element, radiant heaters create the risk of burns if someone touches the element. 

Limited heating: this type of heater is used to heat what is directly in front of it, so using them to heat a large room may prove difficult. 

Energy efficiency: radiant heaters can have high running costs and are considered a more expensive type of electric heater. Some models are more energy efficient than others so some extra research can help you decide which is best. 

Cheap radiant heater
Kmart radiant heater
Kmart are known for their cheaper entry level appliances and their radiant heater is no different, retailing for $59. Its radiant heater features an adjustable thermostat and four quartz heating tubes to help heat the immediate surrounding space.  
Electric fan heaters
Fan heaters are considered to be a more popular type of portable heater due to their ability to heat small spaces for shorter periods of time. They retail from $15 to $900 for larger premium models, giving plenty of options for price and size depending on heating needs. Fan heaters use a heating element under a fan to create hot air, which is then circulated throughout the room. 
Fan heater pros and cons
Pros:
Small and portable: fan heaters will generally come in smaller models meaning they're easy to move from room to room. 

Quick to warm up: you won't have to sit and wait too long for a fan heater to start circulating heat. 

Can be used throughout the year: like some

reverse-cycle air conditioners

, some fan heaters come with both settings for heating and cooling. 
Cons:
High running costs: fan heaters are not the most energy efficient appliance and can be expensive to use due to their limited heating capabilities. 

Noisy: this type of heater creates far more noise due to the fan, with some growing louder as you switch to higher fan settings. 

Cheap fan heater
Heller Upright Electric Fan Heater
The Heller Electric Oscillating Fan Heater is a compact floor standing or desk heater that retails for $39. With multiple heat and fan settings, it can be an ideal choice for at your desk or near your bedside. 
Ceramic heater
Ceramic heaters get their name from the ceramic block built-into them that absorbs heat before emitting it throughout the room. There are standard ceramic heaters as well as ceramic fan heaters and tower heaters. Due to the number of types of ceramic heaters, retail prices may vary but can start at $50 and reach upwards of $150 for premium models. 
Ceramic heater pros and cons
Pros: 
Portable: due to their smaller design, ceramic heaters can be easily moved from room to room. 

Fast heat-up time: This type of heater can generate hot air almost immediately after being switched on, making them an ideal choice for quick and simple heating. 

Cost: One of the cheaper heater options available, a ceramic heater may suit those on a budget. 
Cons:
Not ideal for large spaces: ceramic heaters are an ideal heater for heating small spaces, however if you wished to heat a larger space you could run into some issues. Similarly to radiant heaters, ceramic heaters will predominantly heat whatever is directly in front of them. 

Little heat retention: Once the heater is switched off the heat in the space disperses and the room will begin to cool down again. 

No temperature controls: the temperature output from ceramic heaters can fluctuate, and if a safety switch is triggered it could auto shut off, creating inconsistent heat flow. 

Cheap ceramic heater
Dimplex Ceramic Heater
Retailing for around $100, the Dimplex 1.5kW Ceramic Heater is a stylish choice for heating. Featuring brushless DC motor technology, you can expect a more energy-efficient appliance that can warm a small space efficiently.  
Electric fire heater
Electric fire heaters create a great go-between for a traditional fire and the convenience of an electric heater. Electric fire heaters can create an ideal atmosphere without the hassles of firewood, soot and smoke. Retailing between $100 and $400, you can find models in a number of sizes and types – including portable models – to heat different sized rooms. There are also wall-mounted designs or freestanding to fit the design and décor of any given room.  
Electric fire heater pros and cons
Pros: 
Safe to use: electric fire heaters don't produce smoke or create an actual flame, making them a safer choice compared to a traditional fireplace. 

Easy to install and move around: with plenty of portable models they can be moved from room to room, with larger models are simple to install.

Minimal maintenance: Because they do not function like a traditional fireplace, you will not have the added costs and maintenance for wood, fire starters, and so on. 

Adjustable temperature: you can choose how warm you want your space to be whereas with a live fire, you simply have the one temperature. 
Cons:
Not as warm as a fireplace: while there are plenty of pros to having an electric fire heater, you won't get the same heat output as a standard fireplace. 

Cheap electric fire heater
Dimplex Mini Cube Optiflame Portable Heater
Among Dimplex's range of heaters is the Mini Cube Optiflame Flame Heater. This portable heater is ideal for heating smaller spaces and features a modern curved steel casing, two heat settings and Optiflame with LED coal effect. 
What to consider when buying an electric heater
There's a few areas to consider when you're looking to buy an electric heater, including: 
Type of electric heater:

The type of electric heater you choose for your home will depend on your individual heating needs. If you need to heat a larger space a panel heater may be an ideal choice, otherwise for smaller spaces a fan heater or electric fire heaters could be the go. 
Size of area:

Different electric heaters are better suited to some room sizes than others. As a general guide you can match the appliance watt power to the room size: 
| Room size | Watt power |
| --- | --- |
| Small room (5m2 – 20m2) | 1000W – 1500W |
| Medium room (20m2 – 30m2) | 2000W – 2500W |
| Large room (30m2 – 50m2) | At least 2500W+ |
General guide only
Energy star rating:

Checking the energy star rating for an appliance can help determine how much energy your heater may use and how it could impact your energy bill. 
Running costs:

Running costs will change depending on a number of factors. If it has a low energy rating, the specific heat setting you're using and how long you leave it on for can all impact running costs. 
Purchase cost:

While some heaters are costlier to buy up front, if they have a better energy rating it can save you money in the long run. There is a broad range of price points for heaters, so price doesn't have to be a barrier between keeping warm. 
Which type of electric heater should I buy?
With so many types of heaters to choose from, it can be tough to determine which one would be best for your home. It all comes down to personal preference and the space you're wanting to heat. Some people look for convenience or space saving over extreme heat capabilities, while others want the best bang for their buck. Either way you can find a heater to keep you warm all winter long. 
Picture credits: New Africa, Shutterstock.com
Original Author: Tahnee-Jae Lopez-Vito