Sunbeam portable heaters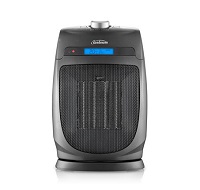 Sunbeam is another small appliance specialist and has a strong presence in the kitchen, but also comes to play with a few portable heaters as well. It offers a range of small ceramic and electric panel heaters with basic designs and functionality. However, even the smallest models produce around 1800W of power. Most heaters feature adjustable thermostats, which is notable given their price. Prices start at about $60 and max out at close to $150. For the larger portable kinds, there are sturdy caster wheels to help you move the heater around with you. Sunbeam rated three stars in every research category.
Now you have a good idea about the brands, let's review some of the things to consider before buying a new portable heater.
Types of portable heaters
There are three main types of electric portable heaters – ceramic, panel and column heaters.
Personal ceramic heaters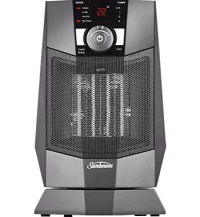 Personal ceramic heaters are perhaps the most portable of the lot, as a lot are less than 60cm tall and feature handles so you can simply pick them up and take them wherever you want to go. Personal ceramic heaters generate heat by using a heating element of what's called Positive Temperature Coefficient (PTC) ceramic. They come with self-regulating temperatures, meaning the power supply decreases when electric voltage is applied to the PTC ceramic material. This in effect means they are potentially one of the more energy efficient heaters out there, and their rather compact nature means they are one of the cheapest types, too. The trade-off with this is that generally they are best for heating only a bedroom or study, rather than a whole lounge room or large area. Fan heaters also fall into this category.
Panel heaters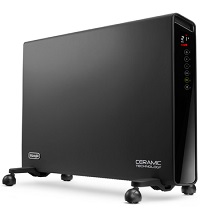 Panel heaters may look more like an LCD TV than a heater, especially when finished in glossy black. Also called 'convection' heaters, panel heaters primarily use air convection currents that circulate through the body of the appliance. This heats up the air, causing it to expand, which makes the hot air rise. Most personal portable panel heaters use an electric heater element, which is good for cost-effectiveness, but not the greatest for electricity efficiency. Panel heaters are generally pretty quiet to run, yet their very method of operation means hot air is usually dispersed upwards. This makes it ideal for generally heating a lounge room or similar, but not so great if you want to heat a targeted area, such as where you are sitting or studying.
Oil column heaters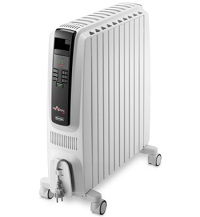 Oil column heaters are still popular and are often on caster wheels for easy maneuvrability. As the name might describe, oil heaters are a form of convection heater, yet do not use oil as fuel. Tower heaters are instead electrically heated, and the oil is used as a heat reservoir. Inside the metal columns, silicone oil flows freely around the heater. The electric heating element heats up the oil and the oil flows around the heating columns. Oil tower heaters generally have lower surface temperatures, making them suitable for kids' rooms. However, they can be susceptible to being a potential fire risk if any materials are placed over the heater. Oil tower heaters are generally small in stature, probably best suited to bedrooms or studies.
Gas heaters
Also available to buy are gas-powered portable heaters. Rinnai seems to be the leading brand when it comes to gas heaters, with most appliances costing upwards of $1,000. However, with gas the energy source, gas heaters should cost much less in the way of ongoing power bills.
Energy efficiency
Our survey found that upfront price tends to dictate portable heater purchase decisions rather than energy efficiency – but this could be a costly mistake. As with all household appliances, it's important to consider ongoing running costs, as well as the initial upfront cost. The problem for consumers looking to buy a new portable heater, however, is that they are not regulated by the government's energy ratings scheme, meaning you will not see the energy ratings label on most portable heaters, like you would with your refrigerator or washing machine, for example.
This presents a big problem for consumers looking to buy a portable heater. We all want to stay warm during winter, but we don't want to be left with a shock energy bill. Our survey found:
74% of households have concerns about the energy their portable heater uses
81% limit their use of portable heaters in an effort to save money on energy bills
85% would have purchased a portable heater with a high energy efficiency rating if they were available
So, what can you do to avoid an energy-sucking portable heater? Well, just like with your major appliances, you can generally expect the most efficient heaters to cost more upfront. If you buy a heater for under $50, you should expect it to cost you plenty of cash in the long run. Be sure to consider the wattage of any heaters you're considering – the greater the wattage, the more power the appliance will need to use. A general rule of thumb is that, the harder an appliance is required to work to achieve its settings, the more energy it will subsequently use. Keep this in mind when choosing your temperate setting! It's also worth reviewing specific models online to find sources of information relating to ongoing running costs.
Whichever type of heater you're looking for, we hope you find this review helpful.