Dimplex & Rinnai toast the competition in portable heater ratings
Australia might be renowned for its sun-drenched beaches and hot summer days, but of course it does get a little chilly Down Under in the winter months, especially the further south you go. If your place isn't fit for a fireplace, and you don't have a reverse-cycle air conditioner to last you year-round, you can always snuggle up by a good portable heater.
If you're looking to buy one to keep on hand for when temperatures plummet, we can help you narrow down your search. Canstar Blue has once again conducted a survey of 1,200 Aussies for feedback on the portable heater(s) they've purchased and used in the last three years. Respondents rated brands on important factors like their effectiveness, functionality, reliability, quietness, design, value for money and overall satisfaction. Brands which received the minimum sample size of 30 responses are compared in our latest report.
Rinnai has collected another victory to add to its three-year winning streak, but this time with Dimplex as joint winner. Both brands earned a five-star rating for reliability and overall satisfaction, plus several other categories.
Best Portable Heaters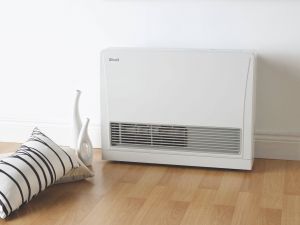 Here are the best portable heaters in Australia, as rated by consumers in Canstar Blue's 2020 review:
Dimplex & Rinnai

Goldair

DeLonghi

Arlec

Dyson

Target

ALDI

Kmart

Sunbeam

Kambrook

Heller

Kogan
Dimplex and Rinnai were an unbeatable duo in this year's ratings, with each receiving five stars for overall satisfaction. Most brands rounded up the results with a solid four-star rating overall, except for Sunbeam, Kambrook, Heller and Kogan which finished on three stars overall.
It's worth noting that Goldair was another firecracker in our latest ratings, achieving the only five-star review for value for money. Arlec and Dyson similarly got full marks for their design and appearance.
To help you identify which portable heater might be best for your needs and budget, read on to find out what each of the 13 brands in this year's review have to offer. We'll also look at some important factors to consider when buying one.
Portable Heaters Compared
Dimplex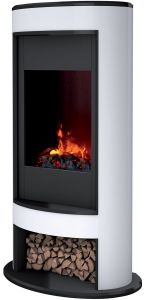 Dimplex is known as a brand that produces cost-effective cooling and heating solutions, and it certainly has a large range of portable heaters. It has simple column heaters that cost as little as $130. There's also several high-end options like the Dimplex Conner Mini Suite model (pictured), which works as an electric portable heater with a flame effect for a funky alternative to a fireplace. Some Dimplex portable heaters even have built-in Bluetooth speakers!
Most portable heaters from Dimplex sit between the $150 and $700 mark, except for electric fire models which cost over $1,000. So, there are plenty of choices to suit different budgets.
Dimplex's portable heater range includes:
Dimplex 2.4kW Tall Ceramic Heater: $130*

Dimplex OAKHURST Electric Fire Heater: $999*

Dimplex Electric Fire Heater (FIE-S-LF): $2,499*
Dimplex made a huge comeback since last year, moving up almost the entire leader board after achieving five-star reviews for reliability, quietness, design and overall satisfaction. It got four stars everywhere else.

Rinnai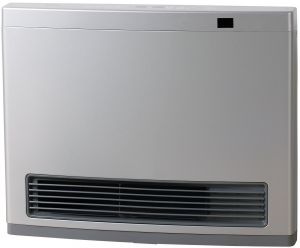 Rinnai produces a range of portable electric and gas heaters that seem pretty cost-effective and offer simple yet powerful heating. The minimum you can expect is about 1000W of heating power, while some models deliver over 2000W.
Most Rinnai heaters are priced around the $900 mark, but can go up to just over $2,900 for its flued natural gas and LPG gas models.
Many contain basic caster wheels, while the gas models can be moved around a room with the hose attached to the mains. The Rinnai portable heater range also features gas fireplaces, giving you an open fire feeling without the hassle that comes with a real fireplace. Its heaters come with pretty generous warranties of three or five years.
Rinnai's portable heater range includes:
Rinnai 2200W Electric Panel Heater: $625*

Rinnai Titan Unflued Natural Gas Radiant Heater: $1,137*

Rinnai EnergySaver Flued Natural Gas Heater: $2,901*
Rinnai continues to dominate our portable heaters ratings, with the brand now in its fourth year of rating best for overall satisfaction. It similarly achieved five stars for effectiveness, reliability and functionality. Rinnai also got four stars everywhere else.

Goldair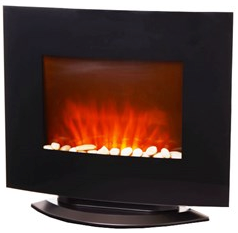 Goldair has a wide range of portable heaters on offer. These include fan, ceramic, convector, radiant, oil column, panel and even heaters with a flame effect. Some of its panel heaters are Wi-Fi enabled, so you can control them via your smartphone. These come with either 1000W, 1500W or 2000W of power to suit whatever size room you have.
Most come in a standard white finish, but you can also find some fun colours such as retro yellow or black. Its Ecosave panel heater uses convection and radiant technology to draw cold air in and radiate warm air out, which in turn is said to use less electricity. Goldair heaters are available from $19 at Big W, and reach over $500 for its radiant heater range.
Goldair's portable heater range includes:
Goldair 2400W Fan Heater: $19*

Goldair 2000W Upright Fan Heater: $34.95*

Goldair 2100W Ceramic Tower Heater: $79*
Goldair earned a five-star review for value for money, before ending on four stars for overall satisfaction and in the remaining categories.

DeLonghi

DeLonghi is a home appliances specialist, mostly known for its popular range of coffee machines. Its line of portable heaters includes a wide selection of oil column heaters, sleek panel heaters and small ceramic personal heaters. A lot of them come in compact, ergonomic designs perfect for plonking in the corner of a room and carting around with you during a cold winter's morning.
Expect features like variable power settings, room thermostats and automatic switch off systems for safety. Prices for the oil column heaters start at around $100, with a few costing near $800. For panel heaters, the most you can expect to pay is about $500, while for the small ceramic models you might pay anywhere from about $80 up to $200.
DeLonghi's portable heater range includes:
DeLonghi Cereamic Heater: $179*

DeLonghi Tower Ceramic Heater: $199*

DeLonghi Macro Electric Radiator System: $899*
DeLonghi achieved a solid four stars in most categories. The only exception was value for money, where it got three stars.

Arlec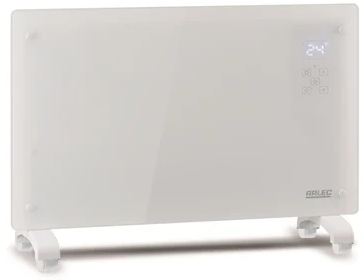 Australian-owned company Arlec, has everything from lighting and cooling & heating, to power boards and security products. When it comes to staying warm, it offers a variety of panel heaters, freestanding heaters, fireplace heaters as well as bathroom heating and heated towel rails. Its line of portable heaters includes a small list of ceramic, convection and micathermic heaters. These provide 2000W worth of heating, with Arlec's panel heater range offering a much smaller 400W power output. 
For a freestanding fireplace, Arlec also sells a 2000W and 1850W electric model.
The portable heaters currently available from Arlec include:
Arlec Lissome 400W Eco Panel Heater: price unavailable

Arlec Simone 400W Eco Panel Heater with Digital Timer: price unavailable

Arlec 2000W Oscillating Metal Ceramic Heater: price unavailable

Arlec 2000W Micathermic Heater: price unavailable
Arlec achieved a five-star review for design, and scored four stars everywhere else.

Dyson

You might be more familiar with Dyson's range of vacuum cleaners, but it also offers one portable electric heater at the time of writing ─ the Dyson Hot+Cool Fan Heater. Featuring a unique, blade-free design, the model can be used all year-round and placed either on the floor, or on a table or work desk.
Dyson's fan heater is said to offer long-range heating, with the lack of blades and Air Multiplier technology also stated to ensure constant and even airflow throughout the room. The model is also described as easy to clean and safe to use, and automatically shuts off when tipped over. The brand additionally claims the heating elements never go beyond 200°C, making sure there's no 'burning smell' that's typically created by dust being burned by extreme heat.
The Dyson Hot+Cool Fan Heater is controlled using a remove control. It comes in a couple of designs:
Dyson Hot+Cool Fan Heater (Black & Nickel): $599*
Dyson Hot+Cool Fan Heater (White & Silver): $599*
Dyson rated five stars for design and four stars in most other categories, including overall satisfaction. The only exception was value for money, where it got three stars.

Target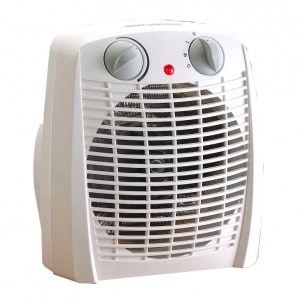 While not available all year around, Target does sell a few heaters in stores during the winter months. Previously, its range included an 11-fin heater, a compact ceramic heater and a radiant 3-bar heater. Expect fairly basic functionality such as different heat settings and temperature sensors.
Target's personal heater typically retails for $15, while its radiant heater can be found for as low as $30. Its budget friendly compact heater has everything you'd expect including an adjustable thermostat, two heat settings and a power indicator light. 
Target's portable heater range includes:
Target Fan Heater (TFANH19): price unavailable

Target Convection Heater (TCONH19): price unavailable

Target 11-Fin Oil Heater: price unavailable

Target Radiant 3-Bar Heater: price unavailable

Target Compact Ceramic Heater: price unavailable
Target received four-star reviews in most categories, including overall satisfaction. The two exceptions were functionality and quietness, where it got three stars.

ALDI

Well known for its Special Buys, ALDI typically offers a few heaters in its middle aisles just before the 'cold snap' hits every year. In recent years, it has offered a 7-fin oil heater, a 2000W tower ceramic fan heater, and a convection heater. Some features offered include various heat settings, a turbo fan function, an adjustable thermostat, plus a 24-hour timer so you can set and forget about your heater.
Prices have previously started from around $28, with the most expensive ALDI heater costing $70. But you'll have to keep an eye out for its Special Buys to see when they're back in stores. Keep in mind that stocks are always limited, so it's best to get in quick.
Some of the different portable heaters included in ALDI's Special Buys include:
ALDI 7-Fin Oil Heater

ALDI Oscillating Ceramic Fan Heater

ALDI 2000W Tower Ceramic Fan Heater

ALDI Convection Heater

ALDI 1800W Flame Effect Heater 
ALDI received four-star reviews for value for money and overall satisfaction, and three stars in the remaining categories.

Kmart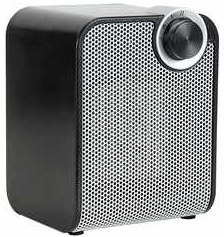 You can keep warm during winter with Kmart's budget-friendly heater range. It features oil heaters, convection heaters and electric heaters. Its oil heater is designed with 11 fins, while one of its models also has an oscillating function that can double up as a fan. Although Kmart's portable heater line can change from time to time. 
Compact models can be had for around $15 and oil column heaters for about $80. Its $29 ceramic heater (pictured) features overheat protection, safety tip-over switch, two heat settings, plus an adjustable thermostat. The full range is stated to come with a 12-month warranty.
Kmart's portable heater range includes:
Kmart 1500W Ceramic Heater: price unavailable

Kmart 11-Fin Oil Heater: price unavailable

Kmart 2000W Convection Heater: price unavailable

Kmart 2400W Radiant Heater: price unavailable

Kmart 2000W Fan Heater: price unavailable
Kmart landed on four-star reviews for effectiveness, value for money and overall satisfaction. It got three stars everywhere else.

Sunbeam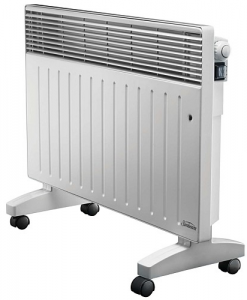 Sunbeam is an Australian home appliances brand but it seems like it has recently discontinued its line of heaters. However, you can still find its models around from a number of local retailers. Most heaters feature adjustable thermostats, which is notable given their price. Prices start at about $70 and max out at close to $140. For the larger portable kinds, there are sturdy caster wheels to help you move the heater around with you.
Its 2200W Convection Panel Heater features a slimline design with wheeled feet for maneuverability, suitable for small-size living areas. It has two heat settings, allowing variable temperature controls. Plus, its electronic thermostat is stated to detect changes in room temperature and adjust the heat output to maintain the selected heat level and it comes with a two-year replacement guarantee for peace of mind.
Sunbeam's portable heater range includes:
Sunbeam Convection Panel Heater: price unavailable

Sunbeam Compact Oscillating Ceramic Fan Heater: price unavailable

Sunbeam Compact Ceramic Fan Heater: price unavailable
Sunbeam scored a solid three stars across the board.

Kambrook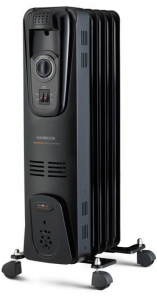 Kambrook produces a large range of portable electric heaters to suit most needs and household sizes. It offers a number of ceramic, fan, oil column, radiant and other alternative heating options. 
Some of its ceramic heaters are in a slimline tower shape, perfect for the corner of a room. Other than that, most Kambrook heaters feature basic designs, and simple yet powerful heating capabilities. Prices usually start from just over $50 for an upright fan heater, while the personal ceramic heaters start at around $89.95, with prices going up to $199.95.
Kambrook's portable heater range includes:
Kambrok Upright Fan Heater: $54.95*
Kambrook Personal Ceramic Heater: $89.95*
Kambrook 7-Fin Oil Column Heater: $109.95*
Kambrook Ceramic Tower Heater: $149.95*
Kambrook All-Round Stylish Ceramic Heater: $199.95*
Kambrook earned four-star ratings in most categories, such as effectiveness, but ultimately landed on three stars for overall satisfaction and the remaining categories.

Heller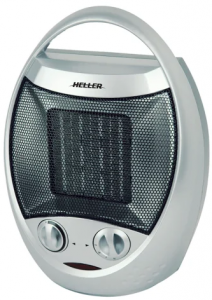 Heller offers a variety of heating solutions, with its portable range coming in a number of shapes and sizes. Expect heating capacities from 1000W to 3000W, which should be plenty to keep your toes toasty. A unique line of portable heaters from Heller is its remote-controlled strip heaters coming in options of 3000W, 2400W and 1800W, depending on the size of the room you want to heat.
You can find Heller heaters from as little as $30, going up to as much as $300. Its 2000W Upright Fan Heater is equipped with two heat settings, a safety tip-over switch and overheat protection. The range includes tower heaters, ceramic heaters, radiant heaters, panel heaters, oil column heaters and low-profile heaters.
Heller's portable heater range includes:
Heller 2000W Upright Fan Heater: price unavailable
Heller 2400W 11-Fin Oil Heater with Timer: price unavailable
Heller 2400W Electric Convection Panel Heater: price unavailable
Heller 2000W Oil Free Column Heater: price unavailable
Heller 1500W Ceramic Upright Fan Heater: price unavailable
Heller scored a four-star review for effectiveness and three stars everywhere else. 

Kogan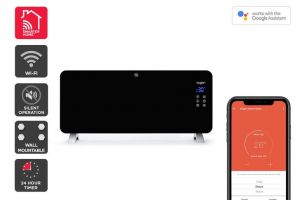 Kogan is an online-only superstore, selling everything from clothes to mobile phones and mobile phone plans, to cheap TVs and yes – cheap portable heaters. Aside from stocking a wide variety of other brands, Kogan also has its own branded heaters. It generally produces three categories of personal heaters – column, panel and ceramic.
Most Kogan portable heaters come in an 'off white' design, while some are sleek black, and prices start from around $50 and go upwards of $1,000, with most under $200. Kogan's SmarterHome 2000W Panel Heater has built-in Wi-Fi, allowing you to control the heater via your smartphone. While you're loading your online cart with a TV and a mobile phone, you may want to consider a cheap portable heater as well.
Kogan's portable heater range includes:
Kogan 4-in-1 Mini Fan Heater and Hand Warmer: $49.99*
Kogan SmarterHome 4.1kW Portable Air Conditioner (Reverse Cycle): $899.99*
Kogan SmarterHome 5.2kW Portable Air Conditioner (Reverse Cycle): $1,099.99*
Kogan scored a respectable four-star rating for both effectiveness and design, before rounding out the scores on three stars overall. 

What to consider when buying portable heaters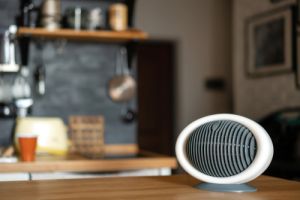 Now you have a good idea about the brands in our report, let's review some of the things to consider before buying a portable heater. Here's what our research found that influenced our respondents' satisfaction with their purchase, listed in order of importance.
Value for money: 29%

Effectiveness: 24%

Reliability: 22%

Functionality: 13%

Quietness while operating: 10%

Appearance and design: 1%
Can't choose between a couple of great contenders? It's worth keeping in mind that portable heaters don't come with energy efficiency star ratings like you would with your refrigerator or washing machine. So, you won't see a label instore that shows how much a particular heater will cost to run.
Energy efficiency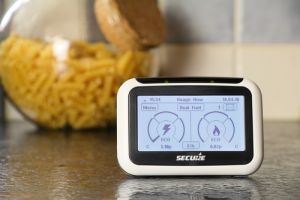 As with all household appliances, it's important to consider ongoing running costs, as well as the initial upfront cost. The problem for some consumers looking to buy a new portable heater is that not all types of heaters are regulated by the government's energy ratings scheme (Energy Rating Label). Instead, natural gas appliances including space heaters, ducted heaters and water heaters come with an industry-led Gas Energy Rating label.
We all want to stay warm during winter, but we don't want to be left with a shock energy bill. Here's what our respondents said when asked what they thought about being efficient during the cooler months:
51% limit their use of portable heaters in an effort to save money on energy bills

40% of households have concerns about the energy their portable heater uses

36% would have purchased a portable heater with a high energy efficiency rating if they were available
How much electricity does my portable heater use?
Even though most portable heaters don't come with a star rating, you can still find out how much electricity a model will use by making an estimate based on factors like:
The amount of kilowatts (kW) the portable heater uses
How much you pay for a unit of electricity ─ this should be written on your electricity bill
So, what can you do to avoid an energy-sucking portable heater? Well, just like with your major appliances, you can generally expect the most efficient heaters to cost more upfront. If you buy a heater for less than $50, you should expect it to cost you plenty of cash in the long run. Be sure to consider the wattage of any heaters you're comparing – the greater the wattage, the more power the appliance will need to use. A general rule of thumb is that, the harder an appliance is required to work to achieve its settings, the more energy it will subsequently use. Keep this in mind when choosing your temperature!
Types of portable heaters
There are three main types of electric portable heaters:
We'll give an overview of how each one works next.
Ceramic heaters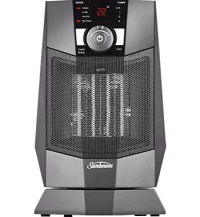 Personal ceramic heaters are perhaps the most portable of the lot, with many being less than 60cm tall and providing handles to help you easily move it to wherever you need to go. Personal ceramic heaters generate heat by using a heating element of what's called Positive Temperature Coefficient (PTC) ceramic. These come with self-regulating temperatures, meaning the power supply decreases when electric voltage is applied to the PTC ceramic material. This is why many find ceramic heaters to be potentially one of the more energy efficient heaters out there. Plus, the compact size means it's one of the cheapest types, too. The trade-off with this is that generally ceramic heaters are usually better suited towards heating a single bedroom or study room, rather than an entire living room or large space. Fan heaters also fall into this category.
Panel heaters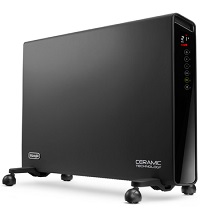 Panel heaters (also called 'convection' heaters) are typically ideal for small or well-insulated spaces. Otherwise, there's a good chance the warm air will just escape. This type of heater works by spreading convection currents throughout the body of the appliance to warm up and circulate the air. The warm air then rises to fill any cold spots around the room. Some of the perks of panel heaters is their compact size and their ability to keep the temperature in the room consistent. A downside is that they can use quite a bit of electricity, although there are now more energy efficient alternatives appearing on the market.
Column heaters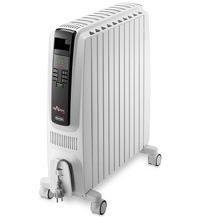 Column heaters use electricity to heat up the oil inside the columns (or fins), which then warms the outside of the metal column casings. Once the fins get toasty, the heat is distributed around the room via air convection and thermal radiation. Column heaters have been praised for their efficiency, since most of the energy consumed is turned into heat. Other types of heaters typically use a large portion of their energy to power a fan or motor which circulates the air around the room. Column heaters instead direct any leftover electricity, which hasn't converted into heat, to operate different functions like timers or different heating modes. Oil column heaters are generally recommended for people who prefer to heat a space for longer periods. However, these can be a potential fire risk if any materials are placed over the heater. 
Gas heaters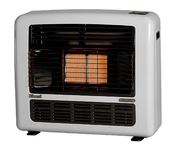 Flued and unflued gas heaters essentially burn gas fuel to make heat. For safety, the law in most places across Australia require gas heaters to use LPG. There are also other government regulations on how to use this type of portable heater. But one major thing you should know is that burning gas also creates air pollutants and water vapour, in addition to heat. Flued gas heaters channel all the gas, air pollutants and water vapour from inside the room to outside via a flue (or sometimes a chimney for non-portable heaters). Meanwhile, unflued gas heaters circulate everything indoors.
Whichever type of heater you're looking for, we hope you find this review helpful.
You may also be interested in:
About the author of this page
This report was written by Canstar Blue's home & lifestyle journalist, Tahnee-Jae Lopez-Vito. She's an expert on household appliances, grooming products and all things grocery and shopping. In addition to translating our expert research into consumer-friendly ratings reports, Tahnee spends her time helping consumers make better-informed purchase decisions on all manner of consumer goods and services, while highlighting the best deals and anything you need to be aware of.
Picture credits: Dmitry Galaganov/Shutterstock.com, SamJonah/Shutterstock.com.
*Prices taken from respective retailers, correct as of October 2020.