You'd be hard-pressed to find a single household in Australia that doesn't possess a refrigerator of some sort, even if it's only a little bar fridge. However, many of us own appliances on the lower end of the efficiency scale – possibly because they were cheaper to buy, or it could just be that we didn't have energy efficiency in mind at the time of purchase.
The question of purchase price versus energy efficiency is a longstanding one, and one that can plague anyone who's shopping around for a new appliance. A higher star rating for energy efficiency is generally correlated with a higher price tag, and many of us – more worried about our bank balance than the environment – opt for a cheaper, less efficient model. However, what many Australians don't realise is that by buying a less efficient appliance, they stand to lose money down the track in the form of higher electricity bills. Appliances have come a long way in energy-efficiency over the last 10 years or so, and chances are your fridge is this old. This is a chance to take a look at the energy-efficiency of your fridge, and see if you could do with an upgrade.
How energy-efficient is my fridge?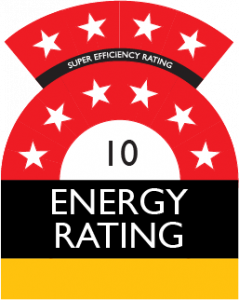 The simplest answer is to look at your energy star rating that should have come with the fridge when you bought it. Choosing a fridge with a low star rating over an energy-efficient model could leave you out of pocket $20 or more over the course of a year in extra electricity bills! This is only going to be amplified if your fridge is of a large capacity.
However, which costs you more in the long run, higher electricity bills, or a bigger initial purchase price? To try and answer this question, we've compared the purchase price and running costs of three different refrigerators, with energy efficiency ratings of one-star, three-stars and five-stars. The energy rating goes up to six-stars, but very few fridges are there yet. For a more even playing field, we're settling with five-stars. These figures were calculated using an electricity price of $0.33/kWh. Be aware that electricity rates vary across the country, so this will also impact your own personal running costs.
A small model suited to one to three people, this upright fridge from Fisher & Paykel has a capacity of 266L and comes with features such as a humidity controlled crisper and a cyclic defrost function. Despite its small size, it's punching above its weight as far as power-consumption is concerned, but what do you expect with a one-star energy rating?
Purchase price RRP – $1,299
Energy used each year – 362kWh
Annual running cost – $119.46
Running costs over 10 years – $1,194.60
Total cost of ownership over 10 years – $2,493.60
Total cost over decade per litre of capacity – $9.37
With a step up in efficiency, Fisher & Paykel introduces this 403L unit, best suited to a small-medium household. It features 'Smart Sensor' based cooling, which monitor temperature and humidity levels to maintain food freshness, and its crispers are also humidity-controlled. It's great to see the whitegoods giant from New Zealand offering smart 'trickle-down' features into their more entry-level fridges.
Purchase price RRP – $1,699
Energy used each year – 505kWh
Annual running cost – $166.17
Running costs over 10 years – $1,666.50
Total cost of ownership over 10 years – $3,365.50
Total cost over decade per litre of capacity – $8.35
Fisher & Paykel is back at it again with the whitegoods. This time it has a 517L fridge boasting three stars for energy efficiency. It is a slightly larger model, best suited to a household of two to four people. It's a top-mount fridge, meaning the freezer is easily accessible. It has built-in smart sensors, which keep close track of temperature and humidity to dial-in the correct settings for the food that's in your fridge. The vegetable crisper also has an adjustable humidity setting, which can mean freshness for longer.
Purchase price RRP – $1,149
Energy used each year – 461kWh
Annual running cost – $152.13
Running costs over 10 years – $1,521.30
Total cost of ownership over 10 years – $2,670.30
Total cost over decade per litre of capacity – $5.16
With a great mid-sized capacity of 442L, this fridge is suitable for a smaller family. It's a top-mount unit, which means an easily-accessible freezer. It has quiet operation, and features 'Smart Diagnosis', which means it can diagnose problems by itself, using the associated smartphone app you can download. This saves time trying to trawl through the internet looking for a solution. It also features LED lighting, which aids in emitting less heat, which can mean a boost in efficiency.
Purchase price RRP– $1,249
Energy used each year– 334Kwh
Annual running cost– $110.22
Running costs over 10 years– $1,102.22
Total cost of ownership over 10 years– $2,351
Total cost over decade per litre of capacity – $5.32
With five-star models, you are pretty much restricted to Swedish giant Electrolux, with its innovative fridges. Take for example the 460L top-mount fridge. It's a great mid-sized fridge, ideal for a midsized family. It boasts 'FreshZone' cooling, making flexibility and adjustability of different areas of the fridge easy, and has flexible storage solutions which means you can customise it to fit-in with your family. It also claims a 'best in class' energy-efficiency and it's easy to see why.
Purchase price RRP– $1,749
Energy used each year– 260Kwh
Annual running cost– $85.80
Running costs over 10 years– $858
Total cost of ownership over 10 years– $2,607
Total cost over decade per litre of capacity – $5.67
Is it worth buying an energy efficient fridge?
Looking at the overall costs of running a fridge over a decade, a few things become clear. Those things are:
Bigger fridges cost more to run and purchase, but their cost per litre of capacity is lower in a lot of cases – sometimes by around $3 a litre!
The price to efficiency ratio diminishes as you opt for fridges with a higher star rating. The 'sweet spot' appears to be about three or four stars for a compromise between unit cost and running costs.
Total cost of ownership of a four-star versus a five-star model can vary by around $300!
With these things considered, it does make sense to choose a generally more efficient fridge, than one with a low star rating. The two-star model featured costs about $1,000 more to run than the four-star model, and $700 more than the five-star model over the course of a decade. The price difference is simply outstanding.
While everyone's circumstances are different, a telling ratio to calculate is the total cost over a decade, divided by your fridge's capacity. It appears to be at its best in the three-star range, and slowly creeps up as you opt for a more efficiency fridge, and hence pay a much higher initial price. One thing's for sure though, and that's that one and two star models' costs per litre are significantly higher.
Overall, the total savings between a three-star fridge and four-star one are pretty negligible, but it is worth going for something rated three-stars or better. Think about how much you want to spend, along with whether you can afford to pay higher bills along the line, and the degree to which you're concerned about the environment. Thorough consideration of those three points should help you figure out what you want to go with.