Fact Checked
Nothing beats the feeling of coming home to a slow cooked winter warmer on a freezing winter's day. Or perhaps the satisfaction of knowing it required minimal prep time, effort and supervision. You just chopped up your ingredients, chucked them into a pot, pressed 'set' to cook and a few hours later, voila! That's the beauty of slow cookers. If you're considering investing in this nifty appliance, we've tracked down some cheap models for you to check out.
How does a slow cooker work?
A slow cooker is a small kitchen appliance designed to work completely independently and usually consists of three components – a crock pot, glass lid and heating element (similar to a rice cooker). The heavy lid creates a tight seal to trap the heat and moisture inside the pot (without evaporation) to slow cook food at low or high temperatures. Slow cooking takes several hours – sometimes up to 12 hours – and more.
What can you cook in a slow cooker?
Slow cookers are great for cooking food if you don't have time to stand and cook a meal. It's a 'set and forget' type of appliance. You can cook stews, roasts, soups and plenty more in a slow cooker. Some more advanced models also have functions that can allow you to sear foods before slow cooking them, making it a multipurpose appliance. 
How much do budget slow cookers cost?
Budget slow cookers ideally sit no higher than the $150 mark, whereas more advanced models can cost $150 upwards. You can find budget slow cookers at a range of prices from as little as $20 with all the basic functions. 
Who sells budget slow cookers?
A number of brands sell cheap slow cookers including Kmart, Bellini, Breville and Russell Hobbs. You can buy models direct from the brand or from retailers such as The Good Guys and Appliances Online. 
Kmart Slow Cooker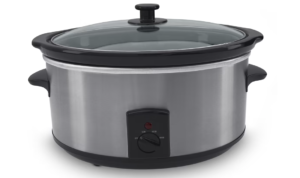 Kmart may be a favourite among Aussies for its range of budget homewares, but it's also stocked up in cooking appliances. The cult favourite department store offers a small range of affordably-priced slow cookers, with prices starting from just $20. Kmart's range includes 3L, 5L and 6.5L capacity slow cookers, pressure cookers and four-piece multi-cookers.
Bellini Slow Cooker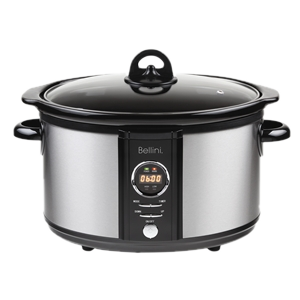 Bellini slow cookers come in a range of capacities, including a generous 5.5L model, and range in price from $20 to $40. It also features a removable non-stick pot for easy cleaning, digital controls with a timer, stainless steel exterior and auto, high and low heat settings. This brand of slow cooker is ideal to cook everything from stews, casseroles, soups, to desserts and more.
Breville Slow Cooker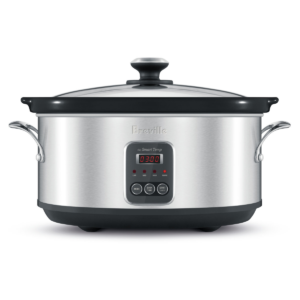 Breville offers a range of slow cookers that sit around the $100 to $150 mark. Its cheapest model offers a 6L capacity, features a digital display and stainless steel finish. You can expect added functions including sensor controlled temperature and pre-programmed functions to make cooking simpler when you've got other things to do. 
Russell Hobbs Slow Cooker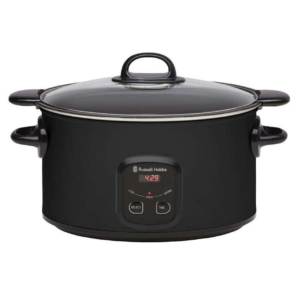 Russell Hobbs slow cookers come in a range of sizes and at a range of reasonable price points. You can expect to spend from $50 to no more than $140 for the higher end models with additional functionality. Features include a ceramic pot for easy cleaning, multiple heat settings and a tempered glass lid to see what you're cooking.  
Factors to consider when purchasing a slow cooker
When you're looking to purchase a slow cooker there are a few things to keep in mind to find the right appliance, including: 
Capacity:

If you're someone who entertains often or has a family, buying a larger capacity slow cooker could be the ideal choice. Whereas if you only occasionally cook using a slow cooker, a smaller capacity appliance may suit. 
Heat settings:

Having multiple heat settings can help diversify the food you make as well as create suitable time frames for cooking that suit your schedule. Most slow cookers have a slow, medium and high settings and some have a 'keep warm' setting, so finding a model with most or all of these is ideal. 

Ease of cleaning:

Many models of slow cooker have dishwasher safe elements like the crock pot and the lid, which makes the clean up much simpler. Slow cookers with plenty of added accessories can be tougher to clean so keep this in mind.

 
If you're still not sold on a slow cooker and tossing up similar appliances compare pressure cooker brands below.