After a long day at work, the last thing most people want to do is spend time cooking a meal for themselves or for their family. One way to save time and take the hassle out of cooking is investing in a smart kitchen appliance like a pressure cooker. Pressure cookers are simple appliances that make cooking faster, more efficient and less tedious. But how do you know if a pressure cooker is the right fit? Read our pressure cooker review to decide whether a pressure cooker is the next best investment for your kitchen.
What is a pressure cooker?
Pressure cookers are kitchen devices that utilise steam pressure to rapidly cook food. An airtight seal keeps steam locked inside and as the steam builds up, the pressure rises, which in turn raises the boiling point of the water inside to as high as 120°C. This high temperature means food cooks faster, making it an effective method of cooking if you're short on time – and patience. There are two types of pressure cookers: stove-top and electric. Stove top pressure cookers are less commonly used nowadays as electric benchtop appliances become more popular. 
Electric pressure cookers are made up of the following basic parts:
Removable non-stick cooking bowl

Pressure release valve

Locking lid (usually does not allow opening during cooking) with a gasket to form an airtight seal

Settings controls (buttons or dial)
The cook settings and other features vary between models. Most include accessories like a steamer basket, rice cup, spatula, ladle, and sometimes a trivet (to hold food above the liquid).
You may also be interested in:
How do you use a pressure cooker?
Electric pressure cookers make it relatively easy to use them and cook a variety of meals. A basic four step guide to use a pressure cooker is as follows: 
Place your ingredients in the pot with the liquid

Select the desired cooking mode

Set the timer

Close and lock the lid
As pressure cooking works using steam, you need to make sure there is enough liquid in the pan. Water or liquid stocks, like chicken broth, are the most common liquids to use. Place your food either in the liquid or above the liquid in a steaming basket to cook. If you suspend the food above the liquid, there won't be any flavour loss.
Many electric pressure cookers will have an option to sauté meat or vegetables before you seal the lid to cook. This means you can have your food cooked quickly and still have the desired taste and texture you're after.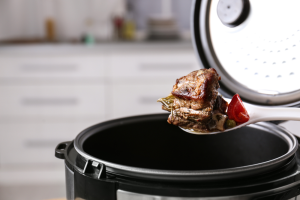 What kinds of pressure cookers are there?
There are two main types of pressure cooker – stovetop and electric. Original pressure cookers were stovetop, while today the most popular type is electrical. Stovetop pressure cookers are quite rare these days. A relative might still have an older generation stovetop version in the back of their cupboard somewhere, and could still be getting great use out of it. If you're looking to get a pressure cooker, though, it's best to get a modern electrical one for optimal safety and efficacy.
What can you cook in a pressure cooker?
Pressure cookers are an extremely versatile appliance meaning they can cook a number of meals. You can prepare just about anything that can be cooked with a liquid including roasts, soups, rice – you can even boil eggs. Many electric pressure cookers will come with a menu that guides you through how to cook certain meals so you'll never be short of ideas. 
How much do pressure cookers cost?
Pressure cookers are becoming more advanced and beginning to surpass appliances like slow cookers, meaning their price has slowly crept up. Pressure cookers will generally range in price from $70 to $400. The different features, size, and specific brand of pressure cookers mean the price will vary. 
Which brands sell pressure cookers?
Across the board, most pressure cooker brands will offer the same basic features, however some brands will give you that extra bang for your buck. So which brand should you look out for? Below are some popular pressure cooker brands. 
Kmart Pressure Cooker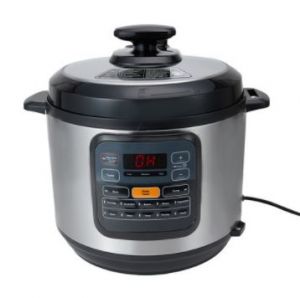 Kmart offers a budget conscious model of pressure cooker for those who don't want to break the bank. You can expect a 5.5L capacity with a 12 pre-set multi-function menu including keep warm, slow cook and sauté functions. For students or people looking for a quick buy, this pressure cooker could be for you. 
Kambrook Pressure Express Cooker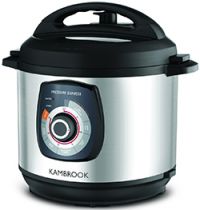 The 6L, dishwasher safe Kambrook pressure cooker is a budget and family friendly buying option. You can expect a sturdy and extensively tested appliance that allows you to simply turn your meal to the right setting and let the pressure cooker do the rest. 
Breville Fast Slow Pro Pressure Cooker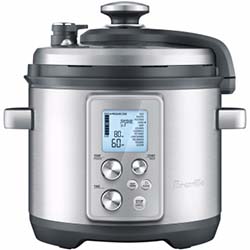 The Breville Fast Slow Pro Pressure cooker creates a carefully controlled cooking environment for your dinner. The Fast Slow Pro can automatically adjust the time, temperature and pressure to get your meal just right. With a full range of pre-set functions including reduce, sauté, sear and steam it's a 'set and forget' kind of cooking lifestyle.
Russell Hobbs Express Chef Pressure Cooker
Choose from the 10 'inteli-tech' pre-programmed settings and have your food cooked at the push of a button. The Russell Hobbs pressure cooker boasts features like a non-stick bowl, generous 6L capacity and easy to read countdown timer. Choose to cook a curry or pudding with ease using the Russell Hobbs Express Chef Pressure Cooker.  
Pressure cooker pros and cons
As a pressure cooker is a bit of an investment, it's important to consider the pros and cons and your personal cooking needs before purchasing one.
Pros of a pressure cooker
A time saver at meal times with easy pre-set cooking settings and faster cooking.

Uses less liquid than boiling or conventional steaming.

More energy efficient than using an oven or stovetop.

Great for meal prepping large quantities of food.

Easy to follow set up and cooking instructions.
Cons of a pressure cooker
Requires more cleaning and maintenance, particularly around the gasket (sealing ring) which requires replacement every year or so.

It's harder to inspect the cooking process, as you can't just pop the lid off for a quick look without completely stopping the cooking process. 

Much more expensive than a regular pot or saucepan, so you're mostly paying for the time saving and convenience.
There's a learning curve – you'll need to carefully follow instructions and recipes designed specifically for pressure cookers. It'll take a bit of trial and error to get the hang of it.
Should I buy a pressure cooker?
Pressure cookers can make cooking much simpler but there are a number of factors to consider before you dive in and purchase one. If you're someone who cooks in smaller volumes and is very detailed with their cooking, then a pressure cooker may not be the right purchase. However, if you like to quickly cook tasty, nutritious meals and not sweat the small stuff then a pressure cooker is going to simplify your cooking experience in a flash!
Original Author: April Broadbent