Fact Checked
After collecting dust during the cooler months, your ducted air conditioner will likely need a spruce up before you switch it on for the summer. As much as we expect our air conditioners to work first time, every time, it isn't always the case. You may pin poor air conditioner performance on a mechanical error or electrical fault however, sometimes all your air con unit needs is a good Spring clean. Read this Canstar Blue guide to learn how to get the most out of your ducted air conditioner.
Why should I clean my ducted air conditioner?
Maintaining your ducted air conditioner will not only extend its lifespan but will also ensure that you're breathing in air with fewer impurities. Regular cleaning will promote:
Improved functionality
Better air quality, preventing asthma and hay fever
Fewer maintenance and electricity fees
How often should I clean my ducted air conditioner?
It's recommended that you clean your ducted air conditioner once every six months. A good time to do this is right before summer and then again right before you start heating in winter. Regular cleaning is not only better for your health but will also help you save on maintenance fees.
How do I clean my ducted air conditioning unit?
There's plenty to consider when it comes to cleaning a ducted air con unit, but thankfully it's not as big a job as it might sound. Here are some tips on how to clean each part of the system.
Clean ceiling vents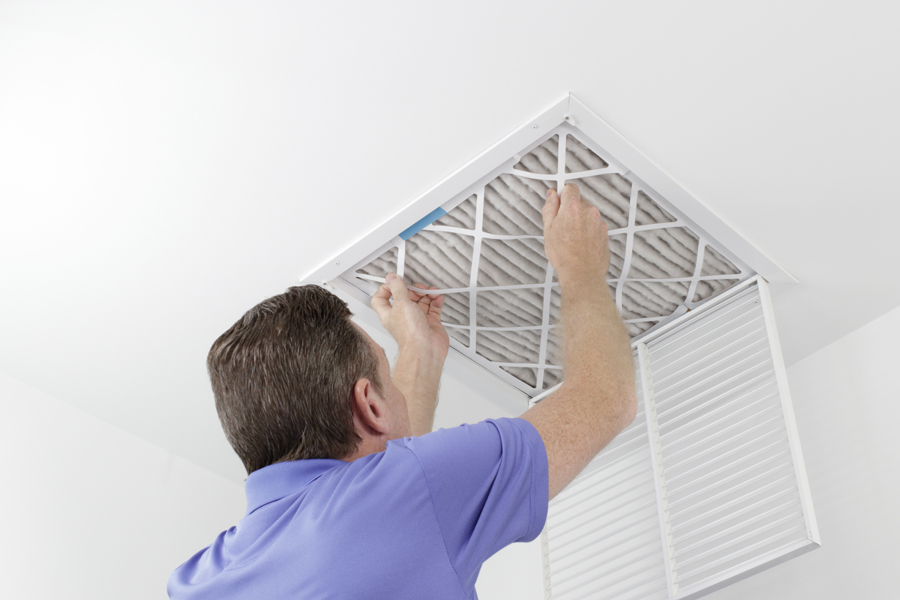 Your ceiling vents should be cleaned whenever they begin to appear dirty, but may need to be cleaned more frequently if you're sensitive to dust. In order to clean ceiling vents, you should:
Switch off the entire air conditioning system.
Vacuum the vent to remove loose dirt and dust.
Wipe down the vent with a damp cloth to remove tougher stains.
Clean outdoor unit
Your outdoor unit will also need some attention. Being outside exposes it to the elements, as well as dirt, leaves and sticks, which can impact how well it operates. To clean your outdoor unit, you should:
Wipe down the protective casing on the outside of the element.
Use a leaf blower to remove any loose debris inside the unit.
Clean ducts and fan coil
Cleaning air conditioner ducts and fan coils can be fiddly. If you're not familiar with the system, they're likely to become damaged or you could potentially be injured. To ensure your safety and that the elements are maintained correctly, you should have them inspected and repaired by a local supplier or technician.
How much does ducted air conditioner servicing cost?
Routine maintenance on a single ducted air conditioning system generally costs between $200 and $300. This price is highly variable depending on your service provider, the type of system you have and any additional fees that may be incurred throughout the process.
Is cleaning my ducted air conditioner worth it?
Considering how expensive ducted air conditioning units can be (don't forget how much you paid to install one), cleaning every few months can help you save down the line, as well as allowing you and your family to enjoy healthier cool air for longer. A bit of maintenance that can save you from repair costs, a higher energy bill, as well as an uncomfortable summer, seems like a small price to pay.
Unfortunately, you can only maintain your unit for so long – eventually you'll need to update your ducted system. If you're after a new system, check out our guide via the link below.