Fact Checked
Tearing your hair out trying to remember if you turned off the iron before you left the house? Heading back home to check if it's been switched off is never a fun time. But never fear, more and more brands are adding automatic shut-off safety systems to put your mind at ease and potentially save you from disaster. Find out all you need to know about automatic shut-off irons with this Canstar Blue guide.
What is an automatic shut-off iron?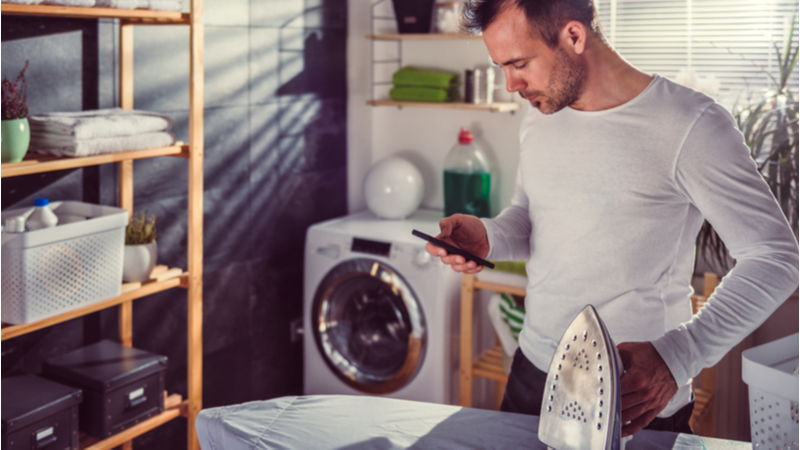 Automatic shut-off irons, also known as auto-off irons, are clothes irons that automatically power off after a designated period of time. Clothes irons with this feature are designed to save on energy, as well as giving you peace of mind before stepping out the door.
Who sells automatic shut-off irons?
An auto-off iron is certainly a handy appliance to own – especially if you're known to be forgetful! If you're interested in picking up a model with this feature, Sunbeam, Tefal, Braun, Philips and Russell Hobbs all offer automatic shut-off irons.
Sunbeam automatic shut-off irons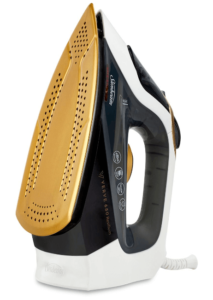 Sunbeam offer a range of irons, with many having auto-off capability. Most Sunbeam irons feature soft touch handles, self-clean buttons, safe storage capability, drip stop functions and anti-calcium protection.
Sunbeam's Verve 680 Resilium Iron features an automatic shut-off function. After 15 minutes of no movement, this iron will automatically switch off, saving energy and ensuring peace of mind. This iron also hosts a resilium anodised soleplate for easy gliding, button activated steaming, an anti-calcium cartridge and dual steam chambers to optimise steam pressure. This particular model will likely set you back around $150.
Tefal automatic shut-off irons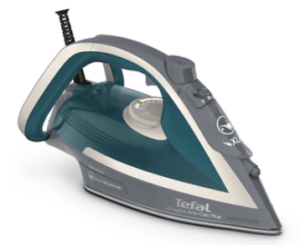 Tefal offer many irons equipped with an auto-off feature, powering down after eight minutes standing up or 30 seconds facing down. Most Tefal irons also feature vertical steaming capability, energy saving eco mode, durable soleplates and removable calcium collectors.
The Tefal Ultraglide Plus Iron hosts an auto-off safety feature and commonly retails at around $100. This iron also features an easy-access precision tip, a durable easy glide soleplate, eco mode and vertical steaming capability.
Braun automatic shut-off irons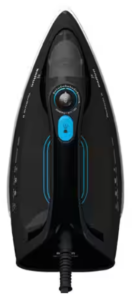 Many irons in the Braun range have auto-off capability for safety and ease of mind. Most Braun irons also feature rapid heat technology, anti-drip systems, self-cleaning capability and 360° gliding to manoeuvre around buttons and pockets.
Braun's TexStyle 9 Iron features an automatic shut-off function that will switch off the appliance after eight minutes vertically positioned or 30 seconds horizontally positioned. This iron will likely set you back around $130. It hosts an anti-drip system, a scratch resistant eloxal soleplate, an easy refill lid, self-cleaning capability and precision tip technology to navigate hard to reach areas.
Philips automatic shut-off irons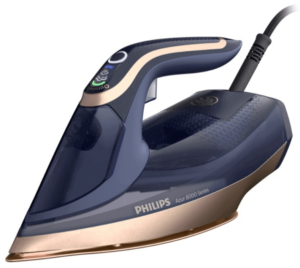 Philips offer a range of irons with auto-off capability, allowing peace of mind and ensuring energy efficiency. Most Philips irons also feature built-in calcium cleaners, vertical steaming capability, scratch resistant soleplates, drip-stop systems, and consistent high steam outputs.
The Philips Azur 8000 Series Iron hosts an automatic shut-off feature that will power the appliance down after eight minutes. The iron hosts a large 350mL water tank, quick calcium release to maintain longevity and performance, a vertical steaming function, one optimal temperature setting and a scratch resistant soleplate. This model generally costs around $230.
Russell Hobbs automatic shut-off irons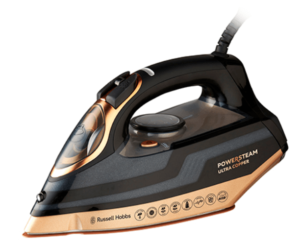 Russell Hobbs offer a range of irons equipped with an auto-off function. Many Russell Hobbs irons also feature self-cleaning capability, non-stick soleplates and anti-drip functions.
The Russell Hobbs Powersteam Ultra Copper Iron features an automatic shut-off function and will likely set you back around $100. This iron hosts a triple action self-cleaning system, a vertical steam and spray function, a large 350mL water tank and a soft touch handle.
How much does an automatic shut-off iron cost?
Auto-off irons vary in price depending on brand, design, quality and additional features. In general, a cheaper automatic shut-off iron may cost you around $70, while a more expensive model could set you back as much as $250.
Should I buy an automatic shut-off iron?
There aren't many people out there who get excited about ironing, but if you do, the auto-off feature might be a new must have. No matter which category you sit in, having a clothes iron that automatically turns off is likely to come in handy if you're looking to ensure peace of mind or you're just keen to make a small saving on electricity. An automatic shut-off model will generally cost you around $50 more than a regular iron, but along with this function come many other handy features that are likely to improve your ironing experience. If you're not willing to fork out on a new auto-off iron, that's completely fine, a regular model should press your clothing just as well. Check out Canstar Blue's best rated irons to decide which appliance is the best fit for your home.
Picture credits: Zivica Kerkez/shutterstock.com
Original Author: Veronika Hleborodova