Tearing your hair out trying to remember if you turned off the iron before you left the house? It's never a fun time when you have to head back home to switch it off when you were almost at your destination. But never fear, more and more brands are adding an automatic shut off safety systems to put your mind at ease, as well as potentially save you from disaster.
Auto-Shut Off Clothes Irons
So, which irons shut off automatically when left unattended? Below is a list of models, listed in order of price:
| Brand & Model | Price |
| --- | --- |
| Kambrook Steamline Detach Steam Iron | $49.95 |
| Sunbeam Prosteam Auto Off Iron | $59.95 |
| Braun TexStyle 7 Steam Iron | $129 |
| Tefal UltraGliss Steam Iron | $149 |
| Philips Azur Elite Steam Iron | $199 |
Source: Appliances Online and respective retailers, October 2019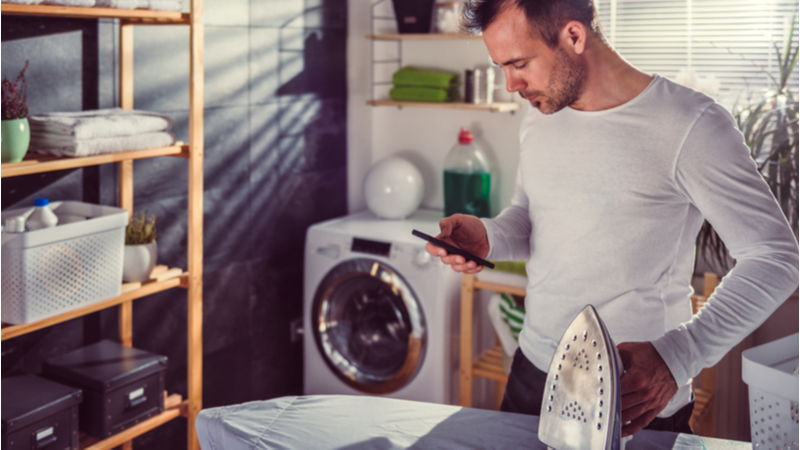 Who sells auto-shut off clothes irons in Australia?
Clothes irons with an 'Auto-Shut Off' feature are designed to save on energy, as well as give you peace of mind if you've left your iron on before stepping out the door. Since clothes irons are relatively small appliances, they don't use a substantial amount of power, but a small portion of energy is still consumed and charged onto your electricity bill, meaning an auto shut-off feature can make a difference on your next bill, albeit a small one. If you're interested in picking up a model with this feature, here are a few models available with automatic shut-off.
Kambrook Steamline Detach Steam Iron KIR795MAU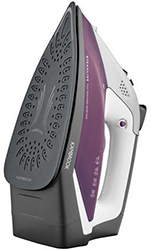 Kambrook's Steamline clothes iron packs in a number of features to help it stand out from the crowd. It's designed with a detachable water tank, allowing you to refill straight from the tap without the need of any water cups, along with a three-way auto-off protection system, which automatically shuts off the unit if it's left sitting flat on its soleplate, on its heel or if it's tipped over on its side.
Kambrook's FabriGlide soleplate is claimed to offer smooth gliding performance over all ironable fabrics. It's also designed with a collar tip to help reach difficult areas including pockets, buttons and collars. Plus, you have the option to iron hanging garments or curtains with the vertical steam mode, allowing you to get that ironed look on more than just your clothes.
Sunbeam Prosteam Auto Off Iron SR4315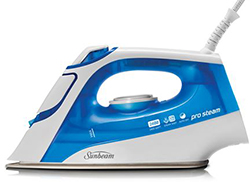 With the words 'Auto Off' being in the name, you know that this Sunbeam iron is equipped with the particular safety feature for peace of mind and energy savings. The Sunbeam Prosteam iron is claimed to be lightweight yet powerful, featuring 2400W of power and up to 120g/min of steam.
It has an "easy glide" ceramic soleplate to glide smoothly over garments and is said to be tough and scratch-resistant. Being one of the lowest priced irons in this list, this unit aims to get the job done without breaking the bank.
Braun TexStyle 7 Steam Iron TS715A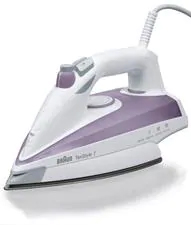 The Braun TexStyle 7 steam iron offers 2300W of power, delivering steam out of three areas including pre-conditioning steam, which is said to enable "long stroke" ironing. Its auto-off system provides maximum safety and energy-savings according to the brand, shutting off after eight minutes in vertical position or 30 seconds in horizontal position.
Its soleplate is said to be scratch resistant and up to two times harder than stainless steel to provide smooth gliding over all garments. Braun's apparent "high-quality" soleplate combines the latest technology with an intuitive design for high performance and ease of use when ironing.
Tefal UltraGliss Steam Iron FV4921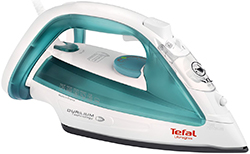 Powered by a 2400W heating element, this Tefal UltraGliss iron packs a punch. It's said to have a fast heat-up time and provide 40g/minute of continuous steam or up to 145g/minute on the boost mode. It also features vertical steam, allowing you to iron your hanging garments or curtains. It's equipped with an auto power-off safety feature, plus an anti-drip function to prevent water stains and leakages while ironing.
The soleplate is constructed from enameled ceramic and has an additional layer of palladium to help glide across all your fabrics, according to Tefal, as well as preventing any oxidation from occurring.
Philips Azur Elite Steam Iron GC5031-20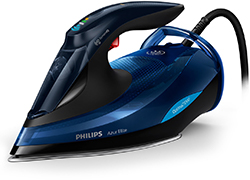 Fitted with OptimalTEMP technology, this iron from Philips is stated to iron everything from jeans to silk without any risk of burning. It's equipped with a range of modes including Max Mode to increase steam volume and Eco Mode to save on energy by using a minimum amount of steam. Its automatic shut-off system turns the iron off after two minutes if left unattended on its soleplate or after eight minutes if it's left on the heel.
Its soleplate is designed with a titanium layer and a six-layer coating claimed to glide easily over any fabric. It's also said to be scratch-resistant, non-stick and easy to clean. There's also a Quick Calc Release feature, allowing you to remove and empty the container with the built-up calcium for easy maintenance.
You may also be interested in
Types of clothes irons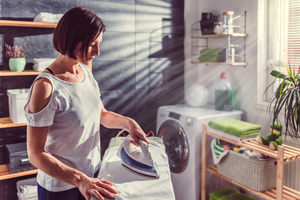 Similarly to hair straighteners, clothes irons are generally categorised by the type of soleplate they have. Here are the three main types:
Ceramic: commonly used due to their quick heat-up time and ability to distribute heat evenly. They are said to prevent static and prevent clothes from sticking at high temperatures.
Stainless: stainless steel plates are said to be durable and good conductors of heat with an even heat distribution. This type of soleplate has a cleaner surface that's easy to maintain.
Titanium: generally have a corrosion-resistant surface with a fast and even transfer of heat. They are lightweight and durable, plus easy to clean.
There aren't many people out there who get excited about ironing, but if you do, perhaps this feature has been thrilling to read about. But no matter which category you sit in, having a clothes iron that automatically shuts off might come in handy when you've ironed your shirt in the morning, left the iron on and are already halfway to work. To see how these brands were rated by everyday Aussies in regards to overall satisfaction, check out our clothes iron reviews via the link below:
Picture credits: Zivica Kerkez/shutterstock.com
*Prices taken from Appliances Online and respective retailers, correct as of October 2019