We're all a little short on time most days, and washing becomes a forgotten task until you're rummaging through the laundry basket looking for a clean t-shirt! One of the most convenient and time saving appliances that helps alleviate the panicked wardrobe rummaging is a washer dryer combo. They're a dual functionality appliance that combine a washing machine and dryer to streamline your daily laundry. But how do you know if it's the right machine for you? Canstar Blue have put together a comprehensive guide to help you decide whether it's the answer to your laundry prayers. 
What is a washer dryer combo machine?
A washer dryer machine – also known as a washer dryer combo – is a front loader washing machine and a condenser clothes dryer combined into one convenient appliance. A condenser dryer is a dryer that recycles dry air rather than venting it outside, while a front loader washing machine is simply a washing machine that opens from the front, rather than the top.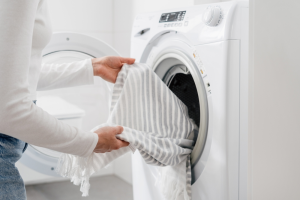 Is a washer dryer energy efficient?
When it comes to overall efficiency, combo machines are generally considered to be better than the two machines working separately. The enhanced efficiency of combo units is down to their reduced hot water usage and washer mechanics. 
So, while they will lack the energy saving prowess of individual drying machines like heat pump dryers, combo dryers will save you a decent amount over time. Just make sure that you look for a high energy star rating to learn whether the model you're buying is an energy guzzler or not. A family of four using a standard combo machine can save roughly $100 a year if they use it correctly.
How much does a washer dryer combo cost?
Washer dryer combos can cost from $700 to $5,000 depending on the brand and model of machine. Lower end machines will cost between $700 and $1,900 with the basic washer dryer functions and settings, while higher end models will reach upwards of $3,000, but come with added features like steam care, gentle fabric care design and cap dosing functionality to suit the materials of your garments in the wash. 
Who sells washer dryer combos?
Many popular brands including Samsung, Bosch, Electrolux and Miele sell washer dryer combos, with each selling a number of different models.
Samsung washer dryer combo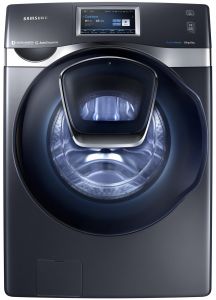 Samsung is a well-known appliance brand throughout Australia, offering a wide variety of appliances to suit the kitchen, lounge room and laundry. Its washer dryer combo machines range from $950 to $1,600 with 6kg to 10kg washing and drying capacities. Many Samsung models will include features such as hygiene cleaning, drum clean functionality and up to 20 wash programs, along with the handy AddWash feature, allowing you to throw extra clothes in mid wash or dry.   
Bosch washer dryer combo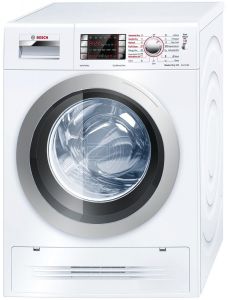 Bosch has a short and sweet washer dryer combo range with just one machine – the series 6 10kg/5kg washer dryer that generally retails for around $2,000. Suitable for smaller laundry spaces, this washer dryer can take care of your laundry routine from start to finish. It has added features like its anti-stain system and VarioSoft drum that adjusts to give your garments a gentle or more vigorous clean. You can also expect basic features like ecosilence drive and an auto dry system for perfect drying.
Miele washer dryer combo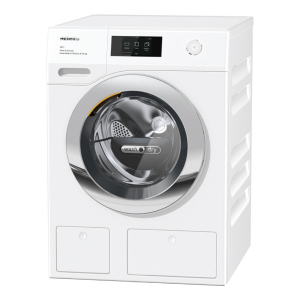 Miele washer dryer machines sit at the higher end of the price range retailing between $3,000 and $4,900. With a washing and drying capacity between 4kg and 9kg, they're an ideal choice for larger households, or those with larger loads of laundry. Many of the combo machines in the range offer features like steam care (that helps smooth your clothes as they dry within the drum) as well as a QuickPower program that can have your clothes washed and dried in under three hours. Models also offer CapDosing capabilities that allow you to adjust the detergent used to suit the material of your garments in that wash.  
Electrolux washer dryer combo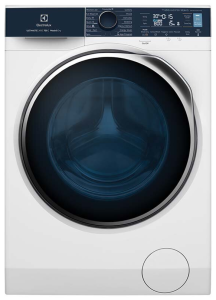 Electrolux offer washer dryers that retail between $1,500 and $2,000 with generous washing and drying capacities between 4.5kg and 10kg. Electrolux combo machines boast features including an extra-large door opening so you don't have to struggle to fit in those larger items, and UltraMix, which properly dissolves the detergent before it reaches your clothes to reduce colour fading. These models of washer dryers also offer basic features like an add clothes function and a gentle drum design so you don't have to worry about clothes being damaged in the wash.
Features you should look for in washer dryer combos
When considering which washer dryer to buy, it can be overwhelming to choose from the numerous models and brands available. When weighing up all your options it's important to keep these points in mind. 
Washer features to consider:
Hand wash

: this mode simulates hand washing, which is perfect for delicate fabrics and undergarments.

Stain removal

: this is more of a pre-wash cycle, and greatly improves your chances of removing stains.

Sanitation cycle

: this setting removes allergens and bacteria during the cleaning cycle.

Custom settings

: you can set your most used settings as favourites for easy access.

Temperature settings

: adjusts hot and cold water as it enters the machine.
Dryer features to consider:
Moisture sensor

: this tells you how damp your clothes are, and will adjust the drying time accordingly. This can save money and will also prevent over-drying.

Noise dampening

: more expensive models come with this feature, which silences that annoying racket driers sometimes make.

Reverse tumbling

: the drum reverses the spin direction from time to time, which minimises tangling of clothes and gives better drying results.

Extended tumbling

: the cycle will run for a few more tumbles to help release excess wrinkling from your clothes. This doesn't negate the need for an

iron

however.
Washer dryer combo pros and cons
While keeping specific features in mind when looking to buy a washer dryer can be helpful, you'll have to consider whether this type of model is worth it. Here are some pros and cons to consider:
Washer dryer pros:
Costs around the same as buying a washer and dryer as separate machines. 

Convenient for those living in smaller homes or with limited laundry space. Some homes may not have a dedicated clothesline space for larger items like bed sheets, so a washer dryer becomes a great alternative. 

Saves time by using the same machine to wash and dry so you don't spend time transferring clothes from one to another or hanging them up. 
Washer dryer cons:
Reduced drying capacity which may sometimes require multiple drying cycles. 

Can take longer to dry clothes than a standard dryer. 

May have higher energy use over time increasing your energy bill if not used correctly. 
Should I choose a washer dryer?
Washer dryer combos create a convenient alternative to buying two separate appliances if you're limited on space or finances. While some machines sit at a higher price point, there are entry level models that can suit smaller budgets, and with the two-in-one functionality they become a more convenient choice. Now that you have all the info that you need, you can decide whether a washer dryer combo is the right choice for your home!
Original Author: Veronika Hleborodova