Do you miss the days when you would stand at the sink after dinner with your hands plunged into grey, dirty water, laboriously scrubbing every individual cup, plate and spoon? Thought not!
In the past 50 years, dishwashers have made our lives considerably easier and have become a relatively common kitchen appliance around the world. However, the huge number of appliances and brands to choose from can make for a confusing shopping experience. Which dishwasher is the best choice for you? Read on to find out.
What should I look for when buying a new dishwasher?
When a rumble from your dishwasher can't be solved with a simple clean or repair, then it may be time to scoop up a new one. There are a few features to consider when picking out the best dishwasher for your home. Some of these include:
Dishwasher capacity
Energy and water efficiency
Flexible shelves and baskets
Half-load, eco-mode and other wash cycles
Delayed start
Noise levels
Dishwasher capacity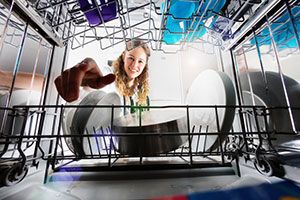 When quoting a dishwasher's capacity, most manufacturers will describe it in terms of the number of place settings a dishwasher can accommodate. One place setting refers to the standard amount of crockery and cutlery that would be used by one person during a three-course meal. This usually consists of one small and one large plate, a bowl, cup, and the necessary cutlery for said courses.
Measuring capacity in this manner is much less confusing and ambiguous than measuring it in terms of individual items, although a dishwasher's approximate item capacity is often quoted as well. Therefore, we recommend you consider how many people in your home eat during a standard meal – just one, relatively large meal (e.g. dinner and dessert). Perhaps you could purchase for this many place sittings, plus one or two, in case you have company.
Once you've determined your optimum dishwasher's capacity, you'll need to decide which style to purchase. We've outlined the most common styles below.
Energy and water efficiency
Every dishwasher on sale has a star rating from the Australian Government's efficiency rating initiatives for both water and energy efficiency. The more stars a product has, the less energy or water it uses. You can compare dishwasher model energy efficiency on the energy ratings website.
Flexible shelves and baskets
Do you have lots of different sized pieces of crockery that frequently require reshuffling inside your dishwasher? If so, consider buying a model with several different layout options or removable shelving.
Choosing between a cutlery basket and a cutlery tray might also make a difference. Are you a 'stand and stuff' kind of person when it comes to cleaning the kitchen, or do you prefer to have your forks, spoons and other utensils stored in specific sections?
Half-load, eco-mode and other wash cycles
If your dishwashing needs vary each wash, consider buying a dishwasher that has different cycles that you can set for different loads. Such features are usually only available on more expensive models, but by using less energy and water they can save you a significant amount of money over the long term, as well as reduce your environmental impact.
Delayed start
Some dishwashers have a delayed start function whereby you can set it to begin a cycle at a specific time – such as in the middle of the night when electricity rates are cheaper, or while you're out at work so as not to disturb anyone.
Noise levels
If you live in an apartment or a high-density living space, or if you simply don't like being disturbed, make sure you check the noise levels of your dishwasher before you buy it. Some models record this in the product description. Failing that, search online for customer feedback.

What type of dishwasher should I buy?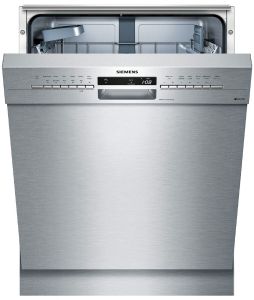 Standard or full-size domestic dishwashers
Standard size dishwashers are the most common type – when you think of a dishwasher, this is the one you picture. They have the greatest capacity of any domestic dishwasher type, fitting about 14 place settings, and are also the most water and energy-efficient dishwashers on the market. On the flipside, they're also the most expensive and take up the most space. The standard size of these dishwashers is about 600mm wide, 820mm high and 600mm deep. If there is a dedicated space for a dishwasher in your kitchen, it probably has similar dimensions and has been designed for a full-size dishwasher.
Should you buy a standard or full-size dishwasher?
Full-size dishwashers are perfect for households with four or more people (i.e. families or shared houses with several occupants). A full-size dishwasher's large capacity and efficient power and water usage makes it the ideal choice for people who do large dish-washing loads.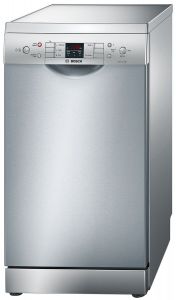 Slimline dishwashers
These dishwashers are essentially narrow versions of standard dishwashers. They usually measure about 450mm in width and are designed for homes where space is at a premium. Their reduced width means they can accommodate 9 or 10 place settings, and their smaller size means they cost less than standard dishwashers.
Should you buy a slimline dishwasher?
A slimline dishwasher is ideal for smaller households and those who do plenty of washing up, but have limited kitchen space to do so. They have a similar capacity to standard dishwashers but come in a significantly smaller package.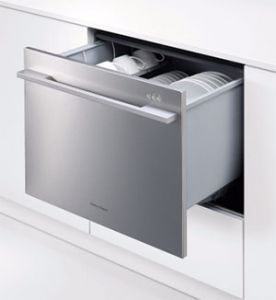 Compact dishwashers
Compact dishwashers are considerably cheaper than full-size models and take up far less space. They are usually half the height of a standard dishwasher, standing at about 410mm. However, they have similar width and depth. They also have the same single fold-out front door as their larger dishwasher counterparts.
Their small size means they can load around six place settings and can often be found at the cheap end of the market. Many compact dishwasher models don't require permanent installation like their bigger counterparts – some can be placed on a countertop and connected to your kitchen tap via a built-in hose.
DishDrawer is a model of compact dishwasher unique to Fisher & Paykel and consists of a "drawer" (rather than the common front-door arrangement) that slides outwards for more ergonomic loading. They are the same height as most other compact dishwashers and can come in one or two-drawer models. They do not come in a free-standing variety.
Should you buy a compact dishwasher?
Compact dishwashers are ideal for people who do small, frequent washing loads, or someone looking for a cheap dishwasher without too many bells and whistles. They are great for people with little kitchen space or renters who don't want to permanently install a dishwasher in their current home. They are also ideal for small households or offices that require smaller, frequent washing loads.
What are the best dishwasher brands?
Once you've figured out which type of dishwasher you want to buy, it's good to have a range of brands to look at to further hone in your research. To spark some inspiration, we've listed a few major manufacturers that have featured in our annual Customer Satisfaction Ratings, including Miele, Bosch and Fisher & Paykel.
Miele dishwashers
The German giant Miele has been a family business for more than 100 years, making high-end dishwashers ranging from just over $1,000 up to and above $4,000. Have a look at some of the built-in and freestanding units currently available:
Miele G 4203 SC Active Freestanding Dishwasher: $1,399 RRP*
Miele G 4203 SCU Active Built-Under Dishwasher: $1,499 RRP*
Miele G 7319 SCU XXL AutoDos Built-Under Dishwasher: $2,699 RRP*
Miele G 7919 SCi XXL AutoDos Integrated Dishwasher: $4,299 RRP*
Miele G 7969 SCVi XXL AutoDos Fully Integrated Dishwasher: $4,399 RRP*

Miele G 7104 SC Front Freestanding Dishwasher
For households looking for an efficient dishwasher designed to help keep their water and electricity bills low, the brand offers models like the Miele G 7104 SC Front freestanding dishwasher ($1,999 RRP*) which have a 6-star WELS water efficiency rating and 4.5-star energy efficiency rating. A number of Miele dishwashers also sport features like EcoPower technology to reduce water and energy consumption, plus a hot water connection claimed to save up to 50% more electricity.
Key details to expect from the Miele G 7104 SC Front include:
14 place settings
Cutlery basket
Hot water connection
Water efficiency rating: 6 stars (consumes 9.2L/wash)
Energy efficiency rating: 4.5 stars (consumes 189kWh/year)

Miele G 4263 Vi Active Fully Integrated Dishwasher
If you're set on the position of a dishwasher in your home, then a fully integrated unit may be a more viable option. The 60cm Miele G 4263 Vi Active is one of the entry-level units available, retailing for $1,699*. With 14 place settings, it's a versatile unit that is suited for families. It also comes with ComfortClose, which is a nice little touch that won't rattle and break your plates if you close the door in a flurry. Retailing for just under $1,700, it's one of Miele's cheaper units, but overall it's at the higher end of the dishwasher market.
Other key specs include:
14 place settings
Cutlery basket
Hot water connection
Water efficiency rating: 4 stars (consumes 14L/wash)
Energy efficiency rating: 3 stars (consumes 324kWh/year)
Bosch dishwashers
If paying well over $1,000 for a new dishwasher makes you feel like you're being "taken to the cleaners", then you might like the sound of Bosch. Most of its freestanding dishwashers retail for less than $1,500, with pricier models reaching up to around the $2,400 mark. Although you may need to fork out more for Bosch's under-bench dishwashers, which can have a price tag between $1,099 and $2,799. But most models cost under $2,000.
A few Bosch dishwashers currently available include:
Bosch Serie 2 Built-Under Dishwasher (SMU50E75AU): $1,099 RRP*
Bosch Serie 6 Freestanding Dishwasher (SPS60M08AU): $1,299 RRP*
Bosch Serie 4 Freestanding Dishwasher (SMS46KI02a): $1,499 RRP*
Bosch Serie 6 Semi-Integrated Dishwasher (SMI66MS01A): $1,899 RRP*
Bosch Serie 8 Fully-Integrated Dishwasher (SBV88TX06A): $2,799 RRP*

Bosch Serie 2 Freestanding Dishwasher
Another family-size dishwasher you might want to consider is this Bosch 60cm freestanding unit (SMS40E80AU). It comes with 13 place settings and is among the most affordable dishwashers from the brand, retailing for $1,199*. It has four wash programs, including Pots, Auto, Eco and QuickWash. There's also a VarioSpeed program designed to clean up to 50% faster.  This Bosch dishwasher additionally has several features to offer flexibility, including a Vario basket system, two folding late racks, and two foldable cup shelves.
13 place settings
Cold-only water connection
Water efficiency rating: 3.5 stars (consumes 13.5L/wash)
Energy efficiency rating: 3 stars (consumes 268kWh/year)
Two-year's manufacturer warranty

Bosch Serie 6 Fully-Integrated Dishwasher
For a more 'permanent' solution to your dishwasher needs, Bosch has a number of fully-integrated dishwashers like this Serie 6 model (SMV66JX01A) to consider. This 60cm features 14 place settings and has a few nifty features such as the Rackmatic, a top basket that can be adjusted on three levels to fit tall dishes. The machine also comes with a LoadSensor, which detects the number of dishes loaded into the dishwasher and automatically adjusts the amount of water used. The AquaSensor function is similarly designed to measure the level of soiling at the end of the pre-rinse cycle and reuses water where possible in order to save up to 20% water used. This Bosch dishwasher will set you back $1,599*.
Key specs include:
14 place settings
Cold-only water connection
Water efficiency rating: 5 stars (consumes 11L/wash)
Energy efficiency rating: 4 stars (consumes 220kWh/year)
Two-year's manufacturer warranty
Fisher & Paykel dishwashers
A brand from our Kiwi neighbours across the ditch, Fisher & Paykel has long been known for its innovative designs in a variety of household appliances. It started off with fridges, but now makes many appliances – dishwashers included. Let's have a look at some of the dishwasher range below:
Fisher & Paykel Freestanding Dishwasher (DW60FC2W1): $949 RRP*
Fisher & Paykel DishDrawer Dishwasher (DD60SCW9): $1,349 RRP*
Fisher & Paykel Contemporary Under Bench Dishwasher (DW60UC6X): $1,499 RRP*
Fisher & Paykel DishDrawer Double Dishwasher (DD60DCX9): $1,999 RRP*
Fisher & Paykel Integrated Double DishDrawer Dishwasher (DD60DI9): $2,749 RRP*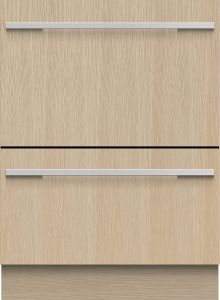 Fisher & Paykel Integrated Double DishDrawer Dishwasher
If the name is a bit of a mouthful, then the price may also make you stutter. At about $2,749, this 60cm machine (DD60I9) is at the high-end of Fisher & Paykel's dishwasher range. Like the unit before it, this one features the handy prospect of drawers, which can be operated independently. It also has a knock-to-pause function, which lets you knock on the front panel to temporarily stop the cycle and add in any items you forgot to load.
This Fisher & Paykel dishwasher has 15 programs and several other functions, including:
14 place settings
Two cutlery baskets
Cold-only water connection
Water efficiency rating: 4.5 stars (consumes 6.9L/wash)
Energy efficiency rating: 3.5 stars (consumes 136kWh/year)
Two-year's manufacturer warranty
Fisher & Paykel Freestanding Dishwasher
If two doors seem excessive, in both storage space and price, Fisher & Paykel offers plenty of cheaper, single-door alternatives like this freestanding dishwasher (DW60FC2W1). Retailing for $949, this 60cm unit is among the least expensive options from the brand. It offers six programs and a three-stage filtration system. In terms of flexibility, the dishwasher comes with a cutlery basket, an adjustable upper basket, fold-down tines and height-adjustable fold-down cup racks.
Other specs include:
15 place settings
Cold-only water connection
Water efficiency rating: 5 stars (consumes 11.4L/wash)
Energy efficiency rating: 3.5 stars (consumes 286kWh/year)
Two-year's manufacturer warranty
How do I install a dishwasher?
You've nailed down what type of dishwasher you want – maybe you even have a brand in mind. After this, there are a few things you'll need to consider before you part with your money and drag a new dishwasher into your home.
Preparing for your purchase
Once you've made up your mind what style of dishwasher you'd like, you need to make sure you can accommodate it in your home. Important steps to take are:
Location, location, location – your dishwasher needs to be attached to a water source in order to work, so think about the nearest water supply when choosing its position, and make sure pipes and fittings will be able to reach it safely and inconspicuously.
Measure up – choose the exact space you'd like your machine to sit, and make sure the measurements for the model you prefer match up.
Organise skilled help – if you're not a plumber yourself, make sure either a professional or someone with a pretty good idea what they're doing is lined up to come around and help you install it. If you're a one-screwdriver kind of home-owner, chances are you could do with a hand.
Installing your new dishwasher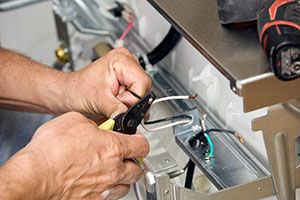 Having considered all the options and purchased your machine, you'll now need to install it in your kitchen. In addition to making sure there's adequate space, there are three different connections that need to be set up: the power supply, the washing water supply and the waste water drainage.
With a countertop dishwasher, this process is as simple as plugging it into the wall, connecting it to your kitchen tap and letting it drain into the sink. If you're installing a built-in dishwasher, however, you have two options: either do it yourself, or get a plumber to install your dishwasher for you.
If you're perfectly comfortable with the installation process, and the necessary taps are already plumbed into the wall, go for it. If that's not the case, it's best to leave it to a professional. Most plumbers offer dishwasher installation services and while paying someone to install your appliance can be a little pricey, it also ensures the job is done quickly and without any hassle.
There are four different types of dishwasher installations. Essentially, the units operate in a similar manner but are installed differently, depending on your wants and needs.
Free-standing
These dishwashers are able to be moved around as you see fit, provided there is proper water supply, drainage and power. Is this ideal for most homes? Maybe not, given that plumbing is usually confined to a single location in your kitchen. However, these units are easier to move, which might be preferable for you if you're planning to move in the near future.
Built-in
Built-in dishwashers are those that have been installed in a certain place, usually a specifically designed spot under a kitchen bench. The unit itself is very similar to the equivalent free-standing one, but it cannot be moved due to the permanently installed plumbing and power supply. A built-in dishwasher is the most commonly installed kind.
Semi-integrated
Semi-integrated dishwashers are built-in units that have most of their front door covered by similar paneling to the rest of the kitchen, usually for aesthetic reasons. The dishwasher's controls remain exposed at the top of the door. Generally speaking, these are more expensive to install than built-in units.
Fully integrated
Fully integrated dishwashers have their front doors completely covered by a kitchen panel so as to appear just like another cupboard. Their controls are located on the top inside edge of the door. Due to the greater complexity of installing these units, and designing them to fit with the aesthetic of your kitchen's design, they are usually the most expensive to install.
Anything else?
From what we've highlighted today, it may seem like the process of buying a new dishwasher is a monumental effort. Though really, it's not. If you take away three key factors that determine what dishwasher you buy, they should be:
What type of dishwasher you want/need
The brand, its features and price
The type of installation you'll need to do
These three key points should help determine what dishwasher is right for you and your household. The best dishwasher is the one that's right for you, and luckily there are a lot of high-quality brands out there that may offer what you need.
*Prices are taken from respective retailers and Appliances Online, correct as of January 2022.
Original author: Simon Downes.