Whether it's Christmas time or a family gathering, trying to cook multiple dishes at once in a single small oven can pose some issues. Fortunately, there is a solution to all your cooking woes – double ovens. Double ovens create a simple solution for those in large families who need to whip up a feast most nights of the week or if entertaining. But what is a double oven and what do they do? This guide breaks down all you need to know about double ovens.  
What is a double oven?
A double oven is exactly what it sounds like – two separate ovens combined into a single appliance. They're usually designed with one oven on top of the other, but there are some side-by-side double ovens available.
Each oven operates completely independently of the other, with its own door and controls. Sometimes one oven is smaller and sometimes they are both about the same size. Double ovens are usually electric, as opposed to gas-powered.
You may also be interested in:
Types of double oven
When it comes to double ovens there are two main types – freestanding side-by-side or built-in double-wall ovens. Freestanding side-by-side models tend to be far more expensive, whereas the built-in models are usually stacked one on top of the other and are cheaper to buy.
Freestanding double oven
Freestanding ovens can be costlier, however they are easier to install in a kitchen as they don't need to be built into a wall or surface. These models of side-by-side ovens will also generally come with a cooktop on top of the unit, usually a gas cooktop. 
Double wall oven
The most common type of double oven is the built-in stacked unit. Most of the time one of these ovens is smaller than the other, and usually comes with less features, although some models have two similarly-sized ovens to allow you to properly whip up a storm.
How much do double ovens cost?
Double ovens retail from $750 for entry-level appliances to upwards of $13,000 for higher-end models with all the bells and whistles. For models that meet the middle of the market with basic features, you can expect to pay approximately $1,500 to $3,000. 
Who sells double ovens?
There are a number of brands that sell double ovens including Westinghouse, Bosch, and Smeg. Smeg is a top-of-the-range brand that offers higher-end appliances, whereas Bosch provides a more entry-level and middle-of-the-market appliance. 
Westinghouse Double Oven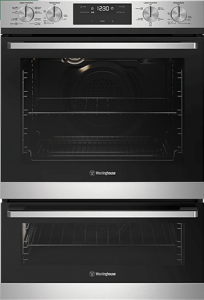 Westinghouse offers a range of double ovens that retail from $2,000 to $4,000 offering a fair range of choice from a price perspective. Many of its double ovens feature a smaller oven with a single drawer or a standard same-size double oven design. With features like air frying, a cool-to-touch oven door, and PyroClean functions for easy cleaning, it can be an ideal choice for a larger family household. 
Bosch Double Oven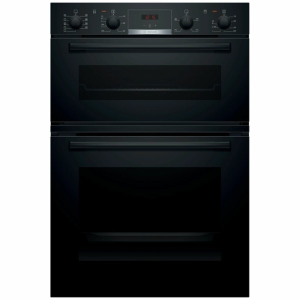 Bosch has a short and sweet range of double ovens giving you simple but limited choices. Ranging in price from $2,000 to $4,000 its built-in wall double ovens provide basic features like family-sized capacity, a 3D hot air system for even cooking, and eco-clean for easy clean up after cooking. With a 71L capacity in the main oven, you can cook large roasts and in the smaller 34L oven, you can prepare accompanying dishes.  
Smeg Double Oven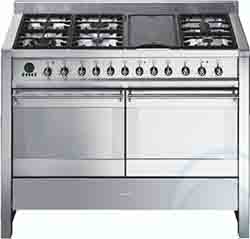 Smeg is a well-known Italian appliance brand offering both freestanding and built-in double ovens retailing from $3,000 up to $15,000. They offer a variety of ovens from a price perspective however the models themselves are not quite as diverse. Their built-in model boasts features including simultaneous baking and cooking, multiple cooking levels, and hassle-free cleaning. The freestanding model of the double oven provides generous oven space with multiple shelves and a seven-burner stovetop with a flat hot plate. 
Factors to consider when buying a double oven
There are a few things to consider when buying a new oven. You'll need to balance your wants and needs against your budget. These are features to look for in any oven:
Size

: Double ovens come in all sorts of sizes – check what fits in your kitchen space.

Capacity

: This refers to how much space there is inside the oven. Note that gross and net capacity is different, so read carefully. The net capacity describes the actual usable capacity of the oven.

Fan-forced or 'convection'

: A convection oven, also known as a fan-forced oven, uses a fan to push air around the oven. This cooks food faster.

Self-cleaning

: A pyrolytic oven can use extremely high temperatures to turn any mess inside into ash, which can then be easily wiped out once it's cooled.

Delayed bake

: Some ovens have timers that can be used to delay the start of cooking so that you can use your oven like a

slow cooker

.

Warm and hold

: Another timer-based function, this feature automatically switches the oven to a very low temperature to keep food warm after it's finished cooking.

Door lock-out

: Safety features that make it difficult for little ones to get into the oven can give you peace of mind.
Should I buy a double oven?
While double ovens can be very handy, it may be more cost-effective to buy a smaller appliance to supplement your cooking capacity if you're unable to front the costs of a double oven. Ovens are expensive to buy and install and aren't as energy-efficient as many smaller appliances that can do the same job. Compare ovens to see which type and brand may be the right choice for your kitchen. 
Original Author: April Broadbent