Kmart fries the competition in air fryer ratings
Maintaining a healthy diet isn't easy when you also enjoy snack foods like chips, which are generally high in saturated fats. For whatever reason, most of our favourite foods also happen to be bad for us, so wouldn't it be great if there was a way of cooking our most-loved foods without having to worry about how unhealthy they are? Step forward the humble air fryer. It's not a miracle appliance that suddenly makes all those fatty foods good for you, but it will help you eat healthier versions of your favourite guilty-pleasures – and you'll know exactly what's gone into them.
Our survey revealed that Aussie consumers spend on average $156 on air fryers, so they're not exactly a 'cheap as chips' appliance. So, who's serving up something worth eating up? To find out, Canstar Blue asked more than 500 Aussie consumers for their feedback on the air fryers they've recently bought and used, with brands rated on a number of factors including cooking performance, design, ease of use and cleaning, functions and features, value for money and overall satisfaction.
So, what did we find? In the second year of our air fryers review, Kmart has emerged victorious, scoring five stars across all research categories – not bad for a relative budget brand. Kmart replaces Philips as the best-rated brand from last year.
Best Air Fryers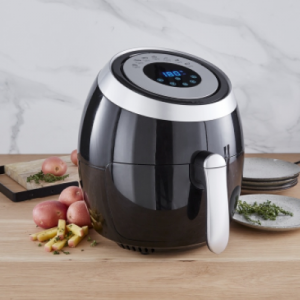 Here are the best air fryers in Australia, as rated by consumers in Canstar Blue's latest review:
Kmart
Breville
Philips
Kogan
Kmart cooked up the competition by achieving a clean five-star sweep across the board and for overall customer satisfaction. Meanwhile, Breville and Philips landed on four stars overall, while online retailer Kogan finished up on three.
This year's healthy competition revealed it can be pretty tough to impress consumers, with only two brands managing to achieve full marks in the entire review. Our 2020 winner Kmart scored a five-star rating in all categories, while Breville bubbled to the top with five stars for its functions and features.
Read on to explore what each of the brands featured in our review has to offer.
Top-Rated Air Fryers
Kmart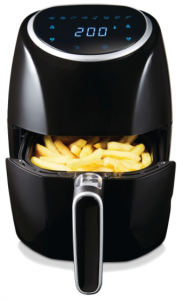 Budget-oriented retail chain Kmart offers a few air fryers to choose from, with prices starting from just $49. The Kmart 1.5L Air Fryer is the cheapest option you can get your hands on, providing eight pre-set functions, several adjustable temperatures up to 200 degrees, with 900W of power to help you prepare delicious crispy fries and nuggets for the whole family. Some other features include overheat protection and a 60-minute timer setting.
Another model to fill up on is the 3.2L Air Fryer which retails for $69. This 1500W appliance has seven pre-set functions and comes with many of the same features seen in the smaller capacity model, such as an LED control panel and removable drying basket. Kmart says its air fryers have been tested according to applicable Australian electrical safety standards and certified as compliant.
Air fryers currently available from Kmart include:
Kmart 1.5 Litre Air Fryer: $49 (RRP)*
Kmart 3.2 Litre Air Fryer: $69 (RRP)*
Kmart's range will usually take you back anywhere between $50 and $70, making these models among the most affordable options on the market.
Kmart cleaned up with five-star ratings across the board, for cooking performance, functions and features, ease of use, ease of cleaning, design, value for money and overall satisfaction
Breville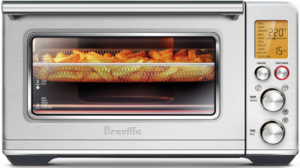 With a mission to create products that encourage consumers' ability 'to do things more impressively or easily than they'd thought in their own kitchen', Breville is another well-known household name to dish up its own take on the versatile appliance that is the air fryer. And our ratings suggest it's doing a decent job.
At the time of writing, the Breville Smart Oven Air Fryer is the only air fryer from the brand. Valued at a cool $499.95, the Smart Oven Air Fryer is certainly a premium investment that's said to be powered by the brand's Element iQ system, which apparently mimics the ideal cooking environment for air frying, with nine bonus cooking techniques. The model is stated to provide high temperatures and convection heating to speed up cooking times and ensure a crisp finish.
Breville joined Kmart in scoring top marks for functions and features, being the only entry other than this year's winner to get full marks in a particular category. It rated four stars in most other categories, including overall satisfaction, but got three stars for value for money.
Philips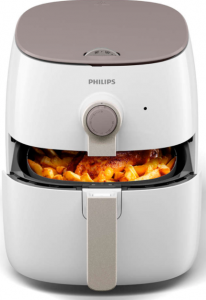 When people think air fryers, they tend to think of Philips, and it's easy to see why. Its designs are all sleek and come with easy to use displays. The brand impressed in our review of air fryers last year and took out the title as having the best-rated air fryers, but has slipped down the rankings this time.
One of the cheapest air fryers from Philips is the Viva Collection TurboStar Airfryer HD9721/21, valued at $329. This premium cooking appliance is said to feature New Fat Removal technology to extract and capture excess fat, making it supposedly the healthiest way to enjoy 'maximum taste and minimum fat'. This Philips air fryer can also fry, bake, grill, roast and reheat food. Plus, the model comes with a bunch of meal ideas in a recipe book as well as the Philips Airfryer app. The Viva Collection air fryer additionally provides 1500W of power and a capacity basket that can fit up to 0.8kg worth of food.
Some air fryers from Philips include:
Philips Daily Airfryer HD9216/91: $239 (RRP)*
Philips Daily Airfryer HD9218/51: $239 (RRP)*
Philips Premium Airfryer HD9742/93: $399 (RRP)*
Philips Airfryer XXL HD9650/93: $499 (RRP)*
Philips Airfryer XXL HD9861/99: $599 (RRP)*
Philips air fryers can retail anywhere between the $230 and $600 mark.
Philips may have flipped into third place since dominating our inaugural air fryer review, but it still managed to earn a respectable four stars in most categories, including cooking performance and overall satisfaction. The only exceptions were value for money and design where it got three stars.
Kogan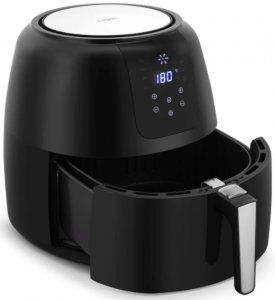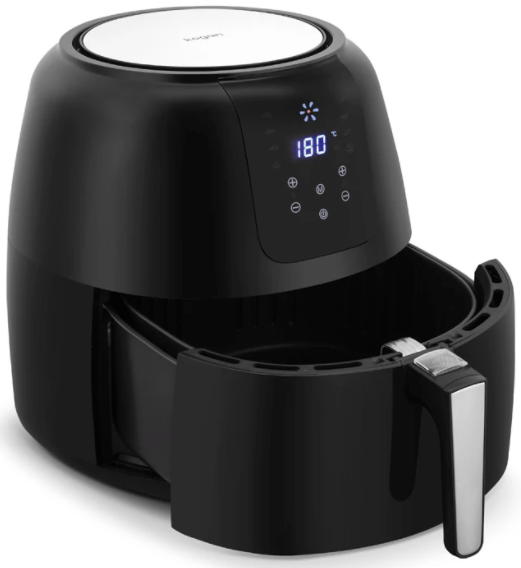 Known for its discounts and affordable spin-off products from more expensive, big name brands, it's not surprising to see Kogan fry up its own selection of air fryers. It offers a few models in capacities ranging from 3.2L to a whopping 12L.
Similar to other pricier alternatives, the cheapest air fryer from Kogan is said to fry, grill, roast and bake with minimal or no oil needed. Marketed as a suitable cooking appliance for preparing family meals, the Kogan 8.2L Digital Low Fat 1800W Air Fryer comes with an 8.2L pot capacity and 7.2L basket capacity. It also provides 1800W of power and offers a temperature range between 80 and 200 degrees.
Kogan air fryers include:
Kogan 8.2L Digital Low Fat 1800W Air Fryer: $99.99 (RRP)*
Kogan 3.2L Digital Low Fat 1400W Air Fryer: $129.99 (RRP)*
Kogan 12L 1800W Digital Air Fryer Oven: $139.99 (RRP)*
Kogan 5.2L Digital Low Fat 1800W Air Fryer: $149.99 (RRP)*
Kogan 6.5L Self Stirring Digital Air Fryer: $169.99 (RRP)*
Kogan 12L Rotary Air Fryer: $169.99 (RRP)*
Kogan 10L Digital Multifunction Air Fryer: $199 (RRP)*
Kogan 12-in-1 1500W Air Fryer: $199.99 (RRP)*
Kogan air fryers typically sell for $999 to $199.99.
Kogan achieved a respectable four stars for value for money, functions and features and ease of cleaning. But it ultimately rounded out this year's results on three stars for overall satisfaction as well as cooking performance, ease of use and design.
Other Air Fryer Brands
While only four brands managed to qualify and feature in our 2020 air fryer review, it doesn't mean there aren't other brands worth looking into. Here are some you might want to check out:
Tefal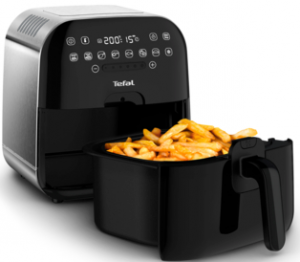 One brand to serve up a range of air fryers is Tefal, a premium brand known for creating household appliances such as clothes irons.
As a premium brand, expect to pay more than your average model from Kmart. One of its air fryers is the Tefal FX1000 Fry Delight, which will cost you about $230. It features Air pulse technology stated to cook crispy fried food with little to no oil. It's also boasted to not only fry but also grill, roast and bake your favourite treats. This Tefal air fryer also has a trendy design, with dishwasher safe parts for easy cleaning. It offers 0.8kg capacity to serve up approximately four servings of chips, and like with other brands, it has a handy timer for convenience. Expect a temperature range from 150 to 200 degrees and a cool to touch system for safety.
Tefal has a few models to choose from, including:
Tefal Fry Delight 800g FX1000 Air Fryer
Tefal Easy Fry Classic Air Fryer EY2018 Air Fryer
Tefal Easy Fryer Deluxe Digital EY4010 Air Fryer
Tefal Ultimate Fry Deluxe FX2020 Air Fryer
Kambrook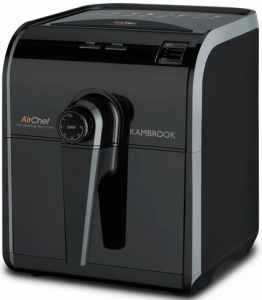 Kambrook has just one air fryer available at the time of writing, the Kambrook Air Chef Air Frying Oven. The Air Chef costs $189.95, making it reasonably cheaper than most other brands. It's designed to fry, bake, grill and roast up to 2.5L worth of food in a single batch and comes with a non-stick basket.
The model also provides between 1300W to 1500W worth of power and offers variable temperature control settings up to 200℃. A notable feature is the safety auto cut-out, which pauses the cooking process whenever the basket is removed and resumes once it's put back into place.

ALDI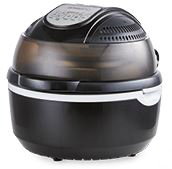 ALDI has also featured an air fryer amongst its Special Buys. Usually retailing for $129, ALDI's air fryer comes with 10L of cooking capacity and 1300W of heating power. It features an LED display with a digital control panel, plus a double layer viewing window. It's claimed to have a Halogen infrared heating system and a 360-degree rotation system to cook food evenly. It also has a 60 minutes adjustable timer and adjustable temperature control of up to 230 degrees. You can choose from six different cooking programs.
Accessories include a grill pan, rolling cage, tongs, dual rack, skewer rack, rotisserie spindle and forks. In addition, there's a lid lock for safety. It comes with a three-year warranty and has two colour variants – black or white.

What is an air fryer?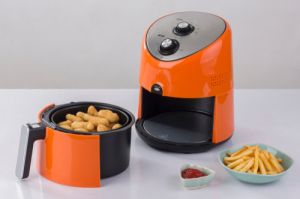 An air fryer is a benchtop kitchen appliance that cooks food by circulating hot air around it, much like an oven. It usually looks like a large rice cooker (or a mini oven, if it's an air fryer oven) and contains a removable tray that can be filled with food and easily put back inside.
One of the main benefits of air fryers is that they're claimed to use significantly less oil than other appliances, such as deep fryers (about 70%-80% less), giving you a healthier and less greasy alternative. According to celebrity chef Gordon Ramsay: "The air fryer doesn't quite replace that deep-fried taste, but with just a tablespoon of oil, the chips (and other foods) come out crisp on the outside and tender on the inside. They're healthier and taste great."
Our survey respondents cited the following reasons for purchasing an air fryer:
For a healthier alternative to traditional pan frying: 47%
For convenience: 27%
To try something new: 11%
To make less mess while cooking: 6%
It's safer to use: 5%
How do air fryers work?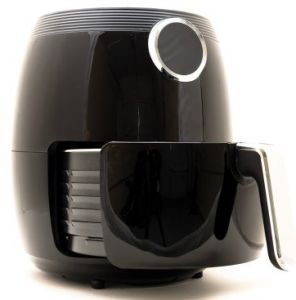 The basic principle of air fryers is that they use circulated hot hair to heat up your food. They use rapid air technology to cook any type of food that you would otherwise cook in deep fat, such as chips and chicken. This rapid air technology circulates the air to temperatures up to 200 degrees, and the cooking chamber (where you store the food) keeps the food close to the heating elements, allowing your food to be cooked in 10 to 20 minutes without the need to be ore-heated.
Above the cooking chamber is an exhaust fan, which helps provide the necessary airflow to ensure that every part of the food receives the same heating temperature required to make it nice and crispy brown. In addition, the air fryer comes with an internal cooling system that keeps the inside of the machine clean. This cooling system includes a fan mounted on the motor axis that controls the internal temperature and make sure that fresh air passes through the filters.
Basically, the air fryer is extremely easy to use and requires little to no maintenance on your part. In addition to making the process of frying easier, it also results in healthier and (arguably) tastier results due to the lower oil count.
What can you cook in an air fryer?
Frozen foods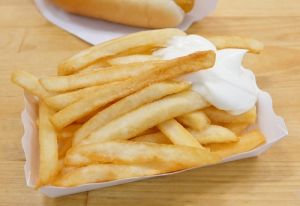 Pretty much any frozen food that you would put in an oven can be cooked in the hot air of an air fryer. The most common one is chips – this is what a lot of people basically assume they are made for – but you can also do snacks such as chicken nuggets, fish sticks and potato gems, all of which are staples of households in Australia, particularly if you've got children.
Cooking times vary depending on the food, but they tend to take around 10 minutes a lot of the time, and in some cases, can even be done in as little as six minutes with appropriate pre-heating! This is very impressive and much faster than what an oven would take.
Raw meats
Certain air fryers come with accessories such as a baking cage or grill pan that enable you to prepare meat in your air fryer. A whole roast chicken can be done in about 30 minutes, and roast pork and BBQ ribs can apparently be done in as little as 10 minutes. Other popular meats that can be cooked in an air fryer include burger patties, steaks and lamb chops.
Vegetables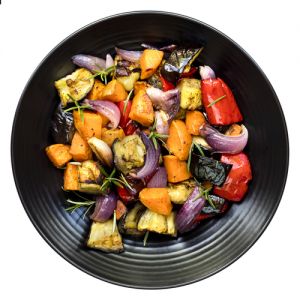 You can also roast certain types of vegetables in an air fryer if they are the kind you would normally grill. Common meal veggies like capsicum and cauliflower can be grilled in the machine. Certain models come with a round ceramic bowl with a stirring paddle that allows you to fry green vegetables just like you would in a skillet. Other veggies you can cook in an air fryer include peppers, corn, zucchini, kale and asparagus.
Baked foods
You also have the option to cook non-stick baking dishes in your air fryer, which can be very useful for baking small items like cupcakes, bread, muffins and lasagnas. Essentially, you can cook anything in an air fryer that comes with a liquid or sauce, such as casseroles and curries. Muffins and cupcakes can be made in as little as 10 minutes. If you plan on doing baking with your air fryer, then be sure to get one that comes with a baking dish.
Nuts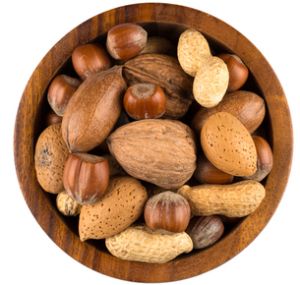 If you're a nut kind of person, then you'll be glad to know that roasting peanuts, almonds and any other type of nut can be done very easily with your air fryer. Peanuts and almonds can be done in 10 minutes, whereas walnuts will be ready to go in less than 8 minutes.
What can't you cook in air fryers?
Despite their many uses, there are still a lot of foods and snacks that you shouldn't put in an air fryer.
Wet batter-coated foods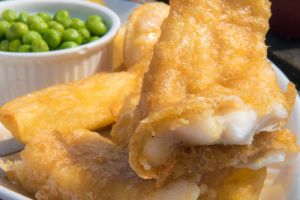 Batter-coated food is generally not suited for air frying, since the fast-moving air can push away the wet batter from the food and spray it all over the place. So, if you want to make battered fish or chicken, it is probably best to stick to the traditional methods of cooking. However, some have had success by frying the batter-coated pieces in a pan first and then frying them in the hot air fryer, but this takes longer and is really quite unnecessary.
Certain kinds of vegetables
As mentioned before, vegetables that can be roasted or grilled can be cooked in an air fryer. However, you should avoid any kinds of vegetables that are usually steamed, such as carrots and beans.
Pasta and rice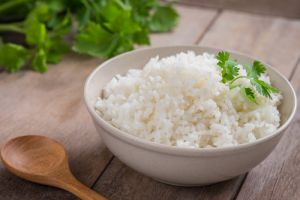 Since their primary function is frying, it goes without saying that foods you generally boil – mainly pasta and rice – are not suitable for use in an air fryer. For these, the old-fashioned way of boiling water is still best. Alternatively, you can get a rice cooker.
Really, you can cook the majority of common foods in an air fryer if the quantity is not too big. Most air fryers come with a 500g capacity, but there are options out there with larger capacities. Air fryers open the door to innovation in cooking, and with a bit of experimentation, you can cook pretty much anything in less than half an hour.
Is it worth buying an air fryer?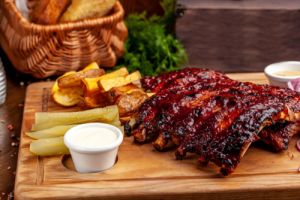 While our ratings revealed Kmart was the best brand for air fryers, keep in mind that you should at the very least consider capacity, size and ease of cleaning when shopping for air fryers. Although, an analysis of our research revealed ease of use to be the biggest driver of customer satisfaction (20%), ahead of cooking performance (18%), functions and features (18%) and value for money (18%).
If you're looking for something easy to use and can cook pretty well, Kmart and Philips seem to be the go-to for air fryers. But when it comes to functions, Breville steps in to join this year's winner as the top pick. Unsurprisingly, discount retailer Kogan and affordable department chain Kmart came out as the top-rated brands for getting the best bang for your buck.
Making healthy, low-fat and tasty food in a matter of minutes sounds like a dream, but try to do a little research before diving into the deep end with a new air fryer. Consider how often you'll use it, and what you'll actually use it for. The last thing you want to do is spend $200 on a new kitchen appliance that just ends up gathering dust.

About the author of this page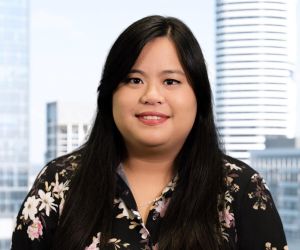 This report was written by Canstar Blue's home & lifestyle journalist, Tahnee-Jae Lopez-Vito. She's an expert on household appliances, grooming products and all things grocery and shopping. In addition to translating our expert research into consumer-friendly ratings reports, Tahnee spends her time helping consumers make better-informed purchase decisions on all manner of consumer goods and services, while highlighting the best deals and anything you need to be aware of.
Picture credits: Robyn Mackenzie/shutterstock.com, Rtstudio/shutterstock.com, Venus Angel/shutterstock.com, Trong Nguyen/shutterstock.com, Zu Kamilov/shutterstock.com