Air fryers buying guide
To help you find the best air fryer for your kitchen, we've compiled a quick buying guide on the different features you should look for, prices and capacities. We also have a list of foods you should and shouldn't cook in the air fryer.
What's in our buying guide?
What is an air fryer?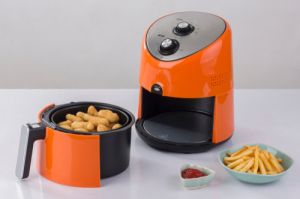 An air fryer is a benchtop kitchen appliance that cooks food by circulating hot air around it, much like an oven. It usually looks like a large rice cooker (or a mini oven, if it's an air fryer oven) and contains a removable tray that can be filled with food and easily put back inside. Dual air fryers (otherwise called twin or double air fryers) are also available for households wanting the convenience of cooking two dishes at the same time, including at different temperatures. These typically come with 8L-9L capacities (including twin baskets), making them ideal for families and households who like to entertain.
---
Check out our twin air fryer reviews: 
Kmart 9L double air fryer for family meals
---
One of the main benefits of air fryers is that they're claimed to use significantly less oil than other appliances, such as deep fryers (about 70%-80% less), resulting in healthier and (arguably) tastier meals. They are also very easy to use and should require little to no maintenance on your part, in addition to making the process of frying easier.
What's the difference between air fryers with baskets and air fryer ovens?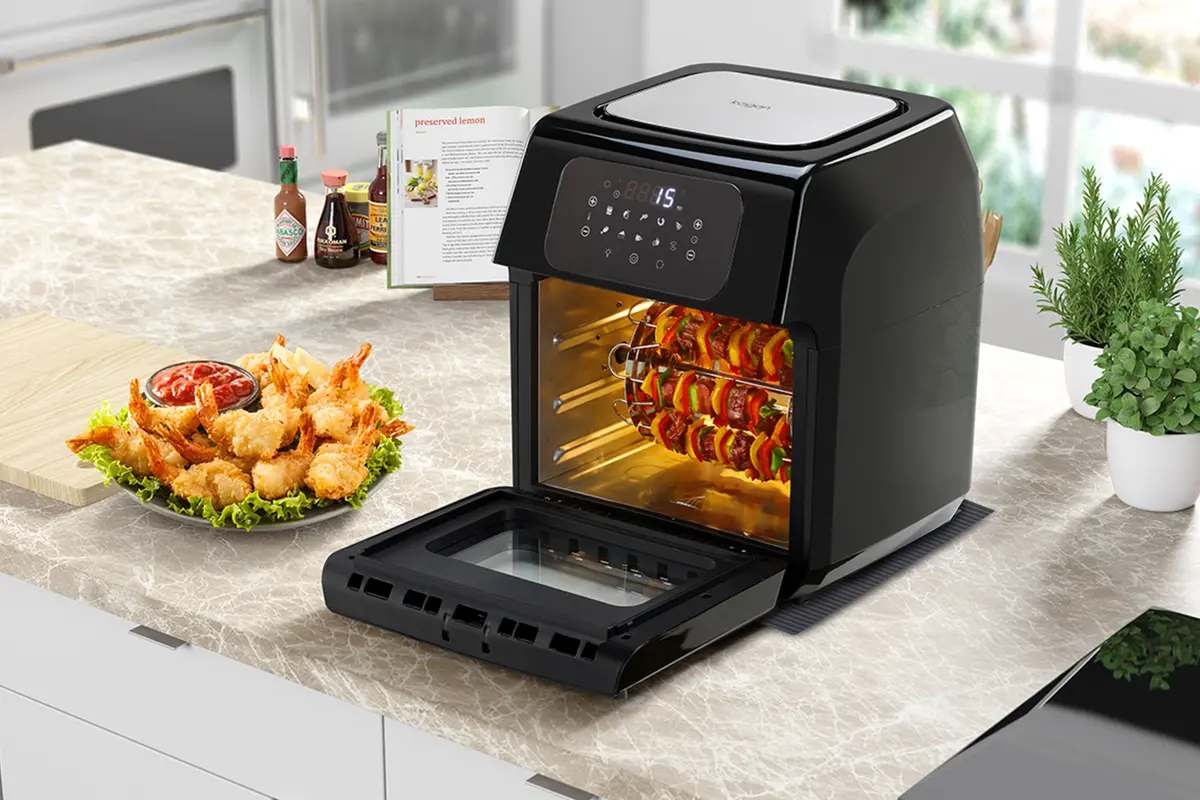 An air fryer oven is a small benchtop oven that works the same way as a regular air fryer, but offers more versatility in terms of cooking method options (similar to multi-cookers). These can usually function as an oven, rotisserie, and dehydrator in addition to air frying food. This is different to a standard full-size convection (or fan-forced) oven that offers multiple cooking modes, including air fry, but would otherwise be primarily used as a normal oven.
How do air fryers work?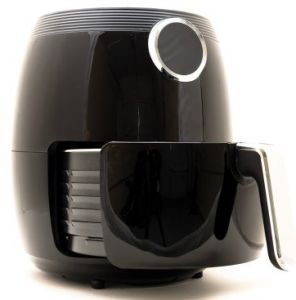 Air fryers essentially use rapid air technology (circulating hot air) to cook foods that would otherwise be dipped in oil, such as chips and chicken. With the help of an exhaust fan that sits above the cooking chamber, plus a perforated basket or cage, the appliance circulates hot air (up to 200°C) throughout the cavity and heats the dish from all angles. This helps provide enough airflow to ensure every part of the food receives the same temperature, allowing the dish to cook evenly and become nice and crispy.
Air fryers additionally come with an internal cooling system that keeps the inside of the machine clean. This cooling system includes a fan mounted on the motor axis that controls the internal temperature and makes sure that fresh air passes through the filters.
---
Read more: Air fryers vs ovens: What's the difference?
---
How do you choose the best air fryer?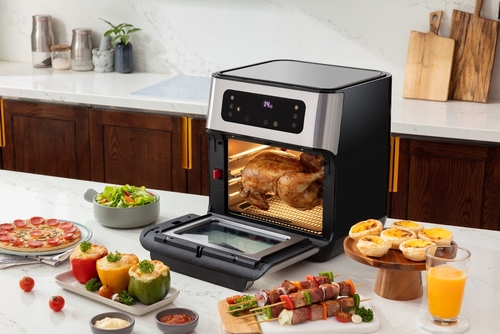 Since air fryers have many of the same features and settings, cost and size will ultimately be your biggest considerations. In fact, our survey found that price swayed the majority of our respondents (39%), followed by capacity (20%) and ease of use (18%).
Features
Here are some must-have features and attachments to look out for in an air fryer:
Drawer & frying basket: Air fryers have a removable drawer and perforated basket for your food, allowing the hot air to circulate and cook the food from all sides.
Adjustable temperature: Air fryers usually have a temperature range of between 30°C-200°C and can be adjusted in 10°C increments.
Built-in timer: Most models feature either a dial or digital controls.
Additional cooking settings: Extra pre-set modes include reheat and keep-warm. Some air fryers, mainly air fryer ovens, also allow you to toast, grill, roast and bake.
Drip tray: Collects any excess oil and fat.
Dishwasher-safe parts: Makes cleaning easier, especially when baskets contain a non-stick coating to prevent residue from sticking into the compartment.
Price
Air fryers can cost anywhere between $60 and $600, although you can find cheaper models for less – so, there's something to suit most budgets. Cost was the top priority for one in three (39%) of shoppers we surveyed, and our latest survey results found many consumers stuck towards wallet-friendly models – with Aussies spending an average of $107 on a new air fryer. Keep in mind that air fryer ovens tend to be more expensive than basket air fryers because they usually have a much larger capacity.
Capacity
How much food you can actually fit in an air fryer might be much less than what's claimed by the manufacturer. And keep in mind that air fryers cannot be packed to the brim, otherwise they won't cook food thoroughly and evenly. For example, a 3.8L model is probably only going to fit up to 700g of chips (not 3.8kg which is the equivalent of 3.8L).
Here's a rough guide on capacity:
5L – 2L: These are compact and ideal for single households or couples and small families that want to cook quick snacks.
2L – 4L: Still relatively affordable and can feed one to three people.
2L and larger: Can get expensive, depending on the size. But they're good for two to four people who plan on using an air fryer regularly and have a fair amount of countertop space available.
It's worth noting that capacity suggestions typically refer to finger foods like shoestring fries and chicken tenders since these are small, lightweight, and don't leave the same gaps that are often left by bulky and awkwardly-shaped items (i.e. frozen salmon). Plus, they can be piled on top of each other because they're pliant and easier to cook through compared to thick chunks of steak.
But if you want to use an air fryer for a wide variety of foods, it's a good idea to opt for at least a 4.2L model. Frying baskets are usually on the small side, so it's a good idea to think about what you're planning to use an air fryer for, as well as portion sizes.
Smart tip:
Try to opt for a model that's a little larger than what you think would be the perfect size for your household because the actual usable capacity can be smaller than what you might expect – especially when comparing it to the size of the appliance itself. It also helps prevent overfilling the basket(s), which won't give you the golden crispy result you're looking for.
Should you buy an air fryer?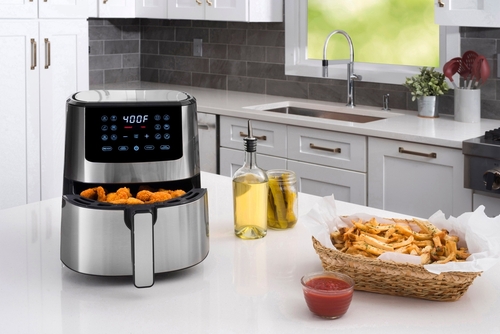 Air fryers are worth purchasing if you're looking for a simple way to cook small batches of food (preferably snacks and side dishes), fast. But they're not an exact substitute for deep fryers since air fryers don't work well with wet food. Unless pre-frozen, battered foods and marinades can easily slip off and cause the dish to slide around because it doesn't set the same way in an air fryer as it does when placed in oil.
Here are a few advantages and disadvantages of buying an air fryer:
| | |
| --- | --- |
| Air fryer pros | Air fryer cons |
| Cook foods quickly and evenly | Can be loud |
| Require little or no oil | May require time to work out the best temperature and timer settings |
| Less messy and easier to clean than deep fryers | Requires regular intervention – flipping food, shaking the basket |
| Can also reheat, roast and bake foods | May need to cook in multiple batches |
| Easy to use and don't splatter oil everywhere | Can take up a big amount of bench space |
One in three (34%) Aussies we surveyed said their air fryer was their favourite appliance in the kitchen, and a whopping 61% also found having an air fryer shortened their cooking time. Our latest survey also revealed most of our respondents bought an air fryer as a healthier alternative to traditional pan-frying (47%), as well as for convenience (26%). Others said they simply wanted to try something new (12%), make less mess while cooking (6%) or cook with something that feels safer to use (5%).
What can you cook in an air fryer?
Frozen foods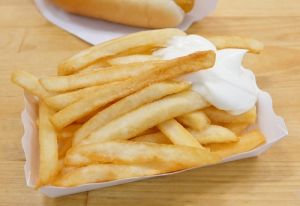 Pretty much any frozen food that you would put in an oven can be cooked in the hot air of an air fryer. The most common one is chips – this is what a lot of people basically assume they are made for – but you can also do snacks such as chicken nuggets, fish sticks and potato gems, all of which are staples of households in Australia, particularly if you've got children.
Cooking times vary depending on the food, but they tend to take around 10 minutes a lot of the time, and in some cases, can even be done in as little as six minutes with appropriate pre-heating! This is very impressive and much faster than what an oven would take.
Raw meats
Certain air fryers come with accessories such as a baking cage or grill pan that enable you to prepare meat in your air fryer. A whole roast chicken can be done in about 30 minutes, while roast pork and BBQ ribs can apparently be done in as little as 10 minutes. Other popular meats that can be cooked in an air fryer include burger patties, steaks and lamb chops.
Vegetables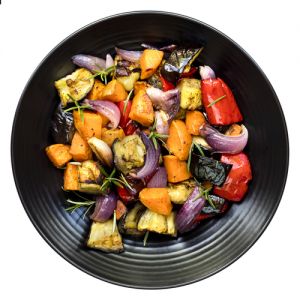 You can also roast certain types of vegetables in an air fryer if they are the kind you would normally grill. Common meal veggies like capsicum and cauliflower can be grilled in the machine. Certain models come with a round ceramic bowl with a stirring paddle that allows you to fry green vegetables just like you would in a skillet. Other veggies you can cook in an air fryer include peppers, corn, zucchini, kale and asparagus.
Baked foods
You also have the option to cook non-stick baking dishes in your air fryer, which can be very useful for baking small items like cupcakes, bread, muffins and lasagnes. Essentially, you can cook anything in an air fryer that comes with a liquid or sauce, such as casseroles and curries. Muffins and cupcakes can be made in as little as 10 minutes. If you plan on doing baking with your air fryer, then be sure to get one that comes with a baking dish.
Nuts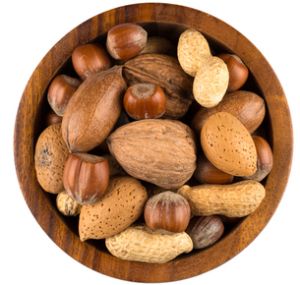 If you're a nut kind of person, then you'll be glad to know that roasting peanuts, almonds and any other type of nut can be done very easily with your air fryer. Peanuts and almonds can be done in 10 minutes, whereas walnuts will be ready to go in less than 8 minutes.
---
Read more: Air fryer tips: What you can cook in an air fryer
---
What can't you cook in air fryers?
Despite their many uses, there are still a lot of foods and snacks that you shouldn't put in an air fryer.
Wet batter-coated foods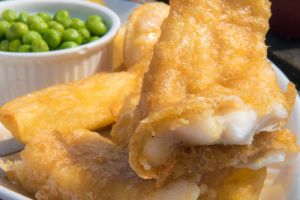 Batter-coated food is generally not suited for air frying, since the fast-moving air can push away the wet batter from the food and spray it all over the place. So, if you want to make battered fish or chicken, it is probably best to stick to the traditional methods of cooking. However, some have had success by frying the batter-coated pieces in a pan first and then frying them in the hot air fryer, but this will make the cooking process longer.
Certain kinds of vegetables
As mentioned before, vegetables that can be roasted or grilled can be cooked in an air fryer. However, you should avoid any kinds of vegetables that are usually steamed, such as carrots and beans.
Pasta and rice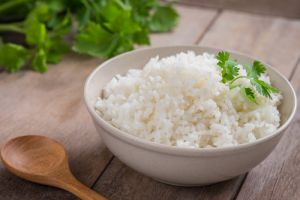 Since their primary function is frying, it goes without saying that foods you generally boil – mainly pasta and rice – are not suitable for use in an air fryer. For these, the old-fashioned way of boiling water is still best. Alternatively, you can get a rice cooker.
You can cook the majority of common foods in an air fryer, in moderate quantities. Most air fryers come with a 3-5L capacity, but there are options out there with larger capacities. Air fryers open the door to innovation in cooking, and with a bit of experimentation, you can cook pretty much anything in less than half an hour.
Smart tip:
Use toothpicks or cocktail sticks to secure lightweight foods, such as the top slice of a sandwich, otherwise the fan may blow it around.
5 useful air fryer accessories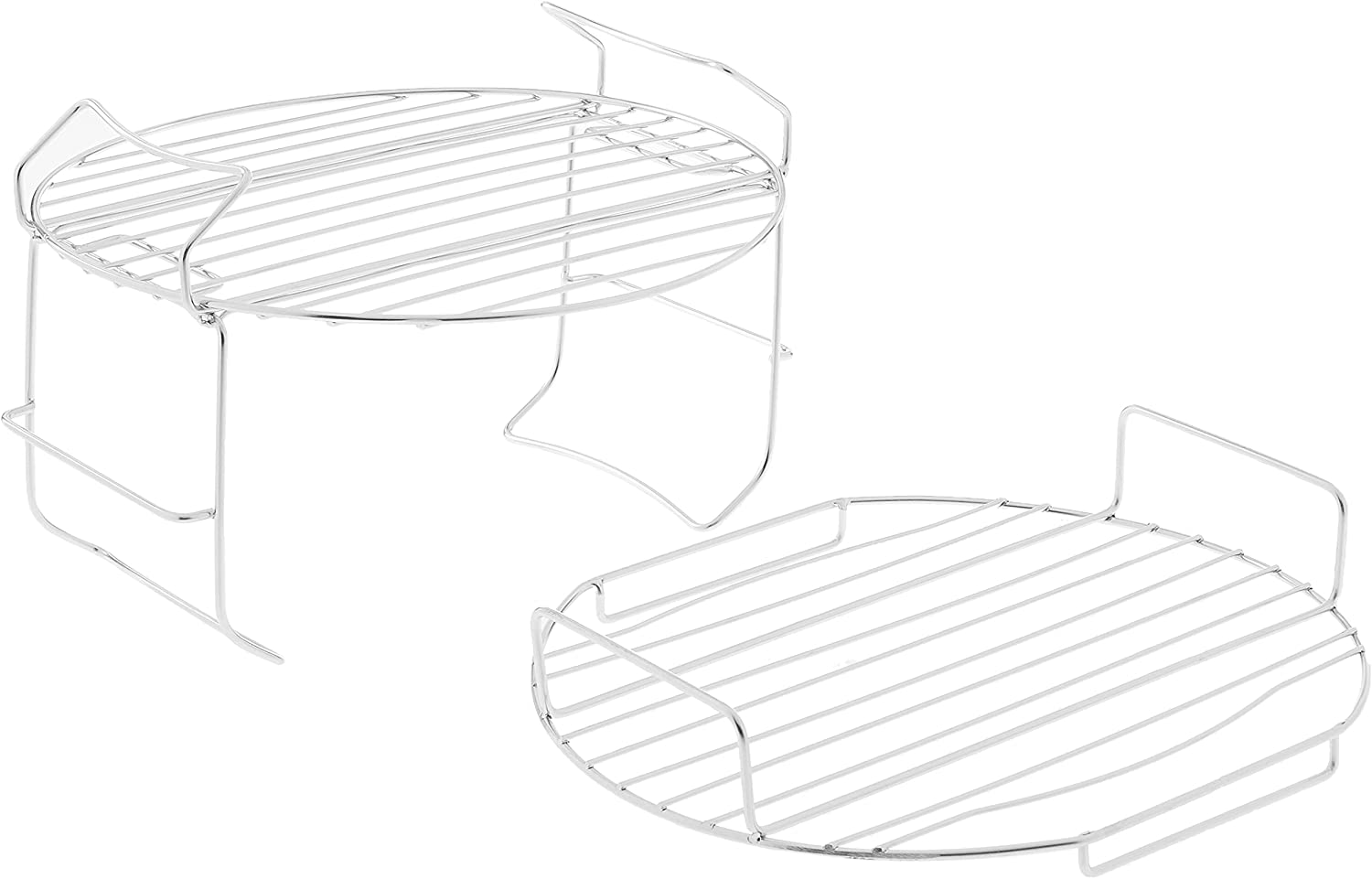 There are a few attachments that can help you make the most of your air fryer. Here are just a few:
Reversible air fryer rack: You can buy reversible air fryer racks which allow the hot air to circulate around the food, similar to baskets, as well as cool your dish once it's done cooking.
Reusable silicone pots: While you can use aluminium foil to prevent food and residue from cooking into the air fryer cavity, you can find plenty of reusable pots and liners that are just as easy to clean and take out.
Air fryer grill pan: These usually have a perforated or pierced non-stick surface, so they can still take advantage of the rapid air technology when searing or grilling food.
Baking pan: There are different types of baking pans and other bakeware (i.e. ramekins) available to help you bake cakes, bread or pizza in an air fryer, so you don't need to compromise anything for convenience.
Rotisserie set: A rotisserie cage can be used in certain air fryers, helping you achieve a crispy and juicy chicken
Can you put aluminium foil or parchment paper in an air fryer?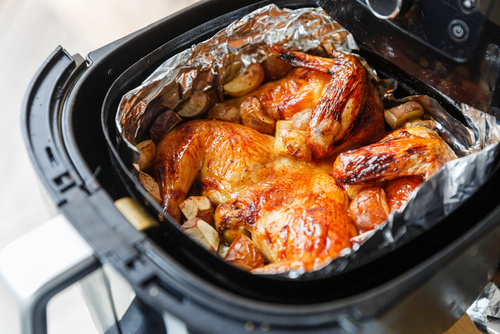 Yes – depending on who you ask. Brands like Ninja even recommend using aluminium foil and parchment paper as a liner when using certain models, although other manufacturers might warn against it since it could block airflow. Some prefer to use parchment paper to prevent food from sticking to the basket, especially since there are some claims that suggest regularly using aluminium foil can increase the amount of aluminium in your food (especially when cooking tomatoes, peppers and other acidic foods) – however, this is said to be a very small and non-harmful amount. Either way – check the manufacturer's instructions to make sure you know what's safe.
What is the best air fryer?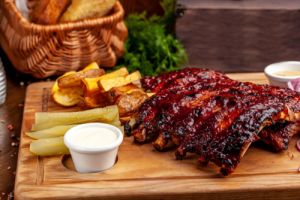 Our latest consumer survey shows ALDI's Ambiano as the hottest pick, especially when it comes down to cooking performance, ease of clean, features and design (including capacity). Although Kmart proved to be the number one brand for ease of use and value for money, and even impressed shoppers just as well in terms of performance. Breville also seemed to satisfy consumers with how well its range of air fryers cooked foods evenly.
Making healthy, low-fat and tasty meals in a matter of minutes sounds like a dream, but try to do a little research before diving into the deep end with a new air fryer. Consider how often you'll use it, and what you'll actually use it for. The last thing you want to do is spend $200 on a new kitchen appliance that just ends up gathering dust.
About the author of this page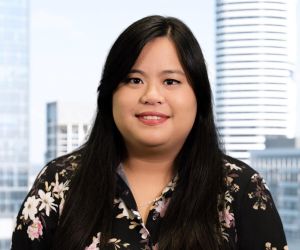 This report was written by Canstar Blue's home & lifestyle journalist, Tahnee-Jae Lopez-Vito. She's an expert on household appliances, grooming products and all things grocery and shopping. In addition to translating our expert research into consumer-friendly ratings reports, Tahnee spends her time helping consumers make better-informed purchase decisions on all manner of consumer goods and services, while highlighting the best deals and anything you need to be aware of.
*Prices taken from respective retailers, correct as of January 2022.
Picture credits: Leungchopan/Shutterstock.com, Robyn Mackenzie/Shutterstock.com, Rtstudio/Shutterstock.com, Venus Angel/Shutterstock.com, Trong Nguyen/Shutterstock.com, Zu Kamilov/Shutterstock.com, surrender kr/Shutterstock.com, YozikKoshechkin/Shutterstock.com, MZZ001/Shutterstock.com.