Living in one of the hottest countries in the world, it's crucial to find ways to beat the heat during the summer months. Aside from air conditioners, portable ACs and fans, another option is evaporative cooling. So, what is evaporative cooling and how does it work? We've created a guide on what you need to know and review some of the most popular brands on the market.
How does an evaporative cooler work?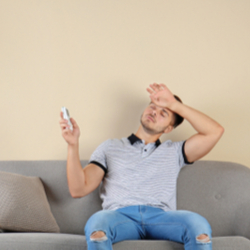 An evaporative cooler cools the air by evaporating water. Each model contains a fan which draws warm, stale outside air into the appliance and then passes it over water-soaked pads inside the unit in order to cool the air.
Since the cool air is continually circulating and creating a breeze, your ambient temperature can feel a few degrees lower than the actual temperature in the room. It's like when you get out of a pool on a hot day and immediately feel a chill as the outside air cools the water on your body.
Will evaporative cooling work for me?
Aside from cooling a room, evaporative coolers also add humidity and moisture to the air, making them ideal for areas that are dry and hot. According to some air con manufacturers like Toshiba, evaporative coolers don't suit high humidity environments, such as QLD, NT and northern WA, but may be more suitable for southern, less humid Australian areas, like ACT, VIC, SA and TAS. The map below identifies which areas experience dry heat over summer.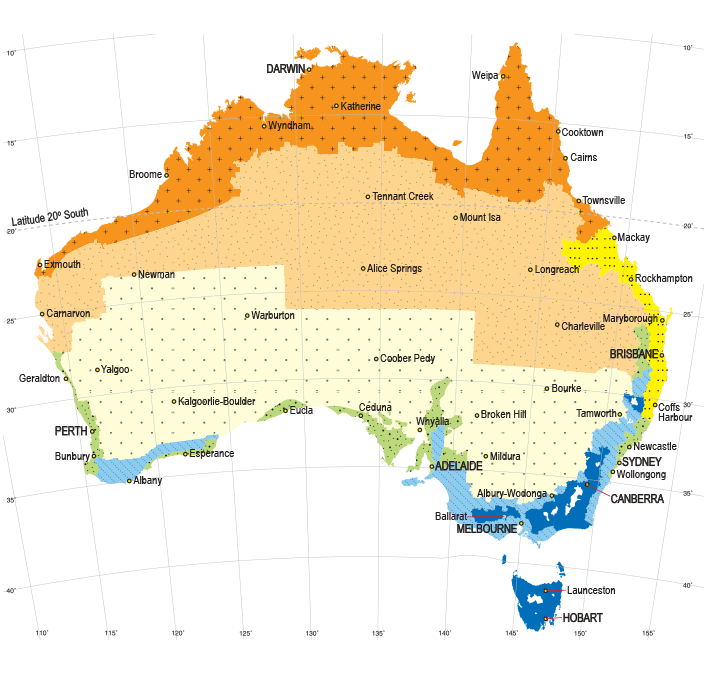 Source: Australian Building Codes Board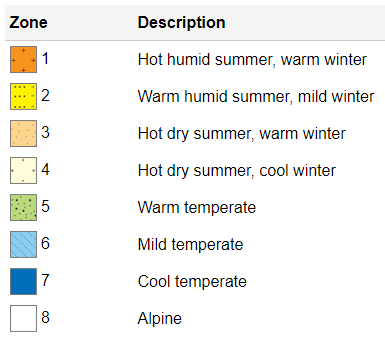 The above map shows the eight climate zones, with Zone 3 and 4 being classified as hot and dry.
Zone 3: includes northern central Australia from Carnarvon on the WA coast, encompassing Newman, Alice Springs, Tennant Creek, Longreach and Charleville to the QLD hinterland down to 28 degrees south, but not the coast.
Zone 4: is southern central Australia from the WA hinterland across most of inland SA, NSW and VIC, encompassing Yalgoo, Warburton, Coober Pedy, Whyalla, Broken Hill, Mildura, Bourke, Tamworth and Albury-Wodonga.
Evaporative Cooling vs Air Conditioning
Split-system air conditioners are divided into two units – indoor and out. While evaporative coolers also have two components, the process is different. Split-system ACs replace the hot air inside with cooler air from the outside, plus use refrigerant gas to reach the desired temperature inside the home quickly. It works in any climate, especially humid areas, unlike evaporative coolers.
How much does an evaporative cooler cost?
Evaporative coolers typically range in price from around $100, going up to close to $400. Here are a few models that are currently available, and a list of the different features and prices.
| | |
| --- | --- |
| Model | Price |
| Kmart 10L Evaporative Cooler | $89* |
| Onix Evaporative Cooler 10L White | $99* |
| Goldair 10L Evaporative Cooler | $149* |
| DeLonghi (EV250WH) Evaporative Cooler | $249* |
| Dimplex (DCEVP20W) Evaporative Cooler Fan | $349* |
Evaporative cooler maintenance
All types of air conditioning require systematic checks. Apart from regular maintenance, evaporative cooler pads will need to be serviced. According to some manufacturers, pads can last for up to a year, while others boast a long life of seven years, but this does depend on water quality and local weather conditions. You should consult your instructions manual upon purchase.
What brands offer evaporative coolers?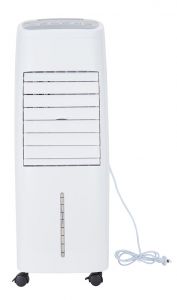 Kmart 10L Evaporative Cooler
Budget-friendly Kmart starts our list off with a 10L evaporative cooler for under $90. You can choose between three speed settings – low, medium or high – and a fixed or oscillating function to get the airflow just right. In addition, it comes with a remote control and a touch control panel, plus a 7.5-hour timer, allowing you to set the unit to turn off at any time between one and 7.5 hours.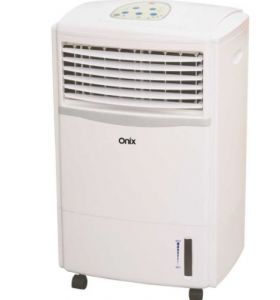 Onix Evaporative Cooler 10L White
This 10L unit from Onix (TYS-06) is available from Big W. Its equipped with three fan speeds – low, medium, high – a 7.5-hour timer and a remote control, making it easy to switch between settings on a hot summer day when you don't want to get off the couch. It's also stated to feature three operating modes – normal, natural and sleep – with adjustable and oscillating louvres, plus a cooling and humidifying function.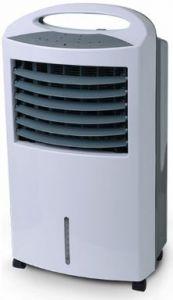 Goldair 10L Evaporative Cooler
The (GCEV150) evaporative cooler from Goldair features 10L of tank capacity. It has three speed settings with a sleep mode, stated to provide comfort while you sleep with a low speed. There's also a seven-hour timer, allowing you to set the unit to turn off at any time between one and seven hours. It's also designed with swing louvres with the horizontal louvre being able to be shifted manually for the air outlet to blow either up or down, while the vertical louvres can either be set manually or allowed to oscillate by pressing the swing button.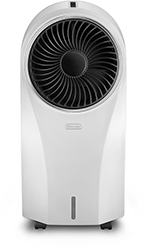 DeLonghi Evaporative Cooler
Well known for its coffee machines, DeLonghi expands its product range to include evaporative coolers like its (EV250WH) model. It features three wind modes – natural, normal, and sleep – plus comes equipped with an air ioniser. It's designed on wheels with a water splash resistant finish and has a 4.5L water tank capacity, which is half the size of Kmart's model above. Exact dimensions are 705 x 340 x 280mm (H x W x D) and it weighs 7kg. DeLonghi offers a one-year warranty on this model for peace of mind.

Dimplex 20L Evaporative Cooler Fan
Dimplex has made a name for itself in the air conditioning world and it also offers an evaporative cooler fan within its range. The Dimplex (DCEVP20W) is stated to provide 110W of power with four speed settings – silent, low, medium & high. It additionally offers three modes including natural, normal and sleep. According to Dimplex, it can cool rooms measuring up to 40m². Plus, it has a massive 20L water tank capacity, which is claimed to use 2L/h on high speed.
For convenience, this evaporative cooler lets you fill the water tank from the top and without the need to remove the tank. Other features include an LED display with a touch control panel, remote control, eight-hour timer, swing function and an automatic shut off after 15 hours of continuous operation.
This Dimplex evaporative cooler comes with a two-year warranty and measures 897 x 342 x 390mm (H x W x D), with a total weight of 8kg.
Pros & Cons of Evaporative Cooling
If you're tossing up between whether or not to buy an evaporative cooler, consider these advantages and disadvantages:
Pros
Cons
Ideal for dry heat climates

Can benefit materials in your home (i.e. wood) that can warp or crack from dry weather

Typically cheaper to purchase, install and run than an air conditioning unit

Need a steady supply of water to maintain sufficient cooling

Require regular maintenance to avoid developing unwanted odours or mould growth

Not as effective in humid climates
The bottom line on evaporative coolers
If you're looking for a solution to beat the sweltering heat, an evaporative cooler can help to evaporate water and heat in the air and change dry air into a refreshing breeze. They're also relatively cheap to buy, with all brands featured in this guide costing less than $400. However, they're not suited for all climates, so keep this in mind.
We hope this guide has provided the information you need to make an informed decision of whether or not an evaporative cooler would work for you. If you're not convinced yet, why not also compare air conditioners via the link below. We also have a helpful buying guide on how you can find the right air conditioner for your home.
Air Conditioner Reviews & Ratings
*Prices taken from respective retailers, correct as of December 2020.