Fact Checked
Living in one of the hottest countries in the world, it's crucial to find ways to beat the heat during the summer months. Aside from air conditioners, portable ACs and fans, another option is evaporative cooling. So, what is evaporative cooling and how does it work? Read this evaporative cooler guide from Canstar Blue to find out more. 
What is an evaporative cooler?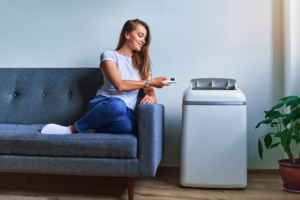 An evaporative cooler is a cooling appliance that uses evaporation to cool a space. They are a cheaper option of cooling appliance in comparison to other air conditioning appliances, and  are generally portable, making them a great choice if you want to move them from room to room. 
How do evaporative coolers work?
An evaporative cooler cools the air by evaporating water. Each model contains a fan which draws warm, stale outside air into the appliance and then passes it over water-soaked pads inside the unit in order to cool the air. Since the cool air is continually circulating and creating a breeze, your ambient temperature can feel a few degrees lower than the actual temperature in the room. 
Evaporative Cooling vs Air Conditioning
Split-system air conditioners are divided into two units – indoor and out – and while evaporative coolers also have two components, the process is different. Split-system ACs replace the hot air inside with cooler air from the outside, plus use refrigerant gas to reach the desired temperature inside the home quickly. It works in any climate, especially humid areas, unlike evaporative coolers, which may have to work harder to produce a refreshing breeze and climate.
Benefits of an evaporative cooler
Evaporative coolers offer a number of benefits that could help you lean towards buying one, including:
Ideal for dry heat climates, and can help mitigate materials such as wood cracking and warping in drier climates

Cheaper to purchase, install and run than an air conditioning unit

Improves indoor air quality

Can be more energy efficient than other cooling appliances
How much do evaporative coolers cost?
Evaporative coolers retail from $80 to upwards of $300 depending on the brand and the size. Entry level coolers will start with a smaller 10L capacity and higher end coolers can reach up to a 20L capacity. 
Who sells evaporative coolers?
There are a number of brands that sell portable evaporative coolers including Goldair, DeLonghi and Dimplex to name a few. Each brand has a number of models available each with their own features and designs.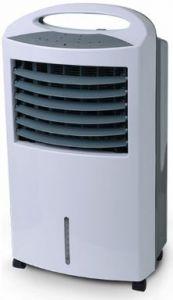 Goldair Evaporative Cooler
Goldair offers multiple evaporative coolers in its range, retailing from $50 to $180. You can choose from a small personal evaporative cooler for your desktop or beside your bed, or a larger 10L evaporative cooler for larger spaces. You can expect features like remote control, multiple wind settings to suit your comfort,  auto off timer and oscillating louvres for even airflow.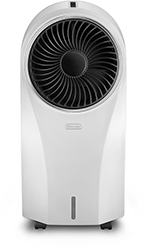 DeLonghi Evaporative Cooler
DeLonghi's range of evaporative coolers may be smaller than other brands, but may still be of interest, retailing  at around $250. It features three wind modes – natural, normal, and sleep – plus comes equipped with an air ioniser. It's designed on wheels with a water splash resistant finish and has a 4.5L water tank capacity, which is much smaller than other models, but its smaller size makes it more portable, making it ideal for those prefer to have their cooler follow them around the house. 

Dimplex Evaporative Cooler
Dimplex offers a broader range of evaporative coolers in its range, but are more expensive than most, retailing from $400 upwards. Some Dimplex models are stated to provide 110W of power with four speed settings – silent, low, medium and high. They additionally offer three modes including natural, normal and sleep. Easily refillable and with remote control access they're an ideal choice for homes looking to cool larger spaces. 
Is an evaporative cooler right for me?
If you're looking for a solution to beat the sweltering heat, an evaporative cooler can help to evaporate water and heat in the air and change dry air into a refreshing breeze. If you're still not sold on an evaporative cooler, compare air conditioners at the link below. 
Air Conditioner Reviews & Ratings
*Prices taken from respective retailers, correct as of December 2020.
Original Author: Tahnee-Jae Lopez-Vito