There are a few things more annoying than waiting all day to dig into a dish that's crisp and golden on the outside, only to discover the ice has barely melted on the inside. Flatbed microwaves are gradually filling up our benchtops, with more brands putting their own spin on this turntable-free alternative. But what's so hot about this flatbed appliance? And is it time to say goodbye to the conventional microwave? Find out with this Canstar Blue guide.
What are flatbed microwaves?
Flatbed microwaves are a type of microwave that use a different heating method than traditional conventional microwaves. While conventional models use a turntable to slowly turn your food while it's heated from the side, flatbed microwaves use a rotating antenna placed below the food to heat the food, doing away with the turntable altogether.
How do flatbed microwaves work?
Flatbed microwaves work similarly to traditional microwaves – in the sense that they heat the contents via microwaves – but the main difference comes from where the heating element is placed. While traditional microwaves may heat from the side, flatbed microwaves heat from the bottom via a rotating antenna, which sends out the microwaves at different angles in order to cook your food more evenly through than other microwaves types.
Types of Flatbed Microwaves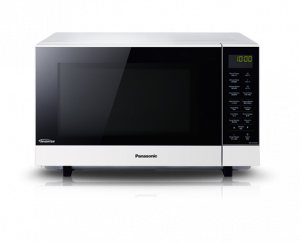 When shopping for a new conventional or flatbed microwave, there are a variety of built-in and freestanding models available. The different types of microwaves include:
Solo microwave: Ideal for quickly defrosting a chicken or warming up last night's dinner, microwave-only models are perfect for getting back to basics. Microwave-only models are generally limited to defrosting, heating and reheating, and won't typically have the same bells and whistles of combination or grill microwaves, but are more affordable as a result.
Combination microwaves: 'Integrated microwaves', or combination microwaves, or even simply known as 'combi' microwaves work in a similar way to conventional ovens, but are said to cook quicker. Compared to standard solo models, combi microwaves offer more versatility in the kitchen. They incorporate microwave energy, with grilling and convection functionalities to reheat, roast, crisp and brown food, and allow you to choose these heat sources independently or together. Combi microwaves tend to come with a higher price tag however, costing upwards of a few hundred dollars.
Grill microwaves: Grill microwaves work like solo microwaves but incorporate normal microwave heating with a grill function. This allows you to brown and cook food using heat from the grill or microwave function, or both. Unlike other types of microwaves, grill microwaves don't work with convectional heating and are usually more expensive than your solo model.
Who sells flatbed microwaves?
To help you navigate your way through the appliance aisle, we've listed a number of models currently available from leading brands. Brands that sell flatbed microwaves include:
Panasonic
Bosch
Breville
Sharp
Panasonic Flatbed Microwaves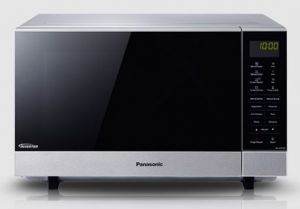 Panasonic is one of the few brands that has not only jumped on the turntable-free bandwagon, but it's also currently driving one of the biggest collections of flatbed microwaves. Products like the Panasonic 27L Flatbed Inverter Microwave Oven (NN-SF564W) and the Panasonic 27L Flatbed Inverter Microwave Oven (NN-SF574S) might be ideal options for people shopping for a more affordable flatbed microwave oven, but don't want to sacrifice space or features typically found in larger models.
Both of these Panasonic microwaves are claimed to fit the same amount of dishes as a 44L conventional microwave, making these flatbed inverter models affordable alternatives to larger turntable microwaves.
Panasonic 27L Flatbed Inverter Microwave Oven (NN-SF564W)
The Panasonic NN-SF564W is a wide 27L solo microwave oven claimed to provide 31% more space than some turntable models. It features its New Inverter Technology, which is stated to provide continuous heating with a low output. This function is said to offer precise power control, which apparently allows you to melt foods like chocolate as well as soften frozen ice cream.
Panasonic 27L Flatbed Inverter Microwave Oven (NN-SF574S)
There's little separating the Panasonic NN-SF574S and the Panasonic NN-SF574S in terms of features. It similarly offers 1000W of power but contains a flatbed design instead of a flat and wide cavity.
Bosch Flatbed Microwaves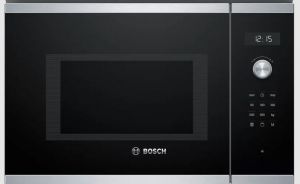 Since combination microwaves are often compared to conventional ovens, it's no surprise German brand Bosch has created its own range of built-in ovens with microwave functionality. Compact but costly, models like the Bosch Serie 8 Built-in Compact Oven with Microwave Function (CMG633BS1B) and the Bosch Serie 6 Built-in Microwave  Oven (BEL554MS0A) come with a microwave function claimed to work like an ordinary microwave, but are said to cook faster. The same function is stated to help make cooking faster when combined with the hot air heating option. Certain combi appliances like this Bosch flatbed microwave also come with a steam function as an additional cooking method.
Bosch Serie 6 Built-In Microwave Oven Stainless Steel (BEL554MS0A)
The Bosch Serie 6 Built-In Microwave Oven Stainless Steel provides a hefty 25L of space, just 10 litres less than its Serie 8 counterpart, and for a fraction of the price. Standout features of the Serie 6 include the addition of 8 pre-programmed cooking options, an automatic door that opens at the touch of a button (saving your beloved microwave from smears and grime) and finally, a futuristic grill function, allowing you to deliver meals that you would never guess came from a microwave.
Bosch Serie 8 Built-in Compact Oven with Microwave Function (CMG633BS1B)
The Bosch Serie 8 Built-in Compact Oven with Microwave Function (CMG633BS1B) provides 45L of usable space and includes features such as 'AutoPilot' to provide 14 pre-set automatic cook programs. Other key functions include the 4D Hotair Plus, which apparently distributes the heat evenly among four shelf levels by using a fan wheel stated to automatically change direction every three minutes.
The microwave function on the Bosch flatbed appliance can be used independently, or in combination with hot air heating to provide faster cooking.
Breville Flatbed Microwave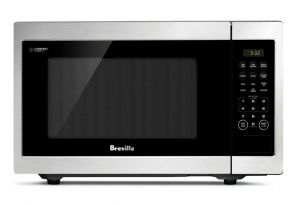 While Breville may not be brimming with flatbed microwaves as much as some brands, that doesn't mean it doesn't have a gem up its sleeve in the form of the Diamond Wave model.
Breville Diamond Wave (LMO525BSS2JAN1)
The Breville Diamond Wave (LMO525BSS2JAN1) is a 23L microwave oven claimed to provide 5% more room than a standard 42L turntable microwave oven. The apparently 'unique diamond wave design' on the back wall of the appliance is also said to help warm food faster and more evenly by 'enhancing the reflection' of the appliance.
Meanwhile, for those who need a bit of help in the kitchen, this stainless steel flatbed microwave oven includes six menus with recommended cooking times. This model has 10 power levels stated to preserve moisture by allowing you to warm food such as bread on a low setting.
Sharp Flatbed Microwaves
Entering the market with only one flatbed microwave model, Sharp offers the 32L 1200W model to help you get dinner on the table.
Sharp 1200W Flatbed Microwave (SM327FHS)
Featuring 23 cooking menus and six defrosting options, the Sharp 1200W Flatbed Microwave also includes 11 power levels to help you find the best cooking method for your meals, with an auto sensor to help take some of the guess work out of dinner time. It also includes a touch control panel, LED display, 32L capacity and stainless steel finish, the Sharp 1200W Flatbed Microwave weighs in at 12kg, making it ideal for those with a bit of benchtop space.
Pros & Cons of a flatbed microwave
While there's the obvious pro of helping to get your dinner on the table, what are the pros and cons of a flatbed microwave?
Pros of flatbed microwaves
Increased capacity: Flatbed microwaves are generally larger than traditional microwaves, and have a larger capacity as you don't have to accommodate the turntable, allowing you to tackle larger meals.
More even cooking: With a rotating antenna at the bottom of the unit, flatbed microwaves generally cook food more evenly compared to traditional microwaves.
Easier to clean: With less parts, flatbed microwaves are easier to clean, meaning you only have to wipe down the surfaces of the unit rather than cleaning the turntable and other removable parts of a traditional microwave.
Cons of flatbed microwaves
Cost: Flatbed microwaves are generally more expensive than traditional microwaves due to their heating technology and size, meaning they may not be the one for you if you're on a budget.
Physical size: With an increased capacity, flatbed microwaves may not be able to fit on every kitchen bench and space.
How much do flatbed microwaves cost?
Flatbed microwaves can cost anywhere between $200 and $1,300, depending on the brand, model and retailer that you purchase through, making them some of the more expensive models you can purchase.
Are flatbed microwaves worth the money?
Microwaves are a staple in any kitchen, but are flatbed microwaves worth investing in? It'll depend on how much cooking you do in the microwave, with flatbed microwaves traditionally coming with a heftier price tag than traditional microwaves, but also come fitted with additional features and functions, allowing you to create mouth-watering dinners every night, provided you put on the right setting!
If you don't have an oven, or you need a microwave with a larger capacity, flatbed microwaves can fit the bill, but if you're simply looking to heat up leftovers and ready-made meals, you potentially don't have to fork out for a top-of-the-line flatbed microwave to get the job done. But if you're in the market for a new microwave, check out our microwave ratings to see what's available.