Fact Checked
There are few things more annoying than waiting all day to dig into a meal that's crisp and golden on the outside, only to discover the ice has barely melted on the inside. Flatbed microwaves present as a great solution to this issue and as a result, more brands are putting their own spin on this turntable-free alternative. Learn all you need to know about flatbed microwaves with this Canstar Blue guide.
What is a flatbed microwave?
Flatbed microwaves work similarly to conventional microwaves, with the main difference being the location of the heating element. Traditional microwaves have a turntable in the base and expel heat from the side. Alternatively, flatbed microwaves operate from the bottom via a rotating antenna that sends heat out at many different angles. This method of heating cooks your food through more evenly. The absence of a traditional turntable also frees up much more space for you to fit larger dishes and trays, making flatbed microwaves a great option for big households.
Who sells flatbed microwaves?
To help you navigate your way through the appliance aisle, we've listed a number of models available from leading brands in Australia. This includes Panasonic, Breville, Sharp, and Whirlpool.
Panasonic flatbed microwaves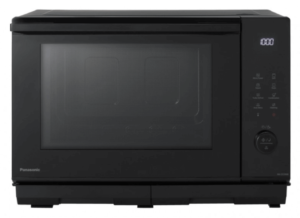 Panasonic offer a variety of microwaves, some of which are designed in the flatbed style. Most models are equipped with LED lighting, turbo defrost mode, inverter motors, and sensors that detect optimal heating times.
The Panasonic Steam & Combination Flatbed Microwave Oven allows you to whip up tasty dishes on the fly. This model features a unique grill tray, specific cleaning programs, a 27L interior that allows plenty of cooking space, and an energy saver mode. This microwave commonly retails for around $900.
Breville flatbed microwaves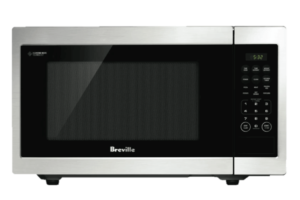 Breville offers a smaller range of flatbed microwaves for you to choose from, but most Breville microwaves feature auto-cook menus, multiple power levels, soft close doors, and stain-resistant exteriors.
The Breville Diamond Wave Microwave is a great appliance for large families to consider. This model features a 42L capacity that fits bigger cooking trays, an instant start shortcut, favourite settings, and unique cooking technology for even heat distribution. This microwave will set you back around $350.
Sharp flatbed microwaves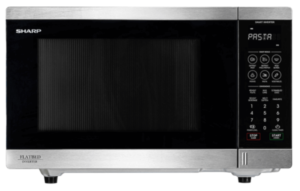 Sharp offer a range of flatbed microwaves that are designed with efficiency in mind. Many Sharp models are equipped with express defrost functions, multiple power levels, pre-set menus, push-button doors, and adjustable volume levels.
The Sharp Flatbed Microwave Oven is designed specifically for those with a passion for good food. This model features a two-stage cooking sequence, 32L of internal space, an LED display, 23 pre-set menus, and a child lock. This microwave will cost you around $350.
Whirlpool flatbed microwaves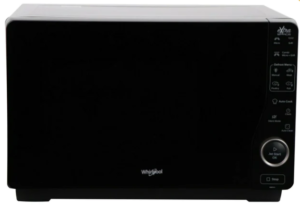 Whirlpool's microwave range aims to provide tasty cooking results in a fraction of the regular time. Most models feature pre-set cooking functions, steam and boil capability, and auto-clean programs.
The Whirlpool Flatbed Microwave & Grill is a handy multifunctional appliance. This microwave features an auto-cook menu, inverter technology to ensure your food is cooked evenly through, and a cleaning program. This model commonly retails for around $400.
Why should I buy a flatbed microwave?
A number of advantages come with purchasing a flatbed microwave. These include:
Increased capacity: flatbed models are generally larger than traditional microwaves and have a larger capacity, allowing you to prepare bigger meals.
Even cooking: with a rotating antenna at the bottom of the unit, flatbed microwaves generally cook food through more evenly than traditional models.
Easy cleaning: with less parts, flatbed microwaves are easier to clean, meaning you don't have to wipe down the turntable and other removable parts of a traditional microwave.
How much do flatbed microwaves cost?
Flatbed microwaves can cost anywhere from $200 to over $1,600. Price is highly variable, depending on brand, model, size, retailer and any other additional features.
---
Read more: How much does it cost to run a microwave?
---
Are flatbed microwaves worth it?
Microwaves are a staple in any kitchen, but are flatbed models worth investing in? It'll depend on how much cooking you do in the microwave, with flatbed's traditionally hosting a heftier price tag than traditional models. Fortunately, more expensive microwaves also come fitted with additional features and functions that may come in handy down the line.
If you don't have an oven, or you need a microwave with a larger capacity, a flatbed model fits the bill. If you're simply looking to heat up leftovers and ready-made meals, a traditional microwave may be the best way to go. To help you decide which model is best for you and your home, check out Canstar Blue's best-rated microwaves.
Original Author: Tahnee-Jae Lopez-Vito