Fact Checked
Getting ready for work or an event and only finding clothes with wrinkles and creases can get your day started on the wrong foot. Garment steamers are a handy appliance that help take the panic out of wrinkled shirts and get you out the door with a fresh, smooth start. Steam is a great way to lift odour and bacteria out of clothes and freshen them up, but where do you start looking? Read on to find out more about garment steamers and brands that sell them with this Canstar Blue guide.  
How do garment steamers work?
Garment steamers, also called clothes steamers, have water tanks and heating elements that help to transform the water to steam. The steam is then pushed out through the steamer head at temperatures between 200°C and 400°C to remove any creases or wrinkles in clothing. They're a fairly simple device but can be effective in smoothing out clothes without the hassle of setting up a clothes iron.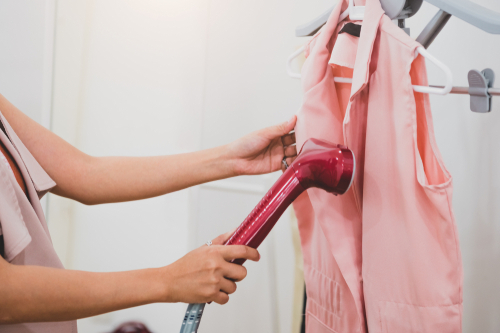 How to use a garment steamer
Garment steamers are a simple appliance to use and don't take much time to set up and use. Once you switch the appliance on and make sure the water tank is full, you will have to wait a few minutes for it to heat up. Once it has heated up to the right temperature you can use the trigger on the body of the appliance to expel the steam and move it across the surface of the garment. Repeat those couple of steps for all of your clothes and you'll have silky smooth clothes in no time. 
It is recommended that you read the instructions on the appliance box before using to avoid any injury given you are using hot steam. 
Can a clothes steamer remove odours?
Steamers won't necessarily remove all odours from clothes but the steam can help to lift and eliminate some odours and bacteria. The higher the temperature of steam the more likely you are to remove bacteria and some odours, whereas ironing won't give the same results. 
How much do garment steamers cost?
Garment steamers are a relatively cheap appliance and retail from $50 to upwards of $200 for tower steamers that offer somewhere to hang your garment. For basic models that offer just the handheld steamer you can find models under $100. 
Who sells garment steamers?
There are a number of brands that sell clothes steamers including Kmart, Philips, Sunbeam and Tefal. Each of these brands are well known for irons and other appliances within the laundry and their steamers are no different. 
Kmart Garment Steamer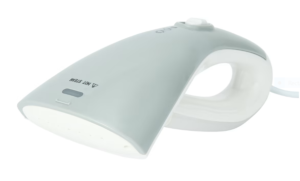 Kmart offers two garment steamers that retail from $40 to just under $60. One model is a tower garment steamer that includes a rack and telescopic pole design, a steaming board and other accessories like a fabric brush and glove. The smaller handheld model incorporates the water tank into the handheld device that features an ergonomic design for ease of steaming and is said to have powerful continuous steam. 
Philips Garment Steamer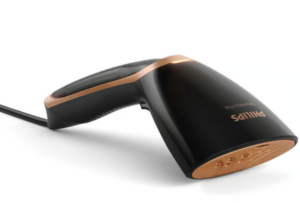 Philips offer a number of garment steamers from handheld models to tower steamers retailing from $60 to $350. The smaller handheld models offer compact design with features like quick heat up time, a generous continuous steam rate and no need for an ironing board to steam clothes. The tower models offer a hanging rack for your garments, a large metal steamer head to cover more of your clothing and a glove for extra protection against burns while steaming. 
Sunbeam Garment Steamer
Sunbeam offer a small range of handheld garment steamers ranging in price from $50 to $80. They feature generous tank capacities between 240ml and 300ml, fast heat up times between 40 and 60 seconds and convenient, ergonomic design to assist with easier steaming. 
Tefal Garment Steamer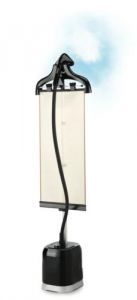 Tefal have one of the broader ranges of garment steamer models ranging in price from $150 to $550. For the smaller handheld models, you can expect to pay from $150 to $200 with features like multiple steam settings for different garments, lock position for continuous steam and an added vertical support board to hand clothes on. The tower steamers come with features like a 1L tank capacity, a smart board with three different positions for steaming and a stainless-steel soleplate. You can expect to spend from $200 to upwards of $500 depending on the model and added features.  
Factors to consider when purchasing a garment steamer
If you're in the market for a garment steamer, there are plenty of models to choose from, but it can be tough to choose which one is right. There are a few factors to take into consideration when looking to purchase a new garment steamer. 
Steam time:

 If you have larger volumes of clothing to steam, you'll want a steamer with a larger tank capacity and continuous steam time, whereas if you're doing a one-off steam a smaller model could be ideal. 

Heat-up time: 

Some models take 30 seconds to heat up, while larger models can take a minute or so, so how long you're willing to wait will factor in here. 

Heat settings:

 Most garment steamers come with standard 'low' and 'high' heat settings, but if you've got delicate or heavy fabrics to take care of, it may be worth looking for a model with steam settings you can adjust to suit different items of clothing.

Water tank:

 All garment steamers either come with a fixed or removable water tank, with the latter being a lot easier to fill and clean.

Attachments/accessories:

If you're steaming different fabrics or items of clothing, make sure to look for a model that comes with different nozzle and brush attachments to tackle denim and other heavier materials.

Price: Prices start from $30 for small portable garment steamers and reach upwards of $500 for larger upright units. If you've got a certain model in mind, do some research and compare price points from different retailers before you hand over your hard-earned cash.
Purchasing a garment steamer
Whether or not you buy a garment steamer will come down to personal preference and your laundry needs. While they are a convenient appliance that quickly and easily gets wrinkles out of clothes, they may not be right for everyone. If you're someone who needs a quick on-the-go refresh of clothes a small handheld model could be ideal or if you're someone who likes to steam larger quantities of clothes a tower steamer may also suit. If you're still on the fence about garment steamers you can compare clothes iron brands below.