If you're looking to iron out creases from delicate fabrics (i.e. silk), suits, jackets and avoid accidentally singeing your favourite dress, a garment steamer is a better alternative to clothes irons. They're designed to protect the fabric and shape of your garments, using steam to smooth out wrinkles instead of applying direct heat through a soleplate like irons. If you're thinking you may need one, check out our guide to the best garment steamers to buy.
How do garment steamers work?
All garment steamers work more or less the same way. They use water from a tank or reservoir to produce steam vapour (200°C – 400°C), used to remove creases and smooth fabrics, by way of loosening the bonds between long-chain polymer molecules.
The best part is that you don't have to apply the steamer directly on your clothes either, just hang or hold your garment up and softly glide the steamer nozzle parallelly to the fabric. Garment steamers can also be used on curtains, table cloths, bed linen, pillows and even mattresses.
How much do garment steamers cost?
Garment steamers are typically more expensive to buy than clothes irons, ranging from $30 for bottom tier options, up to $200 for top-of-the-line models. Fortunately, there are plenty of options available from leading brands like Philips and department stores such as Kmart and Big W available, so be sure to shop around to find a model that fits your needs and budget.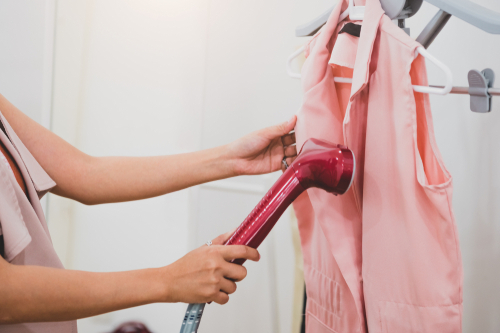 What to look for when buying a garment steamer
Steam time: steam times vary between 15 and 90 minutes, depending on the water tank capacity and size of the unit. As a general rule, smaller handheld steamers will have shorter steam times than larger upright models. If you're steam ironing for a family, you'll want something with at least 30 minutes of continuous steam time.
Heat-up time: how long will it take for your steamer to be hot and ready? Heat-up times vary between models, from 40 to just 1.5 minutes. If you like to steam your workwear in the morning before rushing out the door, then look for a steamer with a heat-up time of under a minute.
Heat settings: most garment steamers come with standard 'low' and 'high' heat settings, but if you've got delicate or heavy fabrics to take care of, it may be worth looking for a model with steam settings you can adjust to suit different items of clothing.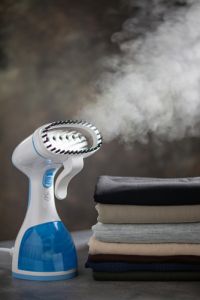 Water tank: all garment steamers either come with a fixed or removable water tank, with the latter being a lot easier to fill and clean.
Attachments/accessories: if you're steaming different fabrics or items of clothing, make sure to look for a model that comes with different nozzle and brush attachments to tackle denim and other heavier materials.
Price: prices start from $30 for small portable garment steamers and reach upwards of $200 for larger upright units. If you've got a certain model in mind, do some research and compare price points from different retailers before you hand over your hard-earned cash.
Best garment steamers to buy
Here are some budget-friendly garment steamers worth checking out below:
Kmart Garment Steamer − $49 RRP*
Philips Handheld Garment Steamer − $70 RRP*
Sunbeam Handheld Garment Steamer − $79.95 RRP*
Philips Steam&Go Handheld Garment Steamer − $118 RRP*
Tefal Pro Style Upright Garment Steamer − $199 RRP*
Kmart Garment Steamer − $49

For a cheap, no-frills option, you can't pass up Kmart's garment steamer. It's stated to offer up to 50 minutes of continuous steam with a 1.65L water tank, and comes with a steaming board, glove, fabric brush, a press for pants, a top hanger and telescopic pole – all for just $49. It also offers a 1500W power output and upright design for convenience.
Philips Handheld Garment Steamer − $70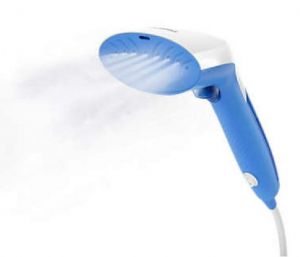 This Philips garment steamer (GC300/20) has a compact design for easy storage and travel. It features an electric pump that automatically provides continuous steam from a fitted 60ml water tank for de-wrinkling on the go and comes with a brush accessory for thicker fabrics and garments like coats and jackets. It also comes with a 1000W power output and 2m electrical cord length. This model is available on Appliances Online.
Sunbeam Handheld Garment Steamer − $79.95
This Sunbeam handled steamer (SG1000) offers a fast 40-second heat-up time and up to 18 minutes of continuous steam using a steam trigger with a lock-down button and a wide steam nozzle. It has two steam settings − low and high − to remove creases on all types of garments and a 300ml water tank capacity. This Sunbeam model also features a compact design and works both vertically and horizontally. This model is available at The Good Guys.
Philips Steam&Go Handheld Garment Steamer − $118

This top-selling Philips Steam&Go garment steamer (GC362-80) features a SmartFlow heated plate for more even steaming results, a brush accessory for thicker fabrics, a 70ml detachable water tank for easier filling and a 2.5m cord length. It also offers 1300W power output and comes with a heat-resistant storage bag for travel. This model is available on Appliances Online.
Tefal Pro Style Upright Garment Steamer − $199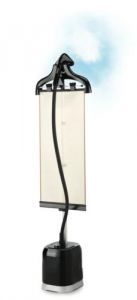 This heavy-duty Tefal upright garment steamer (IT3440) is said to use steam pressure to help remove creases on all fabric types, including delicates and can also be used on upholstery, bed linen and curtains, according to the manufacturer. It offers up to 50 minutes of non-stop steaming, thanks to its large 1.5L removable water tank and comes with three variable settings, an extra-large steam head and a patented vertical support panel to make steaming all your garments a breeze. This model is available at The Good Guys.
Do garment steamers really work?
Yes, and that's why garment steamers are usually the top choice in industries like fashion and broadcast, where clothes and accessories need to be packed up and moved often. Steamers work effectually on most fabrics (not all) and are also stated to be better at removing creases from sleeves, pleats and ruffles than clothes irons. Here's a quick rundown of fabrics you can and can't steam:
| | |
| --- | --- |
| Yes | No |
| Cotton | Denim |
| Polyester | Suede |
| Wool | Waxed jackets |
| Silk | Plastic |
General guide only
Do garment steamers sanitise?
Garment steamers are said to kill up to 99.9% of bacteria and germs, and also work to get rid of odours, in a similar way that steam mops do. Most people also use garment steamers as a chemical-free alternative to steam clean surfaces like kitchen countertops and bathroom sinks. Steam vapour is naturally sanitising and deodorising and can also help to eliminate mould spores, viruses, dust mites.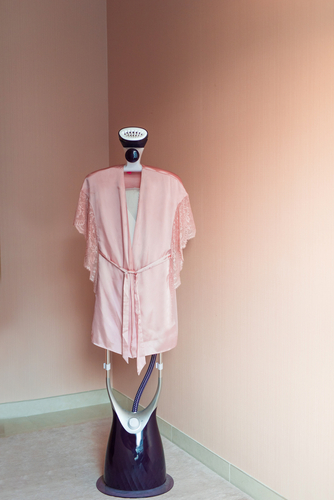 Is it better to steam or iron clothes?
Steaming is quicker than ironing and is fairly effective at de-wrinkling different fabrics and styles of garments. It's also a lot gentler on clothes, and reduces the risk of accidentally singeing your favourite shirt, as well as being more space-efficient, because you don't need an ironing board. On the flip side, a clothes iron gives you more control when ironing out wrinkles on sturdy fabrics like denim or wool and can give you more precise pleats and crisp creases on jeans, trousers and dress shirts.
*Prices taken from respective retailers, correct as of January 2021.
Picture credits: Iuliia Syrotina/Shutterstock, ANURAK PONGPATIMET/ Shutterstock, MiniStocker/ Shutterstock, Kateryna Galkina/Shutterstock.