Fact Checked
If you're tired of lugging around a large barrel vacuum to clean-up small spills, a handheld model may be the perfect appliance for you. Handheld vacuums are great for small clean-up tasks in between your regular deep clean of the house. They're ideal for clearing minor messes, pet hair and some models can even clean-up wet spills. To help you decide whether it's worth purchasing a handheld vacuum, read this Canstar Blue guide.
What is a handheld vacuum cleaner?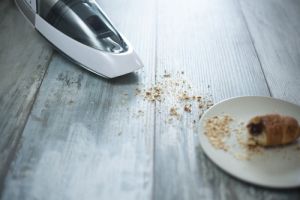 Cordless handheld vacuum cleaners are compact and portable versions of regular vacuums. They're ideal for cleaning hard-to-reach surfaces such as shelves, curtains, window frames, picture frames, lampshades and door ledges. They're also handy when vacuuming drawers or under the bed.
Handheld vacuums are capable of cleaning most types of debris including dirt, dust, pet hair and some more advanced models can even suck up wet spillages. These appliances run on battery, so you shouldn't expect the suction power of a traditional corded vacuum however, there are some more expensive models on the market that come pretty close.
Which type of vacuum is best – handheld, stick, barrel or upright?
There's a whole world of vacuums out there, each designed with different cleaning situations in mind. Some common vacuum types are:
Handheld vacuums: easy to grab appliances that are great for cleaning hard to reach areas and small spills.
Stick vacuums: generally cordless and are very versatile, with many able to be converted into handheld models.
Barrel vacuums: have large dust tanks that are well suited to cleaning large households.
Upright vacuums: function similarly to stick vacuums but possess larger dust bins, allowing you to clean for longer.
Who sells handheld vacuum cleaners?
With many brands offering numerous handheld models, there are lots of options out there for you to choose from. Common handheld vacuum cleaner brands include Black & Decker, Vax, Electrolux, Kambrook, Shark, Dyson, LG and Hoover.
Black & Decker handheld vacuum cleaners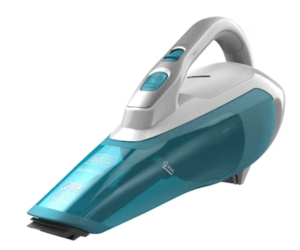 Black & Decker offer a handy range of handheld vacuum cleaners for consumers to choose from. Most models feature lightweight space-saving designs, lithium-ion batteries for constant fade free power, easily removeable dustbins and ergonomic handles.
The Black & Decker Wet and Dry Dustbuster Vacuum commonly retails for around $80. It features a lithium-ion battery that holds up to 10 minutes of charge, a washable dirt bowl and a slim nozzle for accessibility. This model can vacuum over wet and dry surfaces, allowing you to clean up a mess of any consistency.
Vax handheld vacuum cleaners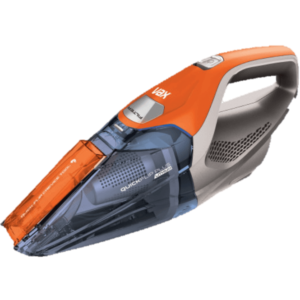 Vax offer a variety of handheld vacuum cleaners that can suction over many household surfaces. These appliances commonly feature lightweight cordless bodies, lithium-ion batteries and highly manoeuvrable designs.
The Vax Quick Flick Pro Vacuum will likely cost you around $100. This compact unit hosts a built-in crevice tool to reach those tight spots throughout your house, a lightweight design, a lithium-ion battery that holds 12 minutes of charge and a washable mesh filter.
Electrolux handheld vacuum cleaners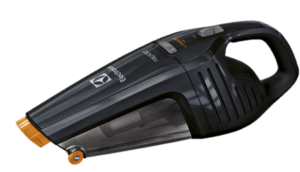 Electrolux offer a variety of handheld options for consumers to choose from. Most models host grab and go charging stations, crevice tools, multi-level filtration systems and are low weight for increased manoeuvrability.
The Electrolux Rapido Handheld Vacuum will likely cost you around $250. This model features an integrated easy reach nozzle for effective cleaning in small spaces, an ergonomic handle with two comfortable grip positions and a lithium turbo power battery that can hold up to 21 minutes of charge.
Kambrook handheld vacuum cleaners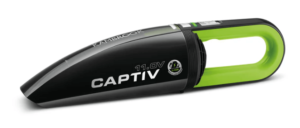 The Kambrook handheld vacuum cleaner range is designed with portability in mind. Models often feature multiple levels of suction, brush accessories, different colour options and wall mountable charging bases.
The Kambrook Portable Handvac is commonly priced at around $60. This model is powered by a lithium-ion battery that can last for 10 minutes. It hosts two-speed suction, a charging indicator light, an easy-release dust cannister, a crevice tool for hard-to-reach locations, brush accessories and a wall mountable charging base.
Shark handheld vacuum cleaners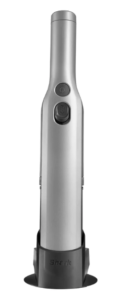 Shark offers a small range of handheld vacuum cleaners that are packed full of handy features. Most models host lightweight and manoeuvrable designs, brush and nozzle accessories, compact storage options and washable filters.
The Shark Wandvac will set you back around $250. It features a duster crevice tool, one-touch debris emptying, a light-weight design and a lithium-ion battery that holds up to 10 minutes of charge. This model is said to be ideal for households with pets.
Dyson handheld vacuum cleaners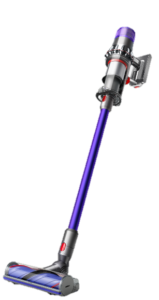 Dyson offers a range of two-in-one handheld vacuum cleaners that can be adjusted to suit your environment. The two-in-one feature allows you to adjust the appliance from long stick form into a traditional handheld set-up. Most Dyson handheld vacuums feature crevice tools, easy-empty bins, wall-mounted charging docks and optional click-in batteries for even longer cleans.
The Dyson V11 Vacuum commonly retails for around $1,000. This two-in-one stick model features three distinct power modes (medium, eco and boost), an LCD screen showing available cleaning time and a fully-sealed filtration system. After a full charge this vacuum can hold up to an hour of battery time.
LG handheld vacuum cleaners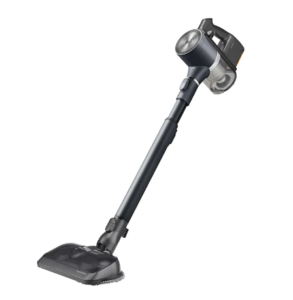 LG's handheld vacuum offerings typically come in adjustable stick form. Many LG vacuums feature five step filtration systems, washable filters, one touch control, crevice tools and dual power packs.
The LG CordZero Handstick Vacuum is a two-in-one model that will set you back around $500. This vacuum features a multi-service power drive nozzle, a crevice tool, interchangeable and rechargeable batteries that are easy to swap, different storage options, thumb touch control and a five-step filtration system. This model offers up to 45 minutes of battery time.
Hoover handheld vacuum cleaners

Hoover handheld vacuum cleaners are equipped with a variety of handy features to make cleaning a simple task. Most models host high performance brushless motors, ergonomic handles with three-speed fingertip controls and easy-empty dirt cups.
The Hoover Emerge Vacuum will likely set you back around $500. This model features a powerful brushless motor that removes dirt quietly and efficiently, a battery that provides up to 45 minutes of continuous power, a two-in-one dusting brush/crevice tool, an upholstery tool, hushtone technology that delivers a quieter clean without compromising performance and a removeable dirt cup.
How much does a handheld vacuum cleaner cost?
The cost of purchasing a handheld vacuum cleaner depends heavily on size, brand, design and other additional features. Some of the cheapest models may be purchased for around $40, while more expensive handheld vacuums will cost you over $1,500.
Handheld vacuum cleaners – things to consider
When it comes to handheld vacuums, there are a number of features to consider, including:
Design: this refers to its shape, weight and size, as well as any other ergonomic features.
Tools: different attachments can help clean specific areas. For example, soft brush attachments will avoid scratches on delicate surfaces.
Power: while this is hard to compare, you might like to consider the technology behind the motor as well as the voltage of the battery to get an idea of how powerful your unit will be.
Run time: can depend on how long you plan on using your handheld model. Most traditional handheld vacuum cleaners will hold between 10 and 20 minutes of charge.
Price: As with any purchasing decision, the price may be the deciding factor if you're on a budget. More basic models will cost you less, but you may have to do without a stronger suction power.
Is a handheld vacuum cleaner worth it?
Handheld vacuums are great appliances to own if you're constantly cleaning in hard-to-reach areas or just need to give the house a quick once-over. If convenience is of importance to you, then a handheld vacuum might be just what you're after – but remember to do your research before purchasing a new appliance. If a handheld model isn't up your alley, there are plenty of alternative stick, barrel and upright vacuums out there for you to explore. Check out Canstar Blue's best-rated vacuums to help decide which appliance is the best fit for you and your home.
Vacuum Cleaner Reviews & Ratings
Original Author: Veronika Hleborodova